At the Eurobike Business Talk held Tuesday, a high-profile podium discussed current trends and challenges in the bicycle industry. ZIV's general manager Burkhard Stork and local bicycle dealer Alexander Friedrich gave some interesting insights from the perspective of German manufacturers and retailers.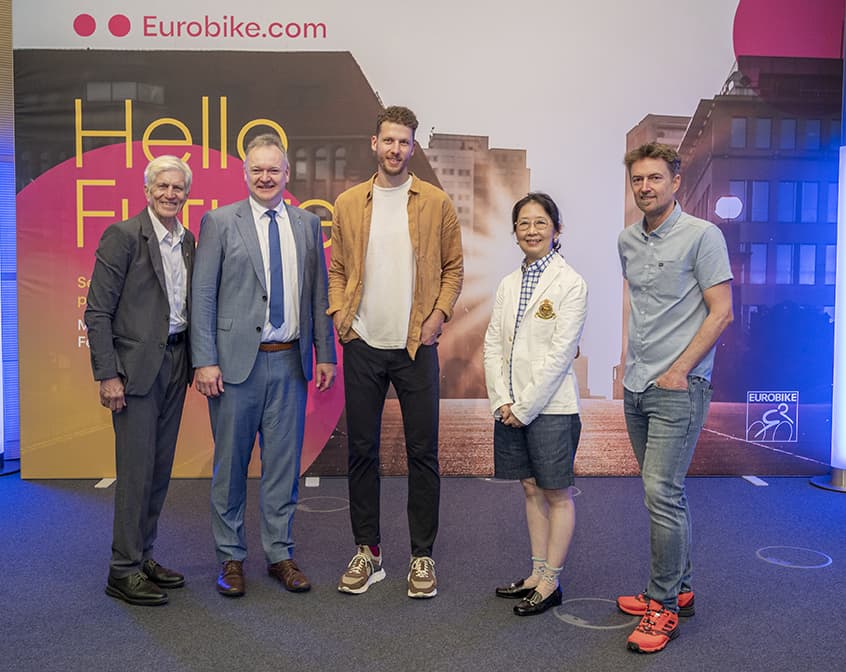 At the first Eurobike Business Talk held in Frankfurt am Main, topics under discussion naturally included the impact of the pandemic in Asia, Russia's war against Ukraine, and the resulting supply chain pressure and inflation. As the general manager of Germany's Zweirad Industrie Verband (ZIV, 8.0 / I12a), Burkhard Stork looked back at 2021 and pointed to the fact that the domestic production of e-bikes surpassed conventional bicycles, with 1.4 million e-bikes and 0.9 million conventional bicycles produced that year. As for the first two quarters of 2022, the production of both categories was only slightly lower despite the fact that none of the issues faced in 2021 have disappeared.
"Given the challenges the German bicycle industry has been facing in 2021 – mainly squeezed supply chains, delays in sea freight and a lack of both components and skilled workers – this is a great performance that also contradicts media reports of a dried-up market and a lack of products in the shops. Regarding the sales of bicycles and e-bikes in 2022, we expect a slight drop in numbers, but not in turnover. The reason for this is that leasing models help to sell expensive models, while the lower price segments suffer from the currently low consumer confidence. As a result the average price of bicycles sold is on the rise. In short, cheap bikes are standing still while expensive bikes forge ahead", Stork explained in his presentation.
As the general manager of Per Pedale, a group of three bicycle stores in Frankfurt, Alexander Friedrich echoed this observation: "The lower the price, the higher the sensitivity for the current price hikes. But since the products we sell have improved a lot in recent years, it's easier to explain those higher prices. One thing I like about the bicycle industry is the direction it is going as of late: less fringe, less ideological and more professional – and yes, mainstream." The electrification of the bicycle certainly has been a driving force in this, but it comes at a price for retailers, as Alexander Friedrich explains: "Since the average value of the bicycles sold is increasing, the turnover is growing but so is the need for capital to finance pre-orders. Due to this, a certain size is necessary for IBDs to survive."
When asked about the outlook, ZIV's Burkhard Stork expected more price hikes at all price levels and no return to a normal state of the supply chains for the next 18 months.