How has inflation impacted your business?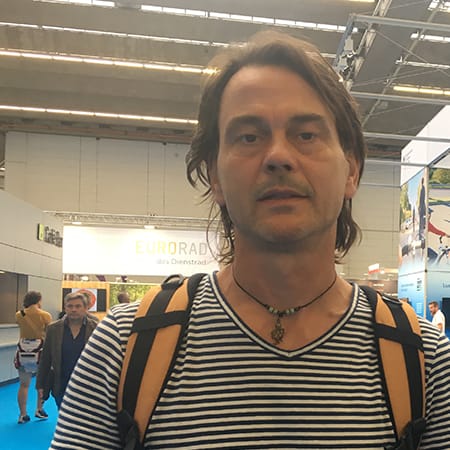 Udo Stein
Stein-Bikes, Germany
We're bike dealers but we make our own customized bikes, so we have a strong relationship with our customers and we can have discussions with them. When the input prices increase by 15% in six months, between the time of the order and the delivery, we can explain the situation to the customer and ask if it would be alright to share the impact, to take 7% each. In most cases we find a solution. It used to be about three weeks from the order to the delivery, now it's six months. We can work it out because we have built relationships with customers for 27 years. If we had been in the market for just five years it wouldn't work, they would just think we're unreliable.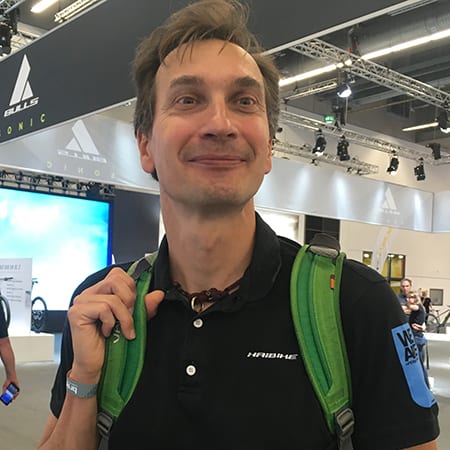 Andy Benz, Head of project management
Accell Group, The Netherlands
In the short term, you notice that people are less likely to spend, so that affects our business. Consumers see inflation in energy prices, food prices. It can be seen by everybody right away, because they have less money in their pocket, and they rethink their spending. At the higher end of the market, people are more passionate, they are interested in technical details, they do their market research, but still the demand is affected.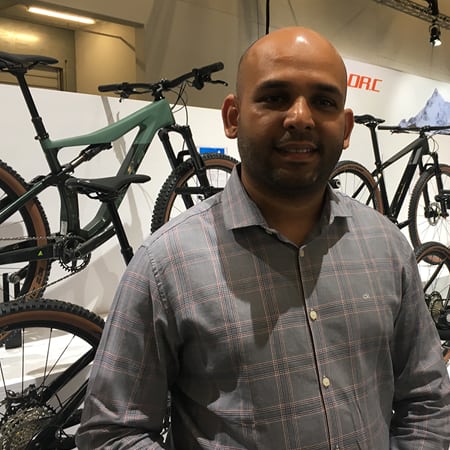 Shaben Moideen
Director of distribution, Starlink, Qatar
I work in the technology industry, and price hikes are impacting the business in terms of sales. We work on a very low margin, so I believe this new segment of cycling will be a breakthrough to fix my bottom line. The bicycle industry has yet to emerge in Qatar. I believe it's the future, we should start focusing on it. We're hosting the football World Cup in Qatar, traffic will be hectic, and bikes could be the smoothest way for people to travel. It will be held during the winter, so they will enjoy it.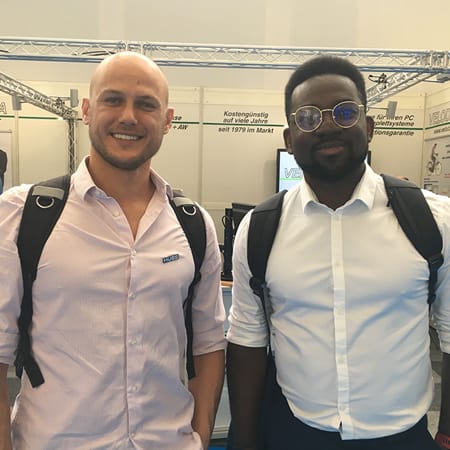 Donald Matha'a & Lindor Castro Valdez
Hubs, Netherlands
Donald: Due to the rise in shipping costs we had to adjust our means of production, which was mostly in China and India. We're now creating a huge network of partners in Europe. Lindor: We were more expensive because of the growing cost of transportation – shipment is a big part of the cost for us. Donald: Inflation has affected the way we produce. But at the same time, it has helped to reduce our impact on the planet, and this was a demand from customers. Three years ago, we could not do much at the show, because many customers wanted European production. Lindor: In the end, it's a bit more expensive, but it's not that bad.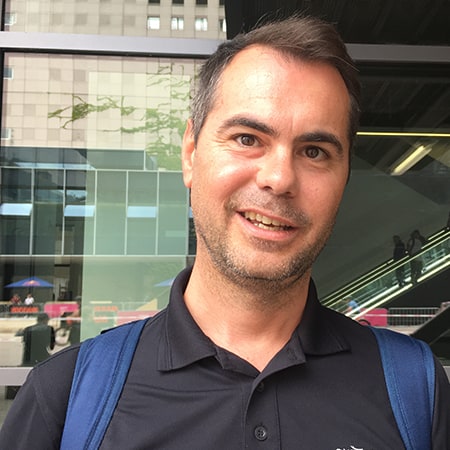 Shaben Moideen
CEO, High Tech Tecnosky, Romania
We're affected by the price of gas and there will be inflation next year for salaries in Romania. We're moving to higher-level products, so we can make up for some of the price increases. We're also waiting to see what the Romanian government will do. There is a cap on gas and electricity prices until March 2023. After that, we will see.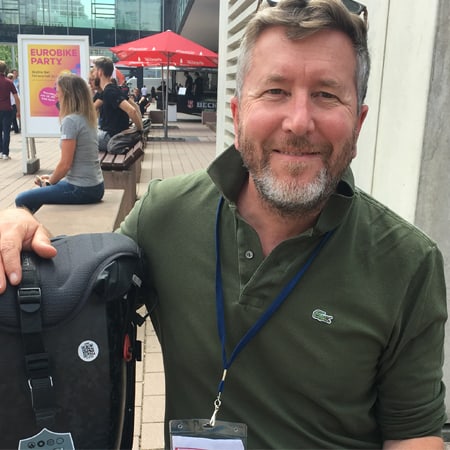 Denis Carron de la Carrière
CEO, Toad, France
We're an importer and distributor of innovative products for cycling and other sports. For European suppliers, it's okay, the inflation is under control, we can work that into the consumer price. For the kind of products that we sell, a little increase won't be an issue for customers. For products from the U.S., it's more complicated. The impact of inflation is huge, because the exchange rate has changed a lot and the value of the euro and the dollar is almost the same. But we're growing so much that I don't have an issue.
How is the new venue and concept?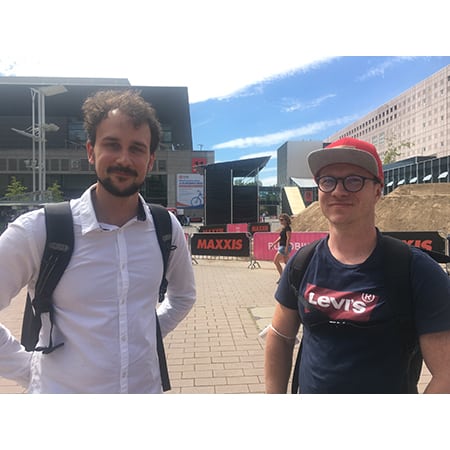 Matej Macinja, Industrial designer
Adam Stasek, Mechanical engineer, Slovakia
Matej: I liked the festival atmosphere at the old show. Now it's more like an automotive show, probably because it's in a big city. Adam: In Friedrichshafen there was a camping area, many people stayed there, and it was fun after closing hours. Adam: It was easier to get an overall impression of the fair in Friedrichshafen. You could just walk from hall one to six, it was easy to get your bearings, it was all on the same floor. Now you're going left and right and across, up and down. Matej: Mind you, it's just the first day, maybe we'll get used to it.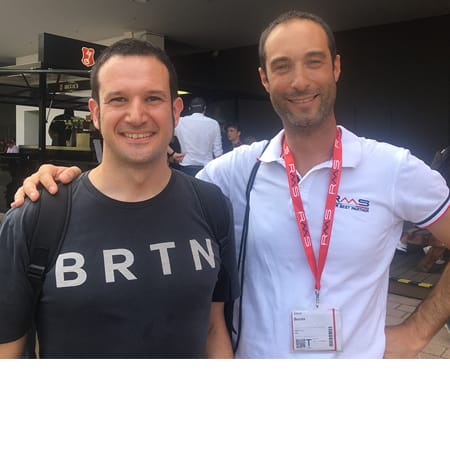 Silvio Burzio Marketing director, RMS, Italy
Francesco Mantovani, product specialist, RMS
Friedrichshafen or Frankfurt, my opinion has not changed, that July is not the perfect moment for Eurobike. September would be a much better time. I also think that the first model was the good mix, to have one or two demo days in another location, to focus on testing bikes, and then two business days. We have a full agenda, so to have such a big area is a problem for us. Walking from one side to the other, it's good for our fitness, not for our business. But it's important to be here. There's a good vibe, everybody wants to meet, suppliers say they have a lot of meetings, there are many new opportunities.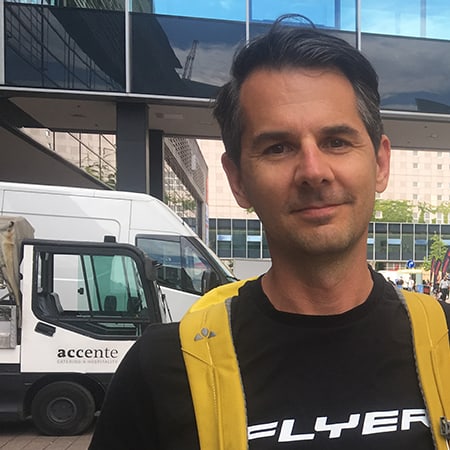 Nick Balla
Product manager, Flyer, Switzerland
For the logistics, two thumbs up for Frankfurt. We're from Switzerland, so for us the trip is longer, but for everybody else it's a huge improvement. In Friedrichshafen, it was easier to find where you're going. You could walk from one hall to the other or cut across to see as much as possible. You could use your transit time to look at things. Now you could walk several minutes in the corridors, there's nothing there, it looks like an airport. I miss the information points, and the signage isn't great. But still, I wouldn't move the location again for that.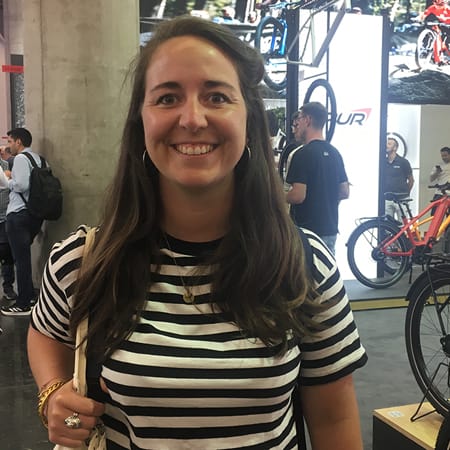 Natacha Bivel
Lecyclo.com, France
We have been going to Eurobike since 2016, it was fun and maybe a little bit of a family atmosphere. Now it's taken another dimension. It's big, and I was a bit scared that we would lose the atmosphere, but I think it's great. We can talk to all our partners, and it's a lot more comfortable. It was easy for us to travel to Frankfurt, eight hours on the train from Marseille, we didn't even have to transfer in Paris. Then we had a free transport ticket, it took us just twenty minutes on the subway.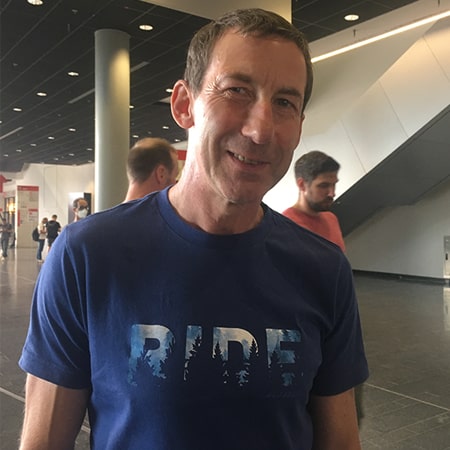 Guido Kunze
Freizeitfabrik Guido Kunze, Germany
There's room for improvement. There's too much walking distance, I do find it tiresome. It's almost like the car show. In Friedrichshafen it was easier to find your way, with just two rows of halls and events in the middle, the layout was very clear. The pricing is problematic as well. Some other retailers used to take their entire team to the show, it was like a company outing. They brought a whole contingent. Now they wouldn't do that anymore, it's not affordable. But of course, the location is much more central, and it's more comfortable. There's more space, the air conditioning works well and there's a nice choice of food and drink.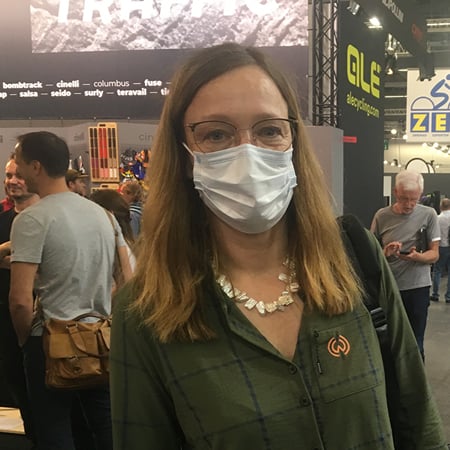 Birgit Greif
Winora, Germany
The show is bigger, there are long distances, it's another atmosphere. In Friedrichshafen it was more sporty, there was a nice combination with vacations at the beautiful lake there. Here's it's a bit colder. But it's very interesting to see all these exhibitors and the organization is wonderful.
How has Eurobike's move to Frankfurt worked out for you so far?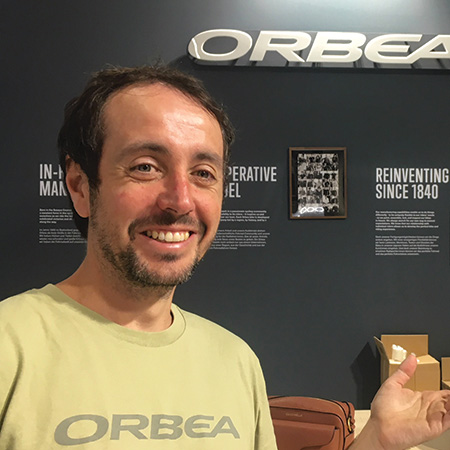 Ander Olariaga
Brand director, Orbea, Spain
"We're very excited [about the move to Frankfurt]. It shows that the industry is united and stronger than ever. It's a combination of things, there's momentum in the industry, and a new era with the move to Frankfurt. The first year is always tricky, but the more we come here, the better it will be. It's most important to show that we're united as an industry. I hope it will be beneficial for all brands, not just for us."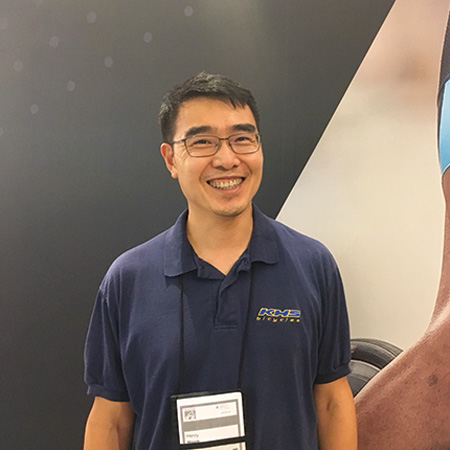 Henry Hsieh
Director, United Engineering, Taiwan
"It's easier to travel to Frankfurt as we have a direct flight from Taiwan. We didn't need to transfer, that was taking a long time. Also, the hotels are much easier to book here. Before, we never booked on our own, we always went through a travel agency. Now we just booked directly on a hotel site, and we even found a hotel within walking distance of the show."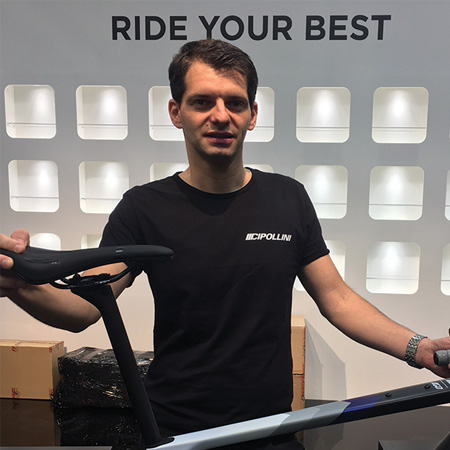 Michele Tittonel
R& D Coordinator, Cipollini, Italy
"Everyone is very excited about the change of location, for sure there are a lot more exhibitors than last year. The interest in Friedrichshafen was declining. For us, it was easier to drive from Verona to Friedrichshafen in five hours. We could drive there so we could make our own schedule. It's a bit more difficult now because the flights are in the middle of the day. But for many companies of Central Europe, it's easier to come here."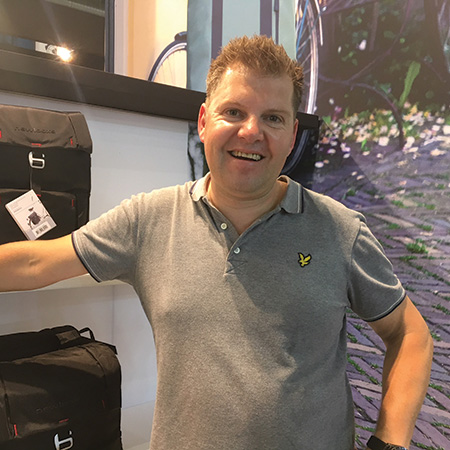 Teun Nissen
Head of sales, Newlooxs, Netherlands
"So far, everything is easy here. Frankfurt is more convenient for transport, it's a three-hour drive for us from Nijmegen, in the south of the Netherlands, instead of nine hours. Also building up has been really easy. So far, so good!"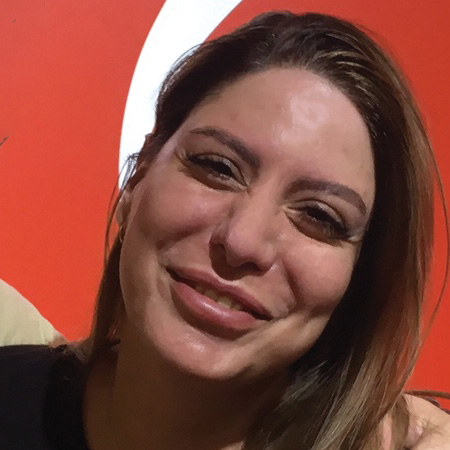 Sesil Nalbant
Import manager, Belderia, Turkey
"It's a blessing that it's in Frankfurt this year. Friedrichshafen is very nice but it's too small, it's hard to find a hotel and difficult for transportation. There are no direct flights from Izmir. Here the accommodation options are fine, the transportation is convenient. It's important for us that Frankfurt is closer for most companies, and also for end consumers. "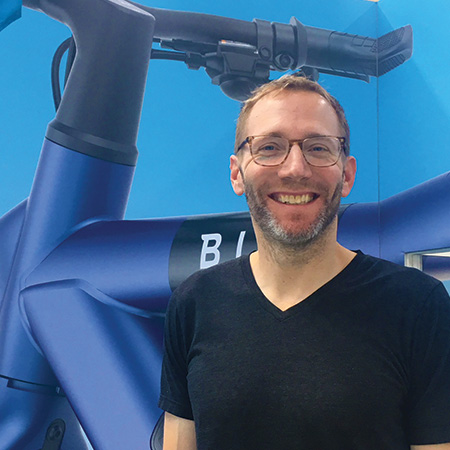 Ryan Hupfer
Director of consumer products, Bird Rides, USA
"I did get to drive on the Autobahn last year, that was fun. I booked a little VW, but when the guy at the rental place heard that I had never driven in Germany before, he upgraded me. This time I flew in directly from L.A. Then I went out last night to get dinner at 10 pm. Let's say there's more options here. And I took a Bird scooter to get here, it took ten minutes, in Friedrichshafen I had to drive a car to get to the show."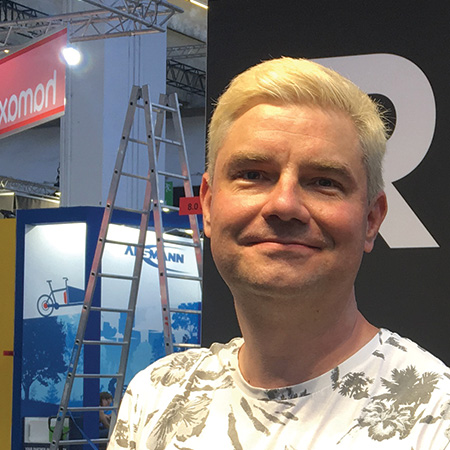 Otto Chrons
CEO, Revonte, Finland
"I feel very good about it. From a logistics point of view, it was very difficult to travel to Friedrichshafen from Finland. We had to book the hotel very early. It just grew too big. This location is quite ideal, all services are close by. Friedrichshafen is a nice place to visit, Frankfurt is a big financial city. We won't have the same after-hours experience, but the upsides definitely outweigh the downsides."