The in-hub gearing system from Classified [Lin Hotel] replaces a front derailleur with a design that's fast, efficient, and incredibly elegant. Weighing around the same as the components it replaces, it uses wireless electronic activation to offer a 530% gearing range while retaining minimal jumps between each sprocket. Unlike a traditional front derailleur, the system can shift in 150 milliseconds and under loads of up to 1,000 watts. At the same time, it provides the maintenance, aesthetics, and aerodynamic benefits of a 1x drivetrain. With applications for road, gravel, mountain bike and urban segments, it's gained phenomenal reviews, tons of media hype and millions of dollars in investment. It's also gained the interest of brands, including KTM, Ridley, and 3T, which now offer the system on some high-end models.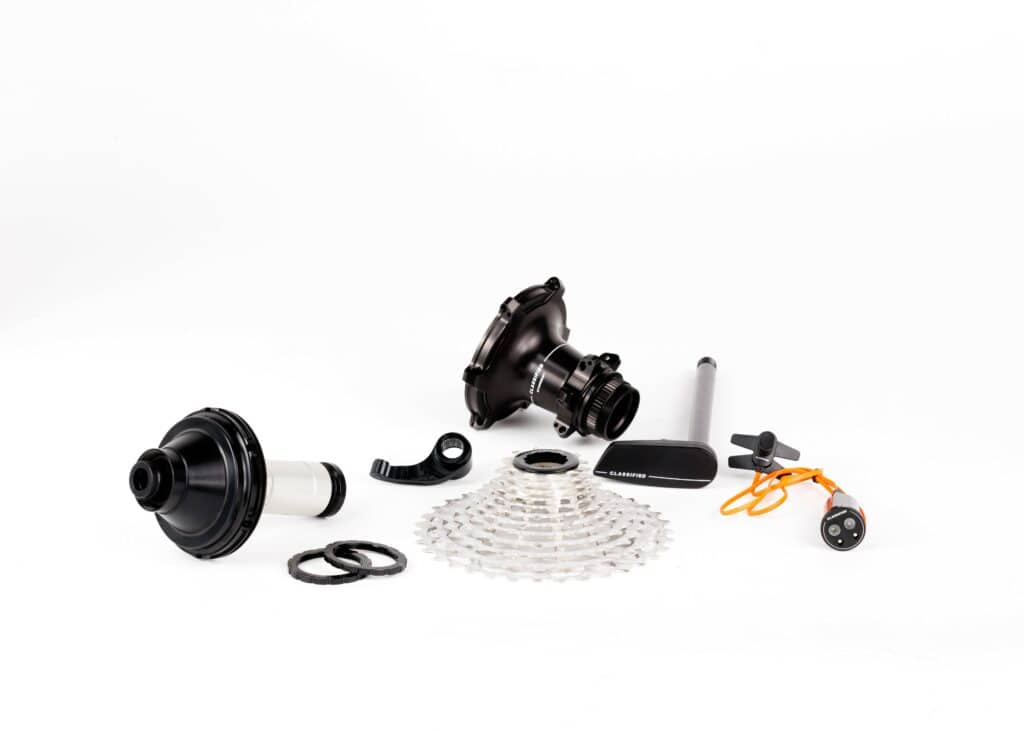 "With over 20 years of experience in the automotive industry, Classified's co-founders set out to prove innovation was still possible in the bicycle drivetrain," explains David Bavin-Hobbs, Classified's Global Communications Manager. "By removing the front derailleur and adding a two-speed wireless hub to the rear wheel, Classified combines the simplicity and efficiency of a 1x drivetrain with the functionality, control and gear range of a 2x drivetrain."
This year, the firm is expanding into the mountain bike market with a new cross-country hub that fits the wider 148mm spacing. Alongside this is a new wireless handlebar control called the Ringshifter. Classified's XC MTB hub comes standard with an 11-40t cassette, providing a 530% gear range without the large steps between gears found on standard 1x MTB drivetrains. Triathletes have also recently received dedicated shifters.
Elsewhere, the firm's hubs have also appeared on more practical machines. "We're excited to announce our partnership with Evari to bring one of the first two-speed e-bikes with Powershift technology to the market," says Bavin-Hobbs. This bike uses a Bosch CX Performance Line motor and Gates Carbon Drive. Classified's system then adds a launch and cruise gear. "We believe Powershift Technology adds functionality to the simplicity of a belt drive e-bike."

"At Taichung Bike Week, we'll catch up with our existing partners and hopefully meet new ones," says Bavin-Hobbs. "With our entry into the MTB and TT markets, Classified can now enhance the riding experience across all disciplines of performance cycling. As we continue working with more e-bike partners, we want to introduce Powershift technology to the cycling community. We're open to working with brands across the entire cycling ecosystem."