For some time "optimized aerodynamics" have been a focus for bike and accessories manufacturers, as well as being a hook for marketing copy. What often gets left out of the athlete-equipment-environment triangle for improving aerodynamics, however, is the fickleness of wind in real time.
Windpuls [8.0 / D44] has solved the challenge of harnessing wind data with its airdropOne sensor to close the information gap by recording local wind and weather conditions and visualizing them in an app and dashboard. The airdropOne can be mounted on handlebars, helmets, or other preferred location on the bike or rider where it captures wind, weather, and position data, storing it anonymously in the cloud. The recorded data also enables training ride comparisons, and supports athletes, coaches, and technical advisors in optimizing and increasing efficiency in cycling. In the hunt for watts and other performance metrics, possessing wind data can influence equipment choices when performance comes down to marginal gains. The wind and weather data can also be used for many other applications.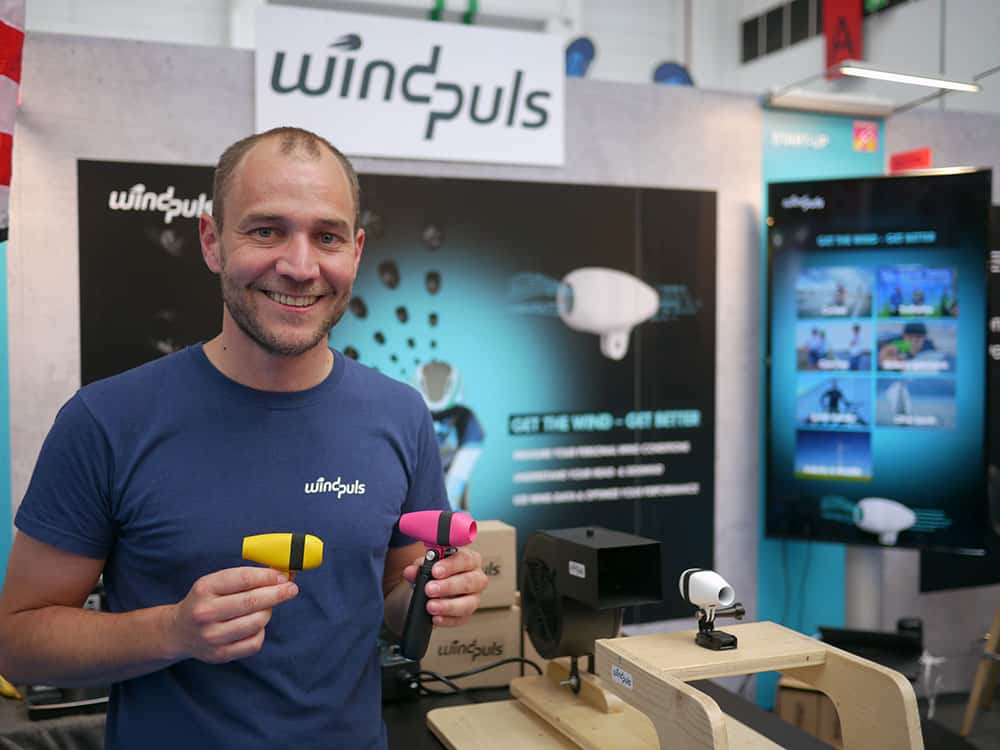 Windpuls is an Austrian startup founded in 2021 by Christoph Feichtinger and Philipp Kitzmueller. The motive for the airdropOne comes from both Christoph's drive to optimize material and performance, and a clear absence of a tool to reliably measure the environment. What he started developing as a PhD candidate to measure wind and weather on moving objects resulted in the airdropOne. The suggested retail price for the device, app, and basic features is €899, however Windpuls is offering Eurobike attendees a special price of €599.
Some racers are quite literally "in hot pursuit," which is when their core body temperatures rise to a level where performance suffers. Core [11.1 / C17] has addressed the effects of heat on performance with a wearable sensor that clips onto a heart monitor strap or a sports bra to continuously measure core body temperature. Previously core body temperature measurement was conducted in a lab in an environment that fell short of real-time training and racing conditions. To obtain accurate and non-invasive tracking of core body temperature, Core houses a thermal energy transfer sensor specifically designed by parent company, greenTEG, in a 40x50x8.35 mm, medical-grade plastic casing. The sensor sends real-time data to paired devices to provide the user with information on their core body temperature and trends in behavior, activity in defined temperature zones, and info on thermal load and effective heat training. The device weighs just 12 grams and retails for €298.95.