Eurobike visitors will be able to arrive at the show from far and wide thanks to the ability to park and charge. Czech firm Powerbox [8.0 D40] will again be setting up e-bike charging stands within the show's secure parking areas. These will provide capacity for over 80 bikes to recharge at a time, with the service to be found next to the Portalhouse by Hall 11.

The firm will also be on hand to talk visitors through its range of charging solutions aimed at municipal and private customers.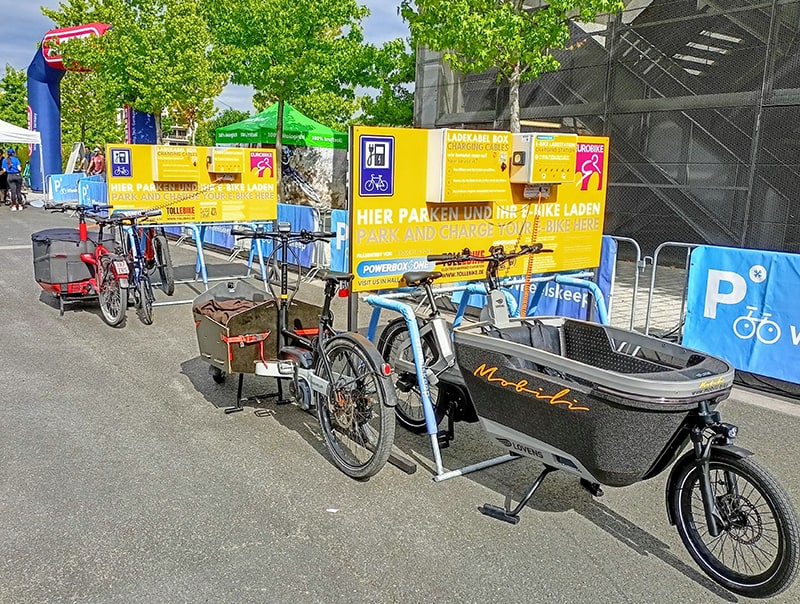 "Our charging stations are primarily used by tourists," explains Powerbox's Jakub Ditrich. "Most of our charging locations are installed next to gastronomic attractions or monuments, places where one can spend some non-biking time."
Powerbox is also selling its equipment to businesses looking to provide on-site charging as an additional employee benefit. "Unlike infrastructure for heavy e-mobility, charging infrastructure for e-bikes and e-scooters does not require much space and engineering," says Jakub. "We work with one phase 230V, 16A cable so a standard power outlet can serve energy for the charging station".
This low power requirement also allows the firm's products to work alongside solar installations. It is also part of the reason the firm has no plans to offer payment functions on its products, instead believing the service should remain free for the user, something you'll be able to appreciate at Eurobike.
"Our charging stations have been used for several sports and cultural events," says Jakub. "But the installation at Eurobike is the largest charging hub ever installed, as far as I know". With the majority of bicycles sold in the EU now electric, it's the sort of infrastructure you'll see more of soon.