Miranda is one of the driving forces for the Portugal Bike Value project. The company's strong emphasis on innovation, flexibility and sustainability have been paying dividends lately, and the metal working specialist is showing no signs of slowing down any time soon.
With a history reaching back three generations and more than 70 years, Miranda [Hall 9.2 / C22] has been witnessing the ups and downs of Portugal's two-wheeler industry since the 1950s. At first this family-owned enterprise made bicycle accessories such as pumps and bells before shifting its focus to supplying motorbike manufacturers with head lights, speedometers and even brakes. As Europe's motorbike industry declined, Miranda shifted its focus back to bicycles in the 1990s and moved from injection-molded grips and V-brakes to forged drivetrain parts after the turn of the millenium.
"When we premiered our first crankset for e-bikes with a mid-motor in 2010, Bosch launched its first mid-motors as well. At the 2010 edition of the Eurobike show, almost all e-bikes with Bosch motors on display had Miranda cranks mounted," the company's chief marketing officer João Miranda recalls.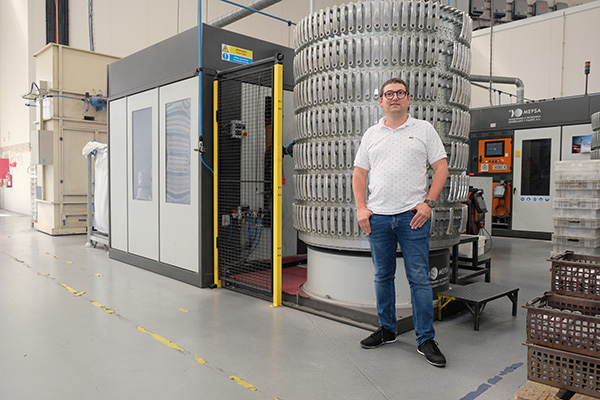 At the time of Show Daily's visit all offices had been moved into containers as the old administrative building was about to be demolished to make room for a new building that will put product development and sales departments into close proximity. As Joao Miranda points out, Miranda is one of the most innovative companies in Portugal, owning a lot of patents and investing in protecting its intellectual properties. The company's core competences lie in working with metals such as aluminum, steel and titanium, but it also owns some injection molding machines and puts those to good use to produce battery and motor covers.
In terms of forging, Miranda has been investing heavily in its machinery and procedures, relying on advanced computer simulations to optimize tooling and the exact amount of metal needed to get a part produced as specified by a customer. The economic use of raw materials is part of the company's push for sustainability that it has documented online in a comprehensive report (to be found at https://sustainability.bike). Relying on in-house painting of its parts rather than sending them to a supplier for anodization is another measure to keep the eco footprint small. As is the waste water processing facility in the basement of the factory.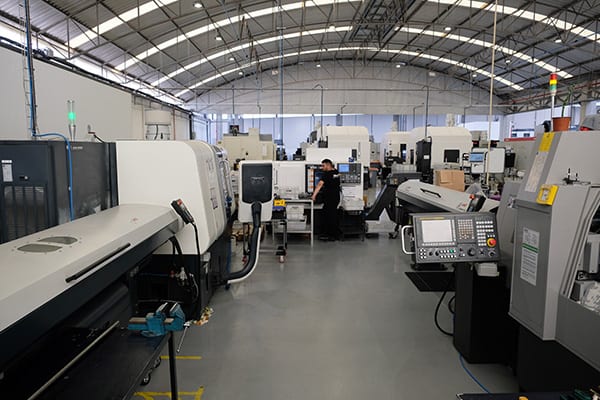 "We have also put solar panels on the roofs of the new factory halls, accounting for one quarter of our electricity consumption as of now. This percentage will see a further increase as per November when the new administrative building is set to be ready, featuring additional solar panels on its roof," as Joao Miranda explains. Since Portugal's power grid heavily relies on solar, wind and water power, the company purchases electricity at a higher price that is certified to be green by the provider. Fossil fuels make up for 1 percent of Miranda's energy consumption and are used in the logistics department for transports by trucks and where heat is needed, mainly in the heat treatment and paining departments.
Further reducing Miranda's eco footprint is the modular design of its crank and chainrings, minimizing the parts that need to be replaced due to wear. By not fixing the bottom bracket axle to the drive side crankarm permanently, the size of the OE packaging can be further reduced as well, so more cranksets fit on one standard euro pallet and into a truck heading for an assembly plant somewhere in Europe. As a next step the production of steel chainrings will be moved back to Portugal from Far East. For its staff of 200, Miranda plans to provide a fleet of 50 utility e-bikes as well soon. The company's membership with Shift Cycling Culture further emphasizes the focus on sustainability.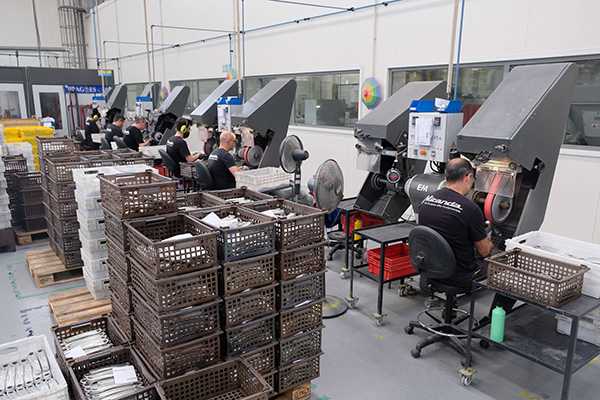 One key factor of the success of Miranda is its proximity to European e-bike assemblers as its main customers and to leading bicycle manufacturers and brands in countries such as Spain, France, Germany or the Netherlands. This proximity facilitates meetings between Miranda's R&D teams and OE customers without the need to fly to Asia. Miranda's strong emphasis on in-house production offers advantages in terms of consistency and quality control while also shortening lead times and increasing flexibility. The latter two have become strong assets since sea freight got way less reliable and much more expensive throughout the Covid-19 pandemic.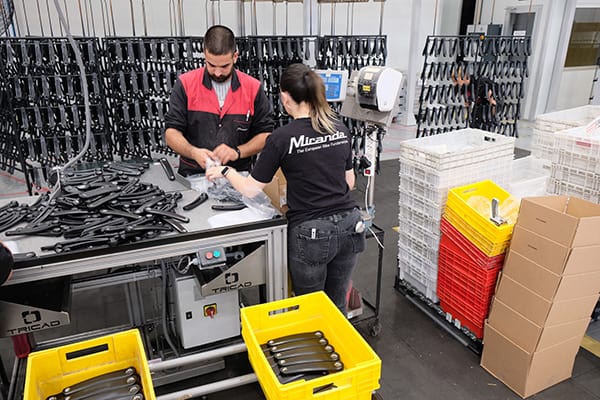 The new products to be presented at this year's Eurobike reflect some trends in the e-bike segment. As an entirely new product category, Miranda will be launching cold forged stems for e-bikes that have been designed with integrated cable routing in mind. Other news include chainrings with an integrated bash guard for Shimano's EP8 mid-motors and alloy cranks for Fazua's light support Ride 60 and Ride 50 assistance drive systems, featuring a slimmer profile and weighing significantly less. Speaking of low weight, Miranda will also launch seriously lightweight carbon crankarms built in Portugal in cooperation with Carbonteam.
Given the ongoing investments in state-of-the-art production technologies, its close connections to many leading e-bike brands and its keen sense of e-bike trends, Miranda looks perfectly positioned to stay in the fast lane and ahead of many of its competitors. And to continue to act both as a role model for other Portuguese manufacturers and a driving force behind the Portugal Bike Value project.