As the market leaders in mid-motors work to refine their offerings, new suppliers are entering this dynamic market. Apart from optimizing the ratio of support to weight, the main focus is on refining the sensors, software and connectivity – to the smartphone of consumers or to the servers of manufacturers.
While hub motors dominate the entry-level price points and various special segments such as oversized cargo bikes and trikes for professional logistics or e-roadbikes, mid-motors are the most common solution in the upper price levels that are typically covered by independent bicycle dealers. The main advantages of mid-motors are that they improve the handling by keeping the centre of gravity low and central and that they cope well with stop-and-go traffic and steep climbs as they tend to react more sensitively to pedal input. Another reason is that mid-motors can be nicely integrated into the frame design, but this integration comes at some tooling costs as frames need to be built around the motor.
While the upper levels of the mid-motor market are dominated by Bosch eBike Systems and Shimano respectively, Bafang has become a strong player in the value-oriented market. The ongoing dynamic growth of the e-bike market is still attracting new players as well as the demand is higher than the production capacity of established suppliers. Examples for this are Oli eBike Systems from Italy or Okawa from China – or Hyena Tek. This Taiwan-based supplier so far has been focusing on hub-based assistance drive systems but is launching its first mid-motor at this year's Eurobike show. Another new player working on mid-motors is Porsche: the famous sportscar specialist has acquired light mid-motor Fazua and is currently developing a mid-motor.
Across the many suppliers, there are some clear trends with mid-motors. One goal is to reduce the weight of the drive unit, with 3 kg as a benchmark that suppliers are aiming at. Since the power output is limited by law, suppliers focus on increasing the maximum torque. A lot of R&D efforts go into advanced sensors and improved software to deliver smooth yet powerful and immediate support. Since this additional torque tends to drain the batteries, they are getting more capacity as well – and almost all suppliers offer in-tube batteries for clean integration. Another big topic is connectivity, whether as consumer apps or as an IoT solution where every e-bike is constantly sending data to the manufacturer's servers when in use.
As the undisputed market leader in assistance drive systems for bicycles, Bosch eBike Systems [hall 12.0 / A17] is focusing on the rollout of its all new, light-weight Performance Line SX platform. But that is not all that is new for 2023. Having launched its next-generation Smart System in 2021 and expanded this ecosystem last year by adding second generation ABS technology amongst other features, the news at this year's Eurobike is more subtle for the powerful mid-motors. The Active Line and Active Line Plus platforms get the Smart System upgrade for the model year 2024 as well.
In line with this extension of Bosch's smart offerings are two novelties that are aiming to make operating the Smart System more intuitive.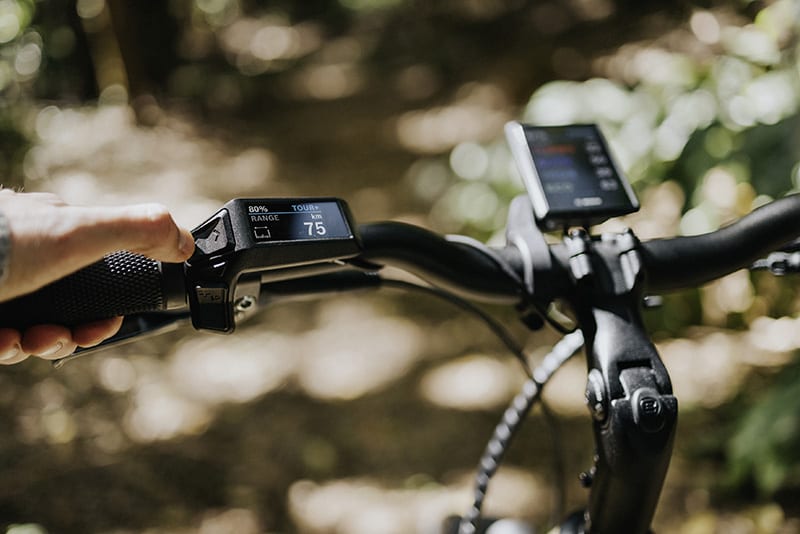 The Kiox 500 is a larger version of the Kiox 300 unit. As its 2.8-inch display is 40 percent larger, reading the relevant data is getting easier even under tricky conditions. The display settings of both Kiox displays can be customized using the eBike Flow app. If you rather fancy a compact controller unit, the Purion 200 might be the right choice. While this unit features a small color display of its own, it can be combined with other displays of Bosch eBike Systems as well.
Since the Smart System has been introduced with extended connectivity functions in mind, Bosch has been working intensively on this aspect. A first result of this is the premium Flow+ subscription app. For € 5 per month or € 40 per year, subscribers get a set of additional functions, starting with the premium eBike Alarm service. To activate this service, the eBike Lock feature needs to be activated and the e-bike needs to have the Connect Module installed. More premium services are to follow step by step as part of the Flow+ subscription app. Another push sees the number of fitness-oriented functions grow with the regular eBike Flow app.
Do not expect any new motors from Shimano [hall 11.0 / A16] at this year's Eurobike, as the Japanese component giant has introduced the next-generation EP8 and EP6 mid-motors recently. The main focus will be on the combination of these units with the electronic XT Di2 and Cues Di2 drivetrains, respectively. This combination opens up the Free Shift and Auto Shift functions for which Shimano has just won a Eurobike Award. This means you can now change gears without pedaling in the Free Shift mode or be sure to always have the right gear for the situation at hand thanks to Auto Shift, so you can fully focus on the trail ahead, picking the right lines and operating the brakes. Expect more suppliers to come up with similar solutions in the future, connecting both assistance drive system and drivetrain.
Brose Antriebstechnik [hall 8.0 / I08] premieres the Drive3 Peak as its third generation mid-motor at this year's Eurobike. With a weight of 2.9 kg this motor is on par with the top offerings of both Bosch and Shimano. To facilitate a clean integration of the unit Brose has managed to reduce its size as well.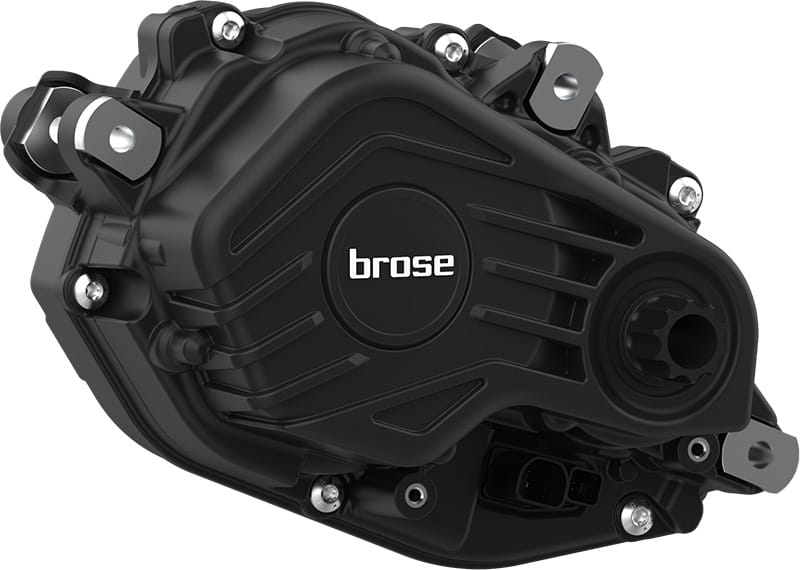 Yet it does not skimp in terms of support, as it cranks out 95 Nm of torque and can amplify the riders input by up to 410 percent. Apart from the modernized looks, the biggest change is that the voltage the Drive3 Peak system is running with has been upped from 36 V to 48 V. According to Brose, the main reason for this change was to push for a smooth integration of motor, display and batteries.
In line with Brose's push for more sustainability, the Berlin-based company is going to offer its second generation Drive mid-motors as refurbished units as well. In what is a pioneering step towards a circular economy, Brose has developed an industrial recycling process where new motors are being built from parts taken from returned units. Of course, those parts are tested meticulously before they are being combined with new parts to build a Remanufactured Drive mid-motor. According to Brose this approach saves considerable resources and reduces the CO2 emission of a 2nd generation Drive unit by at least 21 kg. The Remanufactured Drive units come with a full 2-year warranty and get you proven technology for less money.
Ambitious Chinese newcomer Okawa [hall 8.0 / H20] has just opened its European headquarters and service center in the Netherlands. The company's current flagship product is the A70 mid-motor. With a magnesium housing and internal gears all made of steel, this unit hits the scales at 2.7 kg. While the 250 W version can be configured to run with either 36 V or 48 V, the 500 W version is 48 V only.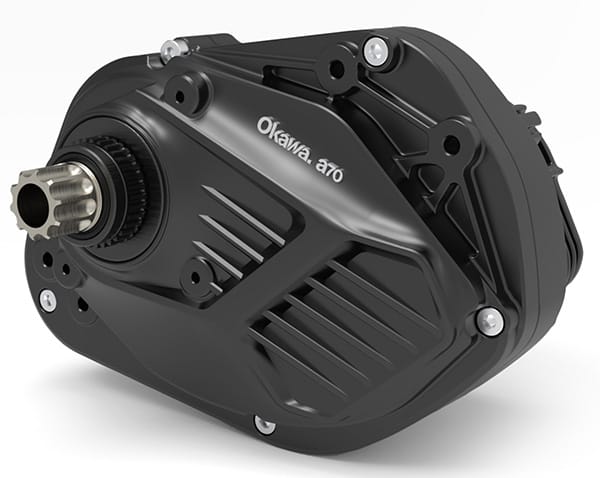 In terms of support, the A70 packs quite a punch: with the 250 W version the maximum torque stands at 90 Nm, and with the 500 W you even get 120 Nm. Okawa also looks to set itself apart in terms of after sales service, offering a full 4 years of warranty from the start of use, an extended lifetime warranty upon subscription and leasing options for its motors.
So far, Hyena Tek [hall 8.0 / K16] has been known for hub-based assistance drive systems. But that is about to change as this Taiwan-based supplier rolls out its first mid-motor with the UniDrive 60. As the name suggests this compact unit is not aiming for maximum power as it only dishes out up to 60 Nm of torque and a rated power of 200 W.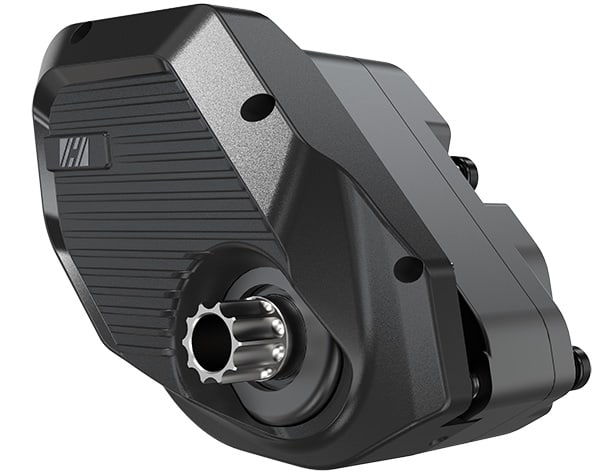 But at a weight of 2.4 kg, it saves half a kilogram compared to established offerings. Thus the UniDrive 60 is an interesting option for segments such as city bikes, trekking bikes, e-gravelbikes and even e-roadbikes. All the more so as the battery can also be downsized due to the slightly reduced support.
Positioning itself as an alternative to the offerings of Bosch eBike Systems and Shimano, Italian supplier Oli eBike Systems [hall 8.0 / G28] has built its flagship Edge mid-motor to either fit the mounting interface of Bosch or Shimano. A clever move as this eliminates the need to redesign a frame to switch to the Oli motors. The compact Edge motor hits the scales at 3.2 kg and can be customized to specific needs or used with standard settings and support modes. Speaking of support, the Edge is able to amplify a rider's input by 400 percent, maxing out at 90 Nm of torque and delivering up to 600 W in peaks.
Special attention has gone into torque sensors and the software to calculate the support needed – and into making the Edge run as smoothly and quietly as possible. As for the batteries, Oli eBike cooperates with German supplier Akku Vision.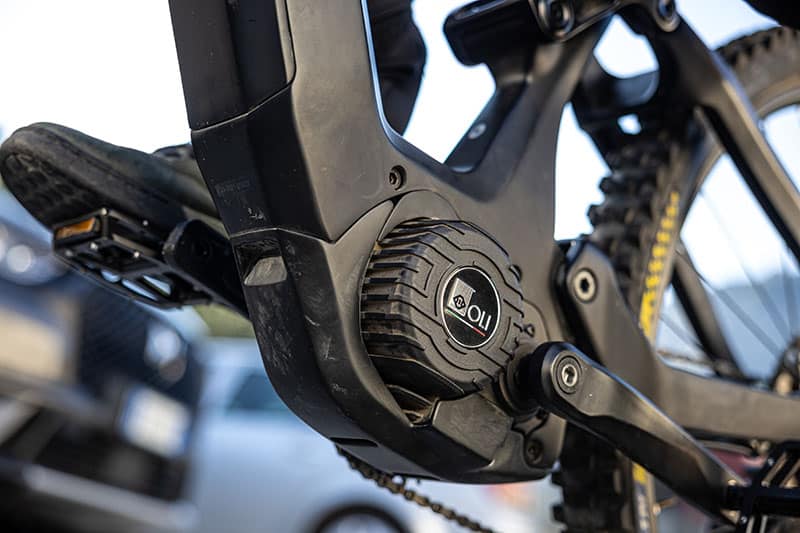 A novelty worth mentioning is the new Ring Vision controller: this minimalist, ring-shaped unit with integrated LED strip, light sensor and control buttons fits neatly next to the grips on the handlebar, allowing you to change the support modes or switch on the headlight without taking a hand off the grips. For those who want more data while riding, Oli eBike has optional High Vision and Side Vision displays with Gorilla glass as well.
As a well connected company with a diversified portfolio, Neco Technology Industry [hall 8.0 / J01] is looking to increase its e-bike-related business.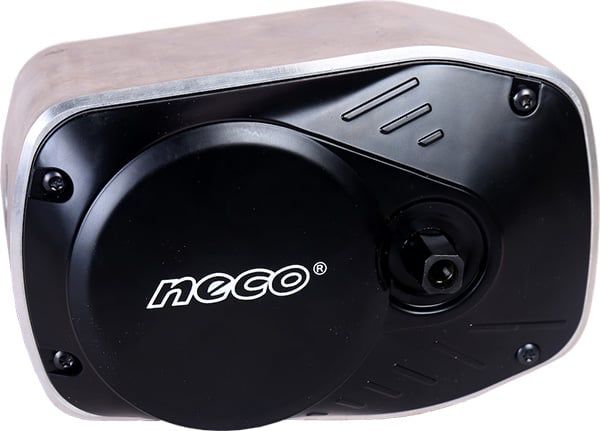 At this year's Eurobike, two mid-motors are put in the spotlight: the MM18 unit is available in silver or black and with either 250 W, 350 W or 500 W power output, depending on needs and legislation at hand. While it may not be the most lightweight mid-motor out there at 3.6 kg, the claimed maximum torque is pretty impressive at 100 Nm. If you think you need even more support, the MM20 Max may be the right choice, as this mid-motor is available with either 1000 W or 1500 W power output, cranking out up to 175 Nm of torque. According to Neco, the MM20 Max hits the scales at 5.1 kg.