Bicycle locks provide a crucial line of defense against theft in a world that's increasingly dependent on bikes for transportation. Choosing the right lock has become a vital decision for anyone who leaves their bike out in public (and wants to see it when they return). From digital solutions to sturdy folding locks to trustworthy U-locks, the options are expanding every year with each one promising unparalleled security. Different types of locks offer features for different users, yet one thing remains the same: their effectiveness is paramount to safeguarding bicycles from would-be thieves. Here's how brands at Eurobike are expressing this concept through their security solutions.
Whereas last year several manufacturers presented clever accessories for hiding Apple AirTags, lately bicycle security solutions are trending toward hidden GPS tracker+alarm devices that work with a companion app. E-bike users have enjoyed this type of integrated security for a while, but now new hardware and software kits can be purchased off the shelf and installed on most bikes by the user. Both YFLab [8.0 / B49] and Infocar [9.1 B10] are new to Eurobike, debuting their GPS/app-based solutions.
YFLab is a collective of developers who engineer and produce GPS tracking solutions. Following two years of development, the Slovenian company is debuting BikeFlare Visio, a GPS tracker and alarm concealed in the handlebar. When triggered by suspicious bike movements, the system's primary BikeFlare-Alarm can be activated with an alarm that sounds a high-priority notification that will override do-not-disturb phone settings.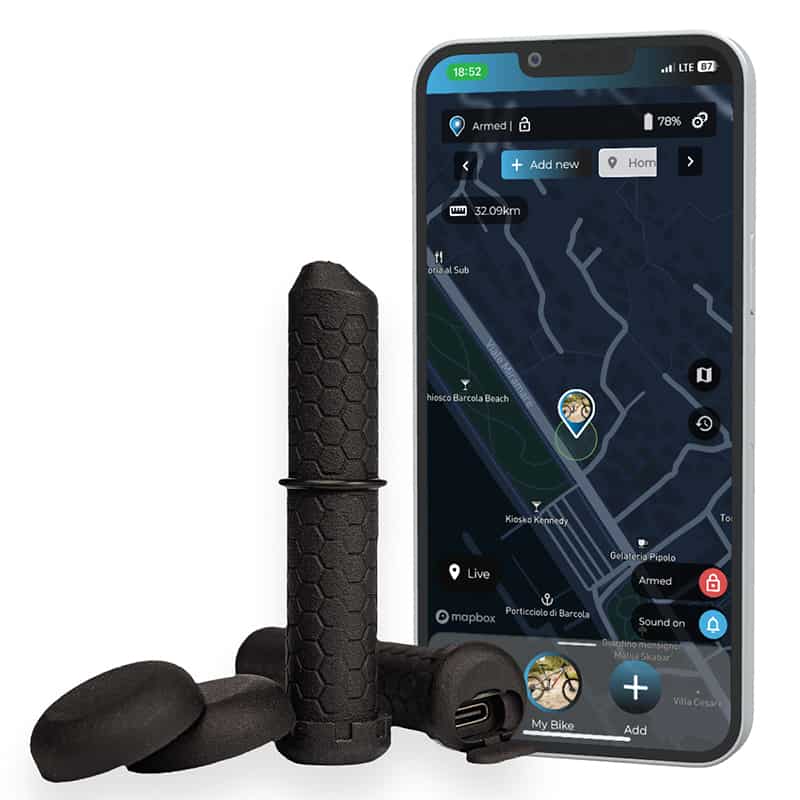 If the user forgets to activate the primary alarm, the system will still send a "bike-has-moved" notification when no bike motion is detected for more than five minutes. In addition to controlling the alarm, the companion YourFlare app allows the user to view bicycle location, store information about the bike, get the bike's current location through live tracking (in the event of a theft), and see all logged locations for up to a week. The system also offers a pair of add-on features that start at 50 cents per month each: custom-shaped geofence safe and no-go zones, and a complete history of locations. The current retail price for BikeFlare Visio is 129€.
Infocar is presenting its bikeAngel smart GPS tracker and mobile app for bikes, e-bikes, and e-scooters. The device fits imperceptibly inside handlebars with a minimum inner diameter of 17 mm and comes with all the necessary parts for DIY installation.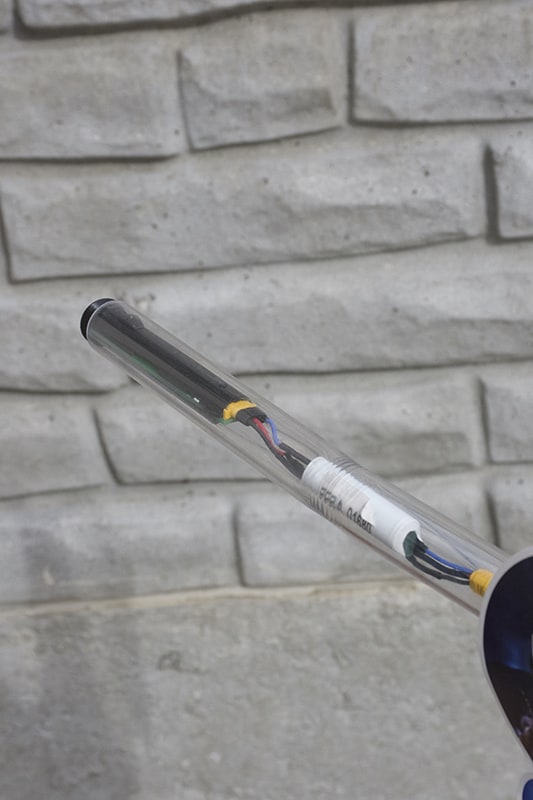 The app has all the features you'd want in an anti-theft solution, like alerts for both the bicycle in motion (probable theft in progress) and for suspicious bike handling, and a crash warning with precise location, but the app has a few more functions, like detailed ride information, list of traveled routes, and ride map. Compared to similar products and according to Infocar, bikeAngel's real added value is its owner recognition, which allows it to automatically arm or disarm the owner's bike, as well as its individual settings, which allow the owner to set the sensitivity of the crash warning according to riding style. If the bicycle has been stolen, the app's "navigate me to the device" function aids in recovering the bike by offering the most optimal route. The current version of bikeAngel is listed at 239€ for the complete package. Infocar will also install bikeAngel Monday-Friday, 8:00-16:00 at its Bratislava headquarters for an extra 39€.
Swiss company, Velo-Guard [9.2 / D02], has zeroed in on the steerer tube for where to hide its "invisible" lock for e-bikes. The device is fully integrated into the tube with the use of magnets where it locks the handlebar in place.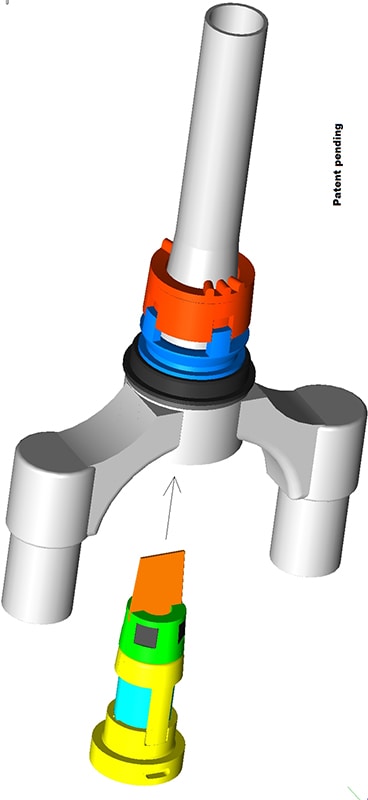 The Bluetooth-enabled companion app activates the locking/unlocking function. Velo-Guard also offers a plugin system for additional chain or cable locks. The Velo-Guard invisible lock fits e-bikes with 1.5" tapered steerer tubes.
Digital anti-theft solutions may be on the rise, but hardware solutions still have the category locked up. New solutions have theft protection engineered into their designs, which range from coded locking systems to evolved folding locks to tried-and-trusted U-locks.
Starting in 2016, Hexlox [12.1 / A03b] established itself as a trusted brand for its off-the-shelf anti-theft systems that use a small, stainless-steel insert (the Hexlox) that fits into the steel hex bolts already on the user's bike. The Hexlox blocks access to the hex bolt, so any potential thief equipped with a hex wrench or Allen key is prevented from undoing the bolt and stealing the part.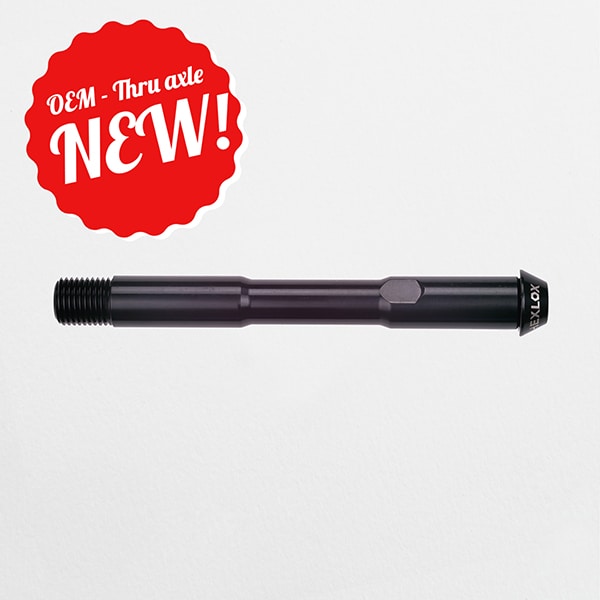 Hexlox has expanded to its product range with two dedicated anti-theft solutions. The Thru Axle OEM is a lightweight security axle made from high grade aluminum with proprietary Hexlox Ready steel bolt. Available in all sizes, lengths, and threads, OEM partners like Schindelhauer [12.0 / C28] are already equipping their bikes with the Thru Axle. The M12 Hexnut is a security Hexnut designed specifically to work with e-bikes and rear hub motors. The Hexnut on its own won't deter thieves, users will have to add a 6 mm Hexlox and a Hexlox key to completely fortify it against theft, but it does come with a spinning security ring, which foils everyday tools like pliers, vise grips, hammer etc. The M12 Hexnut is made from high-grade stainless steel.
Seatylock [9.1 / A18] has taken the folding lock concept and set a new standard for security and aesthetics with its Foldylock Forever. Featuring 6.5 mm hardened metal links, this latest model in the Foldylock range has earned a Sold Secure Gold rating for its elevated security.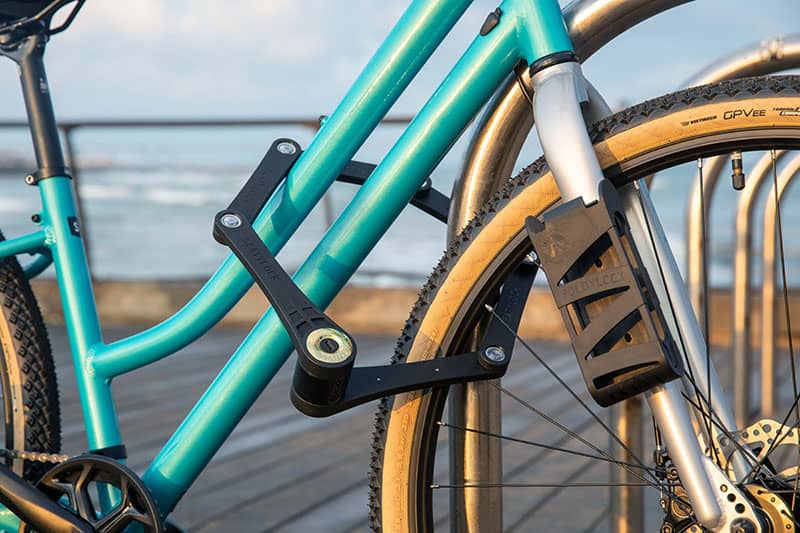 Seatylock designs, produces, and assembles each of its products in-house, giving it an advantage in keeping the design process flexible and controlling production quality. The Foldylock Forever represents a decade-long pursuit of the perfect bike lock formula to achieve reliable theft-protection. Not to be underestimated, the Foldylock Mini provides Sold Secure Silver certification in a compact, folding lock that comes in under a kilo and is available in vibrant colors for a personal effect. Folding locks provide security to users on the move but there's a virtual goldmine in small parts that aren't locked down. To solve this, Seatylock's X lock system consists of theft-deterring axle nuts and bolts for wheels, and a seat post clamp.
The key to choosing a lock, according to Crops [9.1 / D33], is the balance between weight, ease of handling, and security. To make a lock even harder to break, Crops designs lock systems that resist cutting and prevent force from being applied to the joints. Crops's Benlock foldable U-lock recently won an iF Design Award for its square shackle design that makes it difficult for would-be thieves to gain the leverage needed for breaking the lock. Crops previously scored a d&i award for its K5-Cabrio foldable, reinforced blade lock.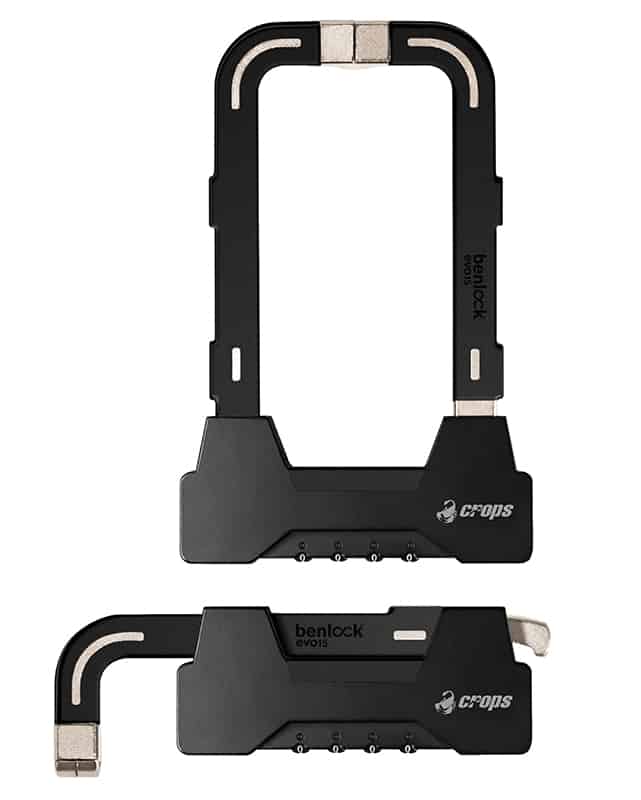 The Cabrio's main highlight is its 3-blade structure and special rivet joints that thwarts attempts to crack or break it. The 5-digit dial lock can be set with 100,000 combinations and, by positioning the combination dials flat on the locking mech, it's visually easier to remember the combination. When securing the bike at night or in low light, the "Zero-stop counter" function makes it easy because the dial stops at "0" when turned clockwise during locking. When unlocking, it's possible to count from "0" without looking at the dial, which can be done without having to see the combo numbers.
ABUS [12.1 / A29], which will celebrate 100 years in 2024, has secured its reputation through easy-to-use durable and now digital anti-theft solutions. At first, the new 6950M AM Granit XPlus frame lock looks like something we've seen before because it's a circular frame lock that's pretty common in northern Europe. So-called standard bikes, however, have become nothing of the sort and some of these new bikes have rendered standard frame locks obsolete.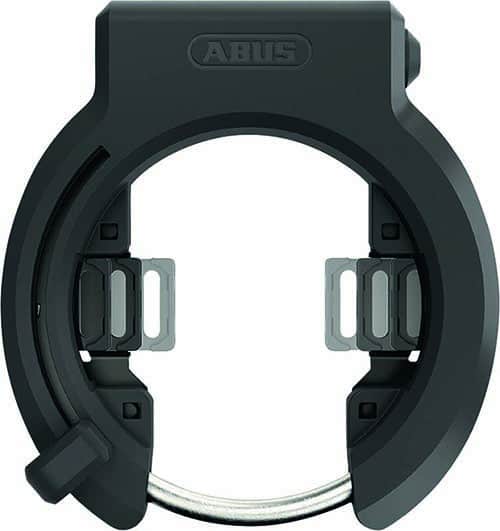 Enter ABUS's new frame lock, which fits almost all common frame shapes and tire widths thanks to its flexible fastening system. The All Mounting System is a flexible, movable screw mount that can be varied from 68.5mm – 107.0mm thread distance to the frame. ABUS claims that this versatility makes assembly easier, as well as eliminating the need to stock several different locks for different frame and tire widths. The lock's XPlus cyclinder is one-key ready, which allows it to be synchronized across a custom locking system for the user's personal or business fleet.
More often, portability as well as durability have secured the U-lock's fifty-two-year-old reputation as a reliable bike lock. Magnum Industries [9.2 / F18] has built on that reputation with the new OnGuard RockSolid, which has already stood up to a variety of theft attempts in the name of product testing.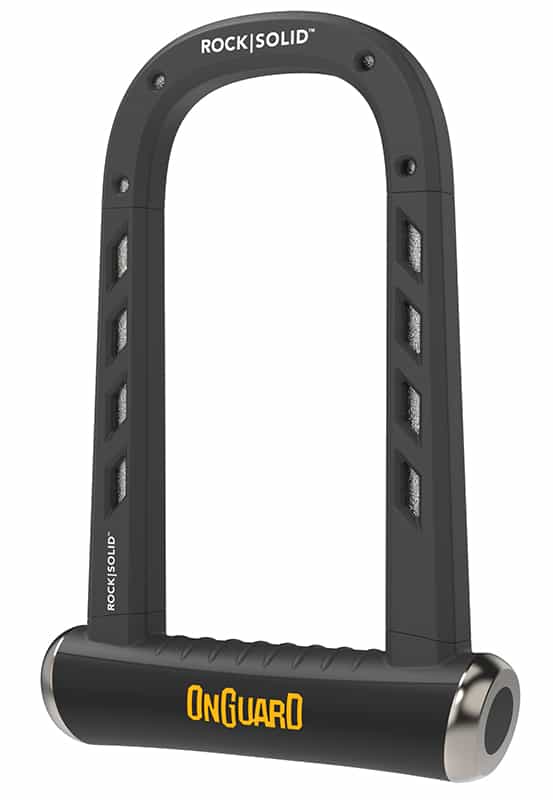 Forged from a proprietary blend of ultra-high-strength materials and fortified with a multi-layered defense system, Magnum claims that the OnGuard RockSolid is virtually impervious to efforts to cleave the lock. Every part has been designed and tested to resist brute force, like the hardened, shrouded shackle, which defies angle grinders and thwarts efforts to cut it. The grab-and-go U-lock design has been a favorite for decades because of how easy it is to quickly secure a bike to a street sign, bike rack, or parking meter, and then later shove into a messenger bag or backpack when it's time to go. Make it one of the lightest U-locks around, as Magnum claims to have done, and users can look forward to a long life together with their bikes.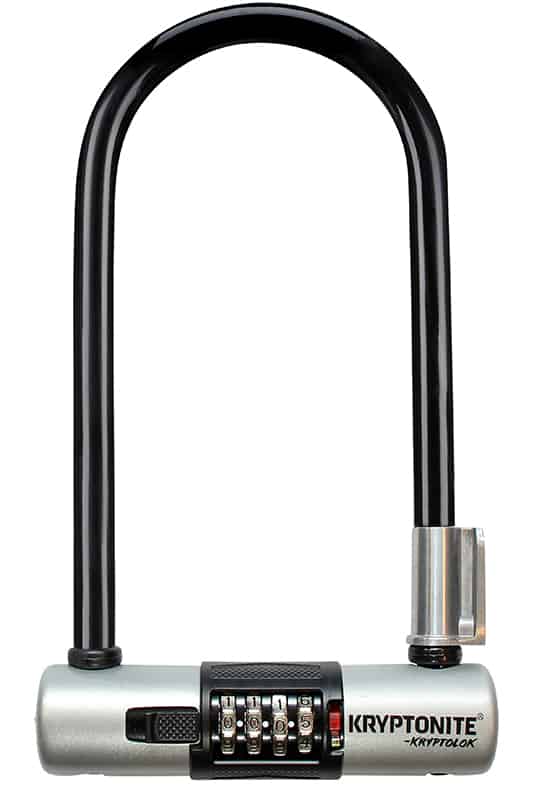 Once (and perhaps still) synonymous with U-locks, Kryptonite [12.1 / A17] keeps besting itself with new versions of the U-lock. This time Kryptonite is presenting two new locks: the Combo U-lock and the Keeper Mini Folding lock. The U-lock's double deadbolt qualifies it as the strongest combination U-lock in the market, and is strengthened even more by several supporting features, like a FlexFrame bracket, rotating dust cover, and 4-digit reset mechanism. The Keeper Mini has 80 centimeters of locking length made from hardened steel bars with tightened rivets, and folds down to only 5.7 inches weighing 1.23 lbs. / 0.56 kg.
As the demand for robust protection intensifies, manufacturers continue to innovate by integrating technologies like GPS tracking, smartphone connectivity, and tamper alarms into their designs. Digital advances, along with the reliability of durable hardware locks, offer cyclists a formidable arsenal in the battle against theft. Whether relying on the steadfast strength of hardened steel links or harnessing the power of digital connectivity, one thing remains clear: the value of a dependable bicycle lock cannot be underestimated.