Gravel took the world by storm when it brought something fresh, new, and invigorating to cycling. From the start, bike brands got busy trying to define the trend on their own terms: makers of road bikes produced "multi-surface" or "beyond-road" models with overtones of road cycling; makers of mountain bikes adopted the discipline as their own and produced bikes that could carve fast lines on doubletrack but could take to singletrack just as well.
Gravel riding had instant appeal, attracting both seasoned cyclists and novices seeking thrilling off-road adventures. Now finding the perfect gravel bike is no longer a soul-searching question of cycling identity (am I a road rider, 'cross diehard, or a mountain biker?), but rather asking what you want to do and where you want to go. Gravel-specific geometry, aerodynamics, gravel-specific drivetrains and components, gear mounts, electric-assist, and frame material are just a few of the choices that open a world of options for gravel bikes. These bikes at Eurobike express the current versatility of gravel bikes and perhaps give us a look into the future too.

Four years ago, Eurobike award-winner, My Esel [8.0 / D21], gained fame for its design concept of locally sourced wooden frames made from light composite wood. The basic idea behind a My Esel bike is based on the simple fact that everyone is different, which led My Esel to offer the possibility of customizing bicycles and e-bikes to the individual requirements of the user. In addition to an individual frame geometry, the torsion-resistant wooden frames, which are suitable for everyday use, also offer the option of integrating a GPS system inside the frame. Now the Austrian company is unveiling the world premiere of its E-gravel Esel, which is a natural – if not obvious – fit for the brand. With the new E-Gravel, the focus was placed on weight and comfort for the Race model, and more range with comfort and design for the touring model, both with rear hub drive. The frame is made of environmentally friendly laminated wood, which dampens vibrations many times better than carbon and aluminum, offers a high degree of riding smoothness, and still has a high degree of stiffness. Produced in Austria with wood from domestic trees, the performance qualities of wood, such as vibration damping and robustness, make it perfect for gravel use.
Polish manufacturer Rondo [11.1 / B30] took home a Eurobike Gold Award in 2017 for its Ruut CF1 gravel bike, which earned the jurors' praise for its finish and adjustable fork. That success was followed by the Ruut Ti and CF0 titanium and carbon fiber gravel models. New for Eurobike 2023, the second generation of the Rondo Ruut, featuring a novel double diamond frame will make its debut.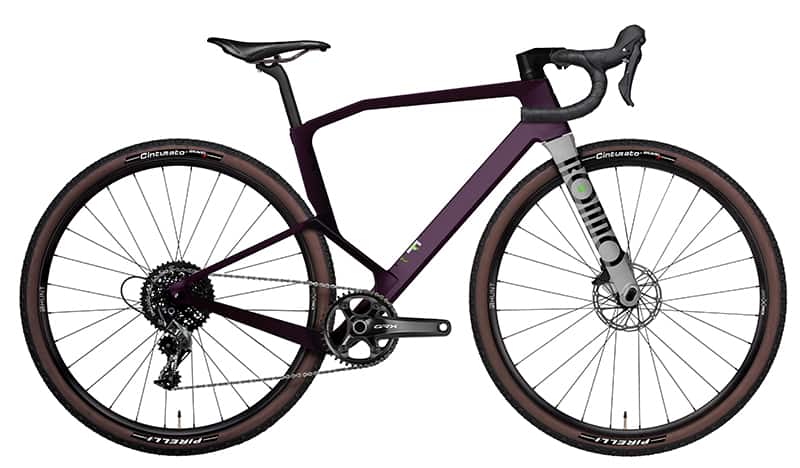 A whole new range of the Ruut CF will display a new frame designed to increase rider comfort, which has been achieved by a unique frame shape with an angled section of seat tube that allows more saddle adjustment. Along with the new Ruut CF, Rondo will show a third generation of Ruut AL, with new custom formed frame with integrated frame storage, UDH, and integrated cable routing.
Originally engineered for randonneuring and long distance commuting, the Pelago Bicycles [F11.0 / B05] Stavanger has received the most significant updates since its introduction more than a decade ago. For starters, the redesigned version supports a wider range of riders with frame sizes from 42-63 cm. The bike's tighter geometry has made it faster to maneuver, yet it can accommodate wider tires (50 mm for 700c, and 57 mm for 650b). The frame tubing is lighter – oversized chromoly with 0.5-0.8-0.5 wall thickness on the main triangle.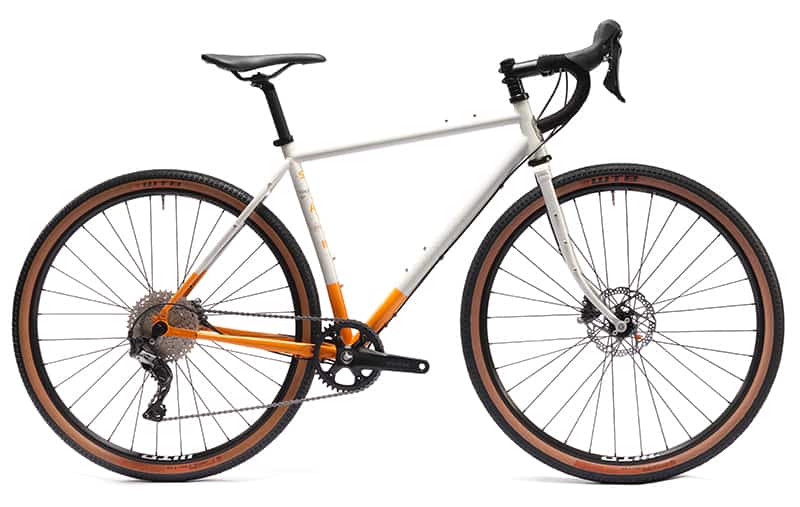 The updated version also features: additional mounting points for bottles and gear; thru axle wheel standard with detachable gear hanger; and 1×11 Shimano GRX groupset (40T/11-42T) with hydraulic disc brakes. The tapered headtube fits a carbon fork (sold separately) and the frame is also Di2- and dropper post compatible. Available as a complete bicycle for a suggested price of €2695 and as a frameset at €1095. New colors for Stavanger framesets will be available in August 2023 and for complete bikes in 2024.
Instead of just creating one gravel model and calling it quits, Orbea [11.0 / C12] engineered its Terra platform with different models in both aluminum and carbon for the ever-evolving gravel category. Terra starts with a monocoque carbon fiber or a hydroformed aluminum frame, either of which can be mounted with 700c x 45 tires for speed and efficiency on dirt roads, or with 650b x 50 tires for durable comfort if the definition of "gravel" takes a rocky turn.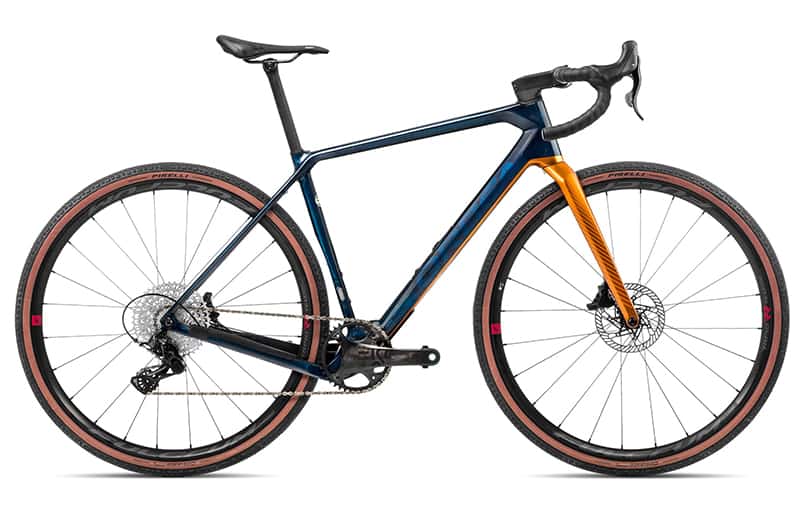 According to Orbea, one of the features that makes Terra unique is the frame, which has been designed to tackle a problem that exists in many gravel frames. Orbea gave it a range of drivetrain options without compromising tire clearance. Shorter seat tube, longer top tube, lower wheelbase, optimized head angle, and tuned trail (relative to frame size) are how Orbea has interpreted gravel specific geometry, and the company also offers the full MyO program to allow riders to configure their Terra to an extent that's unique in this niche of the industry.
Merida [12.0 / A16] is another key player in the gravel category. The Silex range is composed of eight models all with MTB-inspired geometry (long top and head tubes, and short stem) to offer the rider nimble, confidence-inspiring handling. The Silex 200 hardly seems entry-level with its full carbon fork, internal cable routing, and components by Shimano [11.0 / A16], Promax [9.1 / A23], and FSA [12.0 / B15], yet it's easy to tell the difference in pedigrees once you check out the Silex+ Limited.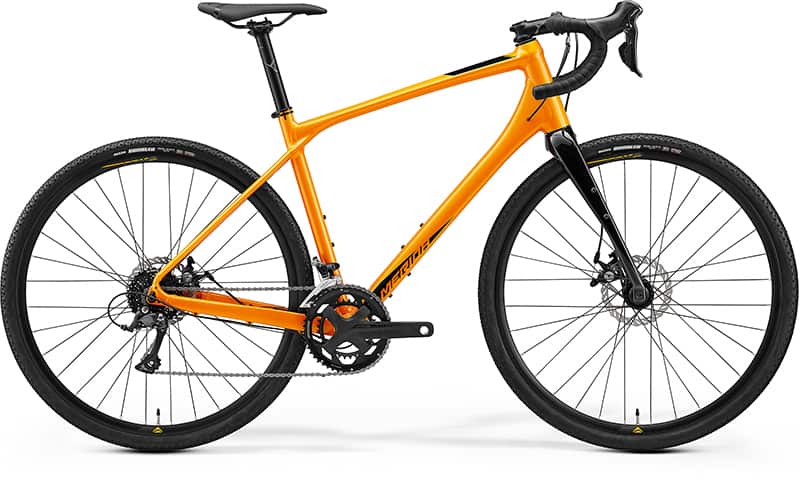 This model is Merida's top-of-the-range, full carbon gravel and rough road specialist featuring more rugged 650b wheels and a wireless SRAM drivetrain. For those looking for a little support, Merida adapted the versatile Silex to a Mahle [8.0 / H14] rear hub motor to give us two models of the eSilex. If you like what you see in the Silex, Merida will present an all new Silex coming this fall.
It makes sense that Marin [11.0 / A07] first entered the gravel category years ago with bikes influenced by mountain bike design and engineering. Adventure cycling also played a part and, when unsupported long-distance adventure racing started to gain traction, Marin produced the Gestalt X series as its take on what gravel and adventure bikes can do.
Gestalt X models are built with a longer-than-the-usual wheelbase, slack head angle, low-slung frame, wide bars, short stem, big, chunky 44 mm tires with room for up to 50 mm on 700c or 54 mm with a 650b wheelset. The Gestalt X family consists of two models, the Gestalt XR, on display at Eurobike, and the Gestalt X10. Both models use the same Series 3 aluminum frame and full carbon fork, the flagship XR is equipped with a Shimano GRX 800-series 1×11 drivetrain, GRX hydraulic discs, and a dropper post.
As elite gravel racing continues to evolve and winning times come down, bicycles oriented toward aerodynamic optimization, like the Factor [11.1 / A38] Ostro Gravel, which was launched last year, claim to make the difference between a podium and "merely" a top-10 finish. By manipulating airflow behavior around the head tube before it can be disrupted by the rider and the bike, Factor engineered lower speed aero-efficient characteristics into the Ostro Gravel.
Constructed from a blend of TeXtreme, Toray, and Nippon Graphite pitch-based fiber, the Ostro Gravel balances Factor's signature lightweight design with a strengthened layup to handle the challenging conditions of gravel racing. A T47A threaded bottom bracket, rounded steerer tube, and internal cabling demonstrate the bike's gravel pedigree, while multiple mounting points provide versatile mounting options for essential accessories. Equipped with components from Factor's sister brand, Black Inc., and SRAM drivetrains, premium builds for the Ostro Gravel range from €8520€-€10,800.
From a casual ride on local paths to unsupported gravel races lasting hundreds of kilometers, gravel bikes have yet to reach their full potential – and maybe they never will, which would be a good thing for gravel riders who are always looking for new adventures – and for the bike manufacturers who will help them discover what they can achieve.