Mixed signs from Europe's markets
Over the last 12 months there's been a lot of talk about a tough macroeconomic environment — inflation, eroding consumer sentiment and high inventory levels. Still, the data from key markets in Europe for 2022 are not all bad. The main reason: e-bike sales are still gaining market share.
The e-bike is king, with most bicycle manufacturers focusing their R&D efforts and budgets on models with electric assistance drive systems. From road bikes to gravity-oriented mountain bikes and even kids bikes, hardly any segment has been left untouched by this trend. For families in urban areas, cargo bikes with an electric motor have become a real alternative to a car, with cities handing out subsidies to facilitate the purchase of such bicycles. Thanks to the rise of leasing models, the demand for e-bikes remained high despite the bad state of the economy in countries such as Germany, Belgium and the Netherlands.
According to provisional data from Eurostat, the number of e-bikes imported into the EU last year grew to 1,185,695 units, an increase of 14.8 percent year-on-year. At the same time, key domestic e-bike suppliers such as Portugal also hit new e-bike export records. The limiting factor for the growth of e-bike sales seems to be the availability of batteries and electronic assistance drive systems, with the big suppliers hitting peak capacity in 2022. Bosch eBike Systems could not produce enough of its in-tube Powertube batteries to meet demand, throwing a spanner in the works of production planners across Europe in the spring of 2022.
As a general pattern the higher average prices of e-bikes and their growing market share have become an important factor in keeping the bicycle industry on a growth trajectory in 2022 in many European countries – if not in units, then in turnover. Two things need to be kept in mind however: first of all, some of the growth in turnover has to be contributed to inflation and rising prices. And secondly, comparisons on a year-to-year basis need to be taken with a grain of salt given the many disruptions that came with the pandemic. Expanding the perspective from 2021 back to pre-pandemic 2019 helps to give a clearer picture.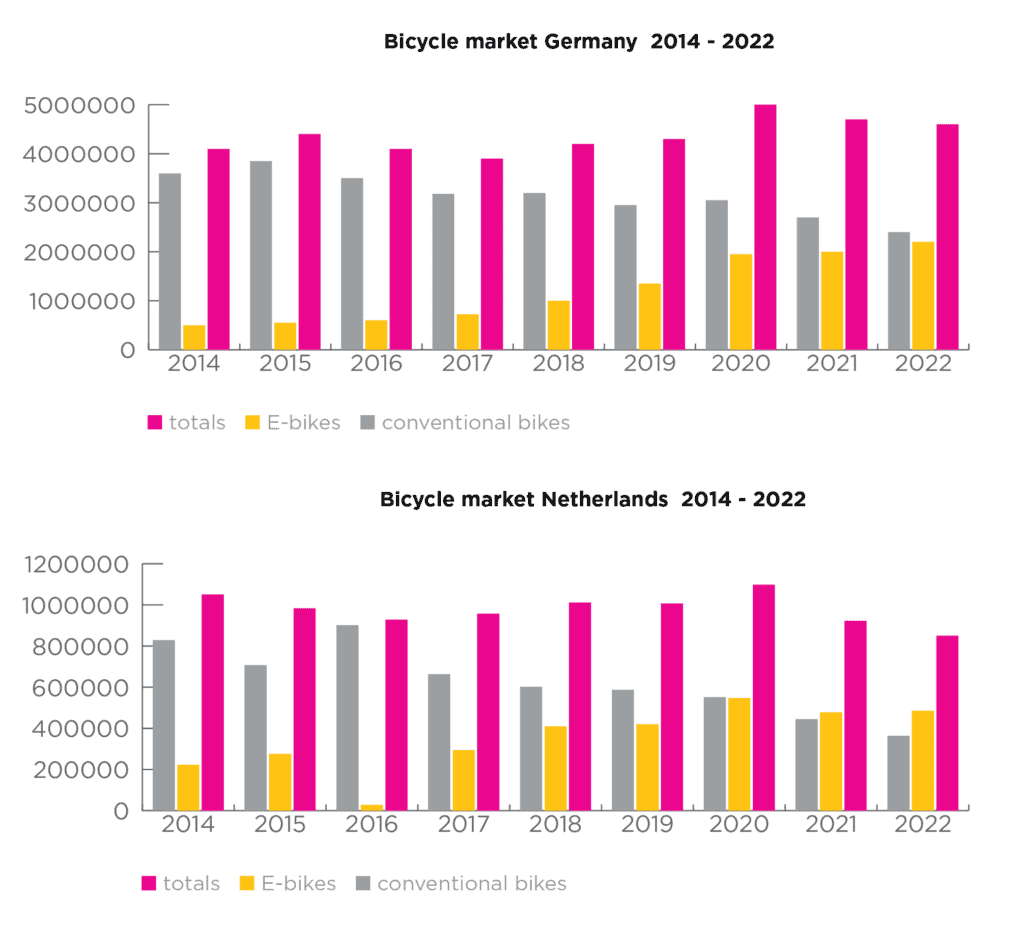 A prime example for e-bikes keeping the bicycle market on a growing trajectory is Germany as the largest market in Europe. While the overall number of bicycles sold in Germany in 2022 dropped by 100,000 units to 4.6 million, the number of e-bikes sold grew by 10 percent to 2.2 million, putting their market share at almost 48 percent. Conventional bikes saw a drop of 11 percent in sales to 2.4 million units, with the average sales price growing to € 500 while the average sales price for e-bikes grew to € 2800. Based on these numbers Germany's Zweirad Industrie Verband (ZIV) estimates the overall revenue of these bicycle sales to reach € 7.36 billion – a new record. 76 percent of these sales went through brick and mortar stores, with D2C players accounting for another 21 percent.
According to statistics collected and analyzed by Arge Fahrrad, Austria posted even better numbers for 2022. The overall number of bicycles and e-bikes sold grew by 3.2 percent to 506,000 units. Demand for e-bikes was unfazed by inflation, as sales in this category grew by 11 percent year-on-year to 246,728 units – making for a market share of 48.75 percent. Due to their significantly higher average price, e-bikes even accounted for 74 percent of the turnover resulting from bicycle sales. This turnover grew by an impressive 35 percent year-on-year to € 1.39 billion. According to Arge Fahrrad, the sales of accessories, components and spare parts accounted for another € 200 million, setting new records for the bicycle business in Austria.
While Switzerland is known for its buying power and was less affected by inflation since it's not part of the eurozone, the bicycle market contracted for a second year in a row in 2022. The number of conventional bicycles and e-bikes sold dropped by about 2 percent to 483,562 units. But while the sale of conventional bicycles dropped by a hefty 14 percent year-on-year to 264,832 units, e-bikes fared a lot better and saw a rise in sales of 17 percent to 218,730 units, putting the market share of e-bikes at 45 percent. Market insiders agree that the slight drop in sales in 2021 was caused by supply chain issues and a lack of goods, while the drop in 2022 is attributed to lower consumer sentiment.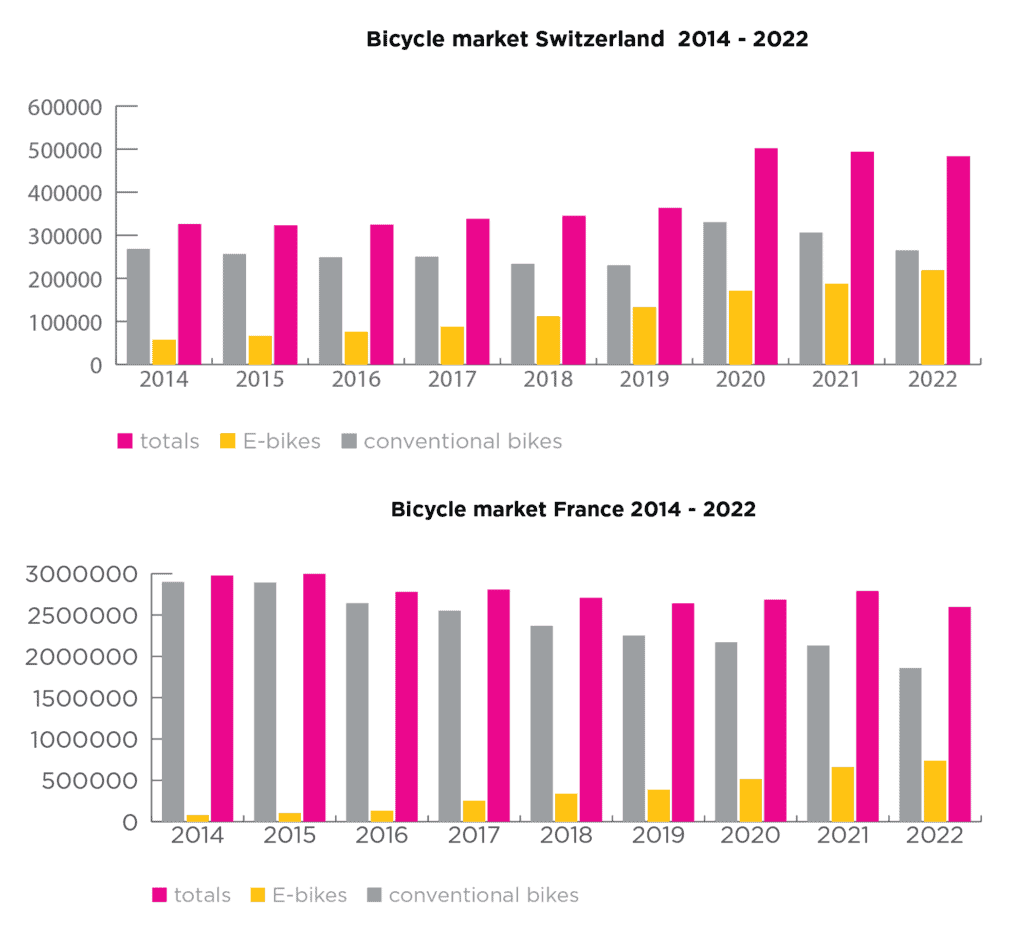 Somewhat surprisingly for such a flat country, the Netherlands is the European country with the highest market share for e-bikes. According to Dutch industry association RAI Fietsen, the overall number of bicycles and e-bikes sold in 2022 stood at 855,000, a drop of 7 percent. Still, the turnover grew slightly by 0.9 percent due to the high average price of e-bikes. Since the sale of e-bikes grew by 2 percent to 486,000 units and speed pedelec sales grew by 9 percent to 4,370 units, the market share of e-bikes grew to 57.35 percent by units and to a massive 80 percent by revenue. According to RAI Fietsen, brick and mortar stores stood at a market share of 74 percent, while online sellers lost 16 percent of their turnover in the first year after the lifting of pandemic-related restrictions.      
As for countries showing dynamic growth, Belgium and Italy stand out. According to the mobility federation Traxio, a total of 695,871 units were sold in Belgium last year, up 19 percent year-on-year. While the number of conventional bicycles sold grew by 2.6 percent to 367,791, sales of e-bikes were up by a hefty 45 percent to 328,080 units, resulting in a market share of 47.2 percent. In Italy, the turnover resulting from selling bicycles grew by 18 percent to € 3.2 billion according to the industrial federation Ancma. As for the units sold, the number was down by 9.2 percent to 1.772 million. Of these, 1,435 million were conventional bikes – 15 percent less than in 2021. The sales of e-bikes grew by 14 percent to 337,000 units. This puts the market share at a relatively low 19 percent.
Apart from the market share of e-bikes already having grown to 28 percent the situation is very similar in France. According to the Union Sport & Cycle the overall bicycle market grew by 5.2 percent in value to € 3.6 billion, with the sale of bicycles growing by 7 percent and accounting for € 2.4 billion. Of the 2.596 million units sold, 1.858 million were conventional bicycles – a decrease of 13 percent year-on-year. Sales of e-bikes on the other hand grew by 12 percent to 738,000 units, more than making up for the losses in conventional bikes. According to sales numbers published by Spain's AMBE association, the bicycle market in Spain was down in units by 13.6 percent to a total of 1.357 million. E-bikes bucked this trend, as sales were up by 5.7 percent to 238,183 units and their market share grew to 17.4 percent.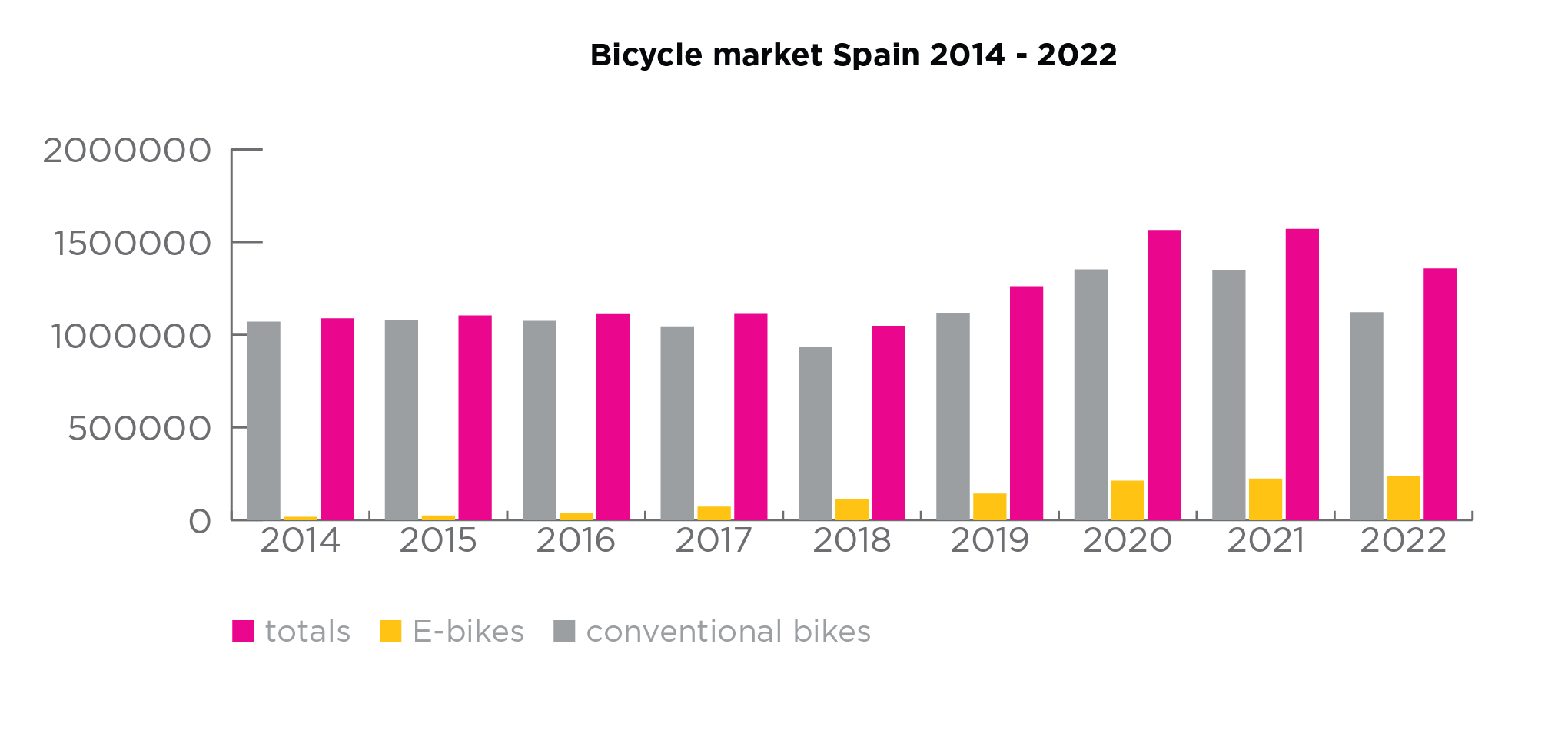 The United Kingdom has been in some heavy waters post-brexit, and the bicycle business was no exception. According to the Bicycle Association (BA), sales of conventional bicycles fell by 22 percent to 1.88 million units in 2022, marking a 20-year low and dropping well below pre-pandemic levels. While e-bike sales saved the day in many other markets, they dropped by 6 percent to 155,000 as well. With a market share of a meagre 7 percent in units, the United Kingdom's e-bike market has not seen significant growth since 2020. The turnover from sales of bicycles and e-bikes totaled £1.137 billion, a drop of 15 percent year-on-year. Parts, components and accessories added £ 598 million to the turnover – a drop of 22 percent.
In 2023, there is no lack of indicators pointing at a sustained cooling of the markets: key suppliers such as Shimano and Fox Factory have reported a dip in their Q1 numbers for 2023 already, as have large Taiwanese bicycle manufacturers such as the Giant Group, Merida Industry and Ideal Bike Corporation. The fact that Fitch has downgraded the Accell Group's outlook to negative due to high inventory levels and cash flow issues is pretty telling as well. It also indicates that the current imbalance caused by a slump in demand and overstock is not an issue that will disappear within the next couple of quarters.