A new breed of e-mountainbikes follows the logic that sometimes less is more. By cutting down on both torque and battery capacity, more and more brands are rolling out lightweight models that appeal to sporty riders and don't skimp on the fun in technical terrain.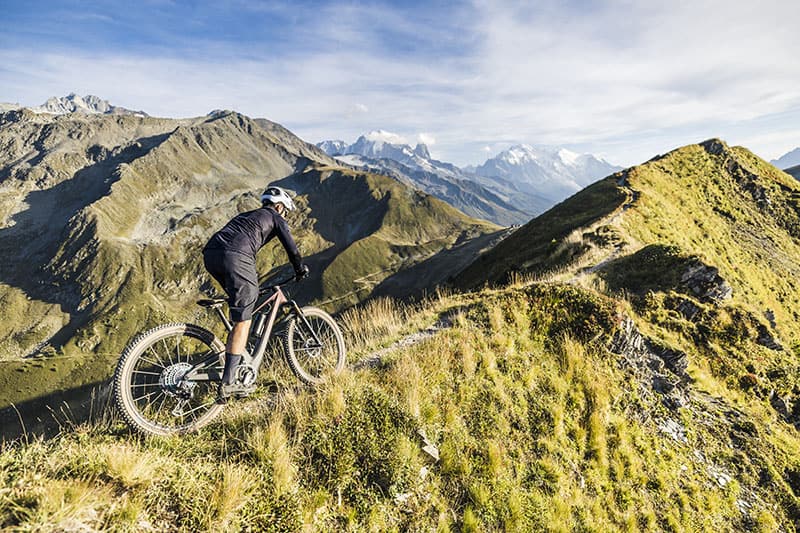 For years, the dominating trend with e-mountainbikes has been to increase the maximum torque and the capacity of the battery. After all, unlike the power of the motor these parameters are not limited by law. So they lend themselves to a competition between suppliers and e-bike manufacturers. Naturally more torque will drain the battery faster, so the latter need to grow as well. The gradual increase of both torque and battery capacity have resulted in heavy e-mountainbikes – to the point that the weight start to have a negative impact on the handling. This is one reason why a growing number of brands has been launching "light support" varieties.
The other reason is to appeal to the group of riders that still has not been convinced to switch to e-mountainbikes. By reducing the support and battery capacity, the weight can be brought down as well – to a point where fully-suspended e-mountainbikes with frames made of carbon hit the scales at under 15 kg. Early movers in this segment include Fazua with its Ride 60 and Ride 50 assistance drive systems, Mahle with its X35 and X20 systems and Specialized with its customized SL 1.1 mid-motor. Lately, the choice of such systems has been attracting additional suppliers, as evidenced in the light drives overview in yesterday's Show Daily.
The concept of lightweight e-mountainbikes is to blend the characteristics of both e-bikes and conventional mountain bikes and to demand more effort from the rider. After all, the lightweight systems do not multiply a rider's input by the factor 3.7 to 4 but rather just double it. While this might be a deal-breaker for riders who have gotten used to heavy e-mountainbikes, it might be the right strategy to get additional riders to convert from their conventional rides onto a lightweight e-mountainbike. Appropriately, most of these models do not come with large displays but very minimalist HMI solutions instead, combining a mode switch with a small display for modes and battery status.
The new iLight platform of Superior [hall 11.0 / B08] may well be the most endurance-oriented lightweight e-mountainbike with full suspension on display at the show. With its main frame and swingarm made of carbon, this bike offers advanced integration of all cables and lines and a progressive geometry that combines a slack head angle with a steep seat tube angle.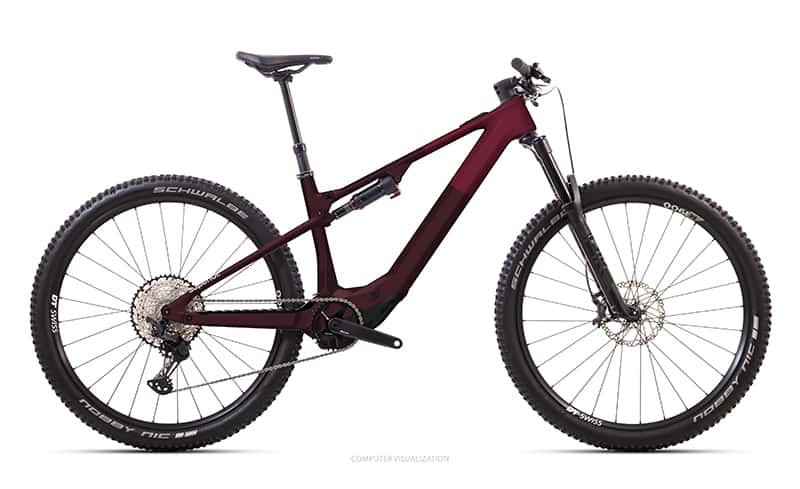 With drivetrain and brake components from Shimano, Rock Shox suspension and Schwalbe tires mounted to DT Swiss wheels, plenty of proven components can be found in this bike. The big news is the assistance drive system as Superior relies on the novel Performance Line SX from Bosch eBike Systems for the iLight series.
The same new Bosch system sits in the bottom bracket area of the Saturn Swift as the first lightweight e-mountainbike from German brand Nicolai [hall 12.0 / B09]. As usual with this brand, the frame is made of aluminum and reinforced with gussets in critical areas. For the right blend of efficiency and comfort, Nicolai relies on FSR four-bar kinematics.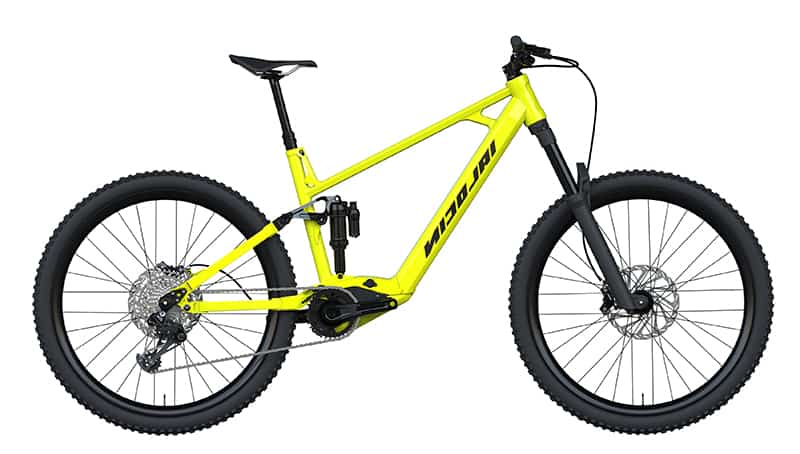 Looking at the Saturn Swift, you will notice the generous reach of the frame, combined with a slack head angle and a steep seat tube angle. An in-tube battery with a capacity of 400Wh sits in the oversized downtube, and for longer rides an optional range expander can be used, adding another 250 Wh. Due to the choice of more sturdy components and parts, the Saturn Swift weighs about 19 kilograms.
For its new Epium all-mountain platform, NOX Cycles [hall 12.0 / F10] relies on the Ride 60 assistance drive system from German supplier Fazua. Thus you get a maximum torque of 60 Nm and a battery capacity of 420 Wh. To keep the weight low, the Epium's frame is made from carbon fibre in Europe, weighs only 2.7 kg and comes with an adjustable geometry thanks to the brand's Flex Linkage system.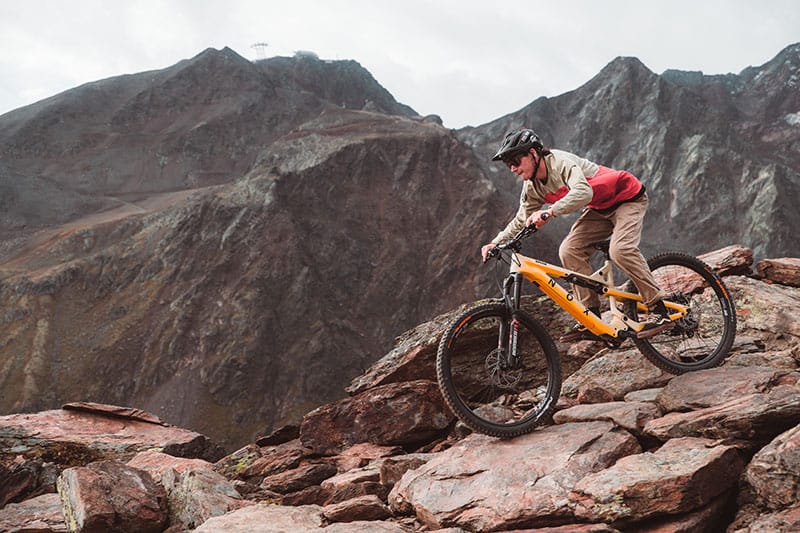 By combining 160 mm of travel front and rear with 29 inch-wheels and wide tires, NOX Cycles offers a package capable of tackling technical terrain with ease. The Epium has already won a German Design Award and will be offered in three builds, ranging from Core to Pro and Moon as the top-of-the-line offering.
Last year, the Bavarian TQ Group launched the TQ-HPR50 system at Eurobike, opting for Trek as its launch partner. While the supplier is not exhibiting at the show this year, there are lightweight e-mountainbikes with this compact system on display, including the Racon P-Max TQ by Simplon [hall 11.0 / C10].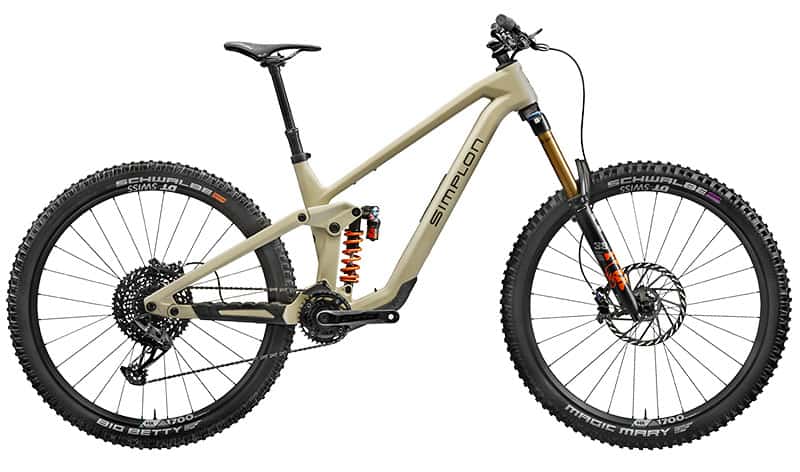 Its main frame and swingarm are made of carbon fibre and weigh as little as 1850 grams – before installing the assistance drive system, that is. Still you get to choose between 150 mm of travel front and rear when riding 29-inch wheels or 170 mm up front and 165 mm in the rear when going for a reverse mullet set-up with a 27.5-inch wheel in the back. A flip chip at the lower shock mount allows for an adjustable geometry.
Another brand that decided to cooperate with the TQ Group and build a light-weight platform around the TQ-HPR50 system is Scott Sports [hall 12.0 / A22]. The Lumen e-Ride combines a carbon frame and swingarm with the IST kinematics where the shock sits in the seat tube just above the compact mid-motor.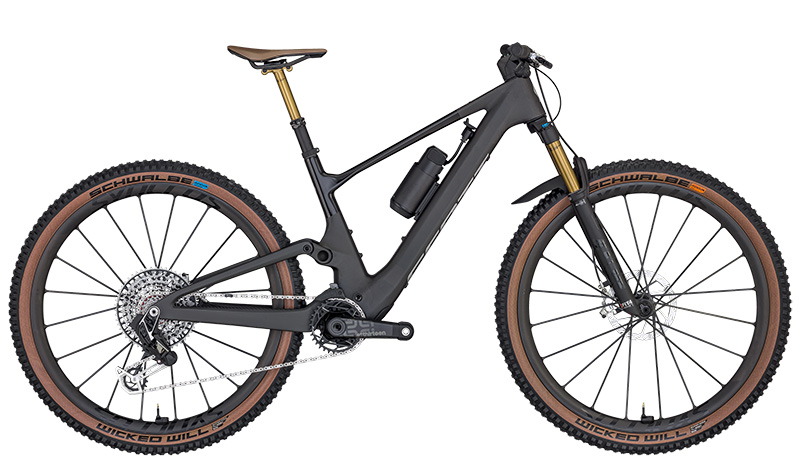 While the small display of the system has been fitted into the top tube, a minimalist mode selector can be found on the handlebar. All cables and lines have also been nicely integrated and routed internally from the handlebar. Despite hitting the scales at just 15.5 kg, the Lumen e-Ride still is quite a capable e-mountainbike as it rolls on 29-inch wheels and offers 130 mm of travel front and rear.
A typical example for an all-mountain model with a lightweight assistance drive system on board is the e-Menace from Dirtlab, which can be found at the booth of Maxon [hall 8.0 / J26]. This Taiwanese brand had been a developing partner of Maxon for the lightweight Bike Drive Air system from the very start, and the e-Menace is based on the brand's versatile Menace all-mountain and enduro platform.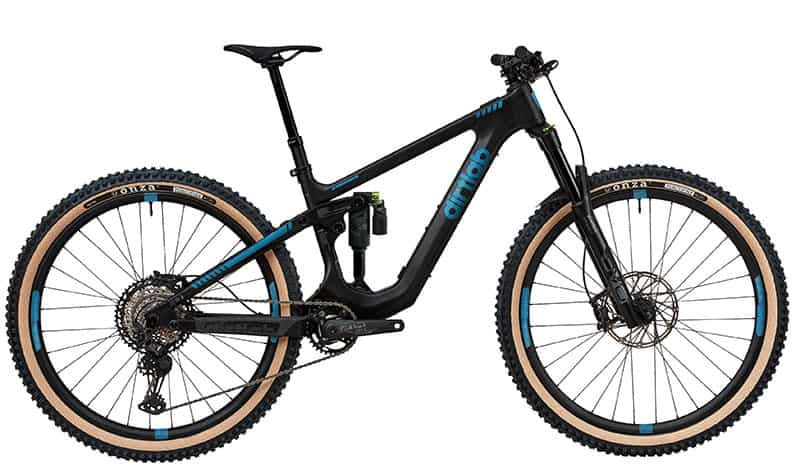 Available as a frameset with an e13 crankset or as a frameset with crankset and suspension components from DVO, the E-Menace can be built to weigh as little as 15 kg while. As for the travel, you can opt for either 130 mm or 145 mm in the back and combine that with either 140 to 150 mm or 150 to 160 mm up front.
Using the same compact mid-motor and also exhibited at the Eurobike booth of Maxon [hall 8.0 / J26] is the Literider e-Ultimate of Swiss brand Thömus. From the geometry of the carbon frame to the selection of parts and components and the travel of 120 mm front and rear, this e-mountainbike can be trimmed to weigh less than 15 kg and is clearly aiming at endurance-oriented riders. But thanks to an adjustable geometry the Literider e-Ultimate's travel can be increased to 150 mm up front and 140 mm in the rear, making for a light e-mountainbike capable of tackling choppy terrain as well.