Tyres are notoriously difficult to recycle: the particular mix of components and the construction process mean that separating components for reuse is often impossible. But new processes are starting to open up the possibilities of a circular tyre economy.
Schwalbe [12.1 / A27] is one company that has been making strides in this area: it describes its new Green Marathon model as "the first circular bicycle tire in the world".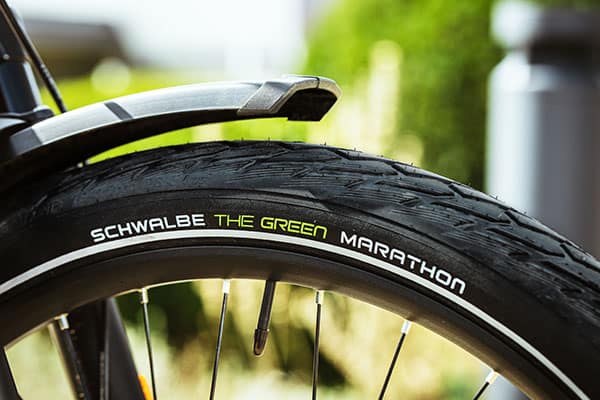 The Green Marathon is made from 70% recycled and renewable materials, including fair trade natural rubber, and the newly-developed rubber compound uses 100% carbon black from recycled bicycle tires. The Green Marathon is setting a new standard for eco-friendliness, and it carries the Marathon name which has long been a byword for reliability in the urban tyre world.
The 20" wheel size has become increasingly popular on fast urban ebikes, and especially in wider profiles which offer more comfort and puncture protection. Vee Rubber [12.1 / A01a] has a whole range of 20×4.0 tyres designed to work with a wide range of city ebikes and rated for use with speed pedelecs and similar fast ebikes.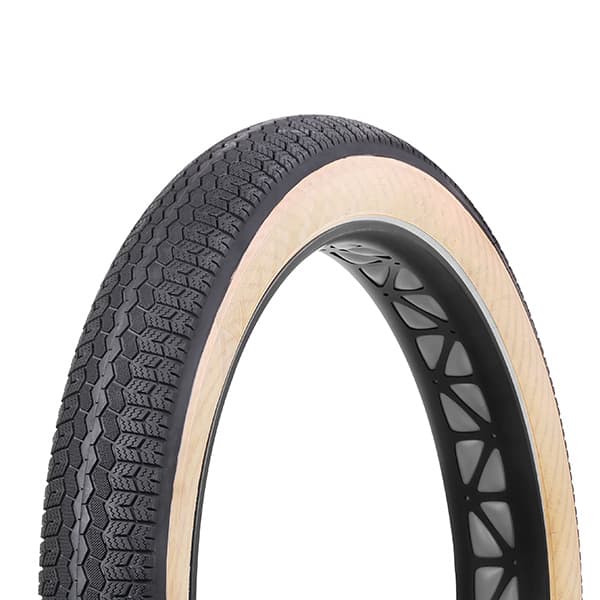 The tyres are all built around Vee's Override construction, which borrows technologies from Vee's motorcycle brother, Vee Moto Tires. The Override casing is three times stronger than Vee's B-Proof Aramid Belt and 2 times stronger than the B-Proof+ Aramid Belt. The casing uses a lower TPI, which gives better puncture, cut, and abrasion resistance. It's a bit heavier, but because the main target market is fast e-bikes equipped with highspeed motors, that's less of an issue. The treads use Vee's Energetic Compound, and the company has adapted this already efficient rubber to be more suitable in this segment through collaboration with Vee Moto Tires. Rolling resistance has been reduced and urban durability and puncture protection has been improved. The range includes the city-oriented Chicane (pictured), the more heavy-duty E-Huntsman, and even a studded ice tyre, the Snowball.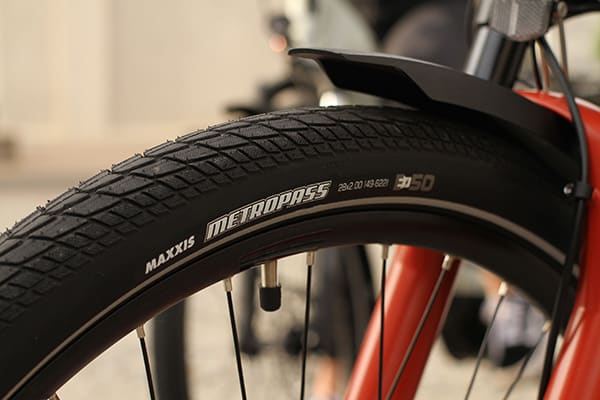 Ebikes not only travel more quickly, in the case of speed pedelecs, but are also heavier and designed to carry significant loads. The Maxxis [12.1 / B21] Metro family of tyres is specifically designed to cope with the rigours of urban ebike riding.
The Metropass is the commuter tyre, designed for everyday cycling about the city. Metroloads is specifically designed for the rigours of cargo biking so it's ideal as a last-mile delivery tyre. Both tyres are now available in a PRO build which uses a double-layer 60TPI casing and a thicker sidewall.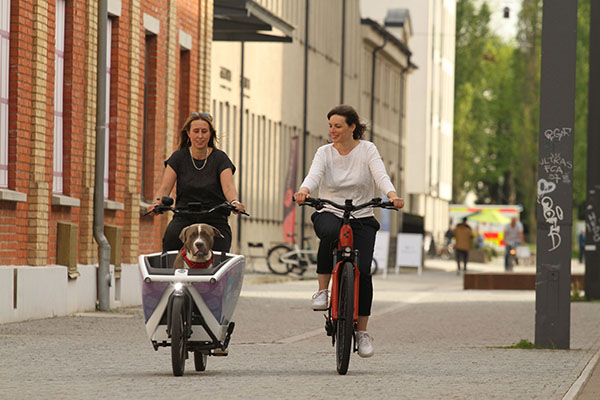 The Metroloads Pro has been tested under full load up to 10,000km without failing. All Metro tires are equipped with reflective strips for increased traffic safety and are ECE-R75 approved for fast e-pedelecs.
Hartex [9.2 / B14] is presenting its Xcite tyre at Eurobike.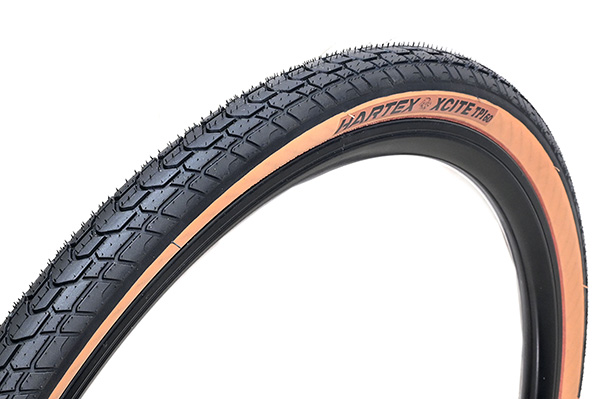 The Xcite is an all-purpose city tyre that's capable enough for trekking and touring too. Available in 38mm and 45mm widths, it features a close-packed but reasonably deep tread for sure-footed riding around town, and an anti-puncture strip to keep you rolling for longer. Wire bead and folding tubeless builds of the tyre are both available
The extensive range of city tyres from Innova [9.1 / D08] includes the Wanderer, a 29×2.15" (55-622) urban and touring tyre built around a dependable 60TPI casing.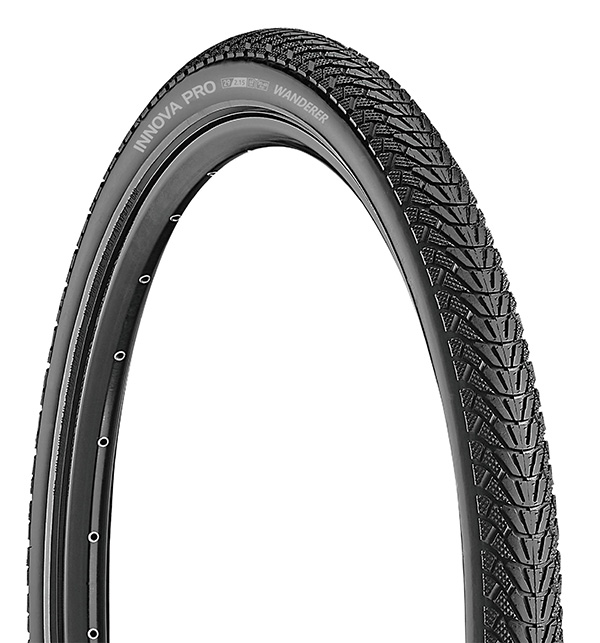 The center tread is smooth for quiet progress around town, while the more widely spaced and textured side knobs add grip where it's required on broken tarmac or unpaved paths. The Wanderer tyre uses a new high tech rubber compound that Innova says is designed for superior durability at high speed, combining that with low rolling resistance.
If your commuting bike also spends time taking you further afield then a tyre like the Power Adventure from Michelin [11.0 / B14] is perfect for mixed use.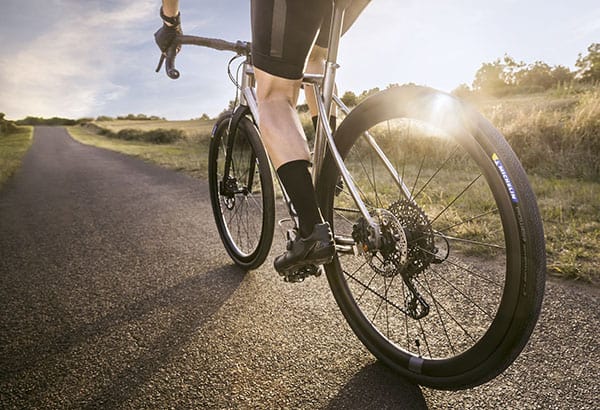 The tread pattern is designed to be fast rolling on the road but also capable when the tarmac gives out.
This makes it a great urban commuting tyre but also one that can cope with touring and even bikepacking too, where the notched side tread complements the smooth-rolling slick central band. The new and exclusive Gum-X compound optimizes grip on both dry and wet surfaces and the Power Adventure also benefits from BEAD 2 BEAD technology, an additional protective layer surrounding the entire carcass, which offers very good durability.