The number of frame suppliers who can build alloy frames designed around mid-motors and in-tube batteries is limited globally. For this reason the Dutch VDL Groep has invested substantially in a fully automated frame building facility in the Netherlands.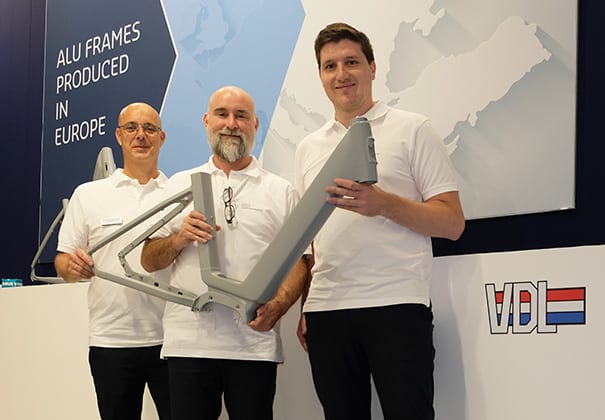 While the e-bike market still shows dynamic growth in mature markets in Central and Northwestern Europe, the market share is still considerably lower in regions ranging from Europe's South and East to North America and Asia. From a global perspective, demand is likely to keep growing, but it is going to face a number of bottlenecks from the availability of battery cells and semiconductors to the capacity of frame builders capable of manufacturing aluminum frames that feature advanced integration of the mid-motor and battery. VDL Groep [Hall 9.1 / C02], known for its advanced manufacturing methods in the automotive world, has identified this bottleneck. And it has reacted by investing an initial amount of multiple million Euro in a fully automated production for aluminum e-bike frames.
The production of VDL Bike Frame Technologies, as the new subsidiary is called, will be set up in Breda in the Netherlands with a yearly capacity of about 70,000 frames. With Dutch e-bike brand Qwic, a first key customer has already signed a contract to get 50,000 frames over the next three years – which amounts to about one quarter of the production capacity. According to Qwic's founder and CEO Taco Anema, this long-term strategic cooperation is key for his brand to take control of its supply chain, improve quality, reduce lead times and accelerate the pace of product innovation. "Having frames produced locally will make us more flexible, innovative and sustainable. This will then translate into better products for our customers," Anema explains.
VDL Groep's president and CEO Willem van der Leegte is also enthusiast: "Although the Netherlands can be considered the cycling country per excellence, the frame as the core component of the bicycle is mainly produced outside of Europe. With VDL Bike Frame Technologies, we will be bringing this production back to our country as well, enabling our customers to reduce their carbon footprint substantially. Having a fully automated production line will allow us to produce competitively." Other bicycle companies in talks to get frames produced by this new Dutch supplier include the Belgian Cycling Factory, known for its Ridley and Eddy Merckx brands.
And that's not all: VDL Fibertech Industries, another subsidiary, has also set its sights on the bicycle business, focusing on carbon fibre constructions and already having built first forks for cyclocross bikes that are currently being tested in independent laboratories. Depending on market demand, VDL Bike Frame Technologies strives to expand its modular production process, helping to overcome the bottleneck regarding aluminum e-bike frames.