As brilliant as full-size Long John cargo bikes may be, they need a lot of space to park and the handling takes some getting used to. This is where a new breed of compact cargo bikes can save the day, combining the foot print of a conventional bicycle with a lot of carrying capacity.
Longtail bicycles have been around for quite a while – and have been a favourite with Californian surfers in particular as they can carry a board. But most longtail models were still pretty big, especially for crowded city centers. This was the motivation for Tern [hall 12.0 / A04] to design its first non-foldable model, the GSD.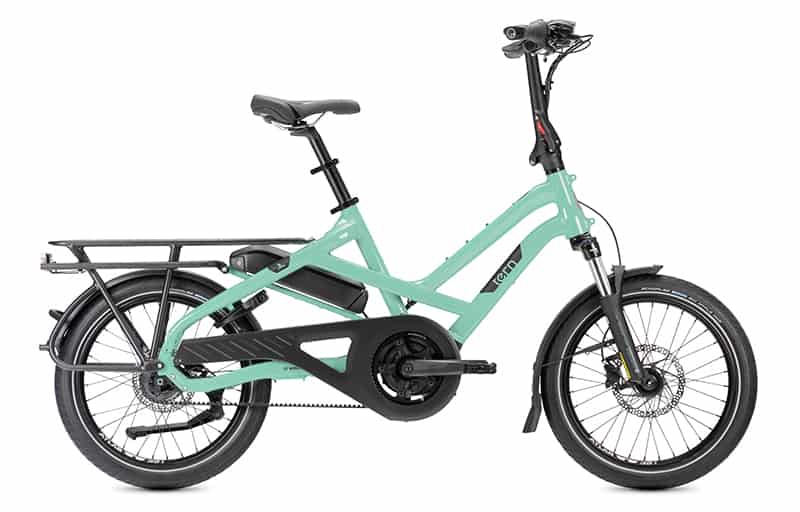 The idea was to create a model with the same footprint as a normal bicycle, rolling on small wheels and offering plenty of space on carriers in the rear and up front. In the meantime, Tern has added the HSD, the Quick Haul and the Short Haul models as gradually smaller and more affordable options.
For 2024 the HSD gets an all new frame to add stiffness. While the maximum system weight including the rider and cargo is set at 180 kg, the sturdy rear rack can carry up to 80 kg – all based on testing done by EFBE. Since the new version of Tern's HSD comes with the Smart System of Bosch eBikes Systems, you get to enjoy a lot of extra functions such as an electronic lock, an anti-theft alarm and GPS-based tracking. Naturally the wide selection of accessories that Tern has been developing, ranging from pannier bags to seat cushions for the carrier and rain covers, fits the new generation of the HSD as well.
Finding the best mix of utility and practicality, of additional carrying capacity and proper handling was the jumping off point for Benno Bikes [hall 12.0 / A15]. The company's new RemiDemi XL is no exception. For an extra portion of traction and comfort, it rolls on 3.6-inch-wide, voluminous tires mounted to extra-wide 20-inch rims.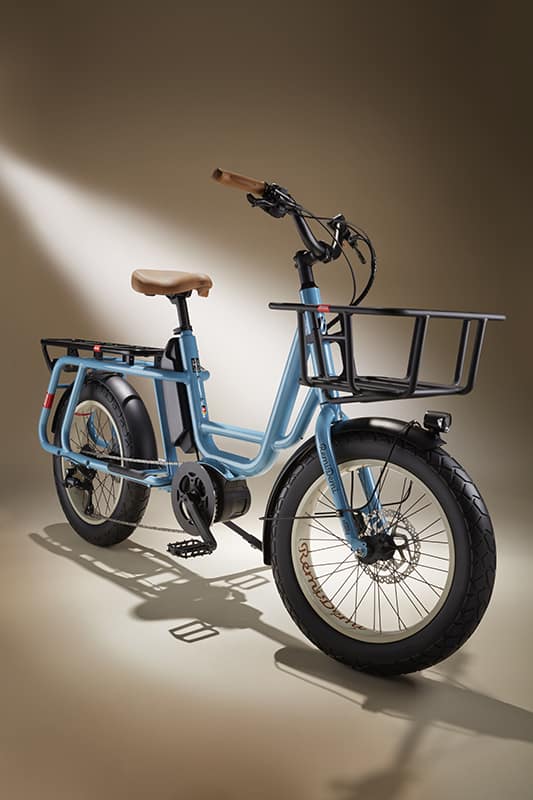 For the assistance drive system, it relies on Bosch eBike System's Performance or Performance Sport mid-motors, combined with external PowerPack batteries with a capacity of either 400 Wh or 545 Wh. For long rides, you can go for a double battery option with the RemiDemi XL as well. In short, this is one compact and fun bike to ride in urban traffic while still offering plenty of carrying capacity. If necessary two children seats fit on the rear carrier of this sturdy longtail model. As an option the RemiDemi XL can be fitted with a dual kickstand for more stability when loading the bike or securing children in their seats. Since the maximum gross load of this bike stands at 190 kg or 420 lbs, you can pack a whole lot of groceries and people on its carriers up front and in the back, and Benno Bikes offers a selection of accessories to facilitate the transport of goods and people in all weather conditions.
Up to now Austrian brand Vello [hall 12.0 / C12] has been known for compact and stylish folding bikes. Now the SUB is presented as the first cargo bike from the company, rolling on 20 inch wheels and featuring mounts for carriers up front and in the back. Despite its elegant looks the maximum gross load of the SUB stands at 210 kg.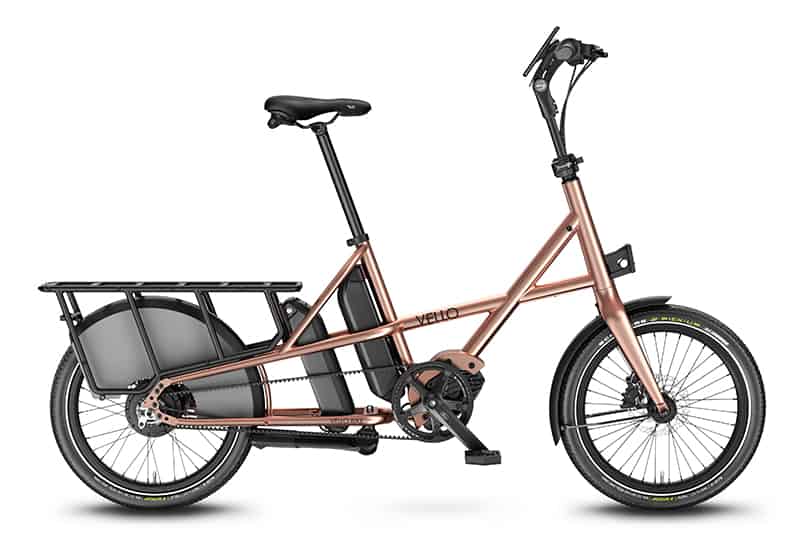 A double kick stand secures the bike for loading and unloading. Its unisex frame is available in either steel or titanium and features an extended rear triangle that allows for a long carrier fitting two kiddy seats. While Gates's beltdrive comes as a standard, there are options with either an Enviolo gear hub or a single speed build.
As for the assistance drive system, Vello has opted for the Performance Cargoline in the Smart System version as Bosch's top-of-the-line product. This means that the SUB offers plenty of support and a lot of connectivity-related functions, from anti-theft alert to GPS tracking and crash detection. As a standard, you get one 400 Wh PowerPack battery. But there is also an option for the larger 545 Wh battery and to go for a dual battery option. Since the racks are compatible with the MIK and the MIK-HD standards, you get to choose from a lot of accessories to facilitate the transport of goods.
Ca Go [hall 11.1 / C20] has created some waves with its premium Longjohn model already. But the Koblenz-based company also understood that this might be too big a bike for many customers. So it began development of a more compact model that still would not compromise on safety.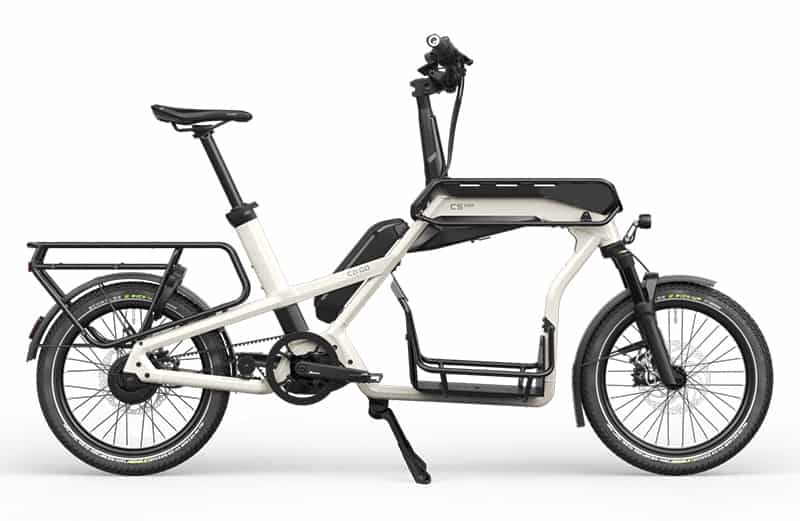 The result is what Ca Go calls a City Utility Vehicle (CUV) and goes by the simple model name CS. Rolling on Schwalbe's wide, cargo-bike specific Pick Up tires mounted to 20-inch wheels, this compact beast of burden comes with the agile handling needed to thread one's way through dense urban traffic. The Smart version of Bosch's Cargoline mid-motor system makes getting ahead easy.
Since the maximum gross load is set at 180 kg, you can pack a lot of cargo onto the CS, and the bike offers three places to do so: an extended carrier in the back, the center rack with its low loading bay big enough to take standard euro boxes or beverage crates and a front rack.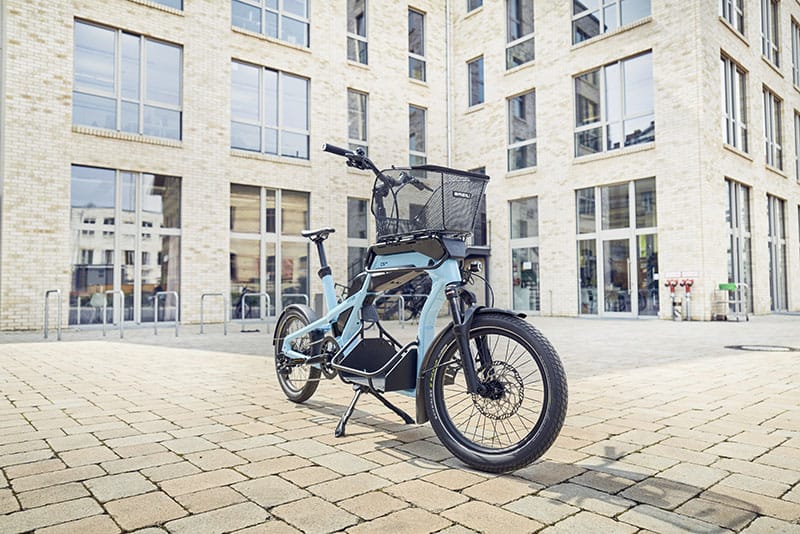 While the center rack can carry up to 30kg and the rear carrier up to 27 kg, the weight limit for the front rack is a bit lower at 18 kg. Thanks to the flat seat angle, it's easy to touch the ground with one foot without having to get out of the saddle, and one frame size fits a wide range of body heights – an approach often seen with these compact cargo bikes.
With the Moca Bike [open air ground F12 / F04], German distribution specialist Messingschlager is taking aim at the market for compact cargo bikes. While not a longtail, the Moca Bike can carry up to 35 kg each on the carrier in the back and up front.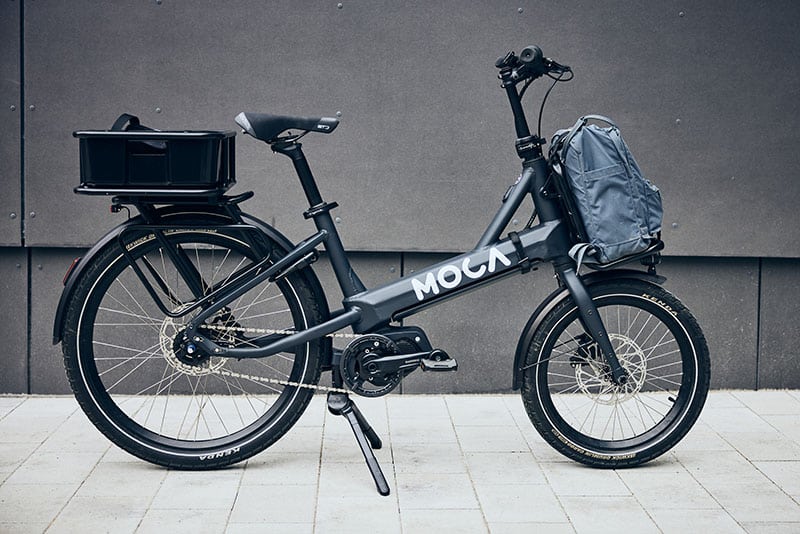 Since it combines a 26-inch wheel in the back with a 20-inch wheel up front, this bike has a really small footprint and agile handling. Its alloy frame has been designed to cover body heights from 1.50 m to 1.95 m with one size, so the saddle and handlebar can be adjusted over a wide range without the need of tools. To park the Moca Bike in confined spaces both the pedals and handlebar can be folded away.
Strong 4-piston disc brakes and a double kickstand are clear indicators that this bike is built to carry goods. To get you up to speed and keep you going with a payload of up to 70 kg, Shimano's EP6 Cargo mid-motor delivers plenty of power throughout a large cadence bandwidth. Since the in-tube battery comes with a generous capacity of 630Wh, you do not have to charge it all that often. As a modern touch of the digital era, Moca Bike has integrated a smartphone mount and a USB C charging port into the bike's design, and a hidden air tag holder allows for GPS tracking in case of theft.
By downsizing the classic Long John concept and putting it on a 16-inch wheel up front and a 20-inch wheel in the back, Muli Cycles [hall 8.0 / B30] has opted for an unconventional approach.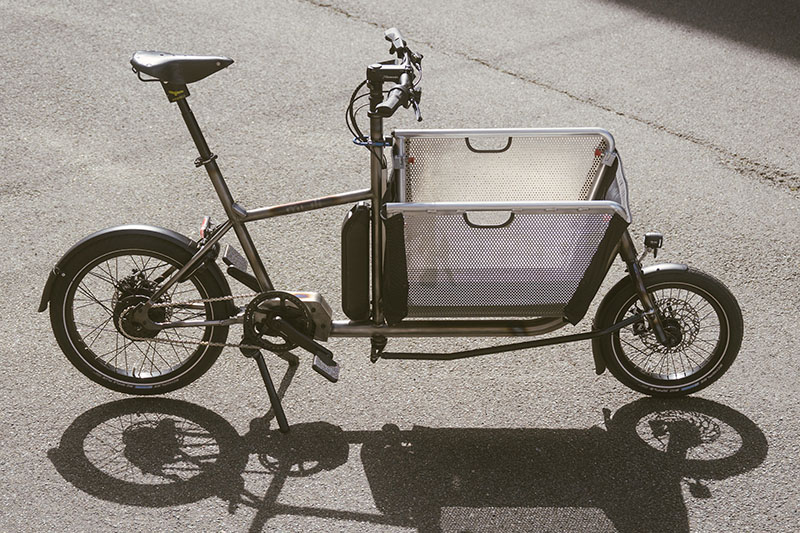 The fact that the cargo bay can be folded up to park the bike in confined spaces is another plus – and quite a unique feature. While earlier motorized versions relied on a retrofit solution of Pendix and Shimano's Steps e6100 mid-motor, Muli Cycles is putting a different emphasis now: the Muli motor EU claims to be the most eco-friendly and "made in Europe" cargo bike to date. The Cologne-based brand has already been manufacturing its steel frames in Germany for quite a while.
Now it has found ways to source practically all parts for this model in Europe, entering the Eurobike Awards with this concept. A closer look reveals a Smart System version of Bosch's mid-motor with a PowerPack battery mounted to the steering column, a voluminous nine-gear internal transmission hub from 3×3 and hydraulic disc brakes from Magura. Other parts sourced in Europe include lights from Busch & Müller, crankarms and a stem from Miranda, a suspension seat post from Airwings, a dual kick stand from Italian manufacturer Ursus and a classic leather saddle from Portuguese supplier Tabor.