Thanks to electrification, the cargo bike segment has been one of the most dynamic in cycling recently. Communal subsidies and leasing models further spur demand, and new manufacturers are joining the market for two-wheeled family vans. Meanwhile, established brands are working to refine their model range and add sustainability.
When it comes to replacing a car with a bicycle, full-size Long John cargo bikes with electric assistance drive systems are a top choice: depending on the model, these cargo bikes offer two to six seats for children, safety belts included. Rain covers keep the kids dry in bad weather, and since these bikes can carry a payload of 60 to 100 kg you can also do larger groceries or even pick up some heavy items at a do-it-yourself market. While the long wheel base takes some getting used to in terms of handling, powerful electric assistance drive systems help to get and keep going. A look at some of the new products in this segment being presented at Eurobike shows a wide variety of concepts.
As the first cargo bike from Velo de Ville [hall 12.0 / A02], the FR8 features some clever details and offers a lot of flexibility in terms of specification and concept. The Long John-type aluminum frame works with both a chain or a belt drive. Velo de Ville has opted for a combination of a 20-inch wheel up front and a 27.5-inch wheel in the back, with Schwalbe's reinforced Pickup tires mounted in 60 mm width.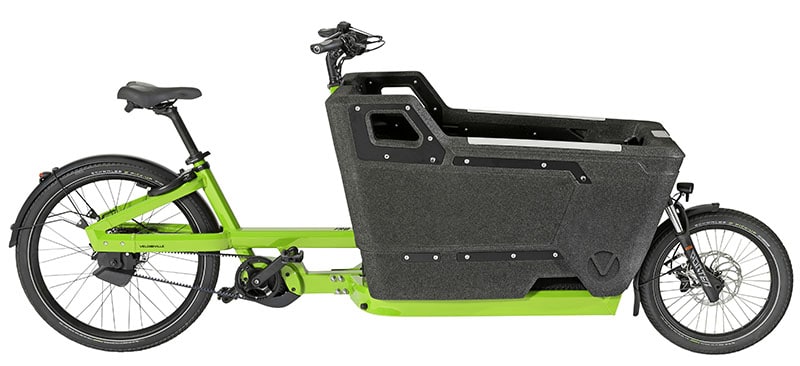 With a selection of no less than 32 colours and modular options to use the bike as a flatbed or to add a box made of reinforced expanded polypropylene and either a rain cover and two safety seats with belts for children or a lockable lid, the FR8 is a very versatile offering. Bosch's Cargo Line mid-motor is a smart choice for a model with a maximum overall weight of 250 kg, as it dishes out plenty of torque at low cadences as well. Apart from RST's suspension fork and Tektro's hydraulic four-piston disc brakes with oversized rotors, most of the parts have been sourced in Europe. For the gear hub, customers can opt for either Enviolo's Heavy Duty hub or the electronic Heavy Duty Automatiq version. The Intuvia 100 display can be upgraded to a Kiox 300 unit, and rather than a 500 Wh Power Tube battery, a 750 Wh unit can be specced as well. These batteries are safely positioned right under the loading bay in a box with a lock.
French manufacturer Douze Cycles [hall 8.0 / B28] has been successful in the cargo bike market for quite a while a now and recently made headlines by striking a deal with Toyota France to sell its cargo bike through 250 car dealerships as well. Its new Hêta front loader cargo bike rolls on a 20-inch wheel up front and a 26-inch wheel in the back and features a frame made in France from moulded, recycled aluminum and polymers.
This reduces the eco footprint drastically, and since the bike can be split into two parts in a few minutes, storing and transporting the Hêta is less of a hassle. Douze Cycles has also managed to extend the cargo bay to 850 mm in length without adding to the bike's wheelbase.
This cargo bay can be used as a flatbed or with an added box made of expanded polypropylene with an aluminum frame.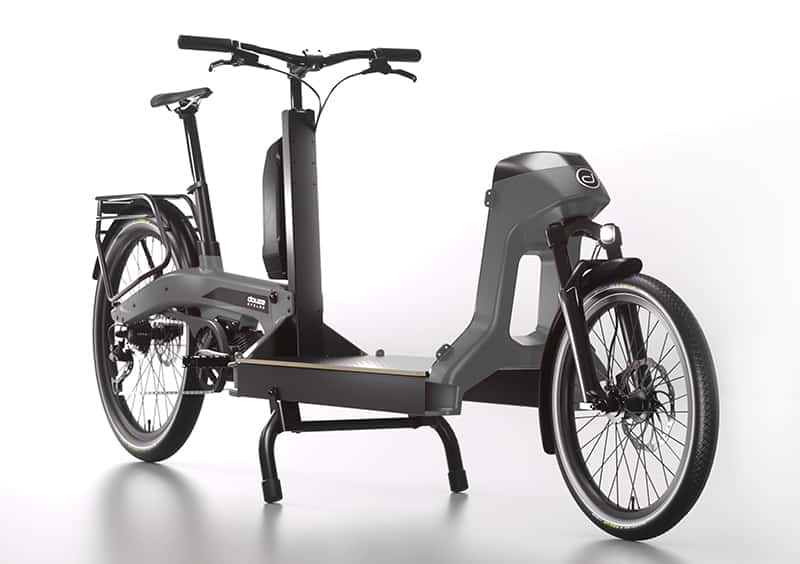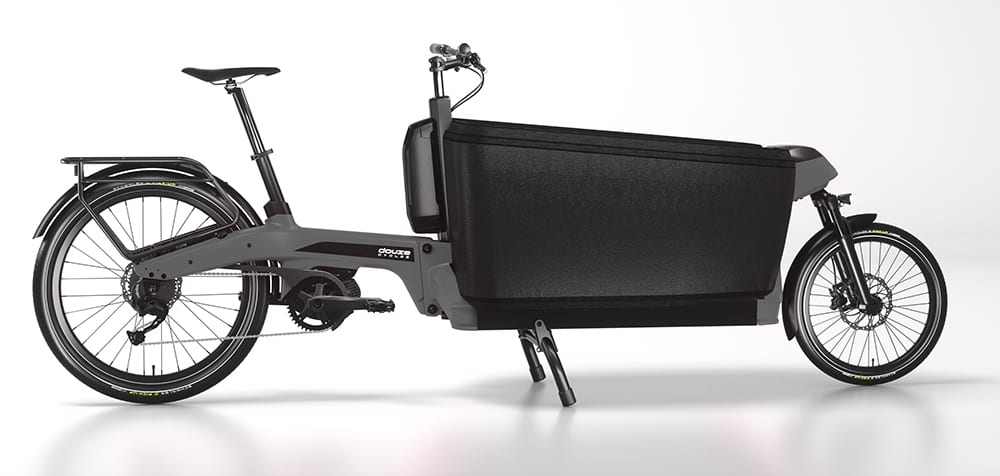 So the Hêta can either move bulky items or safely transport up to three children – harnesses and a bench made of breathable fabric included. While the box has a capacity of 300 liters, the maximum pay load on the cargo bay stands at a generous 100 kg. To keep this beast of burden on course, the steering relies on a total of four cables. Shimano's EP8 or EP6 Cargo mid-motors are mounted to the frame through a flexible interface, so the frame can be upgraded to future motor generations with different bolt patterns – a clever approach and another big plus in terms of sustainability.
In terms of sustainability, my Boo [hall 8.0 / D26] has an interesting offering as well with the Kumasi EP6. This Long John cargo bike features what may well be the biggest bicycle frame ever built from bamboo. For this, my Boo runs its own frame manufacturing workshop in Ghana.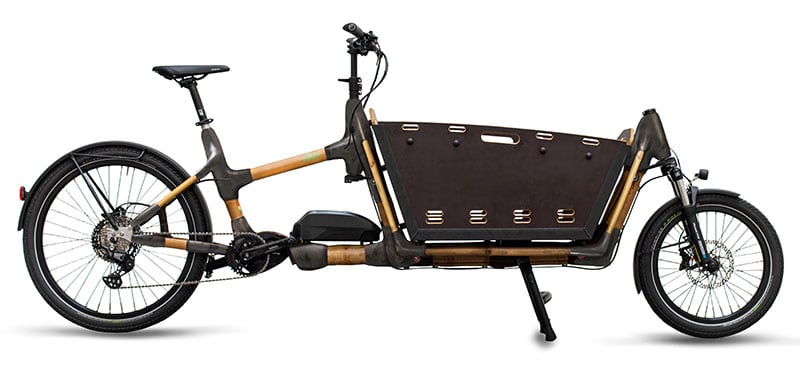 Steering relies on a beltdrive, and the wooden cargo box can be fitted with a rain cover or a rain canopy. With a maximum system weight of 190 kg, the Kumasi EP6 still can haul quite a load. Shimano's EP6 mid-motor delivers up to 85 Nm of torque and is fed by an external 630 Wh battery. The 10 speed Linkglide drivetrain and the four-piston disc brakes are also supplied by Shimano.
Dolly Bikes [hall 8.0 / E22] has been bringing vivid colors to the cargo bike market for ten years. But there's more to this Dutch company than just colors. All frames are painted and assembled in the Netherlands, and the double-walled box made of plastic and the wheels are made domestically.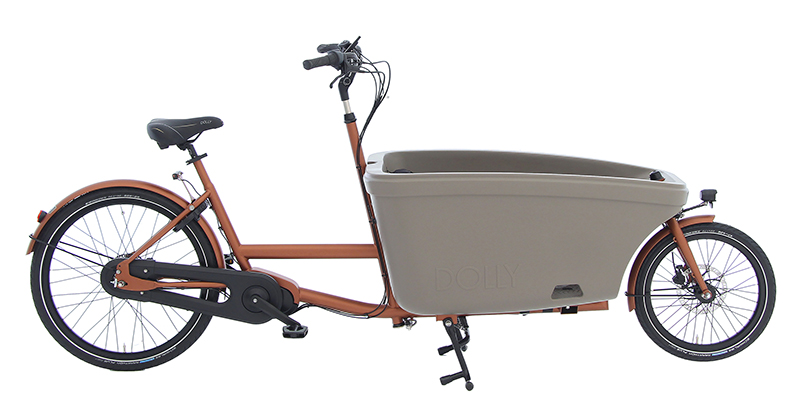 With the e-Dolly MaxDrive you get 80 Nm of torque from Bafang's M400 mid-motor and a 600 Wh battery for plenty of range. Wheels are 20 inch up front and 26 inch in the rear in size, and a stable double kickstand keeps the cargo bike safely in place for loading or securing little passengers. The box fits up to three children and can take a payload of up to 80 kg while the maximum system weight stands at a generous 275 kg.
Possibly the sportiest Long John cargo bike is built by Swedish start-up Ginkgo Bike [hall 8.0 / C09]. Since great handling and low weight stood at the center of this bike's development, it rolls on 28-inch wheels front and rear, with 27.5-inch as an option depending on preference. To save as much weight as possible, Ginkgo has come up with a unique alloy frame that does without a steering column, relying on a push rod that links up the handlebar and fork steerer instead. But since the original version could carry 70 kg on the cargo deck and 25 kg on the carrier, offering a version with an electric assistance drive system for hillier areas seemed like a good idea.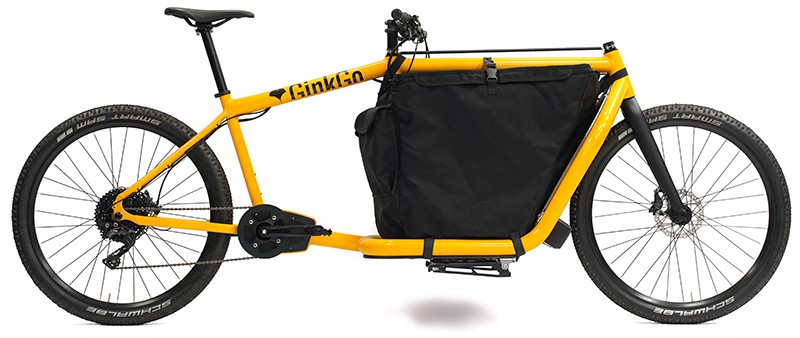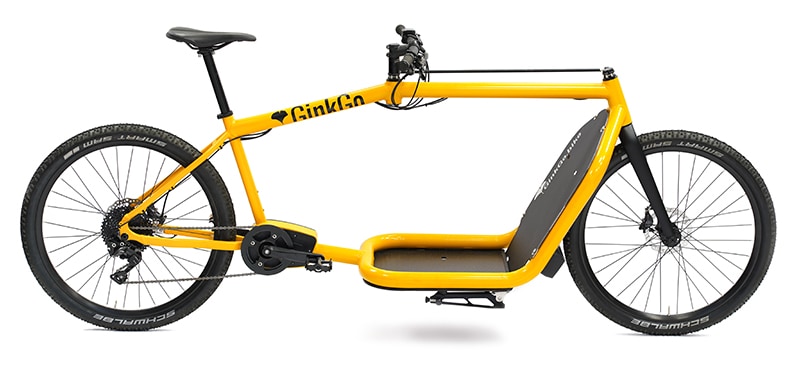 So the team at Ginkgo set off to develop just that and opted for Brose's S Alu Drive, a mid-motor dishing out a maximum torque of 90 Nm. For lower weight, the battery has a capacity of 396 Wh, so the Ginkgo is likely to set a new standard in terms of low weight for Long John cargo bikes with electric assistance. For those with range anxiety, a larger 630 Wh unit is available as well. Reflecting the sporty character of Ginkgo's cargo bike are the carbon fork and the one-by drivetrain from Shimano's XT group. Another novelty that adds to the usability of the open cargo deck is a big, custom-made cordura bag that keeps all your groceries safely where they belong.
In Denmark large cargo trikes are a popular choice to move children around without the need for a car. And Danish company Black Iron Horse [hall 8.0 / B15] is known for this kind of cargo trike. Its latest edition to the line-up is no exception as it rolls on three wheels, but the Ibex is the first model of the brand that features front wheel steering. And that's not all, as the front wheels are also suspended vertically and laterally to maximize comfort for passengers and keep the trike from tilting in corners. Since the front wheels have been downsized, the Ibex is the most compact model of Black Iron Horse to date – and still offers plenty of comfort for passengers.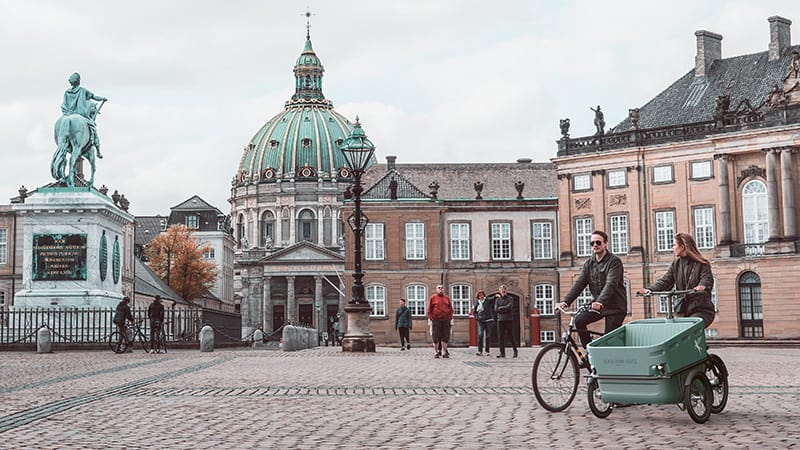 A special emphasis has been put on the sourcing of the materials and parts needed to build the Ibex in Copenhagen, with the mitigation of the carbon footprint as the main goal. For this reason the box is made of recycled plastics sourced from fishing nets, football fields, agricultural equipment and general-use plastic, ensuring a second life for these otherwise harmful materials. More details on the Ibex will surely be available at the show. For families who want to get around with up to six children, Black Iron Horse has suitable cargo trikes with its Pony and Polly models that rely on rear-wheel steering and are available in different sizes.
If you are worrying about Long John cargo bikes or cargo trikes being too cumbersome for your daily errands and road layout, a full-size longtail might be the right choice for you. This sort of bike is already on the market from the likes of Riese & Müller and Bergamont, and even Decathlon has come up with a model.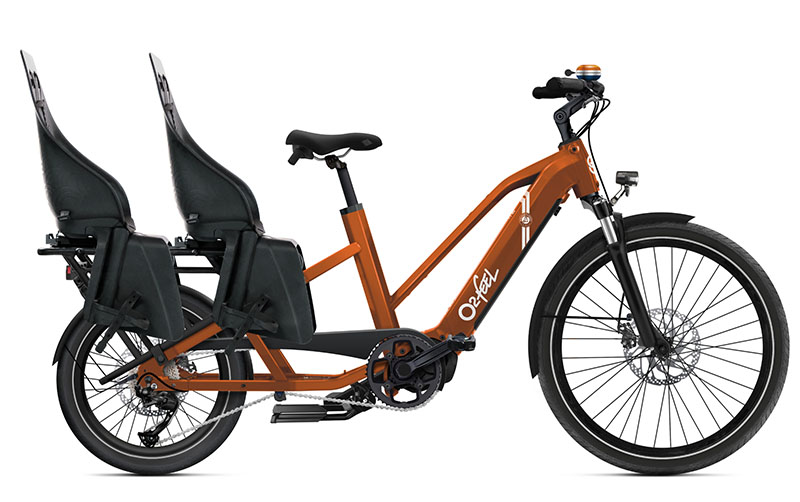 At Eurobike, French e-bike specialist O2Feel [hall 12.0 / A09] is exhibiting its Equo Cargo model in a limited Rolland Garros-edition that honors the French grand slam tournament. Built around a 26-inch wheel up front and a 20-inch wheel in the back, the aluminum frame features a voluminous down tube that houses a battery with a generous capacity of 720 Wh. Since the extended rear rack can take two children seats and carry up to 80 kg of payload, it's nice to rely on the support of Shimano's Steps E6100 Cargo mid-motor once this bike is fully loaded.
German cargo bike specialist Radkutsche [open air ground F10 / D14] so far has been known for its large cargo trikes for professional use and its Long John model. With the Solid, the brand launches its first longtail model now, but rest assured it still has a distinctive Radkutsche flavour.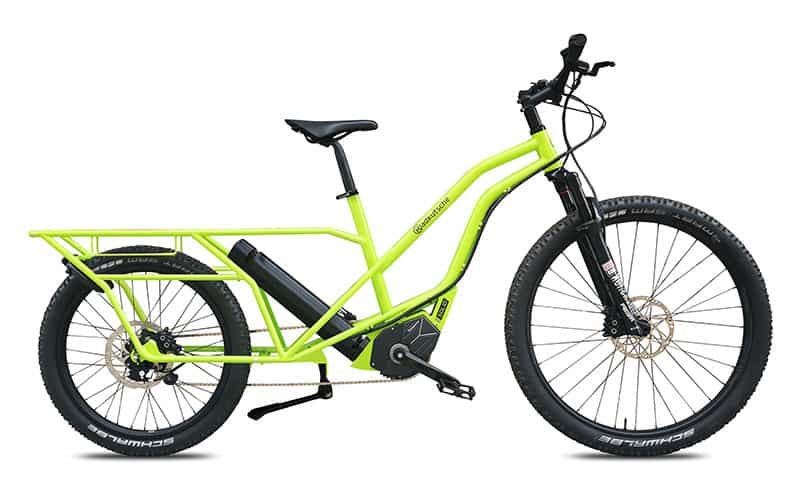 It all starts with the hand-built steel frame, and combining a 29-inch wheel with a burly tire up front and a 24-inch wheel in the back for all-terrain capability is an unusual combination as well. Add the powerful Sachs mid-motor that cranks out up to 112 Nm of torque and a maximum system weight of 200 kg and you know that the Solid is a real workhorse of a longtail cargo bike. A workhorse with no lack of endurance, that is, since the battery has a capacity of 720 Wh.