With strong sales both in the utility and the sports segments and consumers ready to pay for quality, Europe's German-speaking markets are key markets in the continent. While they have fared quite differently in 2022, all bicycles with electric assistance remained in high demand.
Apart from the language, there's more that Austria, Switzerland and at least the Southern part of Germany have in common – think about hilly topography, cold winters and a preference for high quality. For these reasons, the region is often referred to as DACH. Last year's statistics reveal that the bicycle markets changed direction somewhat as the pandemic ebbed and measures to contain its spread were gradually lifted. Keep in mind that the Euro is only in use in Austria and Germany whereas Switzerland is not a member of the EU and still relies on its own currency, the Swiss Franc. This and the lower reliance on Russian energy supplies kept inflation in Switzerland at just over three percent whereas Germany and Austria saw it reach 10 percent and more.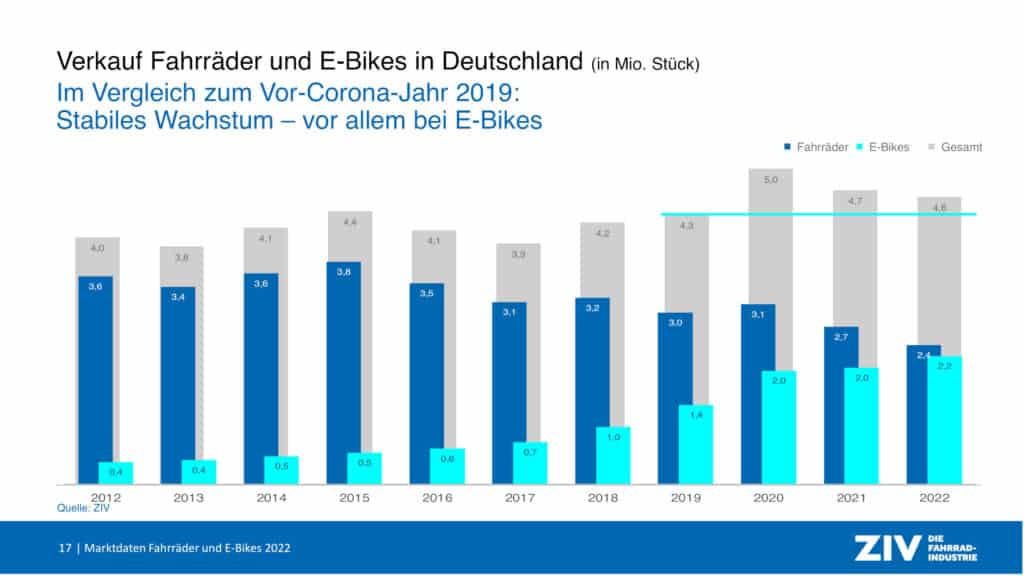 Despite this inflation and the resulting increase in cost of living the German bicycle market fared remarkably well in 2022. According to numbers from the Zweirad Industrie Verband (ZIV), the total number of bicycles sold dropped by 100,000 to 4.6 million units – still an increase of 300,000 units when compared to the pre-pandemic year 2019. More importantly the sales of e-bikes grew by 10 percent to reach a new record of 2.2 million units while sales of conventional bicycles dropped by 11 percent to 2.4 million units. With the average price of a conventional bicycle growing to EUR 500 and that of e-bikes to EUR 2800, ZIV estimates the overall revenue of these bicycle sales at EUR 7.36 billion – another new record. 76 percent of these sales went through brick and mortar stores, with D2C players accounting for another 21 percent.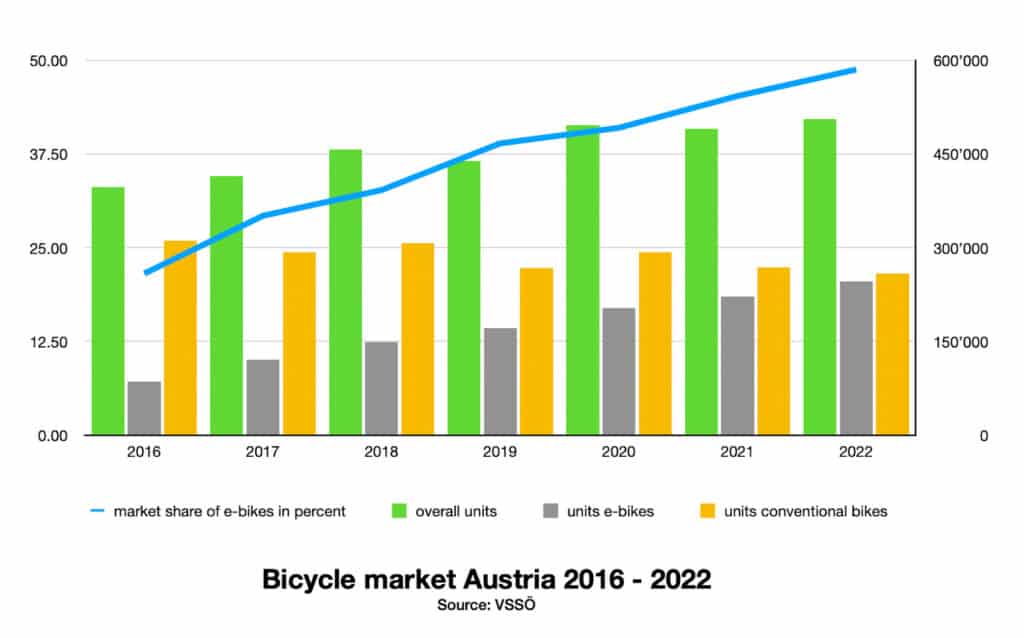 If you think these numbers were good given the macroeconomic environment, have a look at the numbers from Austria. As the statistics collected and analysed by Arge Fahrrad show, the number of bicycles sold in 2022 grew by 3.2 percent overall to 506,000 units. This growth was mainly supported by a high demand for e-bikes, with the units sold in this category growing by 11 percent year-on-year to reach a number of 246,728. This means that e-bikes reached a market share of 48.75 percent, and due to the significantly higher average price, e-bikes accounted for 74 percent of the turnover resulting from bicycle sales. The overall turnover grew by an impressive 35 percent year-on-year to EUR 1.39 billion. According to Arge Fahrrad, the sales of accessories, components and spare parts accounted for another EUR 200 million.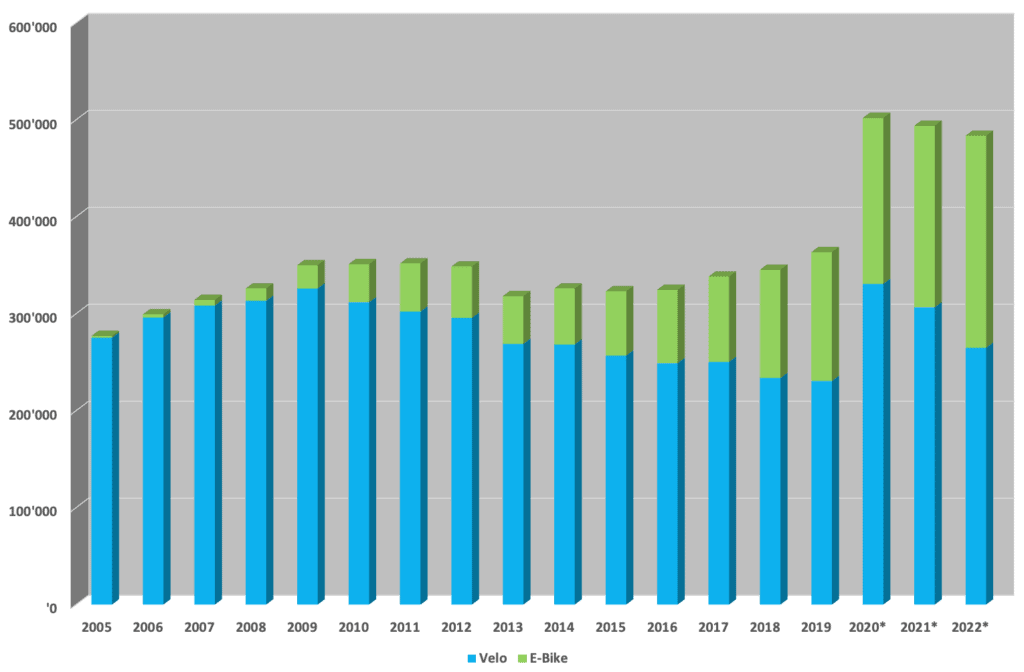 Despite boasting the highest average buying power and facing much lower inflation rates, the bicycle market in Switzerland returned the weakest numbers for 2022. The overall market contracted by about two percent in units as the sale of conventional bicycles dropped by 14 percent year-on-year to 264,832 units. As for e-bikes, the number sold grew by 17 percent year-on-year to 218,730 units, resulting in a market share of just over 45 percent. While the slight year-on-year contraction of the Swiss bicycle market in 2021 was caused by bottlenecks in the supply of goods, the contraction in 2022 was caused by low consumer sentiment that made people postpone larger purchases. And while leasing and company bicycle models were a driving force of ongoing demand in both Germany and Austria, this business model is still in its infancy in Switzerland.
Sources