Taiwan's bicycle industry rests on the shoulders of many family-owned small and medium enterprises, and First Bicycle Components [K0102] is no exception.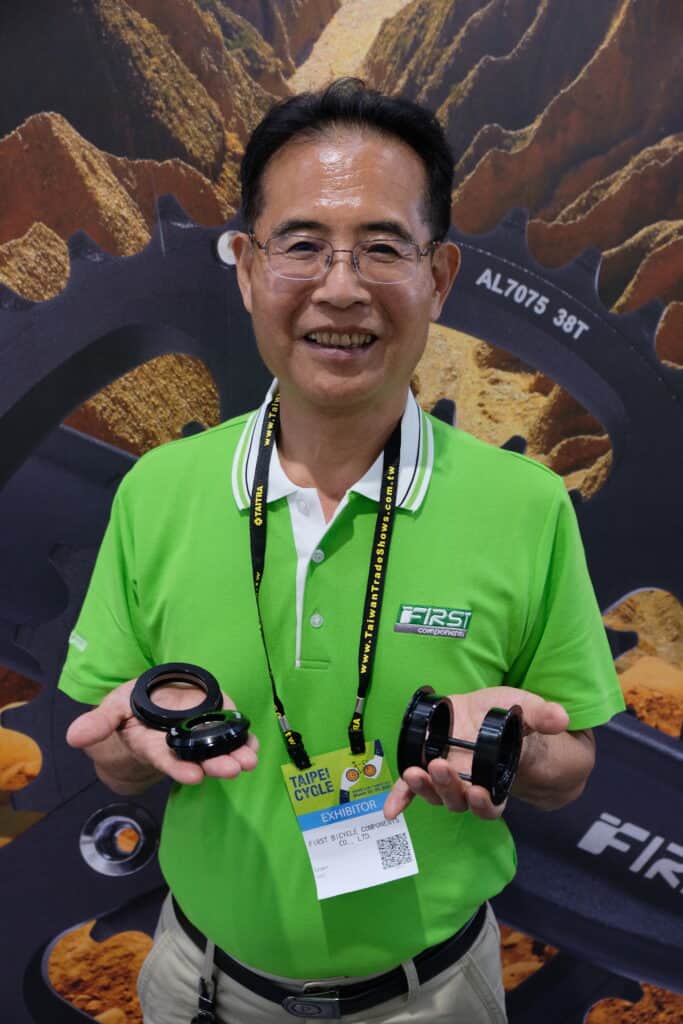 General Manager Johnson Li has nearly four decades of experience in the industry and a fine sense for trends and new standards.
This clearly shows at the manufacturer's booth. Apart from a selection of cranksets, First Bicycle Components shows some interesting solutions for headsets with integrated cable and brake line routing – a strong trend recently. The version for tapered steerer tubes with the popular 1.125 to 1.5 inch standard is available with a built-in steering angle limiter to prevent frame damage in case of a crash. "We also offer headsets for internal cable routing for straight 1.5 inch steerer tubes and for tapered steerer tubes with 1.125 to 1.8 inch diameter – a novel standard we expect to gain importance in the future on e-bikes", Johnson Li explained to the Show Daily yesterday.
In the past, eccentric bottom brackets were mainly used on tandems, but with the renaissance of single speed and fixed gear bikes and the recent trend towards low-maintenance belt drive systems, demand for eccentric bottom brackets is on the rise. First Bicycle Components has the products in its line-up to mount high-quality cranks. The manufacturer not only covers the PF30, PF82 and PF90 standards, but also the T47 standard that has gained popularity with small high-end builders. Thanks to these eccentric bottom brackets, people can easily convert expensive frames to either single speed, fixed gear of belt drive builds.