The range of luggage and carrying options for transporting stuff on your bike is as wide as it is varied. From simple backpacks that work just as well when commuting on foot to hyper-specialised bikepacking bags for making sure you can eat while racing, here's a run-down of what's new this year at Taipei.
The Infinity Universal luggage rack system by SKS [L1032] can be attached to sporty bicycles such as mountain or road bikes. Each can be fitted rapidly and removed just as quickly. The system is the first time SKS has offered a lightweight aluminium luggage rack.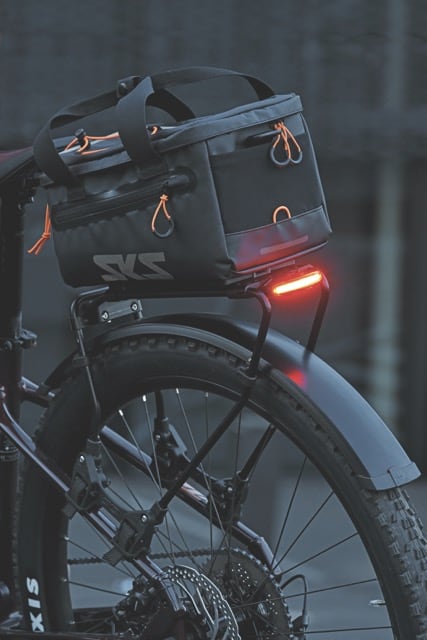 Its adjustable mechanism allows the rack to be adapted to any geometry. Once in place, the tilt and height of the mounting system can be adjusted individually. This ensures any bags sit at just the right position. Equipped with a MIK adapter, this click-to-attach system makes it incredibly easy to secure your packs. A perfect partner for the system is the SKS Infinity Universal bag which transports up to 12kg of luggage. Cleverly, the system still allows the use of a rear light and mudguard if desired.
From bags that attach to your bike to bags for transporting it. Vincita's [M1202] Keeper Bike Box is ideal for transporting a Brompton or other compact folding bike. Boosting the convenience of these already functional machines by allowing you to travel without fear, they're suitable for protecting your bike from damage or stopping it from making other items dirty. The bag comes in two sizes for 16 and 20-inch wheel bikes and features a belt lock and strap to keep the cycle from moving around while in transit. With a built-in handle for easy manoeuvring, the bag's easy-access front cover can be opened and closed with a simple zipper.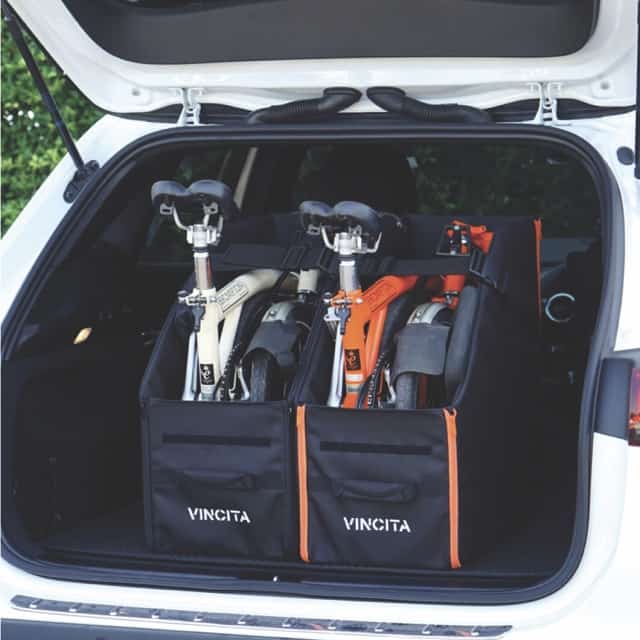 Like the bikes they're designed to contain, the bags fold flat to occupy a minimum of space when not in use. Another product for folding bikes from Vincita is the Big Nash rack bag. Folding bikes sit much lower than regular bikes. As a result, many panniers won't fit with them. However, rack bags offer limited space. The Big Nash combines the two styles to provide 20 litres of storage. Its fold-down sides can be deployed easily yet zip into place for effortless transportation of the bike. The bag is made from water-resistant 600D polyester fabric, and there's also an additional rain cover for really wet days. The attachment should be solid, and the release straightforward thanks to a KlickFix UniKlip adapter that mounts to the bicycle carrier.
Bee Sports Co [M1208] predominantly makes products for the ever-popular Brompton folding bike. It's exhibiting several new products at the show.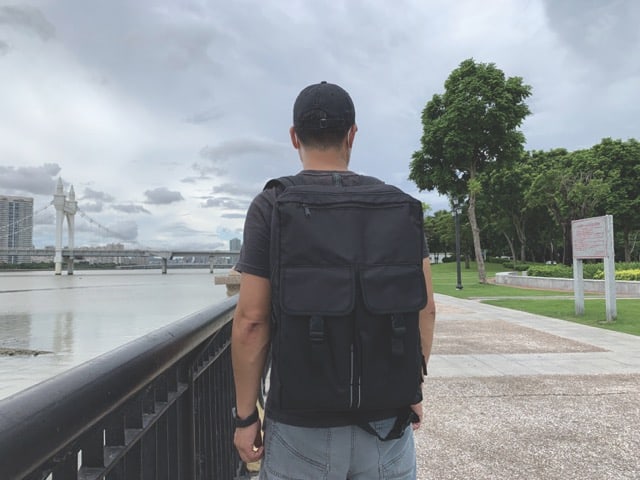 The most exciting is a very smart backpack for packing a Brompton bike. Capable of containing and carrying the folded bike for transport, its straps even let you carry the bike on your back if needed. However, once the bike is reconstructed, the pack can fold down to the size of a conventional backpack. Perfect for travelling with your Brompton by air, it'll appeal to jet-setting users. Of more niche interest but likely to be indispensable to a small number of riders is the firm's dog-carrying pannier for the Brompton bike.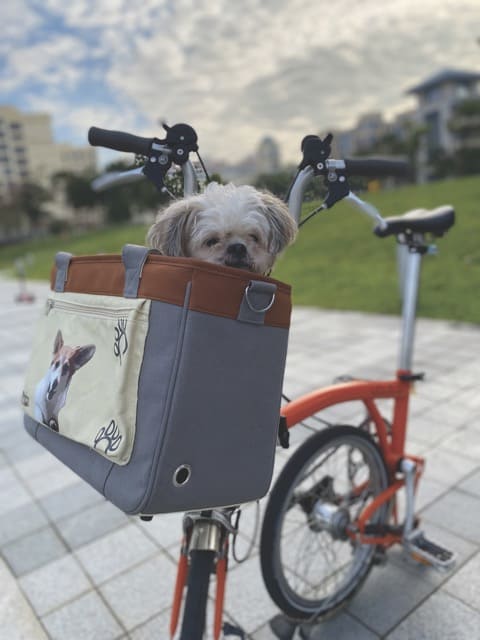 Providing your puppy with a pleasant place to stay, it fits Brompton's super-secure front mounting block and lets your dog travel ahead of you so you can keep an eye on it.
Ride for More's [L0305] Agile Multipurpose bike bag is ideal for urban commuting. It attaches easily to the bike's handlebar or rear rack via Ride For More's proprietary mounting system.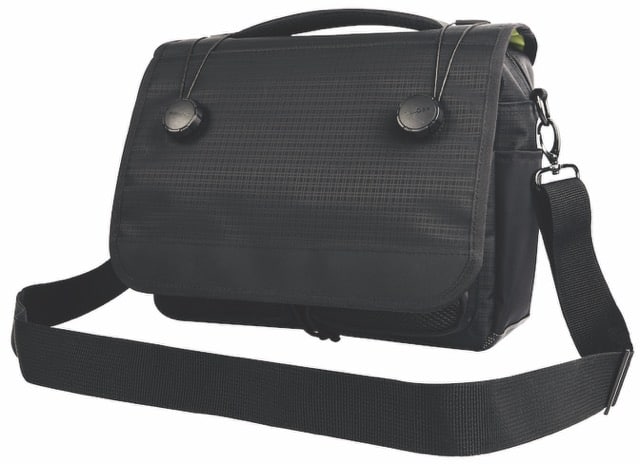 This lace-type fixing mechanism consists of a Fidlock Winch magnetic lock that uses the strongest Dyneema cord sleeved with abrasion-resistant S-Hypalon material to attach the bag to the bicycle securely. Once detached, this stylish carryall converts to a shoulder bag for easy once you're off the bike. The bag's main flap is also secured with a Fidlock magnetic snap lock as easy and quick closure. With exterior zippered pockets for easy access, further secure stash spaces for holding small items and cycling essentials are located inside.
Moving onto bags that attach to the bike and not the rider, we find the trend for bikepacking is continuing to drive the creation of new designs. Ride for More has jumped aboard with a new range of bikepacking bags.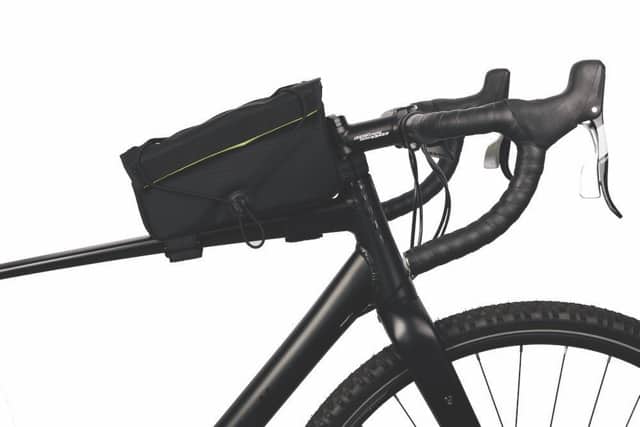 Its Airship top tube bag sports an aerodynamic shape to reduce wind drag. It offers a minimalist roll-top closure and zipperless design that's easy to operate while on the fly yet still provides excellent security. The bag's large compartment is designed to safely hold all your cycling essentials, while its interior divider helps you tailor their stowage. The bag is made from ripstop nylon and is attached using durable sewn hook and loop straps with anti-slip bands at the bottom and front to maximise stability. The closure then relies on a Fidlock magnetic lock and bungee cords. Inside, the interior is bright green to help users locate their items more quickly. Finally, additional daisy chains allow you to lash other items on as needed.
Another firm offering a neat top tube bag is Lezyne [L0517].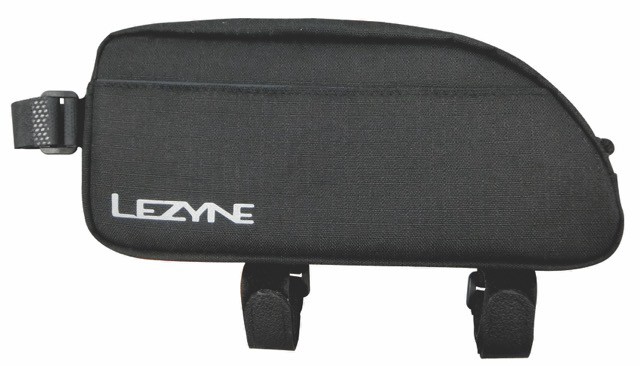 Its Energy Caddy XL provides a large chamber to store snacks or other small items you want to access while riding. It features a water-resistant main compartment to ensure that neither ends up soggy and is further protected by an easy-pull rubberised zip. There are also sleeves down the side for additional stowage and even quicker access. Adding just 76g, the Energy Caddy provides 0.8 litres to your carrying capacity and has reflective details to improve your visibility.
Woho [L1014] sells bikes, bags, and camping equipment. It's a great combination that gives them insight into how adventurous riders are using and transporting their kit. The firm produces a full range of bikepacking bags under its Xtrouring label.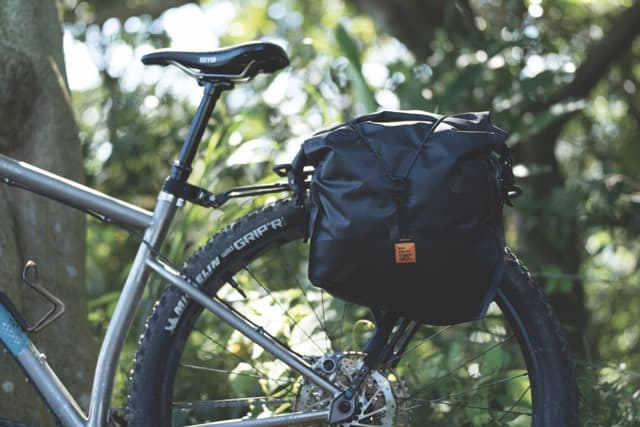 With multiple models in different sizes covering the bike's front, back, and centre, we've chosen to highlight the popular Saddle Bag Dry S. This newly updated model showcases the firm's design techniques and sports a durable and waterproof construction. Allowing you to tailor its volume between five and seven litres, it uses a three-point attachment system and roll-top closure. Interestingly for a firm focused on bikepacking, Woho has also moved into the production of more traditional pannier bags.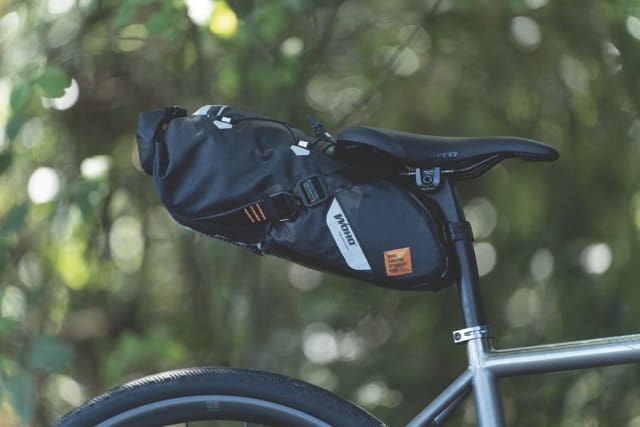 Its 19-litre Bikepacking UL Pannier Dry models take the lightweight ethos of bikepacking and apply it to a pannier designed for situations where you need to carry a little extra. These rack-mounted bags can be used at the front or back of the bike and are totally waterproof.
Hong Kong's Simple Product [M1208] makes many lovely-looking bags. Its new models employ subtle colours and retro styling while using Cordura's famously durable and weather-resistant fabric.
The 26-litre Cube2 is ideal for daily use.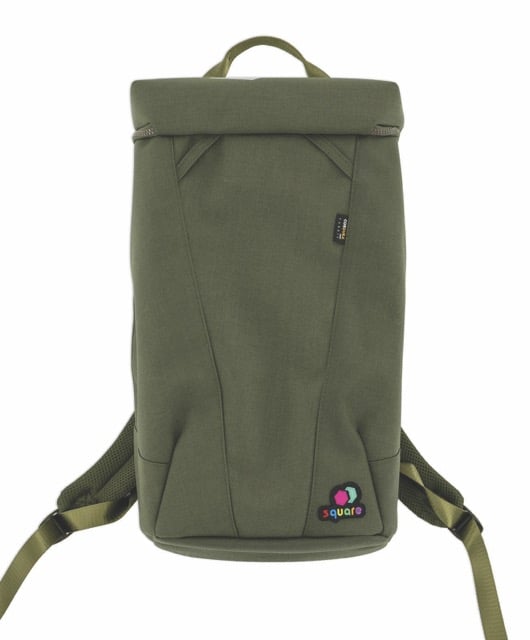 It features a structured shape that keeps it upright and a lid-like opening that makes it easier to access your stuff while helping prevent people from stealing items while the bag is on your back. Inside, there's a compartment made for storing laptops up to 15 inches, while on the outside, there's a side zipper pocket for small objects or a water bottle. If you're heading further afield, the firm's larger Zizou bag offers 35 litres of stowage.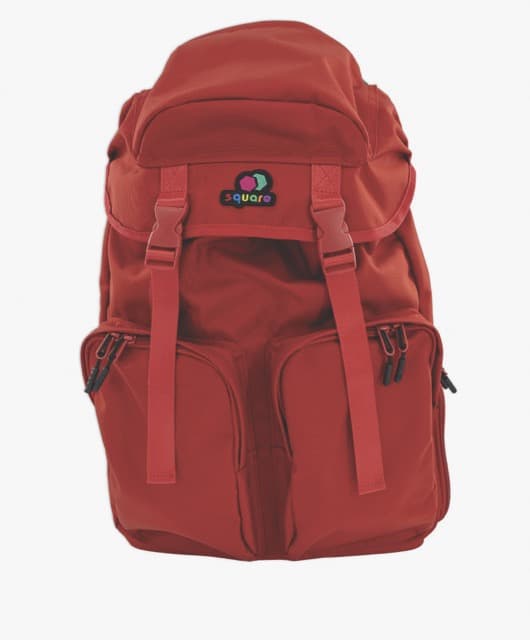 With on-trend retro styling, it provides a vast selection of different pockets. Its separate bottom section sits below the sizable main compartment. It's ideal for transporting shoes and will keep the stink out of the rest of the bag. There are also two front pockets for storing water bottles or other mid-sized items. Inside the main compartment are two hidden zipped pockets, while access can be gained either from the top or via a zipper on the side of the bag.