Cargo Bike Pavilion at Taipei Cycle 2023
While the absolute numbers may still be relatively small, the cargo bike market has been growing dramatically in recent years. Taiwan's bicycle industry certainly does not want to miss out on this trend, and suppliers are exhibiting cargo-specific parts and components at this year's Taipei Cycle Show at a dedicated Cargo bike pavilion in Hall 2 (1F, Q1123).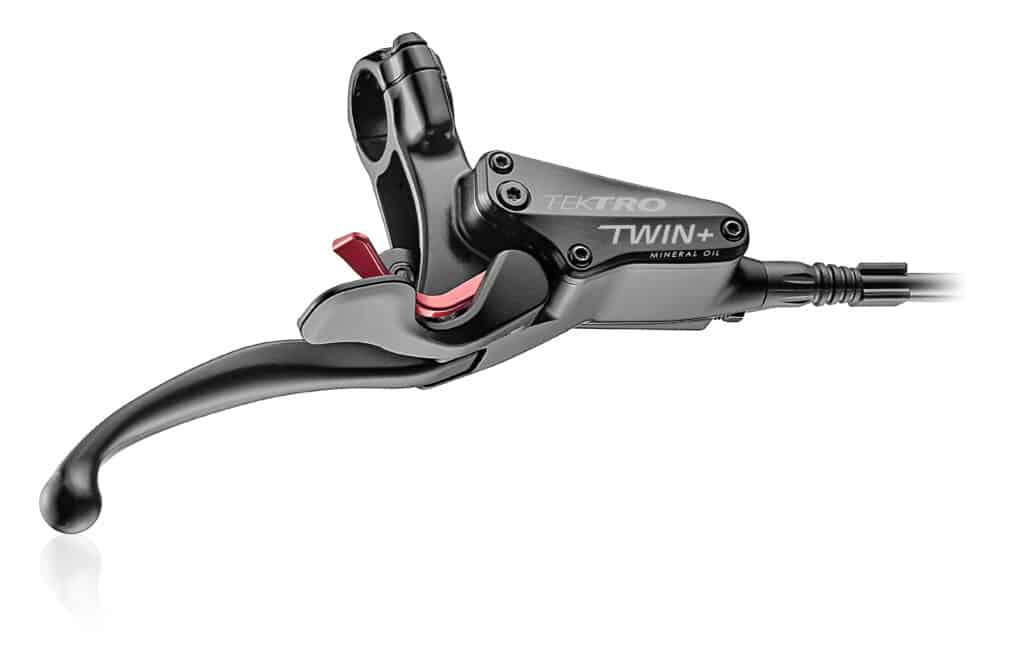 To limit climate change, many city councils and countries in Europe and parts of North America are pushing for a higher modal share of cycling in traffic. Cargo bikes play a key role in getting families aboard – transporting children, groceries or bulky goods like bags of potting compost or parcels. From the Netherlands and Denmark where they have been in use for decades, cargo bikes have now expanded to other European countries and even to urban centers in the United States. The category has become more diverse as well, stretching from compact models like Tern's HSD and GSD to heavy XXL models with three or four wheels designed for commercial use – from urban logistics to food trucks.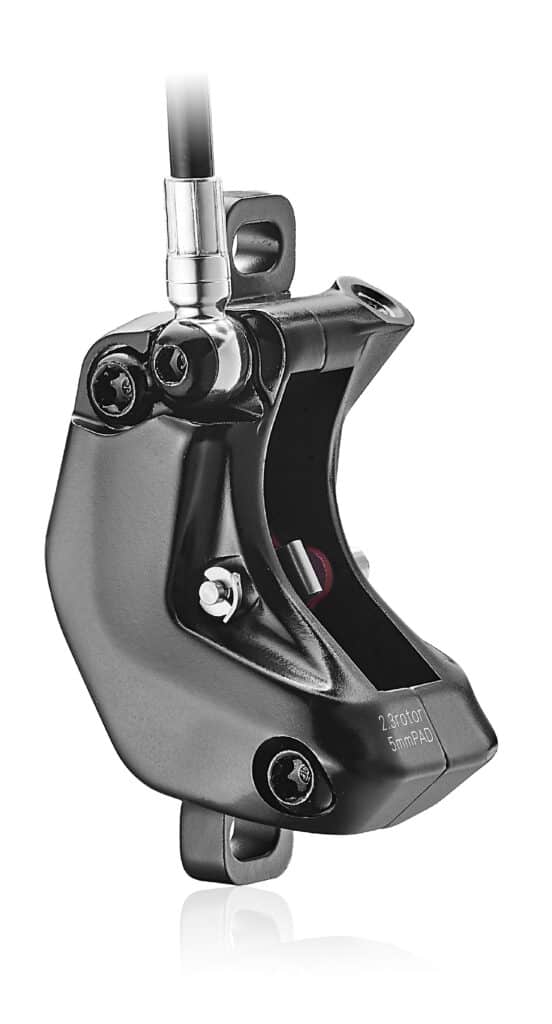 The dynamic growth of the cargo bike category has accelerated the business of established specialists such as Urban Arrow or Riese & Müller and attracted additional players such as Cube or Kettler. Trek is the latest addition, launching two cargo bikes under the Fetch+ model line this spring. BMW has dabbled in the segment, teaming up with bike brand Cube, Volkswagen has given it a try and Toyota is about to start selling cargo bikes of French manufacturer Douze Cycles at 300 of its sales points all over France. At the heavier end of the spectrum, Renault Trucks has announced a cooperation with French compatriots Kleuster to start the production of large cargo trikes in one of its truck factories.
For the bicycle industry, cargo bikes are an opportunity and a challenge alike. While the growing market promises extra business, the higher weights put more stress on parts and components. So these need to be redesigned to withstand the forces at hand. At the same time many buyers of cargo bikes are no skilled cyclists, so ease of operation is key as well. Showcasing the abilities of Taiwan's bicycle industry to manufacture matching parts and components, Taitra has teamed up with service provider Bicycle Cluster to set up a dedicated Cargo Zone at this year's Taipei Cycle Show, with products ranging from powerful disc brakes with a parking function to kickstands with a wide base, along with sturdy carriers, reinforced suspension forks, tires and chains.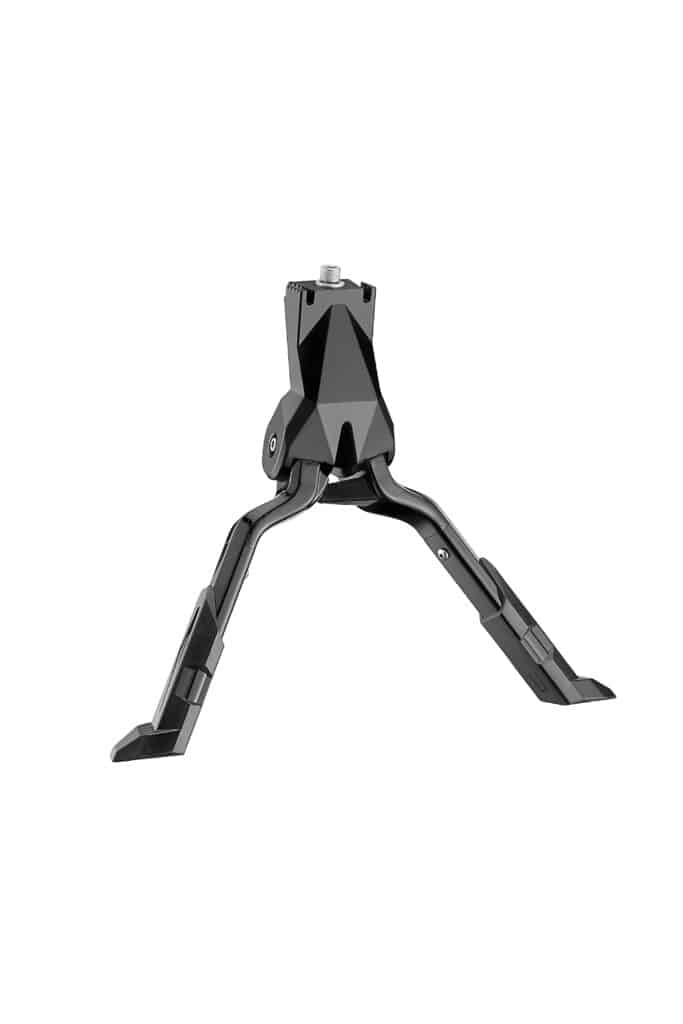 This cargo zone offers an opportunity for product managers to check out a wide variety of made-in-Taiwan parts and components to complete their cargo bikes, all in one spot. Tektro–TRP was early to the game with hydraulic disc brakes specifically designed for beefier rotors with a thickness of 2.3 mm rather than the ordinary 2 mm. In the Cargo Pavilion, the highlight is the Auriga Twin+. This hydraulic disc brake comes with either two- or four-piston calipers and resin pads for reliable braking – and for big cargo trikes, you can get set-ups with a matching number of calipers as well. To keep the cargo bike in its place, a parking has been built into the design. It is controlled by two switches on the long brake levers.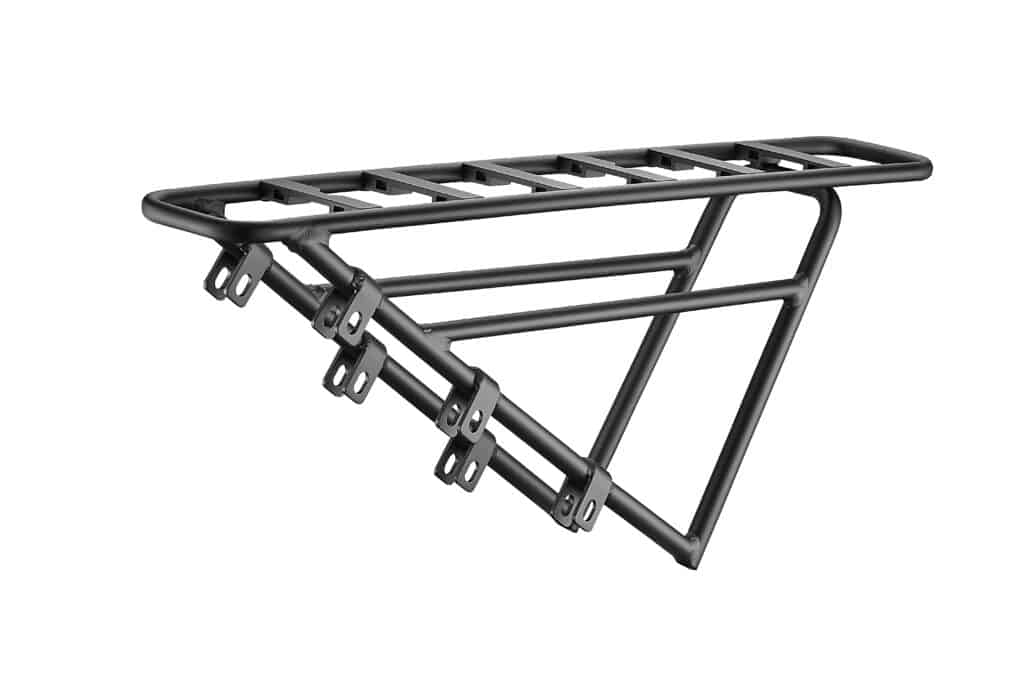 An often overlooked but crucial part for handling and loading cargo bikes is a solid kick stand. On display at the Cargo Pavilion, the CL-KA85 kickstand of Massload is built from stainless alloy to safely carry a load of up to 60 kilograms – so you can put a child into its seat and secure it with a harness with no worries. When folded up, a mechanism reduces the width of the stand so it does not get in the way when pedaling. Also made of alloy but made for slightly easier loads of up to 35 kilograms, Nuvo's Double Leg Kickstand is a viable alternative that fits a wide variety of bicycle frames and even wheel sizes thanks to its adjustability. For easy loading and unloading its rubber feet prevent slipping and keep the cargo bike safely in place.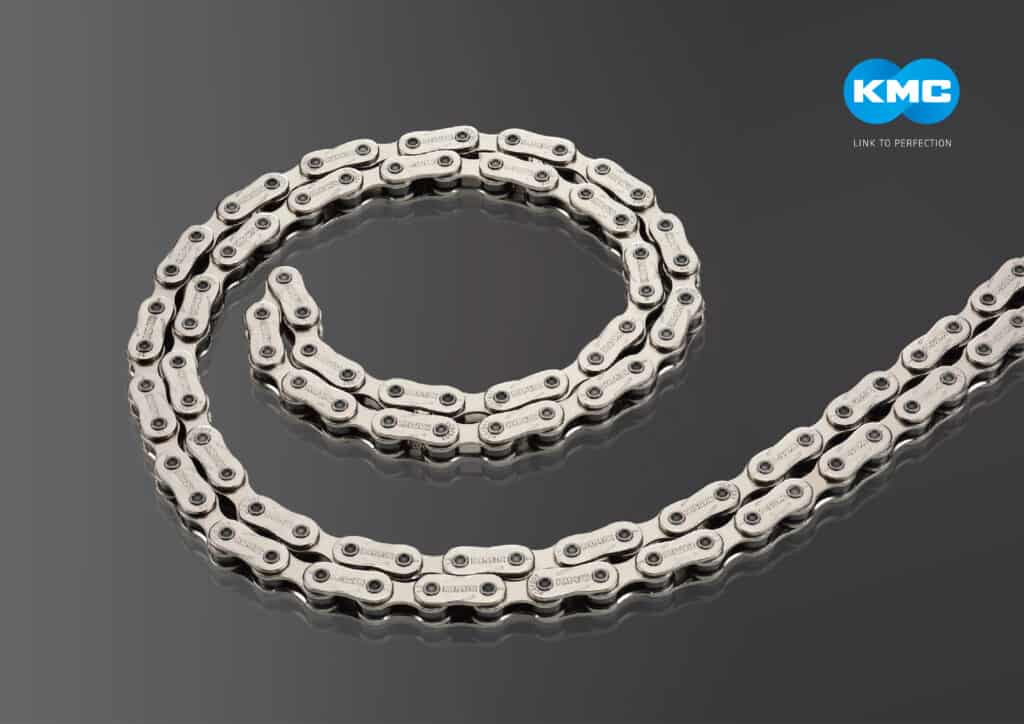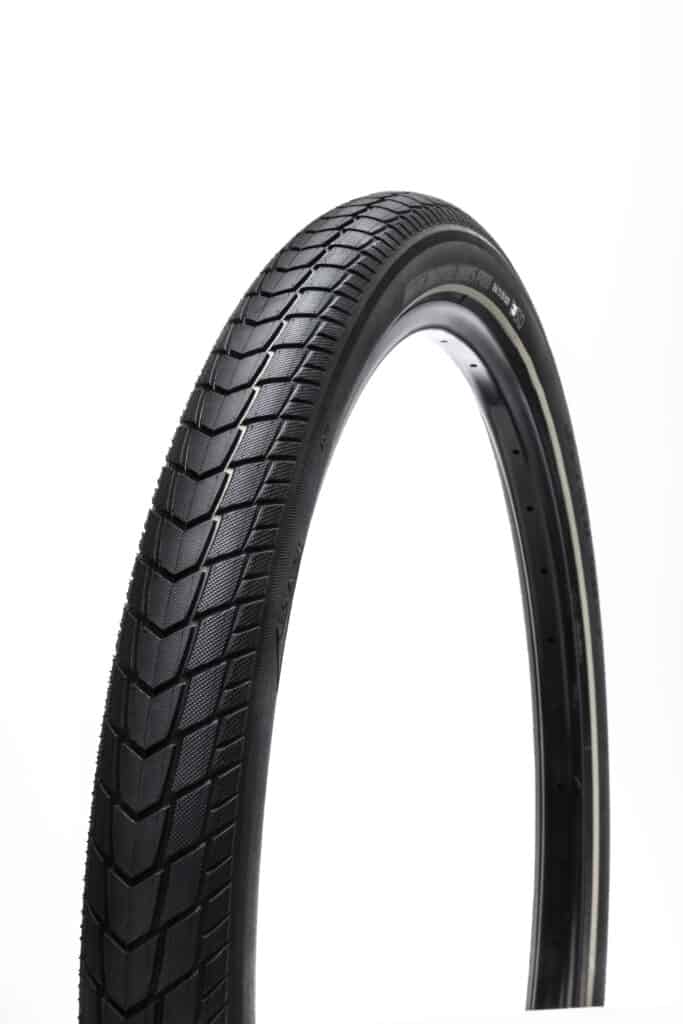 Catering to all those compact longtail cargo bikes, Massload presents a fitting alloy carrier long enough to mount two child safety seats. Since the Cago Carrier is compatible with the MIK HD system, you can easily mount various baskets and bags as well for even more flexibility. Another item subjected to significantly higher loads on cargo bikes is the chain. KMC is showcasing its eCargo chain that has been built with strength and durability as top priorities. Thanks to reinforced plates and premium pins, it boasts a tensile strength 50 percent higher than the industry standard. With Lixing, a second chain manufacturer shows its PYC eNova chains. Specifically reinforced for the use with mid-motors, these chains are available for 8 through to 12 gear drivetrains.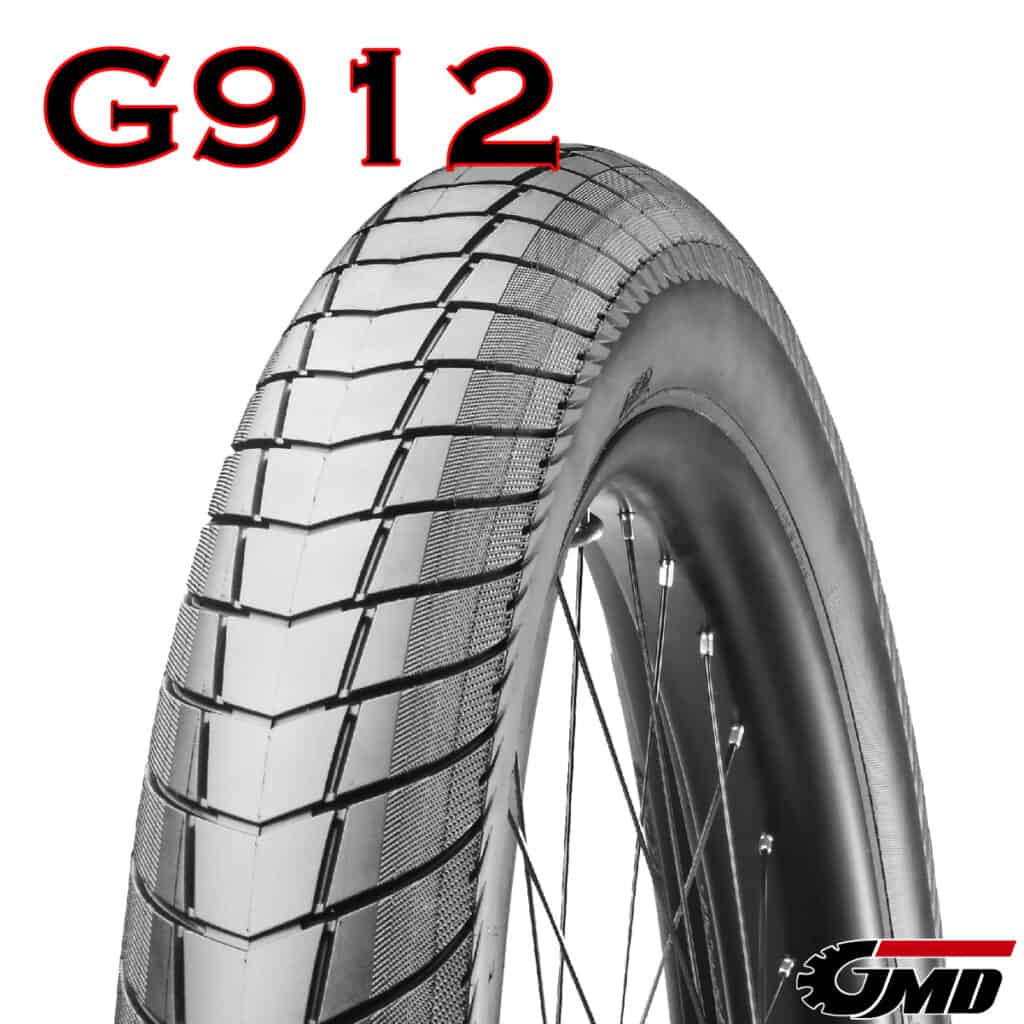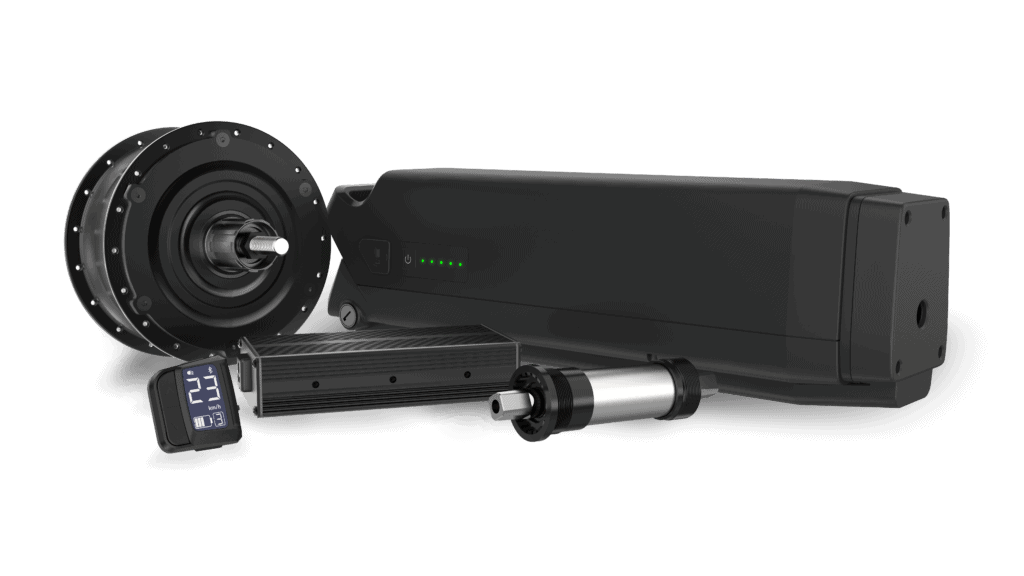 One key factor for any bicycle's handling are its tires as the contact surface to the ground. Due to loads of 250 kilograms or more, cargo bikes require special products. Meeting the criteria of the ECER75 certification for e-bikes and speed pedelecs, the Metroloads models of Maxxis Tires come with a four-season compound. For commercial use, its Pro version is built to last for up to 10,000 kilometers. Another tire manufacturer to launch a new tire series for cargo bikes at this year's show is GMD: its G912 tire is available for 20, 24 and 26 inch wheels and features reinforced sidewalls to safely carry loads of up to 180 kilograms. The tire tread has been designed to perform well on different surfaces and offer smooth cornering.  With its Beast series, RST Suspension aims at the cargo bike market: built around disc brakes and thru-axles, these forks are available for 20 or 24 inch wheels and with stanchion diameters of up to 36 mm for plenty of stiffness. The optional mount for Bosch eBike Systems' second-generation ABS module shows that RST is ready for the latest developments. Of course, cargo bikes also need electric drive systems that pack plenty of torque. In the Cargo Zone, the E-Utility drive system unit of HyenaTek is being highlighted: its rear hub motor dishes out 750 Watt and 70 Nm torque – a whole lot for a hub motor. Built to fit cassettes with 8 to 10 speeds, this system runs on 48 V for fast charging. Thanks to a battery capacity of 810 Wh, you get a more than decent range as well.