Going by bike just got safer, more weatherproof, and better connected

As more people take to the streets in reaction to increased fuel prices, pandemic-related restrictions, or just because getting stuck in traffic is a waste of time, they're going by bike because it's cleaner, greener, and often faster than other modes of transportation. New urban/commuter apparel has been designed and engineered to make cyclists safer, more weatherproof, better connected, more stylish, and generally more enviable. Here are some of the products on show at Eurobike that are helping to make urban cycling enjoyable and practical.
Award-winning Bookman Urban Visibility (9.1 / A09) is debuting its new collection of reflective fabric stickers for outerwear in whimsical shapes and patterns, like ghosts and leopard print. The Reflective Fabric Stickers are a brand-new product to increase visibility by adding reflective properties to clothes or bags.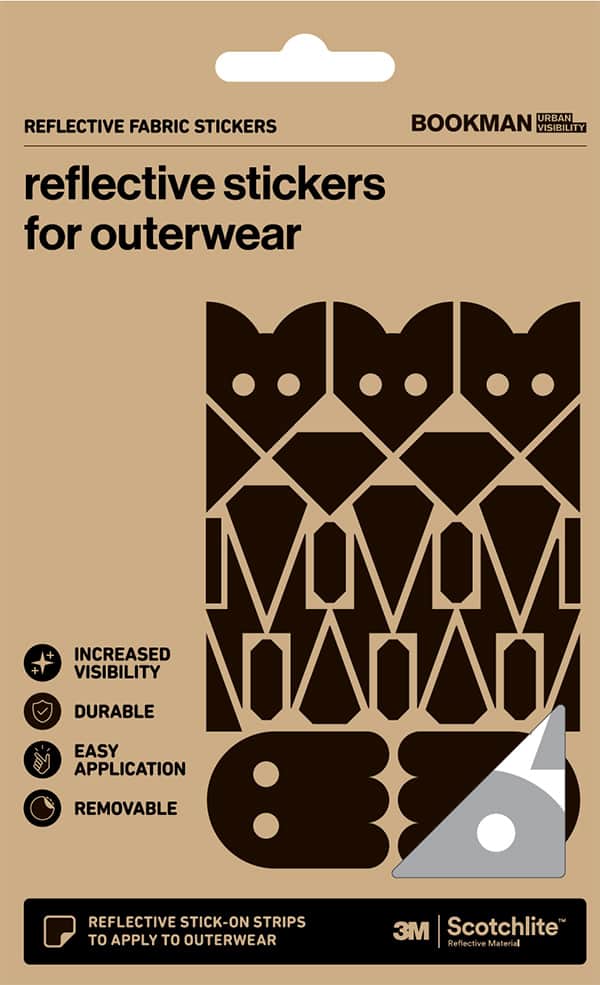 Stockholm-based Bookman prioritizes its design approach to weave purpose with experience in its range of inspiring visibility products for cyclists, runners and pedestrians that need to see and be seen. Bookman will tell you that safety needn't be boring nor gimmicky and to that end, every single Bookman product has been designed based on usefulness and application while leaving room for individual expression. The stickers come in reflective silver and are 10€ per pack.
Eurobike newcomer, Gofluo (11.1 / A10), invented the term "bodyglower" to define its collection of high visibility outerwear, which joins utility with modern design in its Bodyglower vests. Chevrons, chunky stripes, quilted stitching, and a riff on the world champion rainbow stripes dress up what otherwise might be safety vests with a heavy dose of style.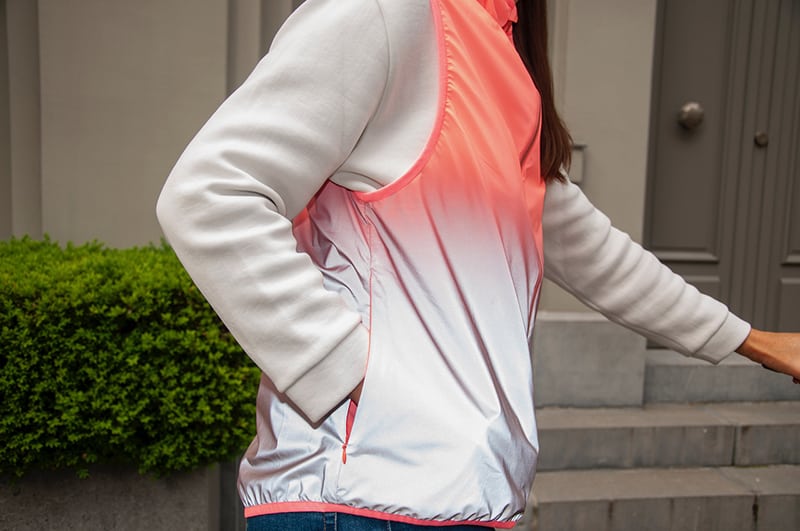 Yet Bodyglower is only one of the more than 10 product lines Gofluo sells via its website, including its own brand of high vis bags, jackets, rainwear, activewear, and backpack covers, as well as accessories by Bookman, and Thousand helmets. Gofluo's latest addition to its product line is the new Lori full reflective vest with top to bottom color fade. During the day the color goes from gray to fluorescent coral, at night it is fully reflective. The Lori will be available at the end of August for 69.95€.
Less flamboyant but certainly no less attention-grabbing, Amity Jackets (8.0 / B90) is the height of functional fashion with its line of high-tech outerwear with a high street tailored look.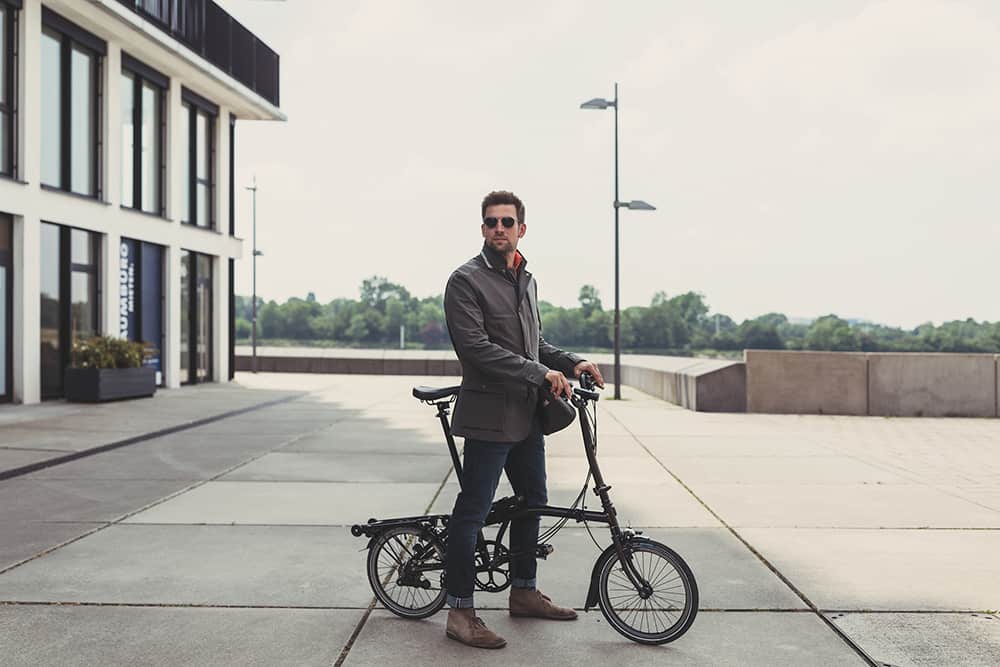 The collection is intended to meet the needs of urban mobility and, to achieve this, Amity Jackets has subtly built-in features like reflectors on the underside of the collar and at the sleeve ends, movement pleats at the back for freeing up the arms, rear side vents, lined sleeves, and multiple pockets. EtaProof and c_change fabrics protect the jackets from wind, water, and aging while keeping the rider comfortable at the same time thanks to their high-quality materials, which promote heat management to prevent chilling and overheating. Amity Jackets are typically available in six sizes for both men and women, and range in price from 299€ to 489€.
Weathergoods Sweden (11.1 / B33) is lowering the barriers to urban cycling even more with its newly upgraded Imbris Rain Poncho designed with a few key elements for riding in wet weather.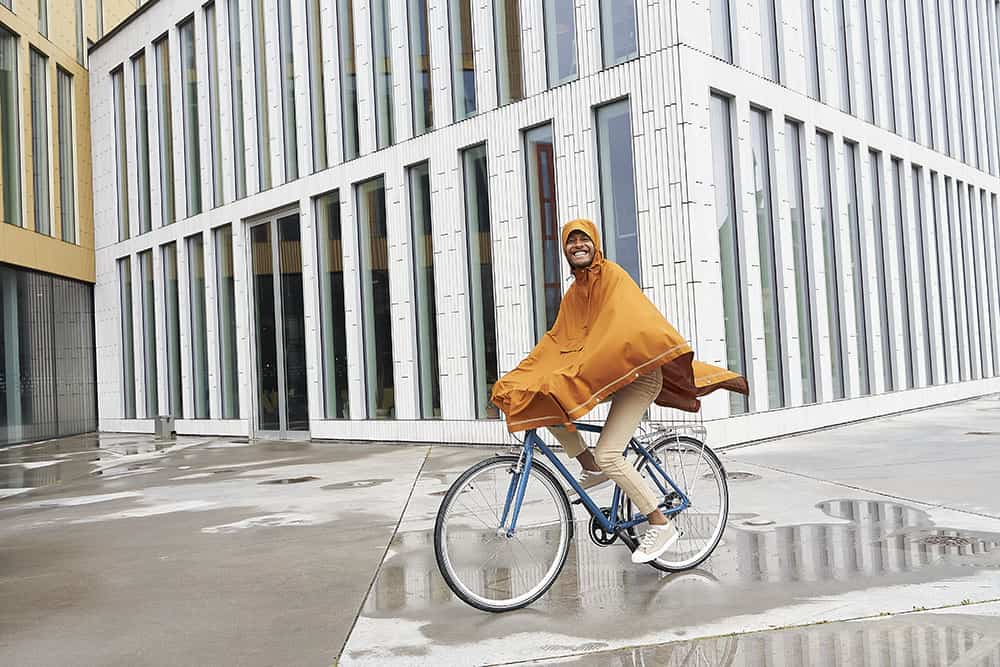 For instance, two hand straps sewn on the inside allow the rider to extend the poncho over the handlebars to create a cover for the legs and arms. The improved poncho gets its weatherproofing from a soft polyester fabric made from 100 percent recycled plastic bottles, which has been coated on the inside with a PU membrane and treated on the outside with a PFC-free water repellent. Taped seams and a smaller hood keep the rider dry and improve peripheral vision thanks to dual adjusters around the face and neck. Another example of practical Swedish minimalist design, the poncho's entire hem is encircled with tone-on-tone reflective tape 360 for heightened visibility. The Imbris Rain Poncho is available in four understated colors for 111.00€ including VAT.
In keeping with the rising tide of both urban apparel and smart mobility solutions, Cratoni (11.1 / D06) has upgraded its Smartride e-bike helmet with improved battery life and connectivity, as well as updated its companion app.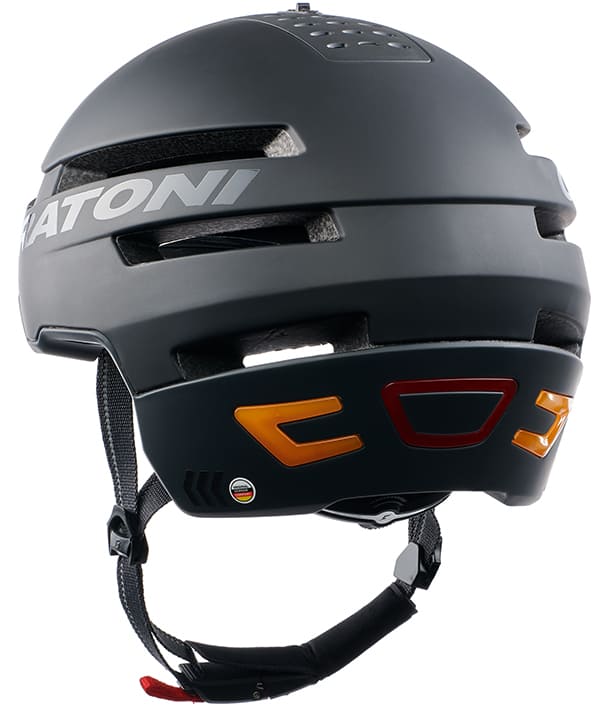 The new Smartride 1.2 helmet still offers considerably more features than conventional bicycle helmets via its integrated connectivity, like a crash sensor and remote control, plus it will alert emergency contacts via SMS in the event of an accident.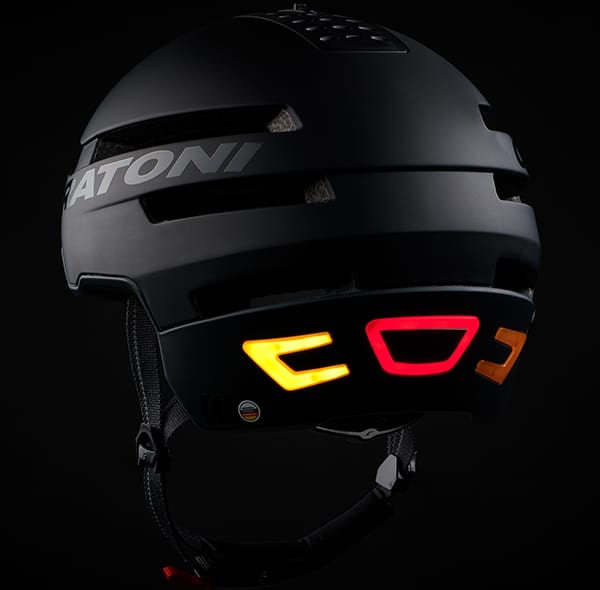 Users can also expect "standard" features like a loudspeaker, noise-cancelling microphone, a Bluetooth intercom, and call management through the Cratoni app. The Smartride 1.2 comes in four colors and sells for 399.95€.
La Mokka Plus Sensor helmet is Scott Sports' (12.0 / B11) entry into the category of smart urban helmets. The standout feature to the helmet is its sensor, which automatically switches on warning lights when braking and has a smart light sleep/wake function to save energy.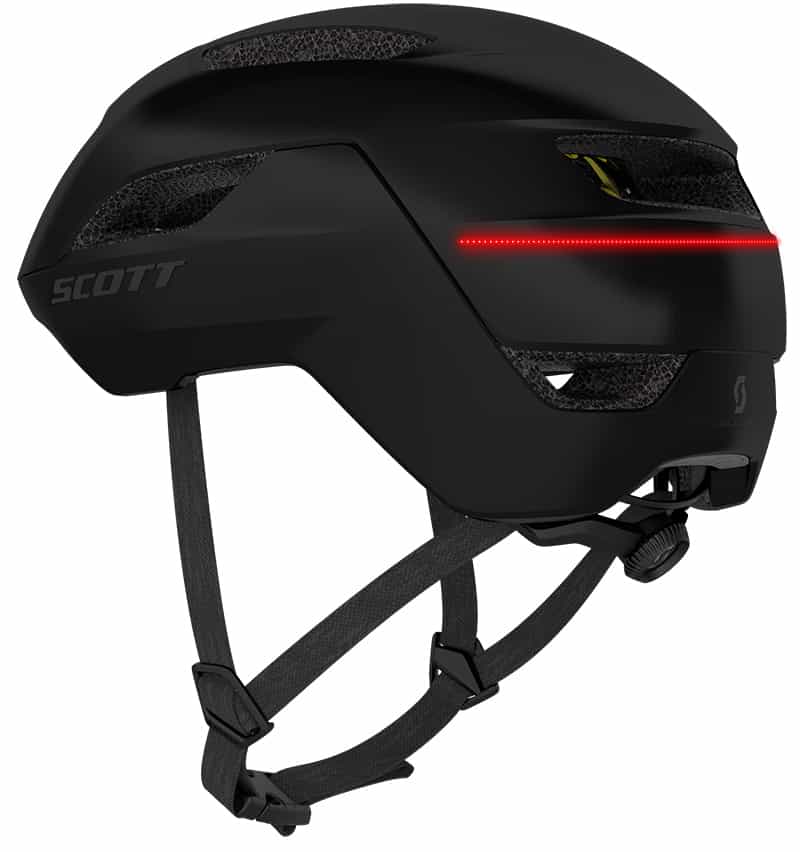 Not to be outshone (literally), a wide-angle rear light with three different light modes provides day and nighttime visibility to keep the rider safe in traffic. Other safety features include extended coverage, which refers to the helmet's extra coverage at the back and on the sides of the helmet, and an integrated MIPS Brain Protection System, making La Mokka Plus Sensor helmet one of the safest bets in the urban landscape.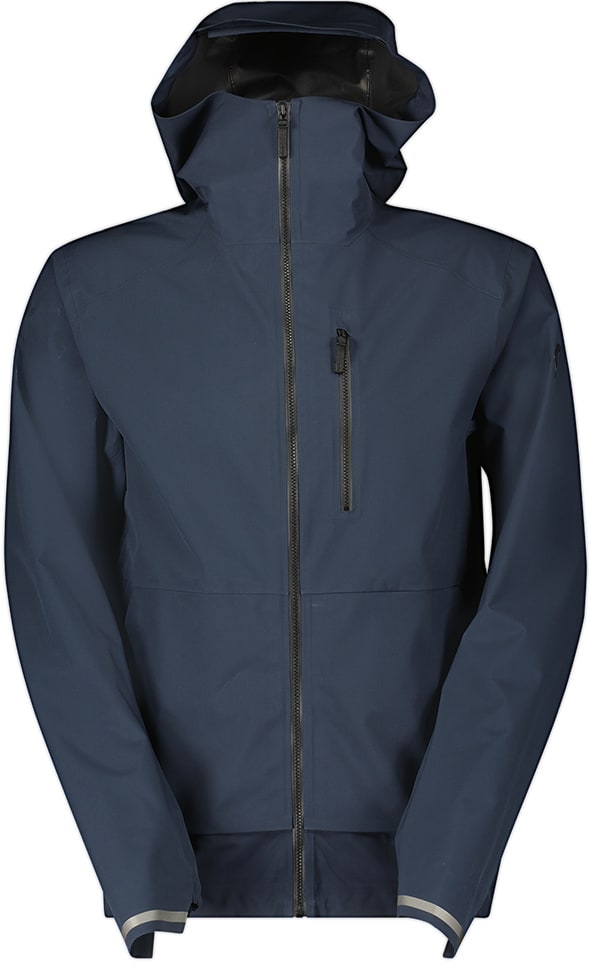 A bit lower down, Scott Sports has covered outerwear as well with the Scott Commuter 2.5L Jacket, a versatile jacket for daily commuting.
The garment's stretch fabric allows for maximum range of movement; its construction accommodates the needs of cycling commuters, such as integrated zippered side pockets to secure essentials and a foldable hem with a reflective print for better visibility in traffic.
Some riders use their commute to totally disconnect from the day's chaos, in which case the Enroute helmet from Safety Labs (9.1 / E06) can help turn down the noise.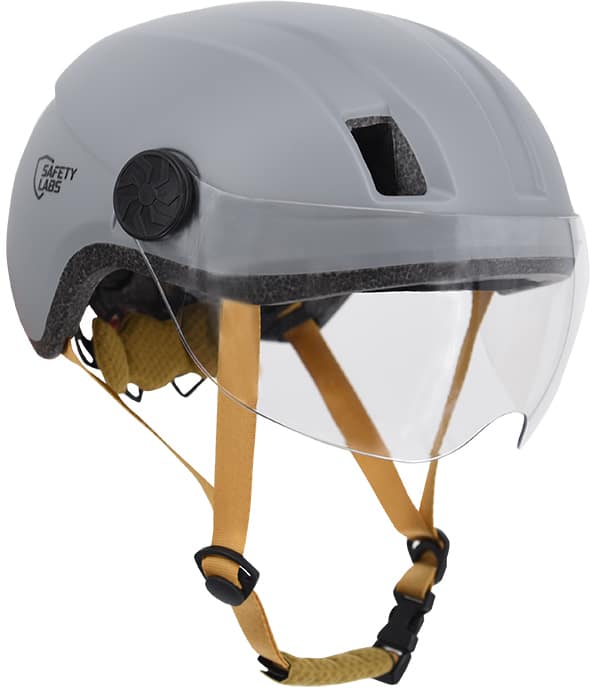 The Enroute features an edgy urban design that's perfect for rounding corners, crossing neighborhoods, or cruising boulevards. The helmet's sturdy polycarbonate shell is bonded to EPS foam to give the wearer maximum shock absorption while its Pro 360° Adjustment Fit System keeps it securely in place for better safety. Additional protection is built in with an adjustable visor to protect the eyes, and a multifunction rear LED light for peak visibility. The Enroute retails for 59.99€.
The Geo helmet from action sports safety equipment maker, TSG (12.1 / D32), is the Swiss brand's first urban bike helmet. This helmet stands out for its rare design, based on paper art from award-winning Berlin-based Papertrophy. The collaboration started with an idea to create an angular helmet, which led TSG's managing director, Ruedi Herger, to partner with Papertrophy.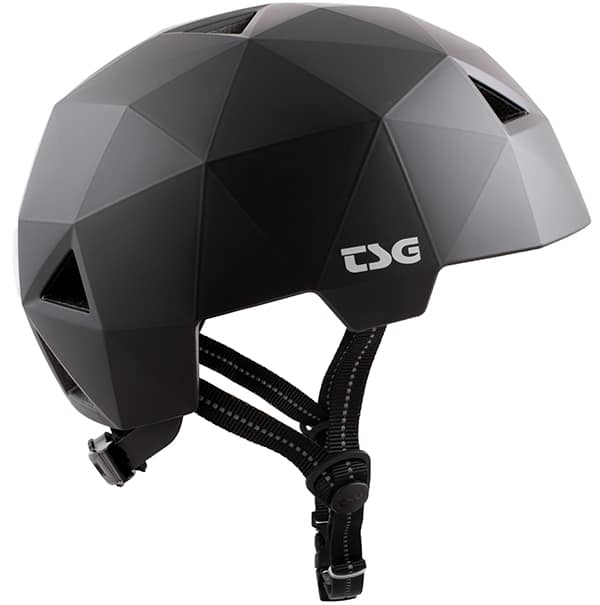 The Geo's in-mold construction features a 10-vent cooling system for climate control, and an easy-to-adjust Dial Fit System with two sizes of pads for personalizing fit and comfort. A removable LED rear light and reflective detailing enhance the GEO's visibility after dark. Despite its paper design inspiration, the Geo is certified to CE EN 1078 and CPSC specifications. It's available in solid black, in sizes S/M and L/XL, for a recommended price of 89.95€.
From the head to the feet…urban cyclists and commuters now have footwear options that haven't existed before. Endura (11.1 / C04-C06) recently entered the shoe market with two performance mountain offerings for flat pedals and clipless systems and one flat pedal option with city performance in mind.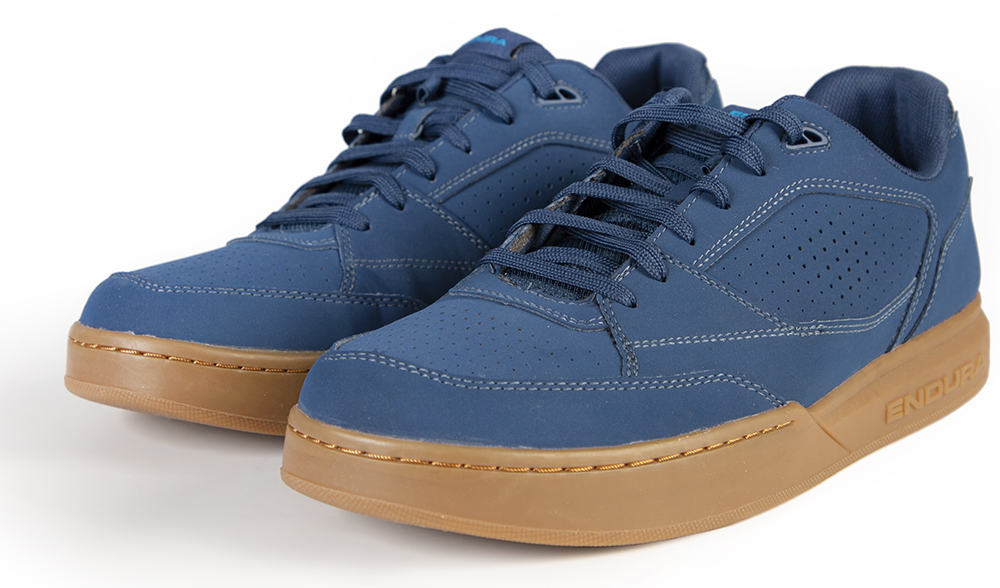 Endura's brand new Hummvee flat pedal shoe was conceived as a versatile, multi-use shoe for around town, at work, or after hours yet it's always up for casual ride, a critical mass, or a cross-town sprint. The Hummvee's sole consists of Endura's trademarked StickyFoot Grip rubber compound to make sure the rider stays in contact with the pedals, while maintaining flex for comfort both on and off the bike. The Hummvee has been engineered to ride and take on whatever type of cycling the wearer can put it up to. Suggested retail price for the Hummvee shoes is £89.99 or $119.99 USD.
Building on the success of its Dualflex sole technology, Vaude (12.1 / A07) has created TVL Dualflex Nature shoes for city cycling. Vaude has succeeded in striking the coveted balance between sneakers and technical bike shoe with an outsole made of 20 percent recycled materials, which provide all the needed grip for treading on asphalt. Organic cotton and recycled polyester uppers add to the mix of sustainable materials without losing performance.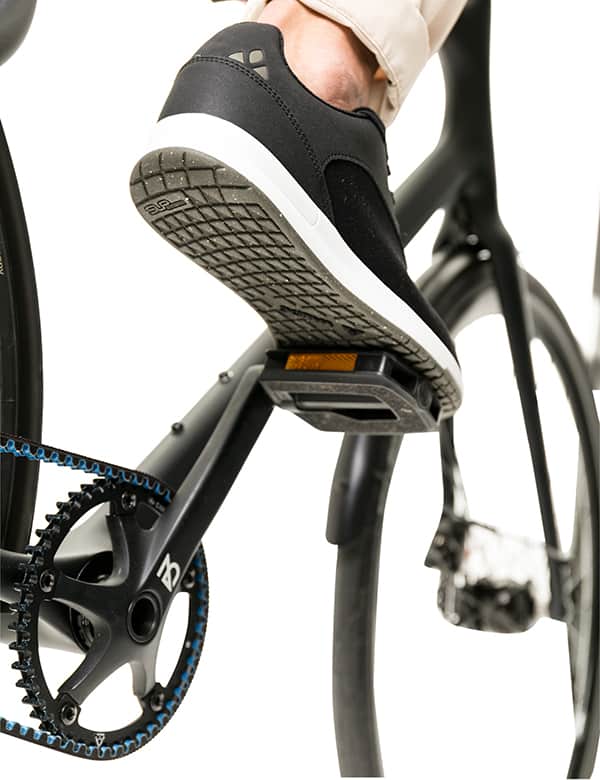 The shoe's layered carbon fiber construction remains flexible when walking yet maintains stiffness on the pedals for maximum power transfer. The Vaude TVL Dualflex Nature shoes are available for 150€.
Commuter needs for more weatherproofing, visibility, safety, versatility, and connectivity must also meet demands for comfort, creativity, style, and sustainability. What's enticing about urban cycling is the act of getting to a destination often faster and more energized; what's attractive about it are the growing number of products to support the urban cyclist.