Tyre development continues inside and out

Road tyres continue to get wider, the choice of gravel tyres expands and ebikes are also well served this year at Eurobike. Tube technology is a particular area for innovation, even as tubeless tyres become more and more commonplace, and bicycle tyre recycling is a reality for the first time.

With the mass adoption of disc brakes for road cycling, tyre manufacturers have been freed from the constraints of rim caliper brakes, and many race-focused road tyres are now offered in larger sizes for better comfort. One example is the Superpasso from Vredestein (9.1/F04), which is available in black and tanwall in widths from 23mm right up to 32mm.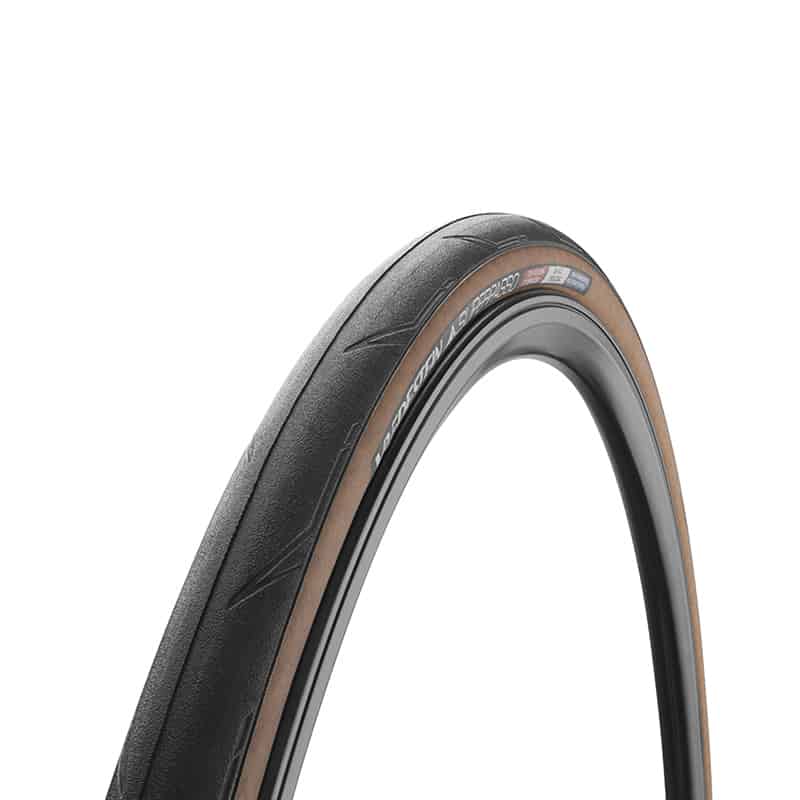 With a 150TPI carcass and a grippy, wear-resistant Tri-Comp tread design, the Superpasso has been developed with input from top athletes and is a fast-rolling, tubeless-ready slick. It's been designed to work with a 19mm internal rim, which means it's a great fit on many modern performance wheels. The Superpasso costs €62.95 (non tubeless) or €72.95 (tubeless.) With a 150TPI carcass and a grippy, wear-resistant Tri-Comp tread design, the Superpasso has been developed with input from top athletes and is a fast-rolling, tubeless-ready slick. It's been designed to work with a 19mm internal rim, which means it's a great fit on many modern performance wheels. The Superpasso costs €62.95 (non tubeless) or €72.95 (tubeless.)
The P ZERO Race 150° clincher from Pirelli (11.1/B14) debuted on the bikes of Trek-Segafredo at this year's Giro d'Italia. It's dedicated to the 150th anniversary of the company: Pirelli's first tyre, all the way back in 1890, was a bicycle tyre.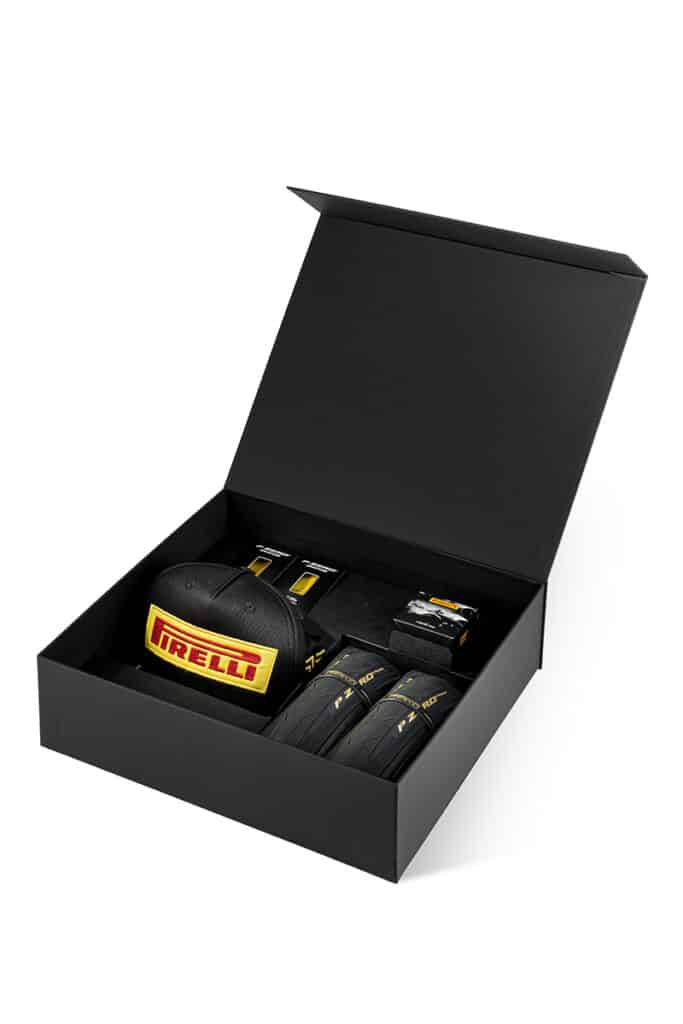 The P ZERO Race 150° is produced at the Pirelli plant in Bollate, near Milan. It's an all-round clincher suitable for training and competition. It's based on the original P ZERO Race tyre, a best-seller from the Pirelli, with an exclusive gold livery and dedicated packaging. It's available in 26mm and 28mm widths. With a 120TPI casing and SmartEVO compound tread, it offers low weight and rolling resistance combined with excellent dry and wet grip. The integrated TechBELT Road technology improves puncture resistance without making the tyre heavier.
On the gravel side, new tyres continue to emerge. The Schwalbe (12.1/C08) G-ONE RS has recently been proven in competition with a win by Ivar Slick in this year's Unbound Gravel race, and Schwalbe says that the tyre is its fastest gravel tyre to date.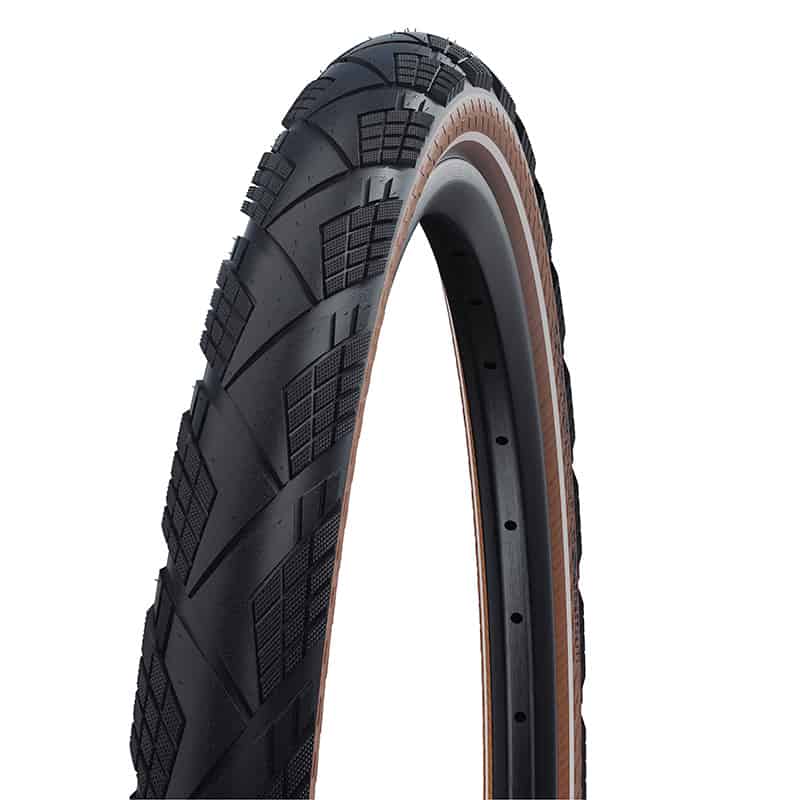 The semi-slick G-ONE RS borrows the Super Race carcass from Schwalbe´s flagship PRO ONE road tyre, and the inspiration for the tread pattern came from the X-One-Speed cyclocross tyre. The result is a tyre that has 20% less rolling resistance than the G-ONE R, and with weights from 410-505g for the three sizes (35mm, 40mm and 45mm) it's quite a bit lighter, too.
If you want something a bit more aggressive, then the WTB (12.0/C15) Raddler 44 (€65.95) combines the supple traction of a high-volume gravel tyre with the rolling efficiency of a short-knob tread design. The grooved outer knobs offer superior cornering traction, so the Raddler 44 is a great choice for more unpredictable terrain. The tyre is offered with WTB's SG2 puncture protection, that provides bead-to-bead coverage, and it's also tubeless-compatible.
Innova (9.1/D04) is showing its EL CAMINO II E-gravel bike tyre at Eurobike. Available in a 38mm carcass, the tyre has a solid centreline tread for fast rolling on tarmac, giving way to a diamond file tread and and deeper shoulder tread for more bite on looser surfaces. The tyre has a 60TPI carcass and Sport Guard puncture protection. It weighs in at 730g.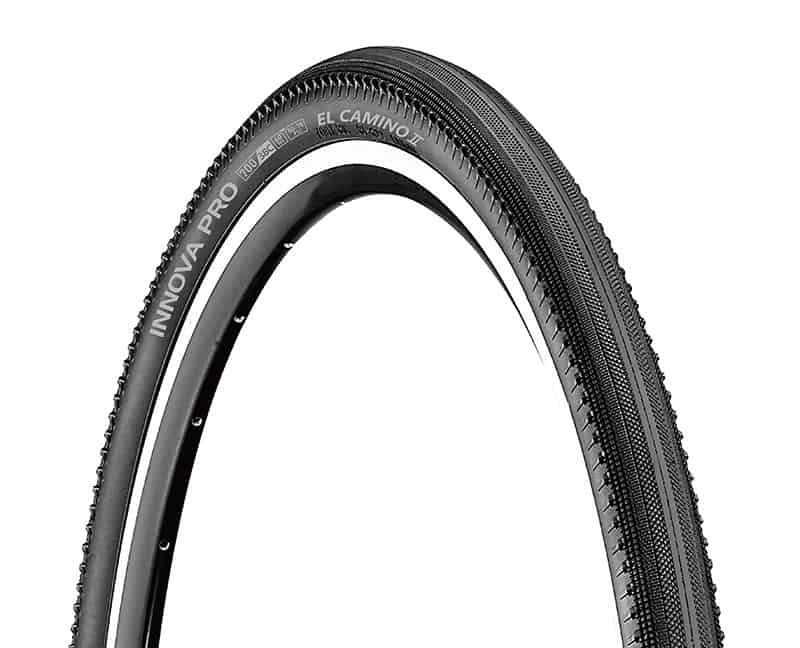 If you need to change your tyres regularly for changing conditions, then reTyre (9.1/B04) offers a solution that allows you to change your tyre tread in seconds, without removing your wheels.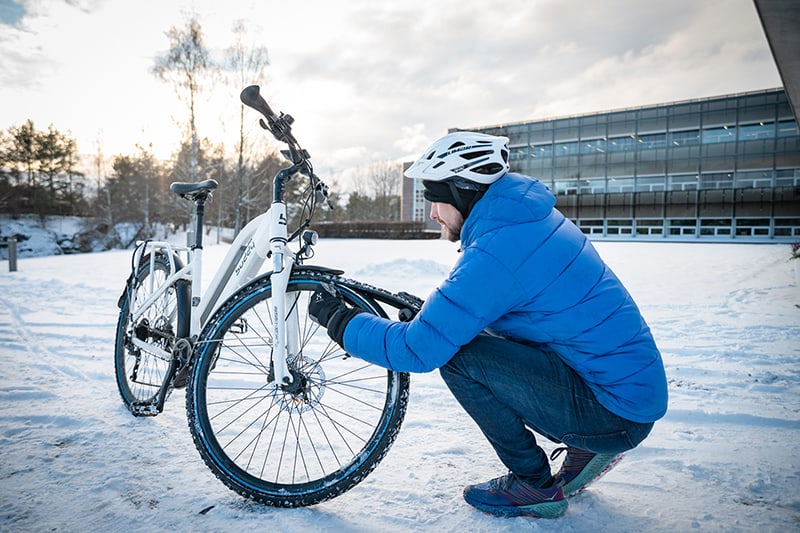 reTyre's modular system for bikes is based around a slick tyre, the reTyre One, and a zip along each side of the tyre allows you to install a treaded skin over the top in under a minute. The company offers a number of studded treads for icy conditions, as well as gravel and trail options. The new Nordic Commuter skin is the company's slimmest yet, allowing the tyre system to fit a wider range of bikes. reTyre has expanded its portfolio of products into fleet bikes and scooters, developing a proprietary fastening mechanism that uses a locking clip instead of a zip.
In the cargo sphere, Vredestein (9.1 / F04) is debuting its first dedicated last mile delivery tyre. The Vredestein Cargo is available in 55-406, a perfect size for many cargo bike manufacturers. It features many cargo-specific developments, such as reinforced sidewalls, a boxier tread shape and a bi-directional usability.
E-bikes are well-served by the latest tyres. Schwalbe says that its Marathon Efficiency is its fastest touring tyre, and can even increase the range of e-bikes. The Marathon name has always stood for safety, puncture protection and everyday functionality. The Marathon Efficiency adds performance to the mix too, with a very low rolling resistance.
Ralson (9.1/D08) will be debuting two ECE-R75 speed rating approved tyres that can be used across all e-bikes, including speed pedelecs. The Roleio is available as a tubeless ready tyre with either a 60TPI or 120TPI casing.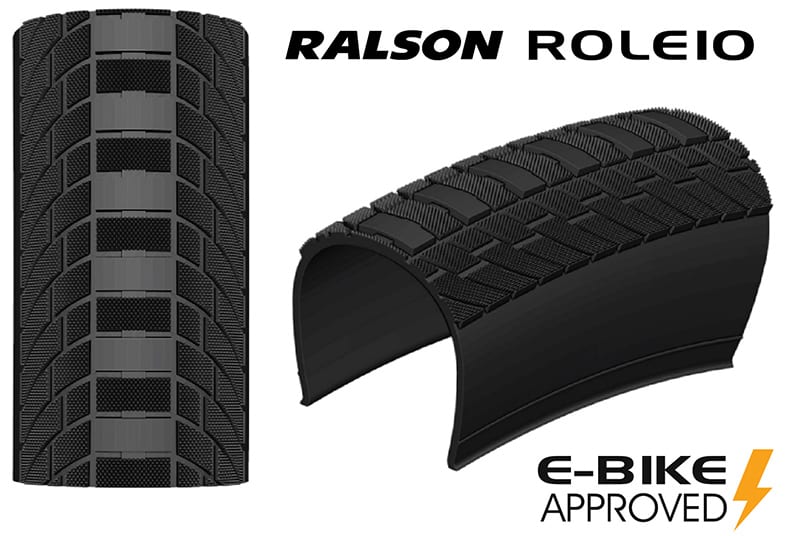 It features a centre rib section, moving to a knurled shoulder for good corner grip, and continuous grooves from the centre to the shoulder channel water effectively. A 3mm or 5mm puncture protection layer is also built in to the tyre, depending on the spec.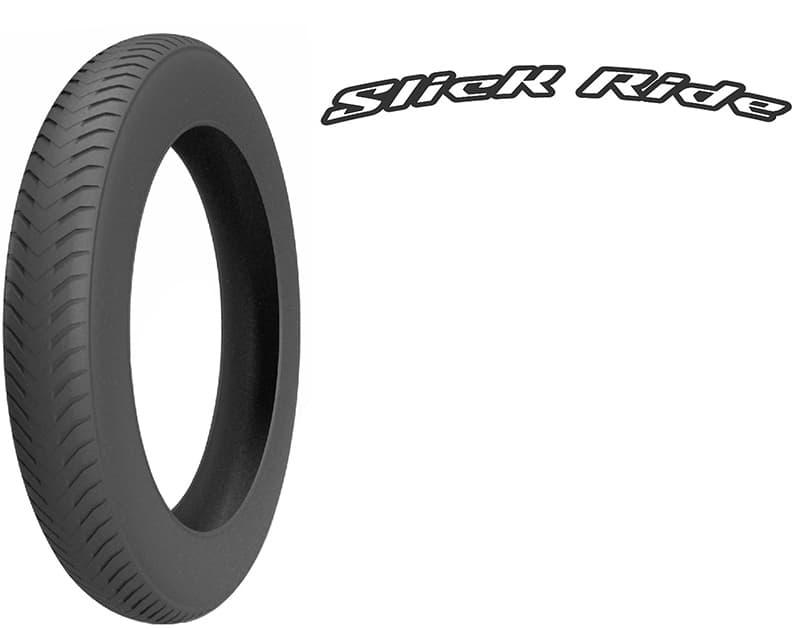 The Slick Ride tyre is debuting in a 24X4.25" size but will be available in sizes from 20" to 26". It's a big-chamber semi-slick that's designed for speed, with a carcass structure designed to flex just the right amount when leaning the bike over. Again, it's available in 60TPI and 120TPI builds with a puncture protection layer.
The Innova Makarora is a 700x42C ebike & city bike tyre with a smooth center section and a sturdy diamond side tread. It's quick on tarmac, but even on unpaved surfaces it can maintain a strong grip. "The specially optimized design provides maximum durability, low rolling resistance and excellent grip even at high speeds", says Innova.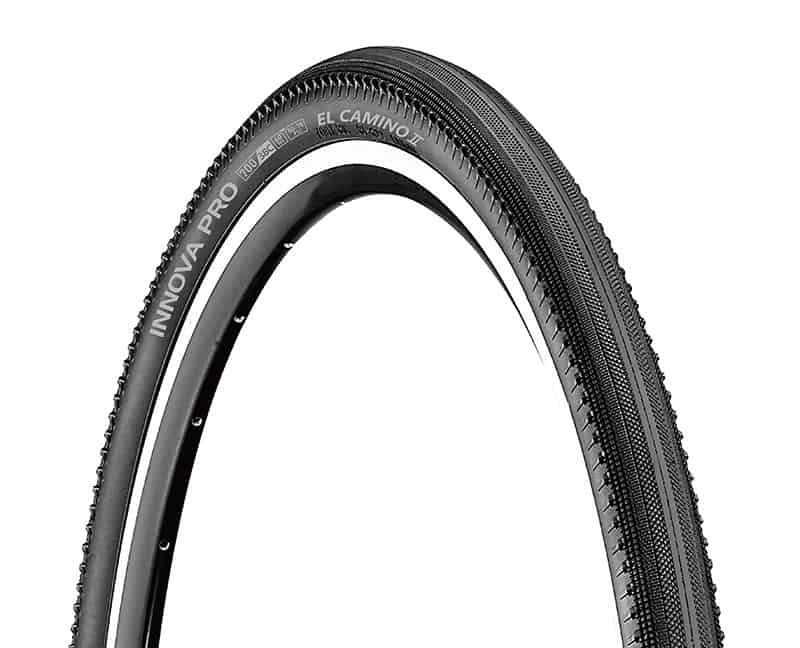 Tubeless technology continues to develop, both in terms of tyres and accessories. The WTB (12.0 / C15) TCS Tubeless tyre Sealant uses a tackifying process to seal punctures rather than relying on the evaporative effects of an ammonia-based formula.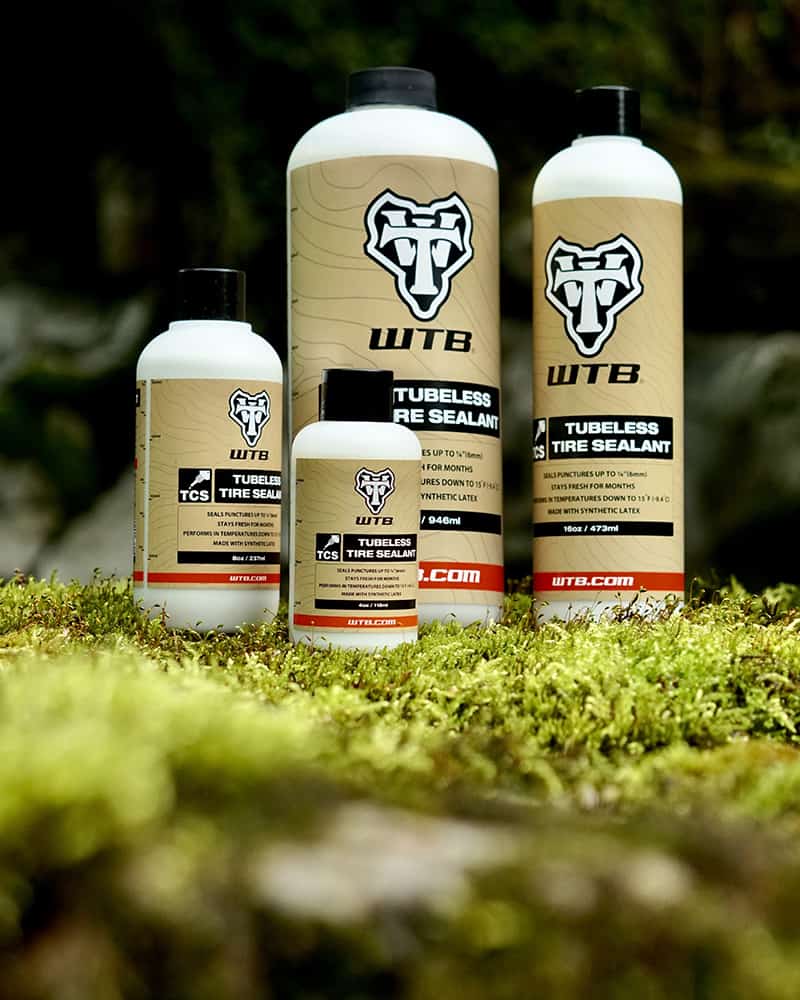 As a result, it performs better in wet and unforgiving conditions. "We went through five different formula revisions to ensure TCS Tubeless tyre Sealant is the best option for quickly and confidently repairing punctures up to 6mm", says WTB. "Our unique, ammonia-free formula cures particulates within the puncture to create a flexible, long-lasting repair."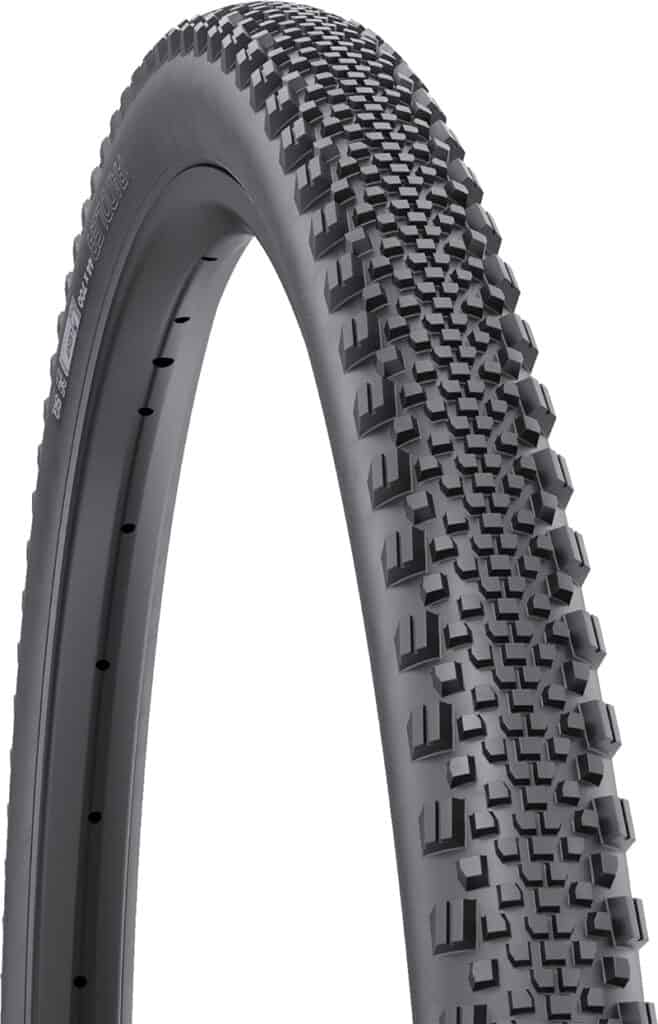 There's still plenty of life in inner tubes, though. Many companies have been developing lightweight TPU-based tubes.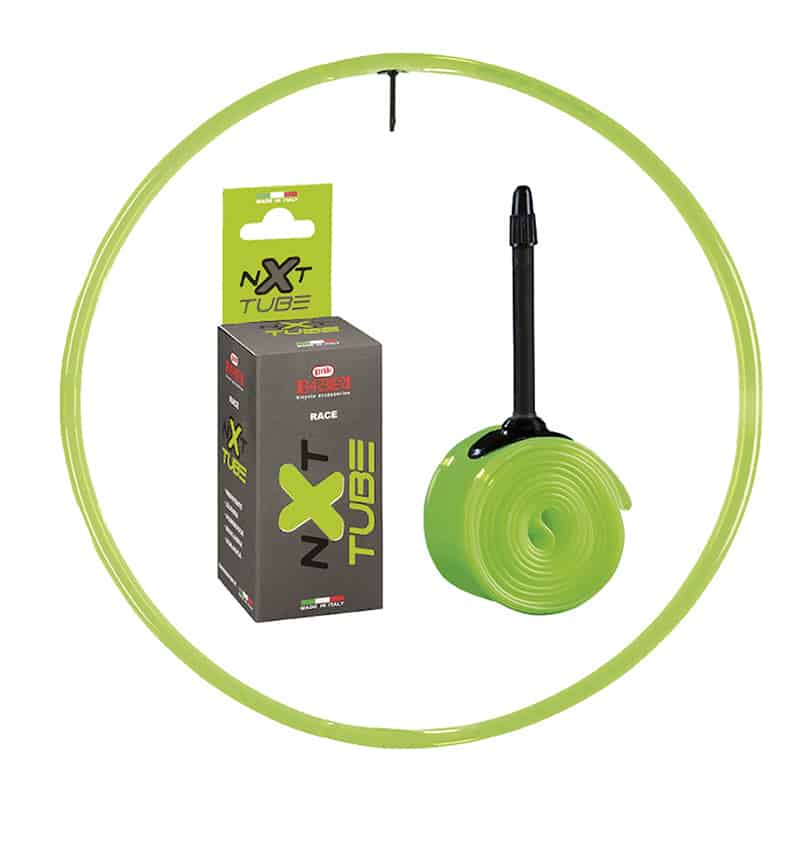 Barbieri (9.1/D01) are one such company, offering its NXT tube in various sizes for road, gravel and mountain bikes. A saving of as much as 60g for a road inner tube is possible. TPU tubes are a good choice for weight saving, and also to carry as a spare thanks to the smaller size.
The latest tube from Kenda (12.1/D04) is a development of the standard butyl tube that uses a new material composition to improve its properties.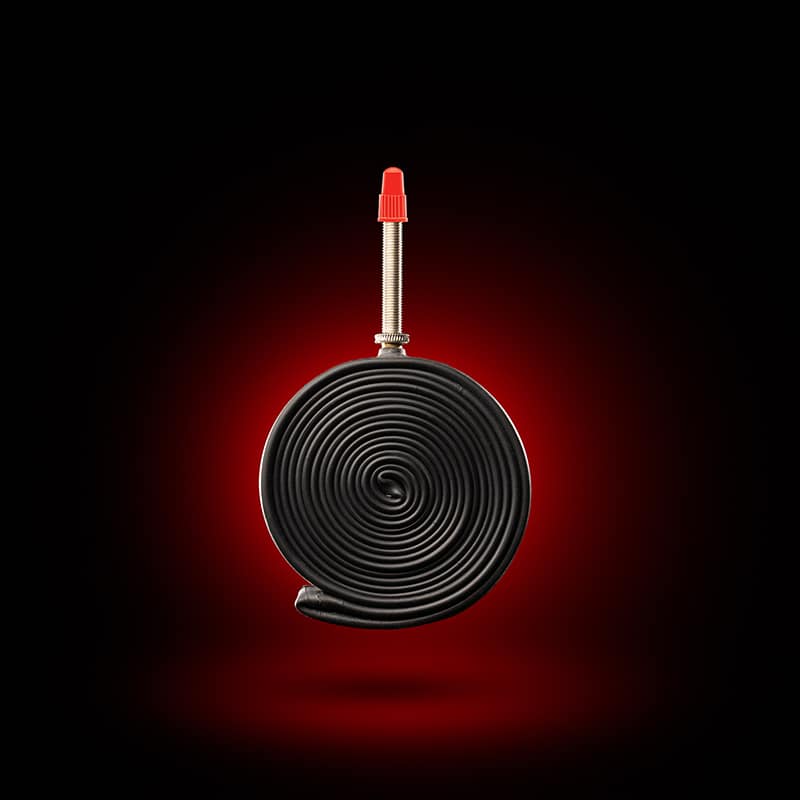 The Airolution tube holds air for four times longer, and has offers 20% higher puncture protection, and 25% higher cut resistance, than a comparable standard tube, without adding any weight. The tube is available in 8 sizes ranging from 12" to 29", in various widths, and costs €12.90 per tube.
Recycling tyres has always been a problem thanks to the complex construction, but in a world first, Schwalbe is beginning to recycle bicycle tyres.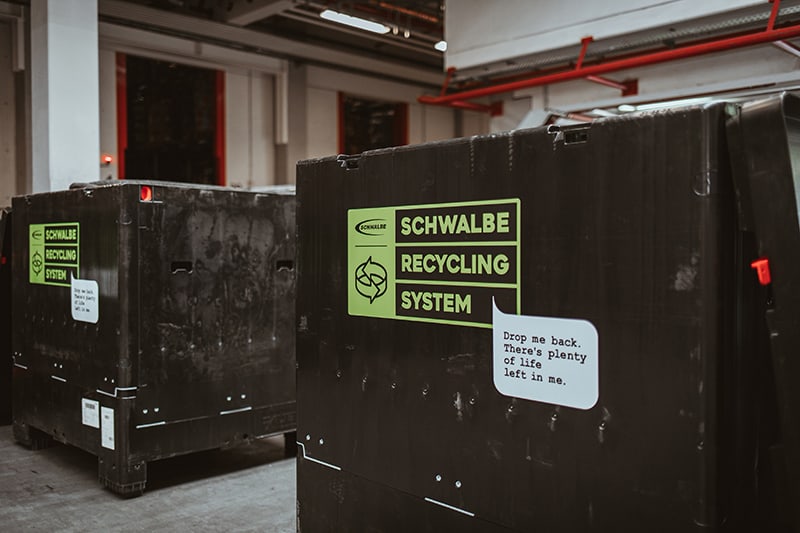 After ten years of research and development, Schwalbe in cooperation with TH Köln and Pyrum Innovations AG have developed an innovative and holistic process to recycle used tyres of all brands. This is a big milestone for sustainability: now bicycle tyres can be 100 percent recycled using the process, and no longer need to be incinerated.