Solutions for wheelchairs, fleet scooters and hire bikes added to an expanding range of easy-to-switch tread options for bikes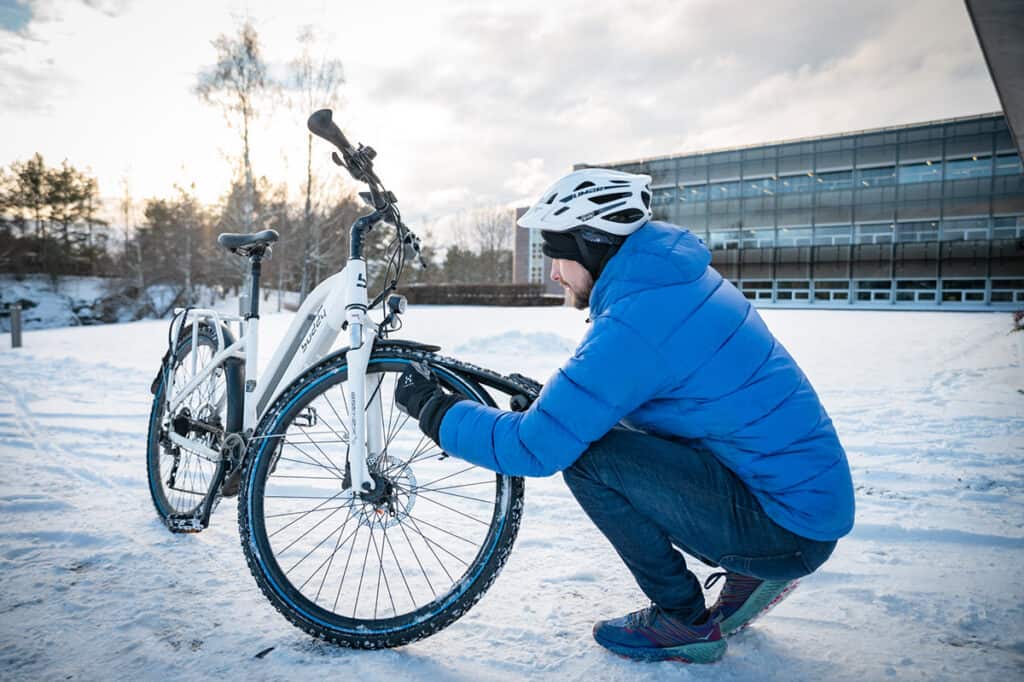 Every company had its challenges during the pandemic, when lockdowns were playing havoc with normal working.
For Oslo-based reTyre (9.1/B04), the world's leading developer of modular tyre solutions, it was a time to focus on its local market, and that strategy was a big success. The company has a strong market presence in Norway and Scandinavia, and in 2021 sales increased by 450%. The last couple of years have also been a time to innovate, grow the team and develop the product range, and now the company is well-placed to expand. "We are well positioned for scaling in 2022 with many large partners. We have presence in more than 40 countries, through OEMs, retailers and distributors," says Tamara Rosic, Chief Marketing Officer.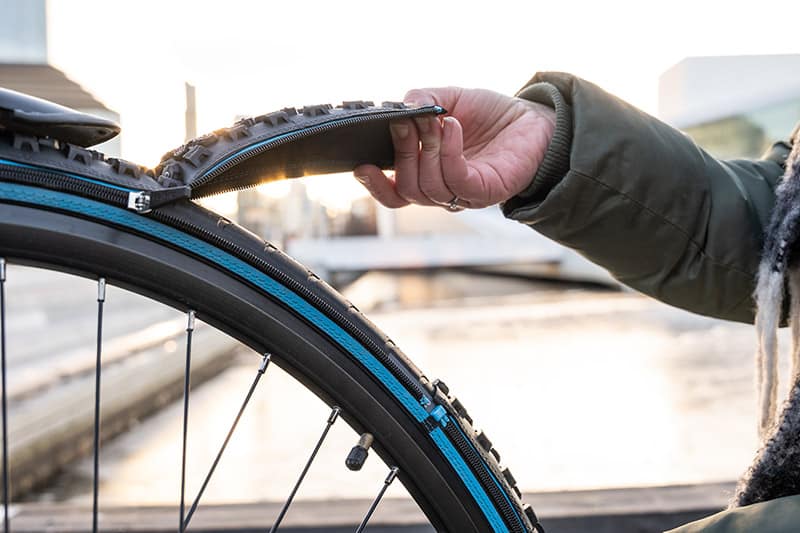 reTyre's modular tyre systems allow a user to change their tyres to suit the conditions without removing their wheels. The Winter Traveler Skin, which was declared the winner in the ADAC collective test of winter tyres this winter, has been joined by Ice Racer and the summer variant Gravel Chaser, to be used for bikepacking and on gravel roads. It's a system that has been well received, and has recently been improved with the new Nordic Commuter Skin, which is the lowest-profile studded skin yet, allowing it to fit into a wider range of frames. 27.5" systems are currently in production too.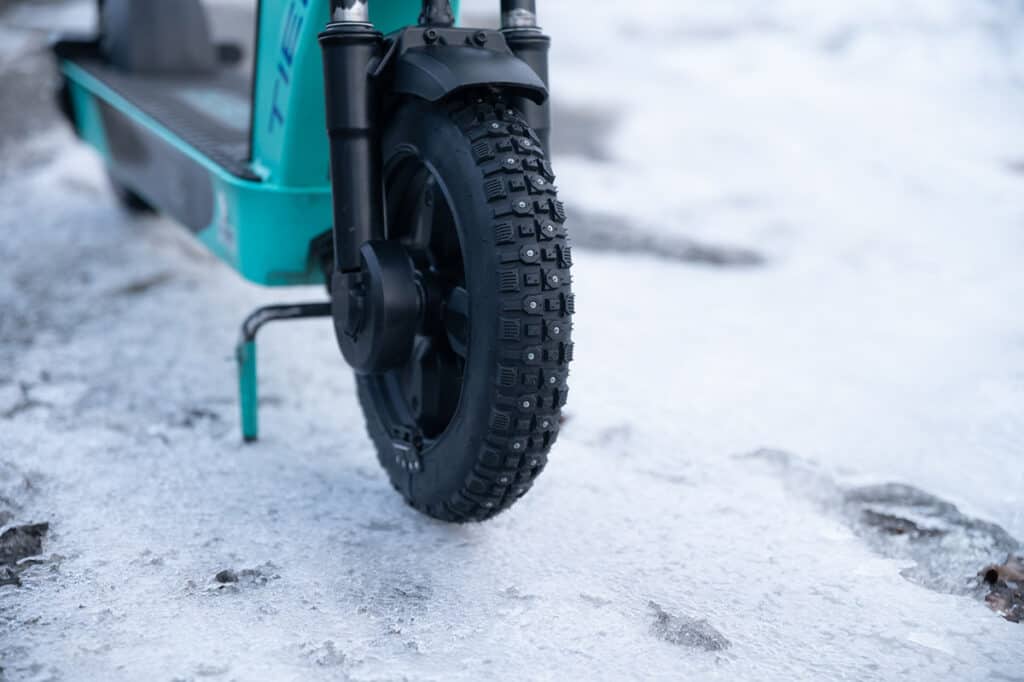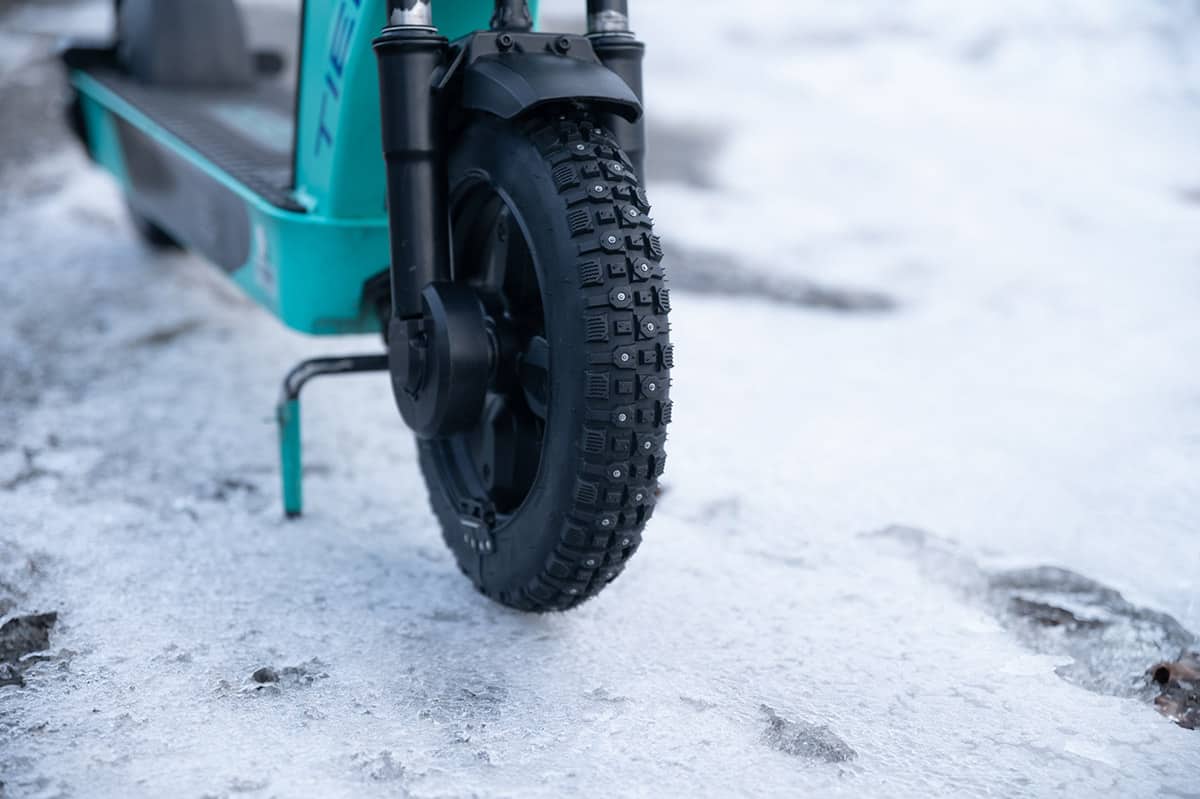 reTyre is also busy moving into new markets. The Traction system allows wheelchair users to add a more aggressive tread to third-party tyres. The Traction tread can simply be rolled onto the existing tyre by the wheelchair user, and stowed in a backpack when not in use. It uses a Velcro fastening that's quick and simple. The Grippy system offers similar benefits to stroller users, with a studded tread that can be cut to fit and fastened with Velcro tabs.
Another new direction for the company is the Stinger, which is reTyre's studded tyre solution for E-scooter fleets. It was initially developed for TIER, allowing its global fleet of eScooters to have higher uptime throughout the year in northern markets. In a fleet scenario the outer tyre needs to be secured to the scooter to prevent theft. reTyre has developed a proprietary fastening mechanism that uses a stainless steel lock which is inserted into the clip using a dedicated tool. This ensures that the tyre remains in place until it's time to take it off for the warmer weather. reTyre will be using the same technology for Fleet, its modular tyre designed for E-bike fleets.
reTyre sees its products as a sustainable solution for year-round mobility. "We are still strongly focusing on sustainability, both now and for the future", says Rosic. "Our tyre and skin technology already means a 40% decrease in tyre waste. Also, reTyre products prolong the biking season and eliminate car & public transport journeys all year round. In future, even more of our efforts will be devoted here."