Big on capacity, not on carbon footprint
As many large cities restrict motorized traffic, heavy cargo bikes and trikes have become an obvious alternative for transporting goods. With high payloads and sturdy construction, large cargo models are already in use in many cities across Europe, and as well as suitable models there are new drive systems built specifically for cargo trikes on show at Eurobike.
During the Covid pandemic, online shopping saw massive growth – and with that came a host of delivery vans that clogged up residential streets by double parking. This and the tendency of large cities to restrict the access to city centers has made many logistics professional rethink their usual ways of doing business. Blending flexibility and efficiency, large cargo trikes need less space on the road while handling impressive payloads and have shown to be faster on short to medium distances than traditional delivery vans. With global logistics players such as DHL, UPS and Schenker getting into large cargo trikes for deliveries, it's not a matter of ideology or being green anymore. It has become a matter of getting the best return on investment and getting the job done most efficiently.
By combining bicycle technology with parts sourced from automotive and motorcycle suppliers, Urban Arrow (8.0 / C55) created the Tender series of XL sized cargo tricycles.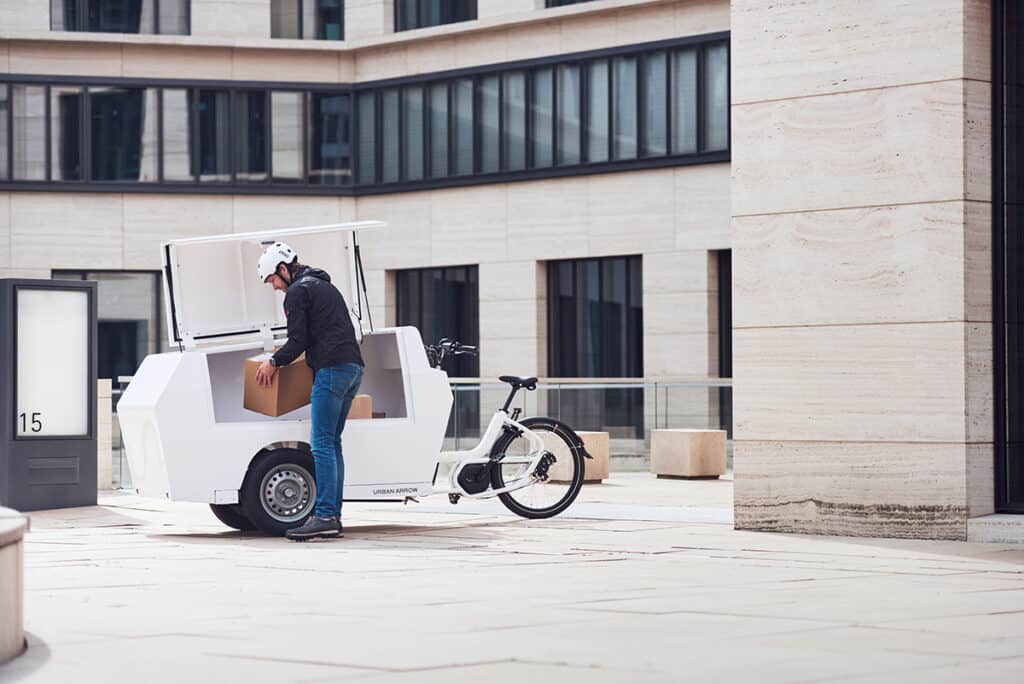 These are already in use to deliver groceries to online customers in various Dutch cities. So far the Tender has been available in three versions, with the main difference being the length of the cargo bay and the corresponding volume for cargos of all kinds. For 2023, Urban Arrow rolls out a fourth model with the Tender 800 – the shortest heavy-duty cargo tricycle of the brand thus far.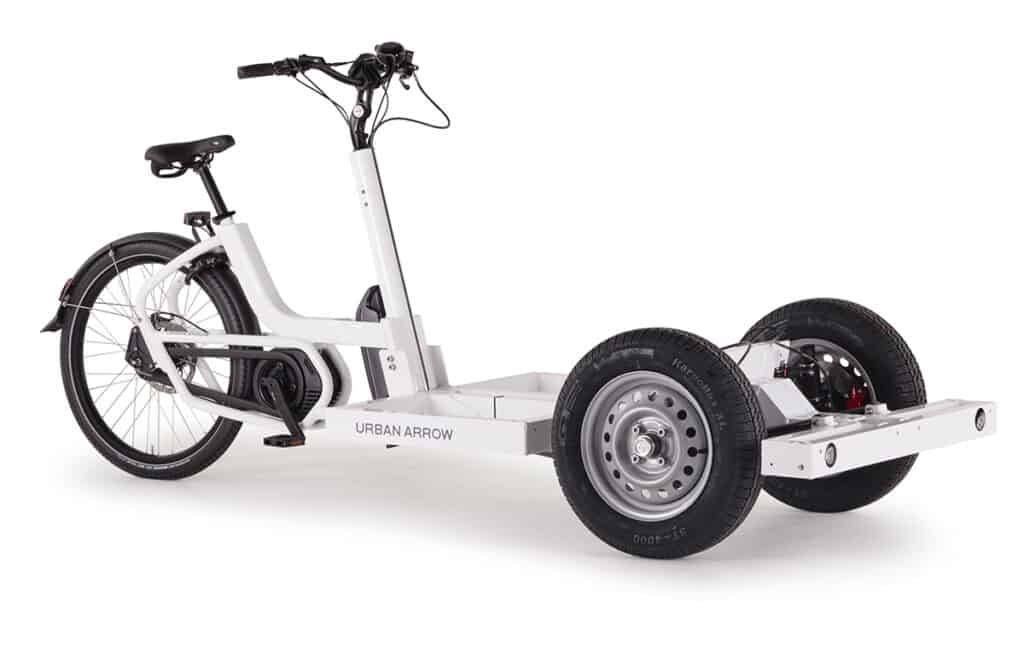 Like its larger siblings, it rolls on two lightweight wheels for electric cars up front and mixes motorcycle brakes up front with Magura disc brakes for e-bikes in the back. Thanks to the combination of Bosch's Performance CX Cargoline mid-motor and Rohloff's Speedhub E-14 with its massive range, Urban Arrow's Tender is easier to handle than its dimensions would make you think.
While Vienna-based start-up Gleam Technologies (8.0 / A13) also offers a wooden module to safely transport children, its Escape cargo trike is ready to take on massive payloads and europallets.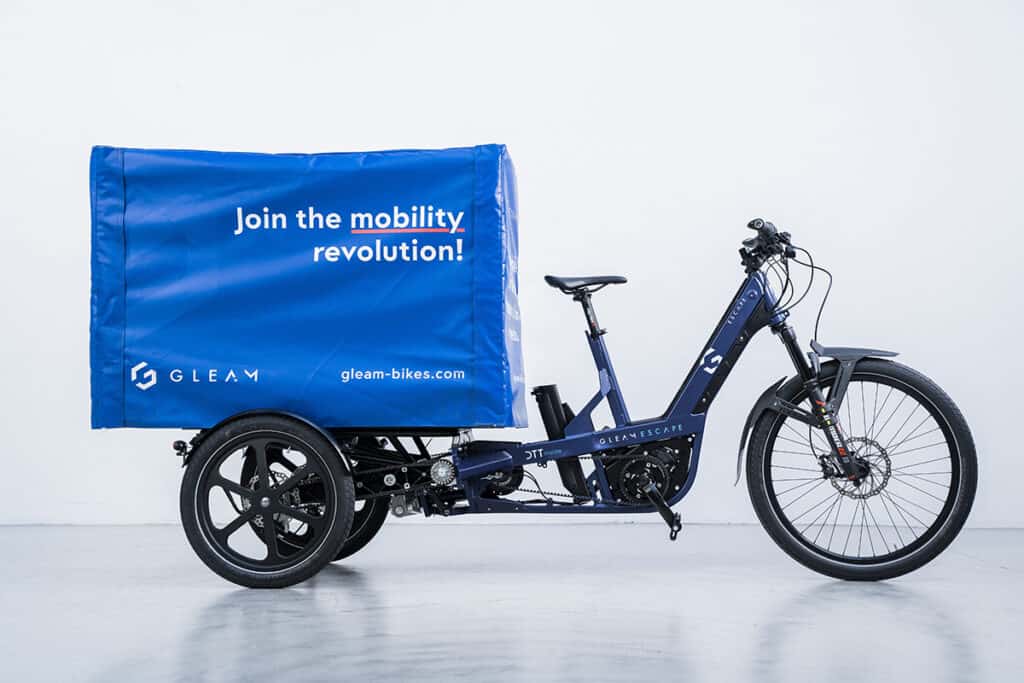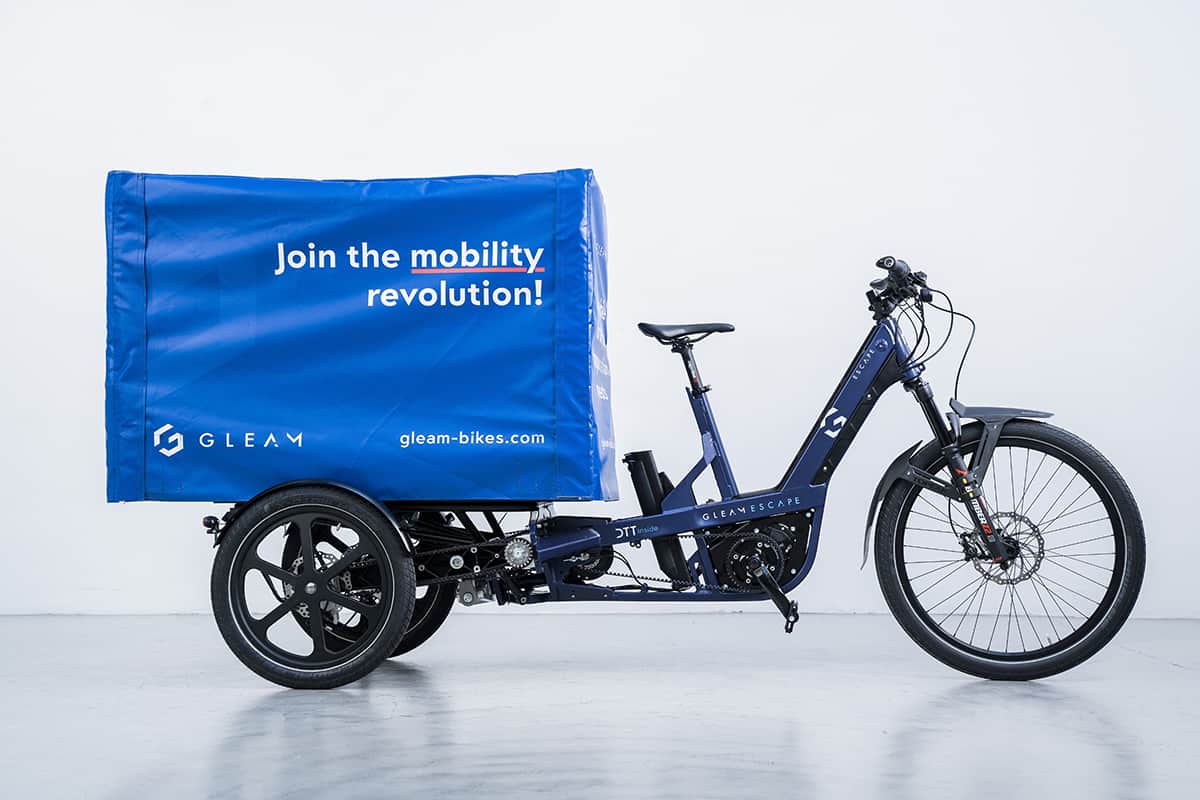 What truly sets the Escape apart from other large cargo trikes is the way it feels and handles much like a normal bicycle. Since bike messengers were involved in the development of the Escape from the very start, the position on the bike is surprisingly efficient. The rear part of the frame comes with a smart tilting mechanism that is key to how the Escape handles and to its small turning radius. The power of the mid-motor supplied by Oli eBike Systems is transferred to the rear wheels by a set of beltdrives, and thanks to the Flex system built into its cargo bay various structures can be fitted to secure cargo of all kinds.
With its radically designed cargo tricycles, Finnish manufacturer Ouca Bikes (at Revonte, 8.0 / J36) puts a clear emphasis on sturdy reliability, foregoing lightweight parts made for conventional bicycles.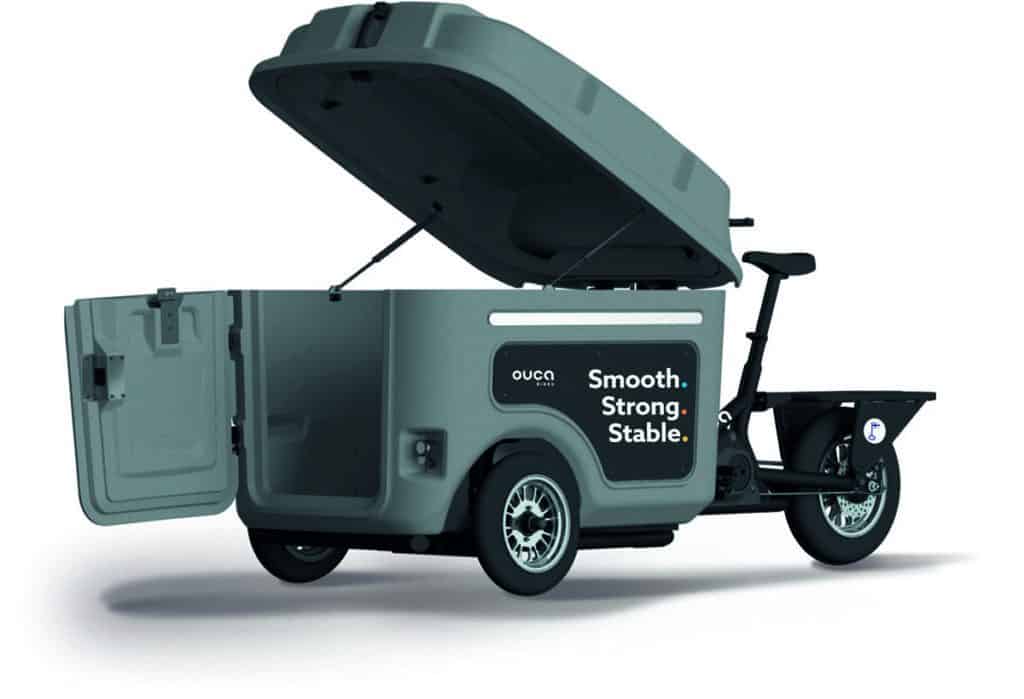 Therefore these trikes roll on motorcycle-style wheels made of cast alloy, decked with wide all-season tyres. The wheels and the custom alloy body with its large cargo compartment up front are ready to carry a payload of up to 255 kilograms – 180 kilograms in the box and 75 kilograms on the optional rear rack. Thanks to Revonte's powerful mid-motor with its integrated automatic transmission, it's easy to get this large cargo trike up to speed. Motorcycle-grade disc brakes help to keep that speed in check and the handling has been optimized for stability. Ouca Bike's trikes are available in three versions, tailored for the transport of cargo or up to eight toddlers and children.
Designed and produced in France and relying on Bafang's drive systems, the cargo trikes of Trips (8.0 / B64) are built around a reinforced steel chassis to carry a payload of up to 350 kilograms.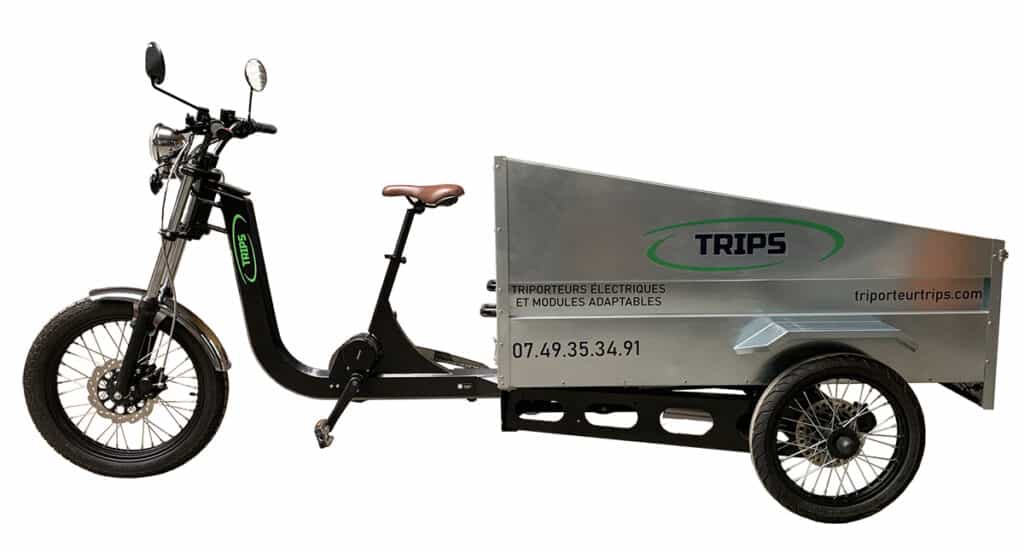 For 2023 the dimensions have been adapted to existing rules in the EU and Switzerland, limiting the width at 1 meter. The volume of the cargo box has been increased from 1.4 to 2 cubic meters as well, with doors in the back and on the sides allowing for easy access to the cargo. Aiming at communal services and maintenance workers, the Pick-Up version is a different animal, with its open alloy cargo bay that can be tilted with the assistance of a hydraulic jack. Whether it's collecting trash or getting building materials to a construction site, the Pick-Up is a clever solution that also works in densely built-up urban areas with narrow alleys.
The Pickup Work 4.0 model from XCYC (8.0 / A11) is a versatile cargo trike built around a sturdy aluminum frame with two stable 12-inch wheels in the back, a 26-inch wheel and a double-crown fork for mountain bikes up front. For soft surfaces, you can also get 10-inch wheels with extra-wide quad tires in the rear.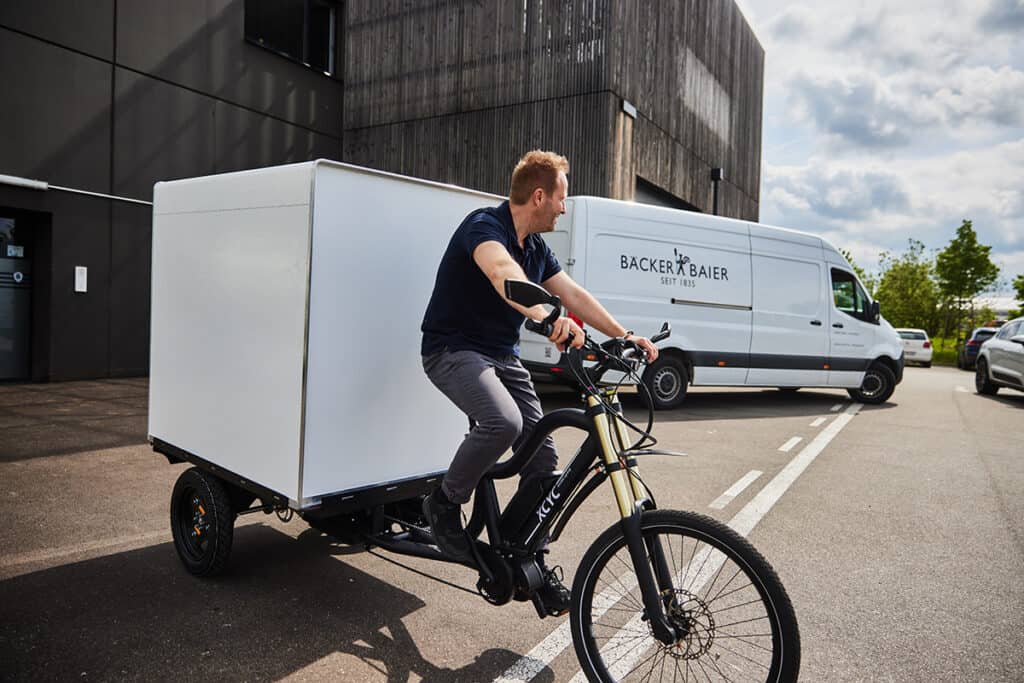 For electric support XCYC relies on Bosch's Performance CX Cargo Line to get the maximum allowed system weight of 300 kilograms and a maximum payload of 200 kilograms going. The wide range of Rohloff's Speedhub certainly helps on those particularly challenging first meters.
Thanks to four-piston disc brakes from Shimano with a 203 mm rotor up front and two 180 mm rotors in the back you also get plenty of stopping power. A europallet easily fits on the Pickup Work 4.0, with various modular solutions to protect the cargo from the elements.
Pressured by Leva-EU, the EU Commission changed the regulations for e-bikes and pedelecs in mid-February 2022 to include Series Hybrids. These are e-bikes without a chain or beltdrive, meaning that the power put to the pedals is not transferred to the rear axle mechanically but used to generate electricity that directly powers a hub motor – or two on trikes. As one of the pioneers of this type of construction, Korean manufacturer Mando (8.0 / E07) has built this system into its Footloose folding bike for many years, but also into heavy cargo trikes. The obvious advantage on tricycles is that there is no need to redirect the momentum from the chain to the rear wheels.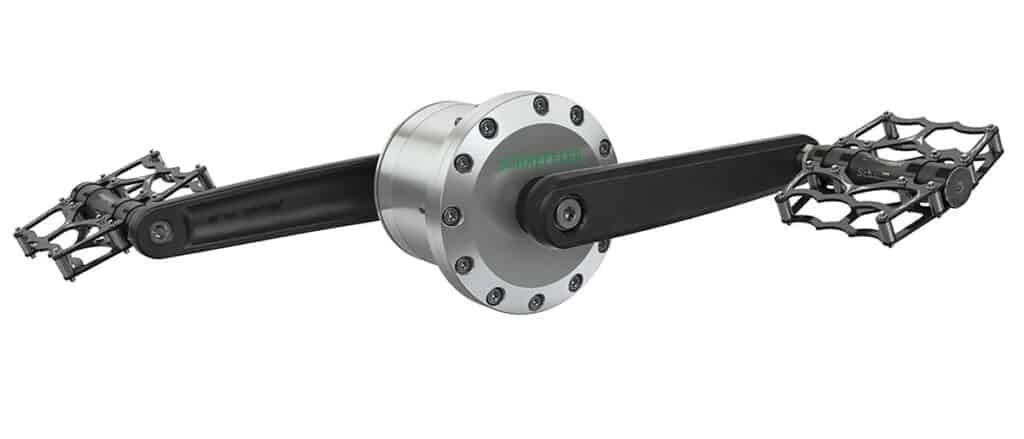 At last year's Eurobike show, automotive supplier Schaeffler (Hall 8.0) showed its Free Drive system developed with German hub motor specialist Heinzmann that is based on the same principle.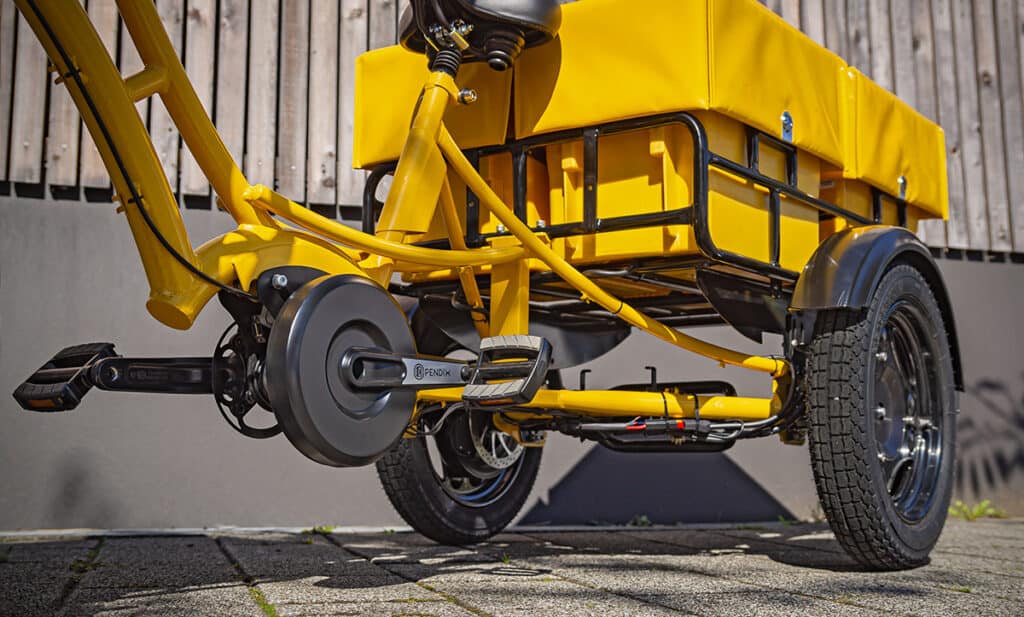 With Pendix (8.0 / F19) another German company is expanding its line-up with the eDrive IN system, aiming at the OE market for heavy cargo trikes.
As with other Series Hybrid constructions, turning the crank arms generates electricity used to run hub motors.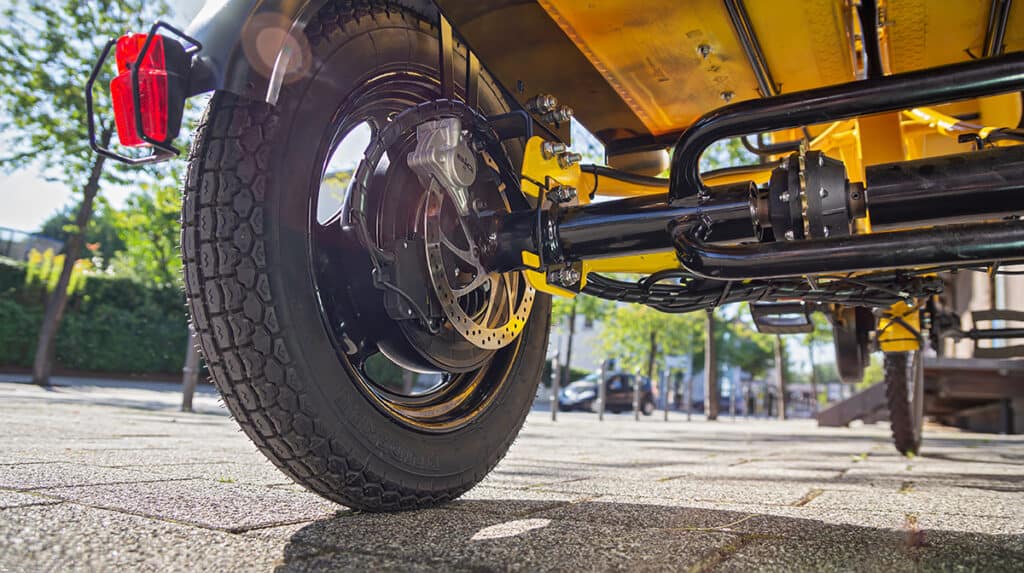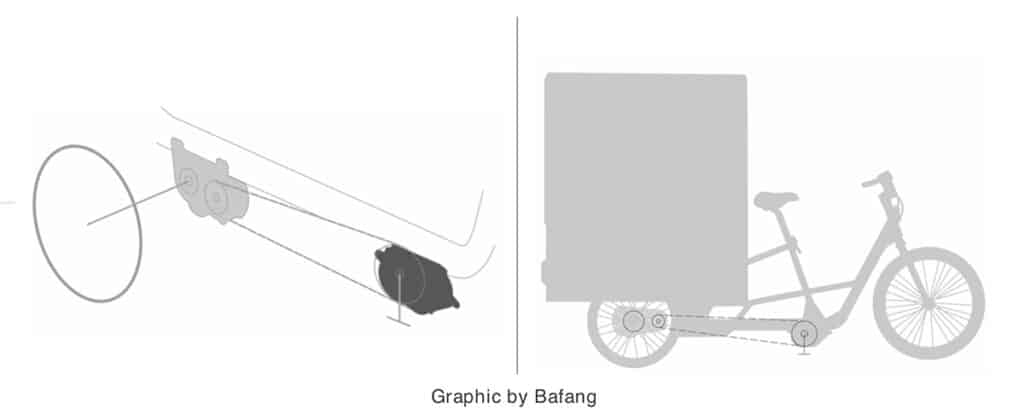 There will be sample cargo bikes and trikes with the eDrive IN system ready for testing at the show, and engineers of Pendix are ready to answer questions.
For cargo bike manufacturers still wanting to rely on chains or beltdrives, Bafang Electric (8.0 / H40) has developed a simple and reliable solution, combining an integrated differential gear with a three-speed transmission and a smooth reverse function with its powerful M620 mid-motor. This novel technology is ready for test rides at the show as well.
With their massive payloads and dimensions, all extra-large cargo trikes for professional use rely on electric assistance. So the worst that could happen is that a trike gets stranded as its batteries are empty.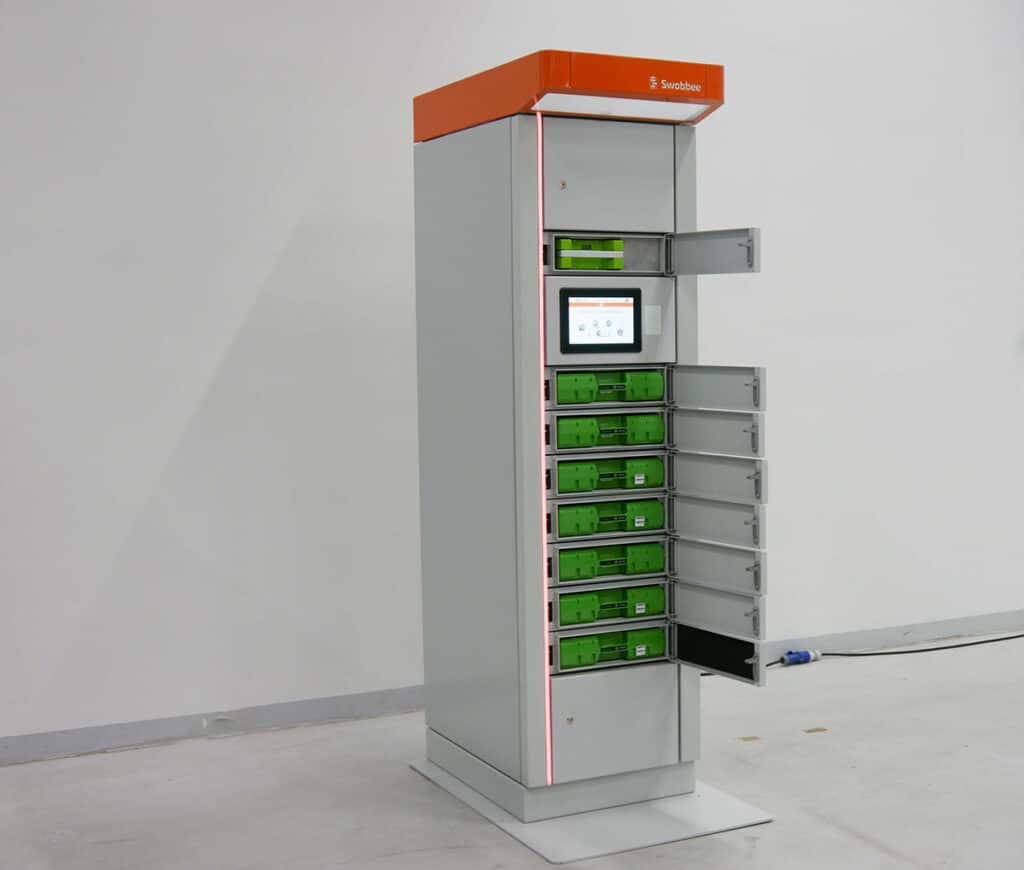 Berlin-based start-up Swobbee (8.0 / A41), formerly known as Greenpack, identified this issue early on and developed a battery replacement network that allows for charging and changing battery packs upon subscription across various modes of transport and manufacturers. To date, six battery partners have already come onboard, with additional partners being welcome.