Versatility is the new holy grail

Do enthusiasts really need one road bike for long rides in the mountains, one for maximum efficiency in the flat and one for bumpy surfaces? For some years, the industry promoted highly specialized products. Now the pendulum swings the other way again, and a new breed of all-round performance bikes is hitting the roads – lightweight, comfortable and with some aero advantages.
For the last ten years, the bicycle industry has been putting stronger emphasis on excelling in certain conditions than on all-round performance in the road segment. But hardly anyone would dish out huge amounts of money for a fast aero model, a lightweight climbing bike and a comfortable endurance bike. As many manufacturers blend aero elements with comfort and low weights, versatility has become key again. Thanks to wider tyres and tubeless builds, the fatigue caused by bumpy road surfaces is reduced greatly as well, resulting in a ride that is efficient and performance-oriented without being punishing. The same goes for the gearing where many manufacturers opt for somewhat smaller gears to make long climbs easier for enthusiasts.
Merida (12.0 / B09) released the new Scultura generation already at 2021 Eurobike Show. It is a perfect example of the all-round performance road bike trend. The 5th generation of the Scultura series was developed based on its heritage of their lightweight climbing bike, adding features from the award-winning Reacto aero bike. Available in carbon and aluminum, it combines a slightly more comfort-oriented geometry and up to 30mm wide tyres with disc brakes.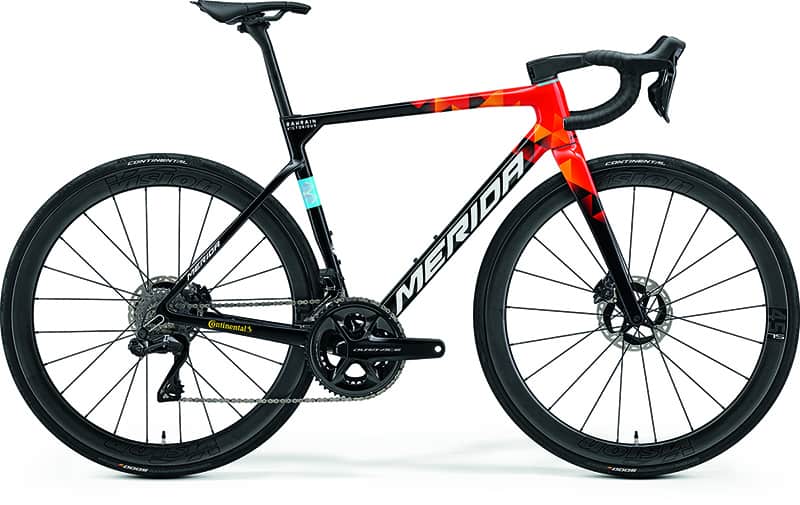 According to Merida the result is a blend of very good acceleration and low weight for class-leading climbing. Or as Merida describes buyers of their most rounded road bike ever: "It doesn't always have to be flat out speed or outstanding climbing ability; for most road riders, it is the journey that counts, the ability to pedal for hours without discomfort and to enjoy the scenery that unfolds ahead". The Scultura carbon frame and fork come stock with tubeless 28mm wide tyres but there's space for tyres up to 35mm wide. The bikes are available with Shimano's electronic Di2 DuraAce and Di2 Ultegra group sets as well as Sram Rival AXS electronic shifting. More affordable models come with Shimano's mechanical Ultegra and 105 groupsets, and Merida even offers a few models with rim brakes.
As the world's largest bicycle manufacturer by turnover, Giant is only showcasing its high-end wheel and parts line CADEX (11.0 / D06) at this year's Eurobike. But since these parts need to be mounted to a bicycle for proper presentation, there is a high likelihood that the new endurance model Defy Advanced Pro or the more budget-minded Defy Advanced series will be on display. While Giant offers the choice of Shimano's electronic or mechanic drivetrains for the Defy Advanced Pro models, the Defy Advanced models come with mechanical drivetrains from either Shimano or Sram.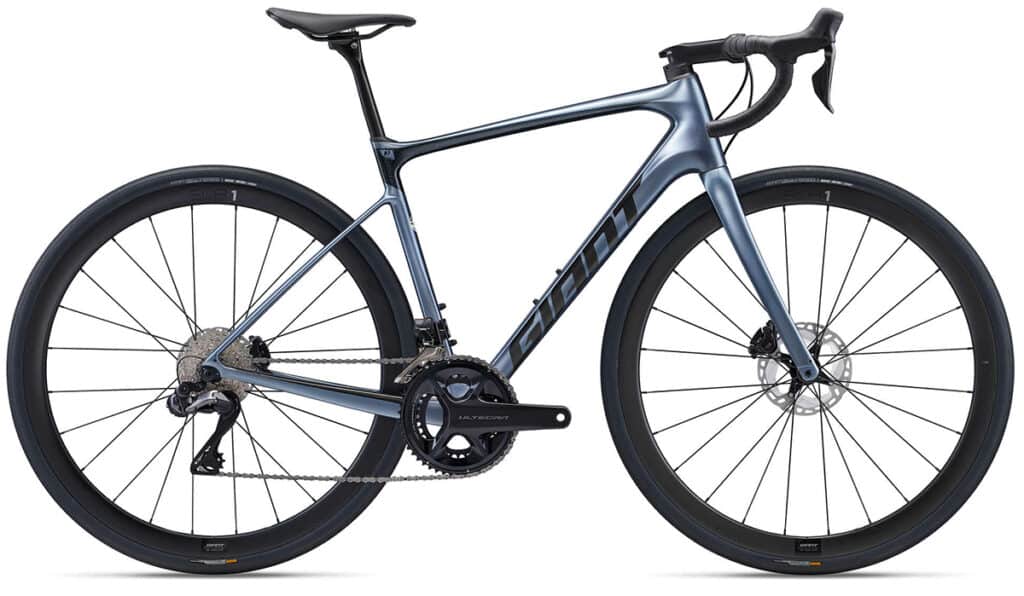 All these models come with a carbon frame and fork, disc brakes and 32 mm wide tubeless tyres, but there is plenty of tyre clearance to mount to 35 mm wide rubber as well. Due to the longer head tubes the position on the bike is slightly more upright, resulting in more comfort. For women, Giant's LIV brand offers the same concept as the Avail Advanced Pro and the Avail Advanced models. Catering to even lower price points is the Contend series that combines aluminum frames and carbon forks. As proper all-round models they roll on 32 mm wide tubeless tyres as stock specification but fit tyres up to 38 mm wide as well. Again, LIV has corresponding models with the Avail AR series.
As a brand of Germany's largest retail organization ZEG, Bulls (11.0 / A09) has been expanding its line-up to cover pretty much all bases over the last years. Their endurance road racer line Alpine Hawk fits in nicely with the new type of all-round performers.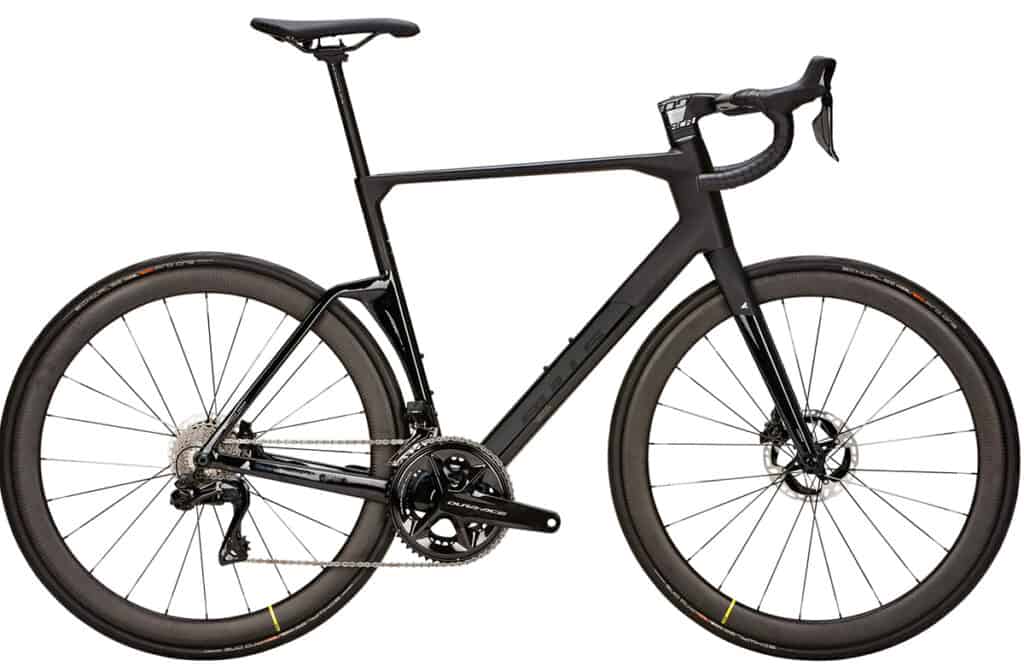 It features a more relaxed geometry with higher stack and shorter reach, both frame and forks made of carbon, hydraulic disc brakes and tubeless tyres. The seat-stays are well designed to give additional compliance on less smooth roads. Standard tyres are 28 mm wide but both the frame and the forks have been designed to fit up to 32 mm wide tyres. As for the drivetrain of the Alpine Hawk series, Bulls combines compact 50/34 cranksets with wide-range cassettes covering a range of 11 to 34 teeth. As for the exact specification, Bulls covers a wide range of price points opting for Shimano's electronic Dura Ace-Di2 and Ultegra-Di2 groupsets down to mechanical Ultegra and 105 groupsets.
Northern German manufacturer Stevens (12.1 / C13) designed its new endurance platform Xenith "to combine everything that cyclists demand for a solidly long period of time in the saddle." While the frame weighs in at a respectable 965 grams, its geometry has been finely tuned for long rides and races, featuring a shorter and sloping top tube and a slightly longer head tube. For additional comfort, the carbon frame and fork offer plenty of clearance for 32 mm wide tires.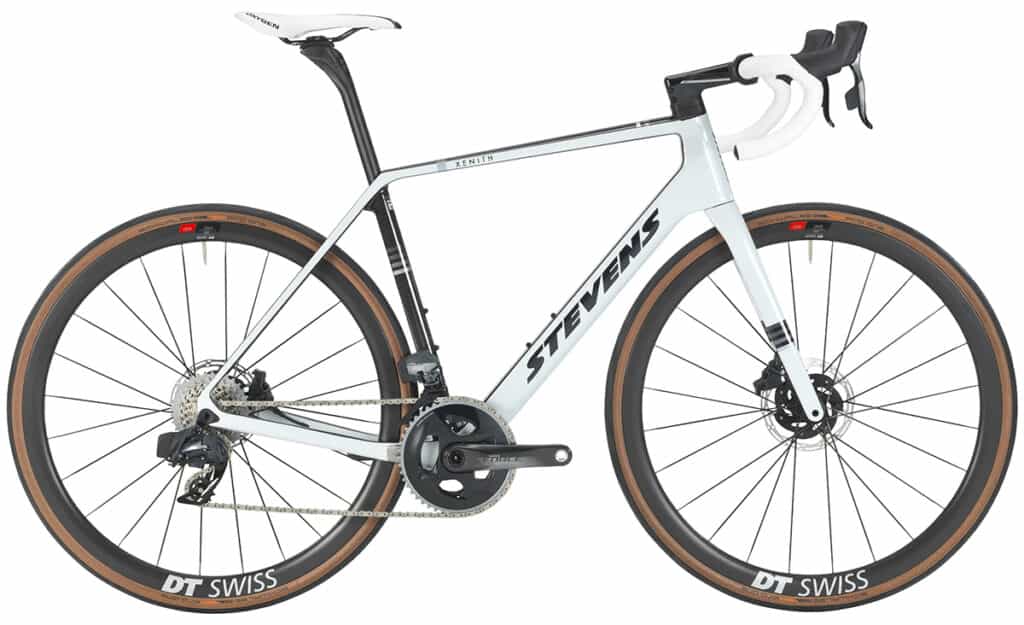 Thanks to hydraulic disk brakes, you get powerful stopping in all weather conditions and proper modulation. Being a custom bike, customers get to decide on the exact specification of the Xenith. The bikes can fit different groups such as Shimano's electronic DuraAce-Di2 and Ultegra-Di2 groupsets or Sram's wireless Force AXS.
As the supplier and co-sponsor of the French pro continental racing Team B&B Hotels – KTM, Austrian bicycle manufacturer KTM Fahrrad (12.0 / A09) has been developing a new all-round road bike for competition use. Prototypes with paint jobs intended to blur the exact design have already been raced throughout this spring by the team, but KTM Fahrrad opted to officially launch the new Revelator Alto Exonic at the start of the Tour de France in Copenhagen. Both the frame and the fork are made of premium carbon fibers and match seamlessly, with the exact shapes of the tubes having been optimized in the wind tunnel.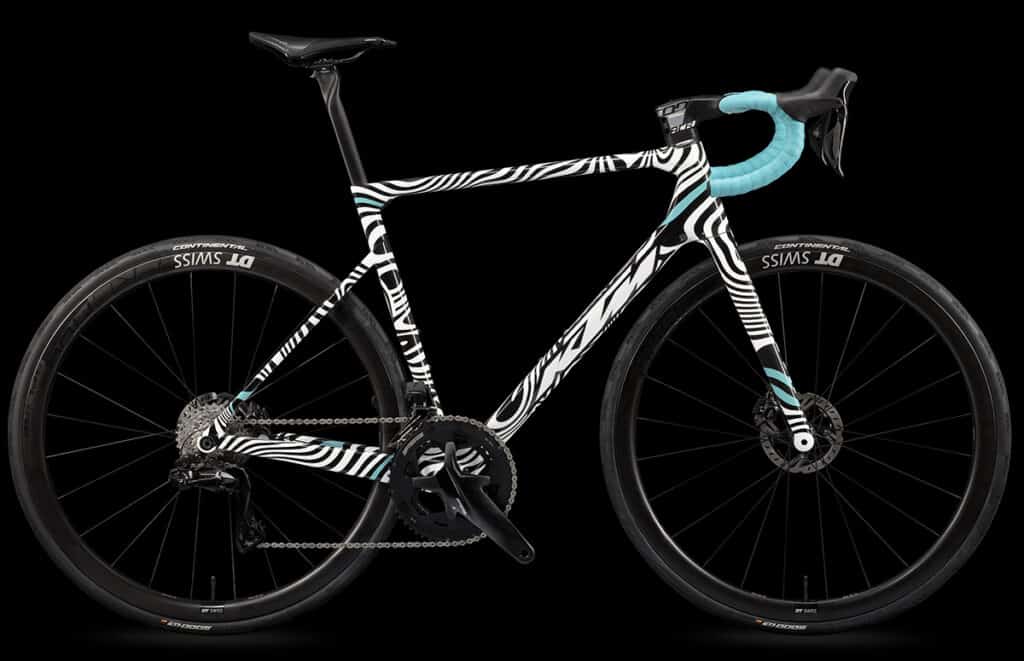 The brake hoses are routed internally, and Shimano's semi-wireless Dura Ace Di2 drivetrain further adds to the clean and integrated looks. As standard, the bike comes with 28 mm wide tires, but you can mount 30 mm wide tires as well. Throughout the development of the Revelator Alto Exonic, KTM Fahrrad prioritized stiffness, crisp handling and aerodynamics while constantly keeping an eye on weight, aiming for the UCI's weight limit of 15 pounds.
Under new ownership, French manufacturer Look Cycle (11.1 / A15) is heading back to its glory days, as the new 365 Optimum+ and 365 Optimum Disc models go to show. The geometry of the carbon frameset has been designed to offer ultimate comfort for long distance riding, combining a shorter reach and higher stack.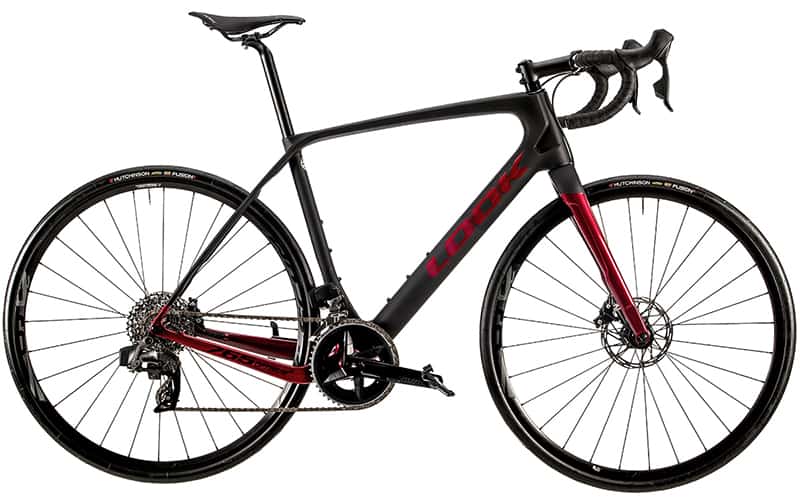 Further adding to the comfort are 30 mm wide tubeless tyres. Depending on the exact model, you will get Shimano electronic Ultegra-Di2 groupset or mechanical Ultegra or 105 groupsets. All Shimano builds come with a compact 50/34 crankset and a cassette covering a range of 11 to 32 teeth. Other models with Sram's Rival groupset combine smaller chain rings with 46 and 33 teeth respectively with cassettes that go from 10 to 36 teeth.
Spanish manufacturer BH Bikes (12.1 / B11) traditionally supplies pure racing road bikes. The new aerodynamic RS1 line has been redesigned towards the actual endurance trend. For more comfort, the head tube of the carbon frame is taller and the chain stays are longer. As for the drivetrain you get to choose from Shimano's electronic Ultegra Di2 or Sram's Rival.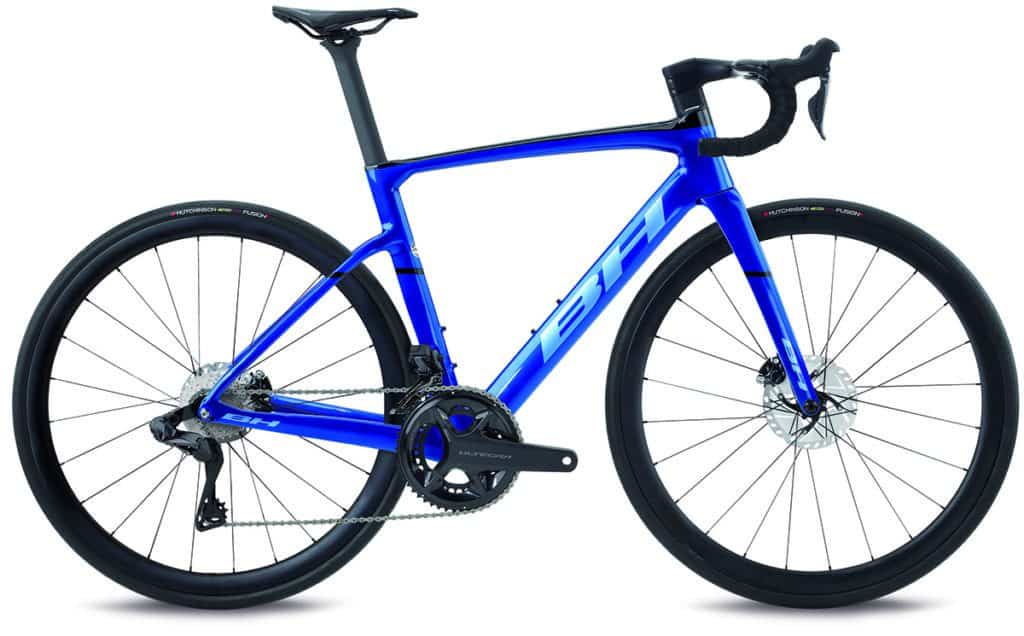 For an extraordinarily wide range of gears, BH Bikes combines either 53/36 or 46/36 cranksets with wide-range 11-34 or 10-36 cassettes. The value-minded Quarz series comes with an aluminum frame and a carbon fork. With 28 mm wide tyres and hydraulic disc brakes as standard equipment these bikes can easily cope with less than perfect road surfaces and long descents. The Quarz-1.5 comes with Shimano 105 components, whereas the Quarz-1.0 has Tiagra parts.
The other well-known Spanish bicycle manufacturer, Orbea (11.0 / C10) also has a lot of racing in its DNA. The Basque company keeps in touch with the new trend towards all-round performers with the endurance-oriented Avant series, albeit at lower price points and coming with either Shimano's 105, Tiagra or Claris groupsets.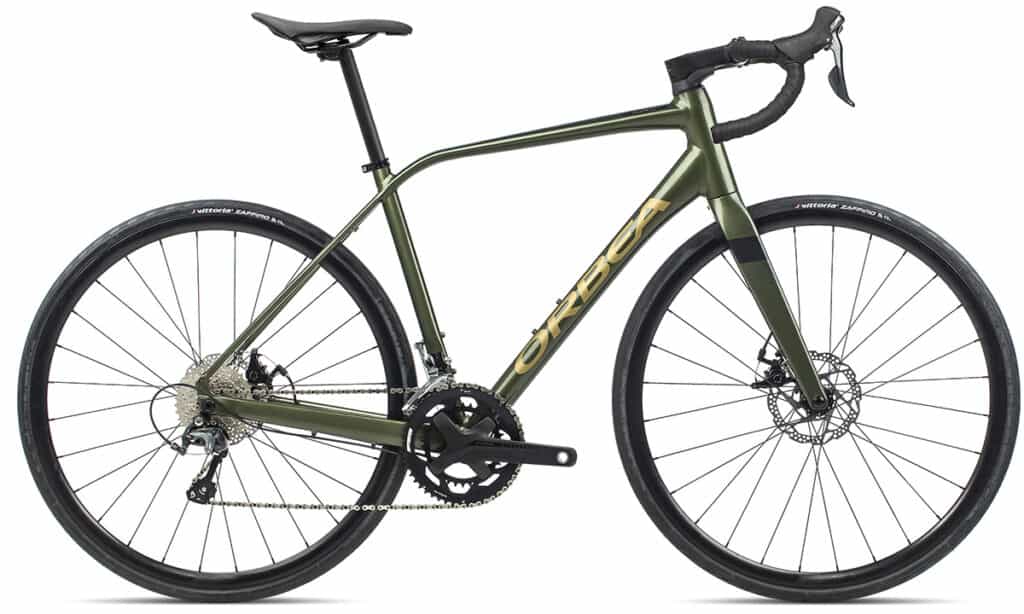 As an interesting and visually striking feature, the aluminum frames of these comfort road bikes come with interestingly shaped top tubes that bend down towards the seat-stays close to the seat tube. This design is supposed to better absorb impacts from the rear wheel to the rider. For more comfort the frame's head tubes are slightly longer, tyres are 28 mm wide and the fork is made of carbon. With smallish 46/36 cranksets and cassettes ranging from 11 to 34 teeth, the gearing of the Avant models is climbing-oriented.