New tyre designs offer the right tread for every need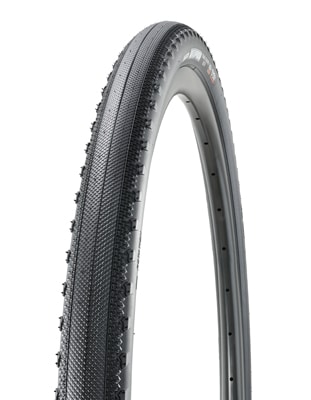 Tyres are an essential part of how a bicycle rides. Manufacturers are reacting to ever-evolving trends, with an eye on rolling resistance, traction, puncture protection – and looks. While tubeless builds are becoming the new standard in sports-oriented applications, there are different ways to go for utility bikes.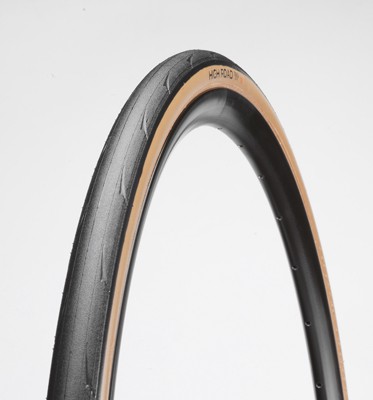 Known for its wide selection of tyres for competitive use, the latest innovations from Maxxis (K0810) reflect some of the larger trends in cycling, with one of the biggest trends being gravel bikes. When low rolling resistance is key and the terrain is moderate, the new tubeless-ready Receptor model comes into its own. The center of this tire features a fast-rolling diamond tread, while the knobs on the shoulders add crucial traction for cornering on loose surfaces. Available in 700x40c and 650x47b dimensions and with black or tan sidewalls, the Receptor still offers plenty of volume to cope with bumpy sections without risking a flat.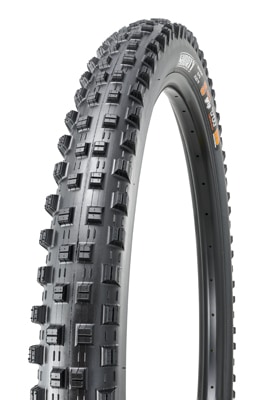 For road cyclists who stick to paved routes the High Road is the go-to performance road tire from Maxxis, offered in 25 mm and 28 mm widths. Available in clincher and tubeless versions, it has been tweaked to roll faster and smoother while offering better puncture protection. While the Hypr rubber compound remained unchanged, the casing has been revised with the thread count going up from 120 to 170 TPI. To appeal to riders who care about the looks as they do about performance a tan sidewall version was added in late 2021.
First introduced in 2014, the Shorty is popular with downhill and enduro racers, with its short square studs offering plenty of grip in dry conditions without rolling sluggishly. Maxxis has found ways to improve this tire, including an optimized tread pattern to better shed mud. While the lighter-weight EXO versions come with the 3C Maxx Terra compound, the heavier Double Down and Downhill casings opt for the 3C Maxx Grip compound. Despite the latest iteration of the Shorty being tubeless-ready, it still weighs 5 % less than the original versions.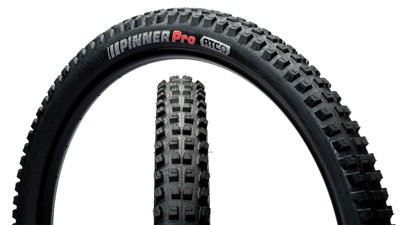 With the Pinner Pro, another new tyre model for gravity racing can be found at the Kenda (J0610) booth. Developed in close cooperation with American downhill star Aaron Gwin to excel in dry conditions, a special emphasis was put on cornering predictability and high puncture protection. For the latter Kenda relies on the weight-conscious Advanced Trail Casing combined with a thread count of 120 TPI. There is a heavier low-budget version where the more sturdy Advanced Gravity Casing is combined with a thread count of 60 TPI. Naturally all of these tyres are tubeless ready. While the Pinner Pro is only available in 2.4 inches width, you get to choose from versions for 29 inch or 27.5 inch wheels.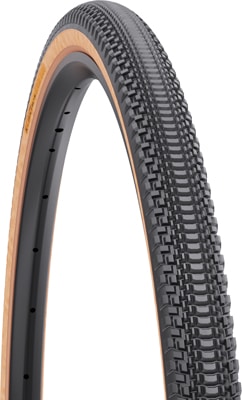 Combining a fast-rolling centerline section with slightly more studs on the shoulders for added cornering traction, the Vulpine is the latest offering from WTB (L0818) for fast gravel adventures in easy to moderate terrain. Apart from the tread, the width of 36 mm also helps to keep the rolling resistance low. The tire's round profile should make for predictable cornering while the nylon-based SG2 layer stretches from bead to bead for added puncture protection. Unsurprisingly the Vulpine is built to be tubeless-ready, and WTB also offers the choice of black or tan sidewalls so the tires are sure to match the bike.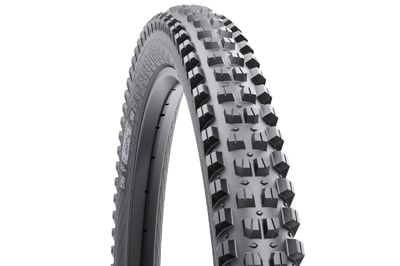 As for WTB's mountain bike tyres, both the Vigilante and Verdict models have seen updates to the treads in order to improve both traction and stability and increase the tires' longevity. And since many riders are constantly looking for ways to lower the weight of their mountain bikes, the TCS Light casing has been revamped as well, featuring a lightweight nylon-based SG2 layer that stretches from bead to bead for added puncture protection at lower weights. If weight is not as much of an issue, WTB still offers both the Vigilante and Verdict models with the super durable TCS Tough casing as well.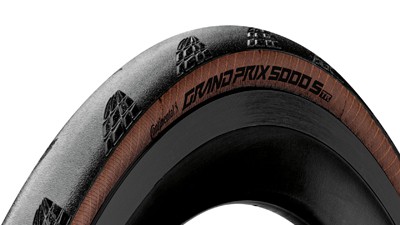 Iconic German tyre manufacturer Continental (M0510) may have launched its first tubeless road tyres for the 2019 season, but they were still pretty heavy. In the fall of 2021, the second generation of the Grand Prix 5000S model was presented in a TR version (Tubeless Ready). Offered in four widths ranging from 25 mm to 32 mm, with either black or tan sidewalls and always in foldable versions with a kevlar bead and a Vectran Breaker for added puncture protection. By saving one layer in the carcass, this second generation of road tubeless tires saves about 50 grams in weight, and they proved their viability under the toughest conditions imaginable as these tyres were rolled out at the Paris Roubaix classic. This first outing turned out to be a great success as race winner Sonny Colbrelli of Team Bahrain Victorious relied on the Grand Prix 5000S TR in a full 32 mm width, in a tubeless set-up and with less than 4 bar (or less than 60psi) pressure to maximize grip, puncture protection and comfort on the extremely demanding wet cobblestone sectors.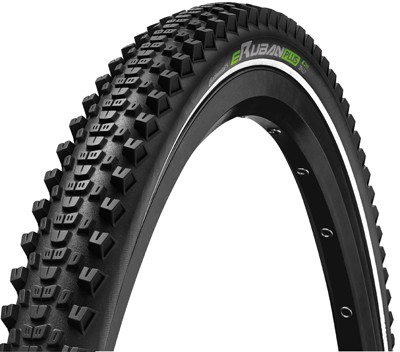 For the booming segment of SUV-like comfort bicycles for both paved and unpaved roads, Continental has launched the Ruban and the reinforced eRuban models respectively. At widths of 2.1 to 2.6 inches, these tyres add serious volume and thus confidence – and traction in corners thanks to larger studs on the shoulders. Aiming at lowering the carbon footprint and upping the sustainability of its tyre offerings, Continental is replacing latex from rubber trees with the juice of Dandelion roots for some tyres. This also reduces the German tyre manufacturer's dependance on the global latex market with its often volatile pricing. Since the Dandelion flowers are sourced in Russia, there are savings in distances for transport and thus fuel as well. This material is used for a selection of bicycle tyres for the utility segment such as the Urban Taraxagum model.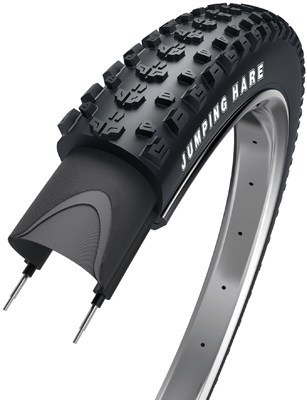 With its Obor Tires brand, Tianjin Wanda Tyre Group (M0202) is looking for a share of the bicycle tyre market. The product range covers all needs of cyclists, from utility to mountain and road bikes and even some fat tires and models with spikes for snow and ice. Many of models are available as wire or foldable versions and in a variety of wheel sizes ranging from 24 to 29 inches. As one of the flagship models of Obor Tires, the gravity-oriented Jumping Hare comes with an aggressive, directional tread that combines fast rolling with proper mud-shedding capabilities. For those looking for an endurance-oriented tyre with low rolling resistance, the Captain Ray with its densely spaced, more shallow studs is a good choice. Its round shape results in predictable cornering, while the square blocks in the center section improve both braking and accelerating. And yes, the Captain Ray is approved for use on e-mountain bikes as well.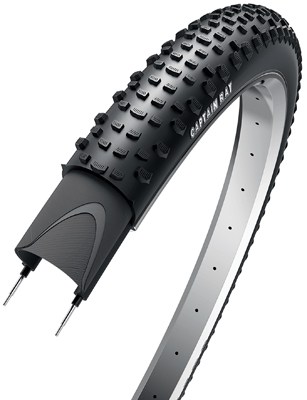 With seven production facilities, a work force of 4000 employees and an annual production capacity of more than 30 million tyres and 40 million inner tubes, Metro Tyres (M0902) is a major player on the domestic Indian market and beyond. Apart from tailor made products for OE customers, the company sells its tyres under the Ortem and Zooka brands respectively. The range of these brands covers all kind of applications from reinforced products for e-bikes to value-oriented mountain, city and trekking bike tyres. As an example for a tyre specifically designed and built for e-bikes, Ortem's M-1400 tyre is certified to meet the European E4 standard. The widely spaced tread of Zooka's Cross Country 2 model on the other hand sheds mud well while finding the traction needed to keep going. Last but not least, Metro Tyres also offers a wide selection of colourful tyres for kids' bikes.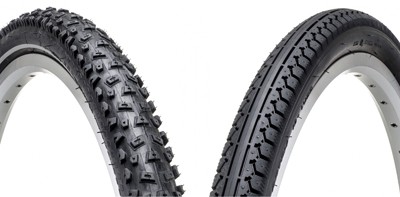 A pair of manufacturers of flat proof foam tires also deserve special mention. Tannus (L0918) has expanded its original Airless range of full-foam tyres. The Armour series combines foam and a burly inner tube to avoid 90 percent of flats while offering a more natural riding feel. For all those riding tubeless builds, Tannus also has Armour Tubeless foam inserts to protect the rims from damage when running very low tyre pressures. Aiming at the utility market, Otrajet (K0802) has come up with a unique way to secure a full-foam tyre to a conventional, hooked alloy rim with its Nexo Tire system.