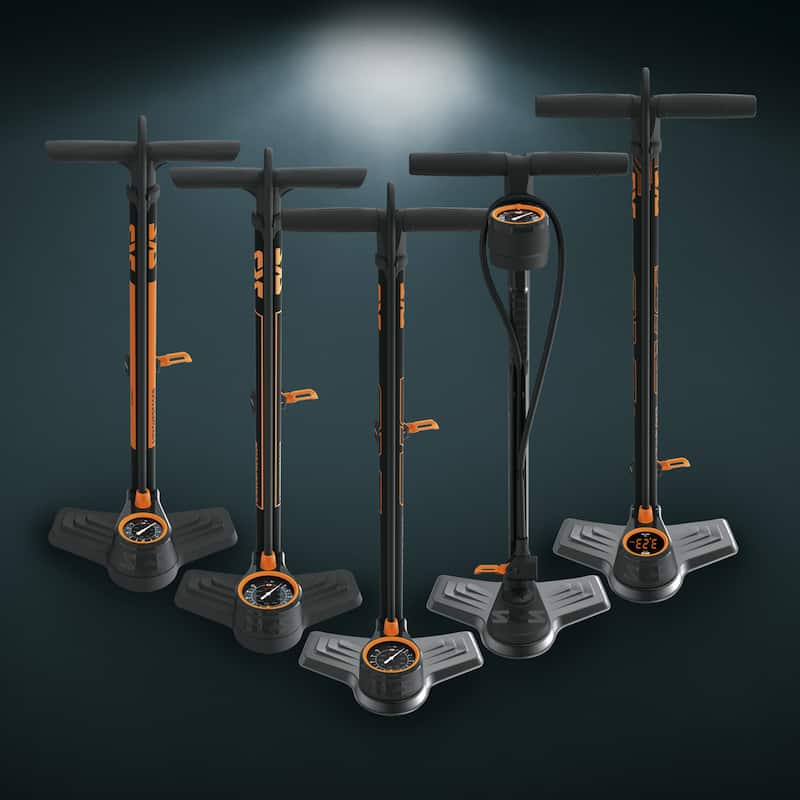 These five new floor pumps from SKS GERMANY inspire recreational cyclists and workshop professionals. All floor pumps are equipped with the improved "MV EASY" MULTI VALVE head.
We have ensured that mechanisms can be repaired and all components can be replaced. Many spare parts are still available years after the purchase, ensuring that the floor pumps can be used with pleasure over many generations.
Anyone looking for a solid entry-level pump will be well served with the AIRKOMPRESSOR COMPACT 10pump. The robust base made of plastic gives the pump stability and the plastic handle rests comfortably in the hand. This floor pump can be used to inflate bicycle tyres to a pressure of 10 bar without any problems.
The AIRKOMPRESSOR 10.0 is equipped with an 80 mm precision pressure gauge for optimum readability of the tyre pressure. The long high-pressure hose makes pumping even more comfortable and gentle on the valves. Even high tyre pressures up to 10 bar are no problem for the floor pump.
The AIR-X-PLORER 10.0 with a sturdy metal base ensures exceptionally high stability. Thanks to the large steel tube, even higher pressures up to 10 bar can be easily pumped into the tyres. Other features include the long high-pressure hose, the large precision pressure gauge and the soft-touch handle.
With its metal base and large steel tube, the AIRMOTION 12.0 is not just a visual highlight. The precise pressure gauge at the top, the long hose and the soft-touch handle make the AIRMOTION a top-class floor pump (up to 12 bar). It is very easy to transport thanks to the recessed grip.
The AIR-X-PLORER DIGI 10.0 guarantees high measuring accuracy. The digital pressure gauge with first-class sensor technology delivers accurate air pressure values up to 10 bar. Other features include the soft-touch handle, the long high-pressure hose, the large steel tube and the solid metal base.
M0514