Electric drive systems from established suppliers
Mid-motors are the most common choice for e-bikes, with a handful of manufacturers dominating the segment. For the 2022 model year, big players such as Bosch eBike Systems, Brose, Shimano and Panasonic focus on sweating the details rather than launching all-new platforms, while Yamaha launches the third generation of its motors.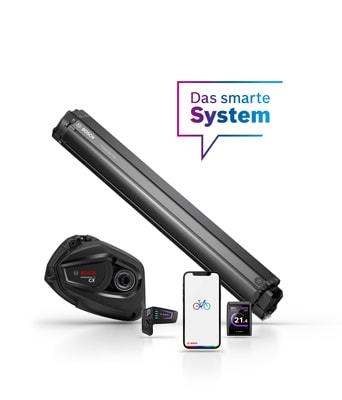 In just over a decade, Bosch eBike Systems [A6-300] has grown from a tiny start-up under the corporate roof of a global industrial player to a dynamic division of its own. With the fourth generation of its Active Line and Performance line offerings, the German manufacturer has been setting benchmarks in terms of size, weight and power. And with its Dual Battery technology, Bosch eBike Systems has been pushing the trend that more range is always the better choice. After all, one of the most common concerns of German consumers when buying an e-bike is Reichweitenangst (range anxiety). So it's no real surprise to see a 750 Wh version of the Powertube battery being added to the line-up. With a weight of 4.4 kilograms, this battery also adds some weight but most importantly extra range.
Also new from Bosch eBike Systems for model year 2022: the German market leader has also pushed forward the development of its eBike Flow App. From adjusting the support modes to personal preferences to over-the-air updates to keeping track of one's efforts and sharing them with fitness apps such as Apple Health, the app offers a lot of functionality. And for all who prefer a minimalistic set-up on the handlebar, the app turns the mobile phone into a display when the new LED Remote has been mounted. By expanding the functions of the Connect Module, Bosch eBike Systems beefs up the theft protection as well, offering not only an acoustic alarm but also a real-time tracking option that can help to catch bicycle thieves and retrieving a stolen e-bike.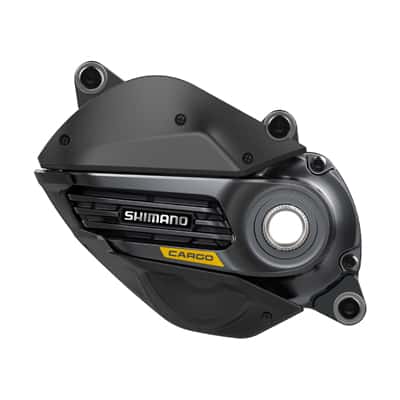 Shimano [B3-300] launched its latest EP8 iteration of its Steps mid-motor in late August 2020, but the news for the model year 2022 is low-key. To cater to the dynamic cargo bike market the Japanese component manufacturer presents two Steps CRG mid-motors – one based on the new EP8 model with a maximum torque of 85 Nm and one based on the mid-range Steps 6100 version with a maximum torque of 60 Nm. While the hardware of these two motors remains unchanged, the firmware has been optimized for more torque, so handling weights of up to 250 kilograms gets easier. In particular, the cargo versions deliver more torque at low speeds and cadences, so it's easier to get a fully loaded cargo bike going.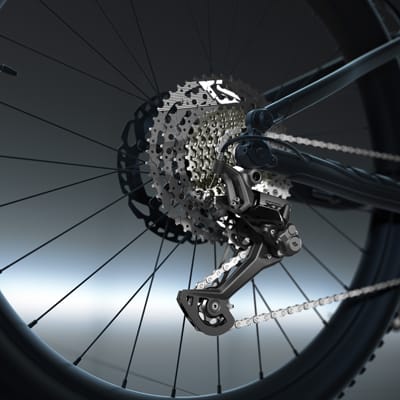 Being a manufacturer of both drive systems and drivetrains puts Shimano in a unique position. With the introduction of 12-speed groupsets, the chains and the cogs have again become thinner and more prone to wear. To counter this effect and offer silky smooth gear changes to e-bike riders, Shimano is launching an entirely new line of drivetrains under the Linkglide label. While the XT version offers 11 gears and a massive range thanks to the cassette with cogs counting 11 to 50 teeth, the Deore version has 10 gears and a bit less range. According to Shimano the redesigned cassettes and the special chain should last a lot longer than their 12-speed siblings, reducing the running costs for e-bike pilots. OE customers need to be aware that Linkglide components are not compatible with Hyperglide components.
Another big player, Brose [A1- 404], is focusing on filling the blanks in its line-up and expanding on the features that result from advanced connectivity. This is not all that surprising since Brose launched a 630 Wh battery of its own and a selection of displays and control units in the summer of 2019, turning from a motor supplier to a supplier of complete drive systems for e-bikes. Responding to the growing speed pedelec market, Brose is offering its Drive TF mid-motor in a magnesium housing for MY22. This reduces the weight by about 500 grams, and is also 15 percent more compact.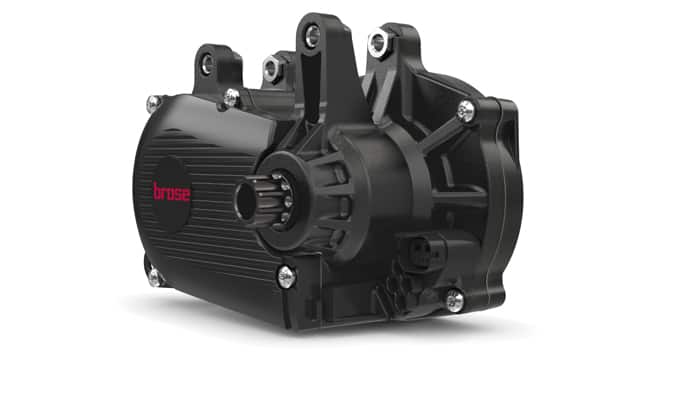 Since the displays launched two years ago come with ANT+ and Bluetooth connectivity, Brose has also been working on its new, free E-Bike app. Available for both iOS and Android systems, this app includes features such as customizable display layouts and support modes. Of course the smartphone can be used as a display as well, which comes in particularly handy when features such as the route planning with Komoot and Strava-based fitness functions are being used. For OE customers, Brose's app can be further customized to meet specific needs.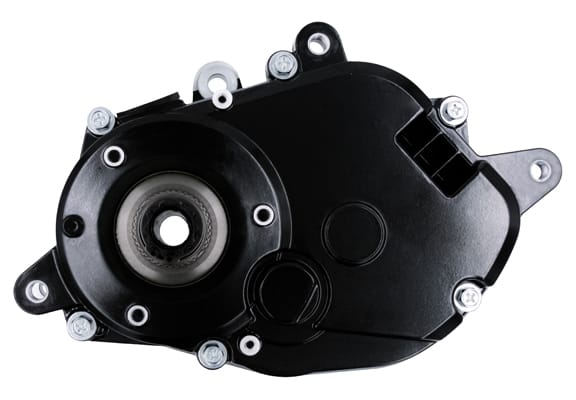 With its Cycle Technology division, Panasonic [FG-O/506] has been developing electric assistance drives for bicycles since 1979 and set Japan's e-bike standards as early as 1996. In the European market, the cooperation with Swiss e-bike pioneer Flyer has paved the way. This cooperation has been expanded to two more ZEG brands with Bulls and Hercules through the FiT technology platform. For 2022 the line-up and the hardware of the mid motors remain the same for the GX Ultimate version for e-mountainbikes, the sportive and trekking-oriented GX Power Plus and the GX Power unit for the comfort and urban market. But Panasonic has updated the firmware to work with Gearsensor, an electronic device that significantly improves the smoothness of gear changes when using mid motors by synchronizing the power output and the change of gear.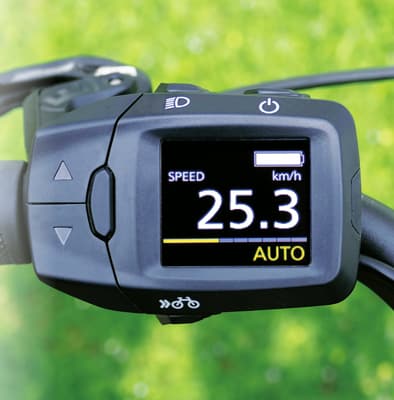 Another novelty is a side color display that combines the remote controls and all necessary riding information. Thanks to the Bluetooth interface, Panasonic now also offers advanced functions linked to the Smartphone – such as Komoot for planning rides and Strava to keep track of workouts. Panasonic has also announced a close partnership with German battery specialists BMZ Group. The goal of this cooperation is to improve the aftersales service and to better support OE customers willing to combine Panasonic mid motors with batteries from the BMZ Group for their e-bikes. Yamaha is the only large player on the mid-motor market to launch a new generation of products for 2022 with its PW-X3 motor. The weight of the motor unit has been reduced by 10 percent to 2.75 kg, and the size has come down by 20 percent. Still the new motor cranks out a powerful 85 Nm of torque, and with an axle width of 128 mm it appeals to sporty riders in particular. Also new for 2022 is the small "Interface X" control unit that sits well-protected next to the stem and can be linked up to third-party GPS computers using the ANT+ protocol.