It is not a car but a promising solution to replace the car in urban environments. It is even made in Germany, the centre of the car industry.
The three wheeled Hopper from Hopper Mobility [ÜO-300] has been designed to unify the advantages offered by e-bikes and cars. It promises a practical opportunity to replace the car for urban mobility.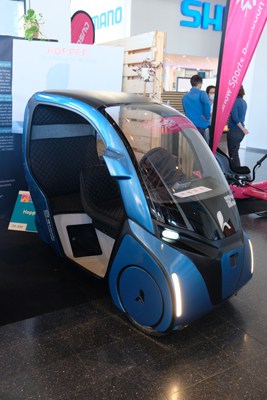 "Hopper unifies the best parts of a car and an e-bike" says Martin Halama, founder and CEO of the company. "It offers comfort for two adults or an adult and two children, as well as up to 220 ltrs of luggage capacity."
The 48V battery of the Hopper can be recharged at home if desired. Energy is recuperated while riding downhill or braking, and also by the solar cells built into the cabin roof.
The Hopper e-Velo-Mobile is only 88 cm wide, similar to a bike, just 2m long and a weight up to 120 Kg. "The first version of the Hopper has electric support of 250W and a speed of up to 25 Km/h to fit into the e-bike pedelec regulations. The next version will be a speed e-bike capable of up to 45 Km/h," explained Georg Schieren from the Marketing and Sales dept.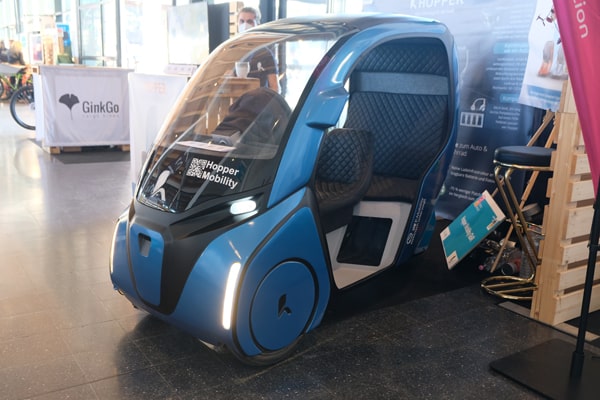 Through a combination of pedal drive and electric motor, the Hopper – depending on the power source – saves between 97 and 100 percent of the CO2 emissions that a car would cause. The price per mile is at most 10 percent of the cost of a small car. Thanks to the canopy and two front wheels, the occupants stay dry in all weather and the Hopper always stays on track. The difference with classic cargo bikes is mainly in the level of comfort: passengers have comfortable seats and the steering wheel is used for steering. Control data is shown on a display in the steering wheel. Turning is done by the rear wheel, with a turning circle of 2m. The e-bike-velomobile also has a reverse gear.
"We will manufacture the Hopper in Augsburg, Germany, and would love to get some additional investors on board" says Torben Müller-Hansen, the person in charge of Investments. The production start is planned for mid 2023.