If you think e-bikes are only for the roads or gravel paths you may be surprised at the offerings from Aquacon [UÖ-224] and Arosno [ÜÖ-299]…
On the water…
Dr. Martin Mai designed and developed the Aqua-Trike at his company Aquacon (www.aquacon.at). "I love sailing and developed the Aqua-Trike to allow me to cycle around the lakes and to allow me to swim back to my boat" says Mai.
The basis of the Aqua-Trike is a full suspension recumbent trike from the Austrian company Bike Revolution (aluminium frame, full suspension, disc brakes) and weighs 19 Kg, while Mai manufactures the amphibious elements and jet propulsion which have a weight of 29 Kg. In total the Aqua-Trike weighs in at 48 Kg.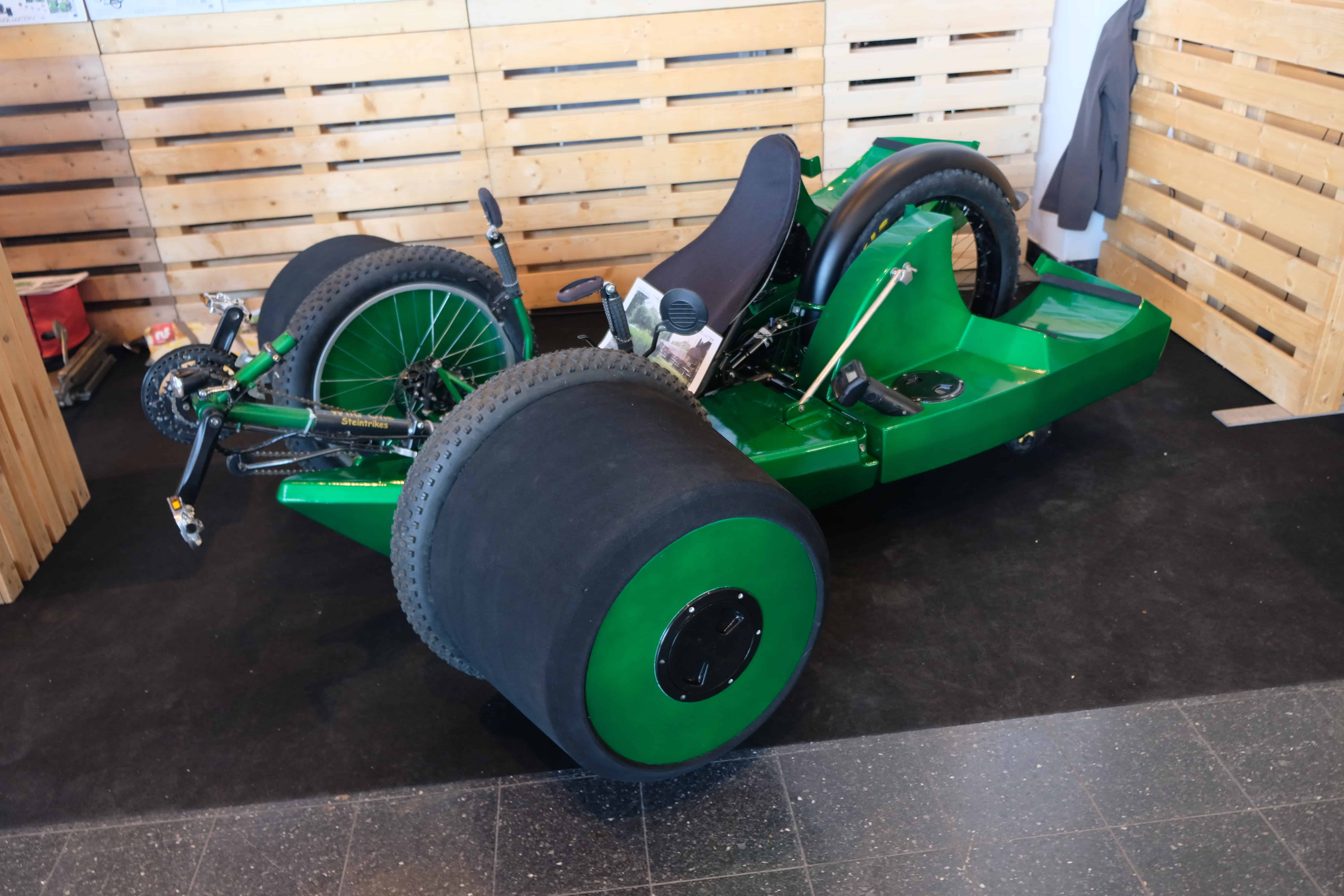 The swimming boat of the Aqua-Trike contains two jet propulsion units, each with 1000W of power. The motors at the non e-trike run at 18V. For the upcoming e-trike version they will run at 48V, the same voltage as the e-trike mid motor.
Steering in the water is done using the trike's front wheels and jet-propulsion. The turning radius is small since each of the jets are wirelessly commanded separately.
While riding on terra firma the floating front wheel parts are stowed at the back the recumbent bike.
On the snow…
The Arosno e-snow bike was designed and developed by Arosno [ÜO-299] in the heart of the french Alps, in Annecy. "Designing, executing and doing business are in Arosno's DNA" said CEO Romain Faure.
Passionate about snow sports and mountain sports, the firm chose the components for this revolutionary leisure device very carefully.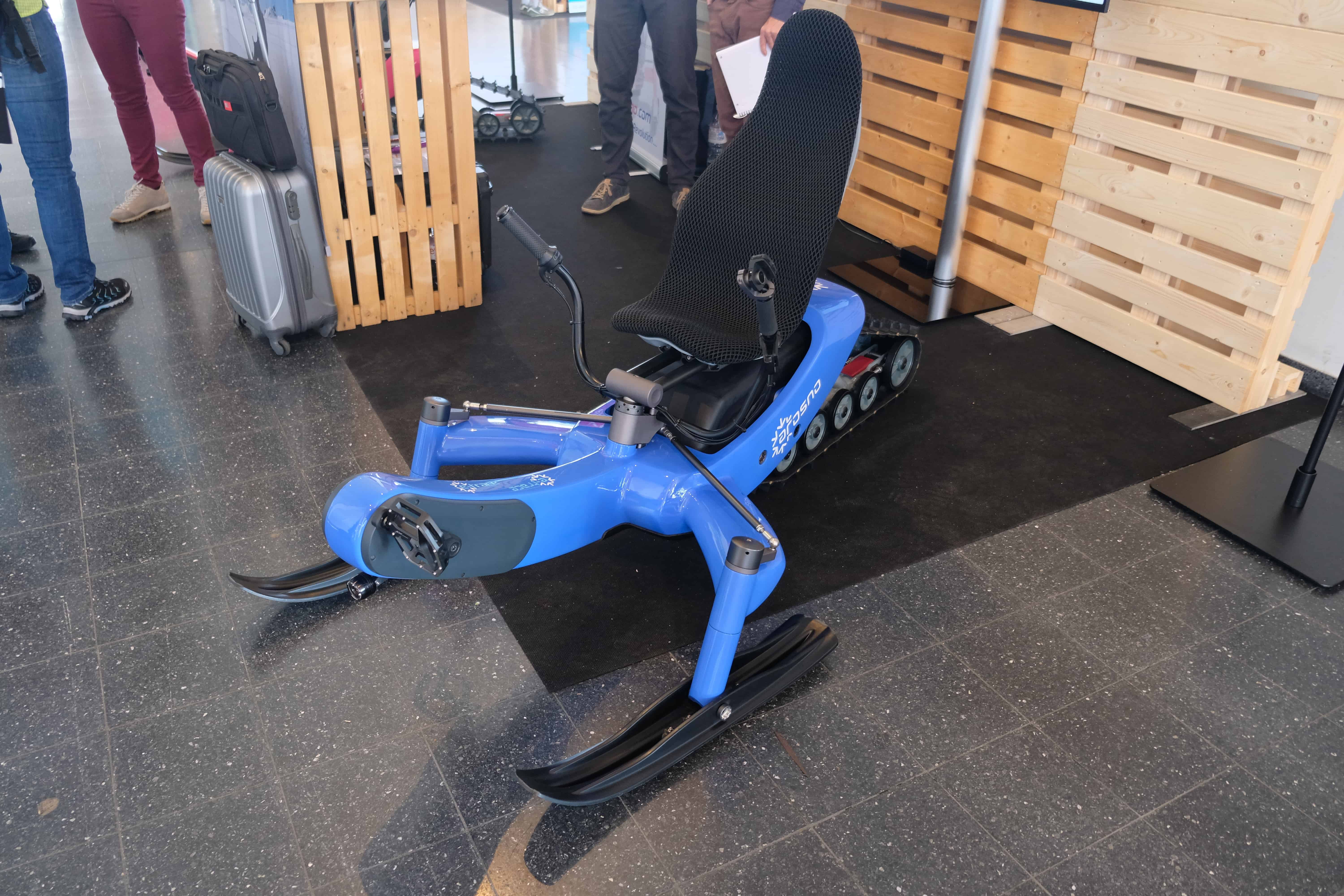 In fact, the components are the top of the line — for example, electric assistance is furnished by a Sachs RS 250W which delivers 110Nm of torque. "The assistance of the snow bike is up to 25 km/h but you can pedal for hours between 10 and 15 km/h without getting tired" says Arosno. The 48V removable battery has a large capacity of 946 Wh, good enough for some 45 Km.
The size of the 45 Kg snow bike is similar to an e-mountainbike with just 1930 x 920 x 1038 mm – 76" x 36" x 41" (LxWxH). The aluminium frame holds the transmission based on the Enviolo continuously variable gearbox with a range of up to 380%.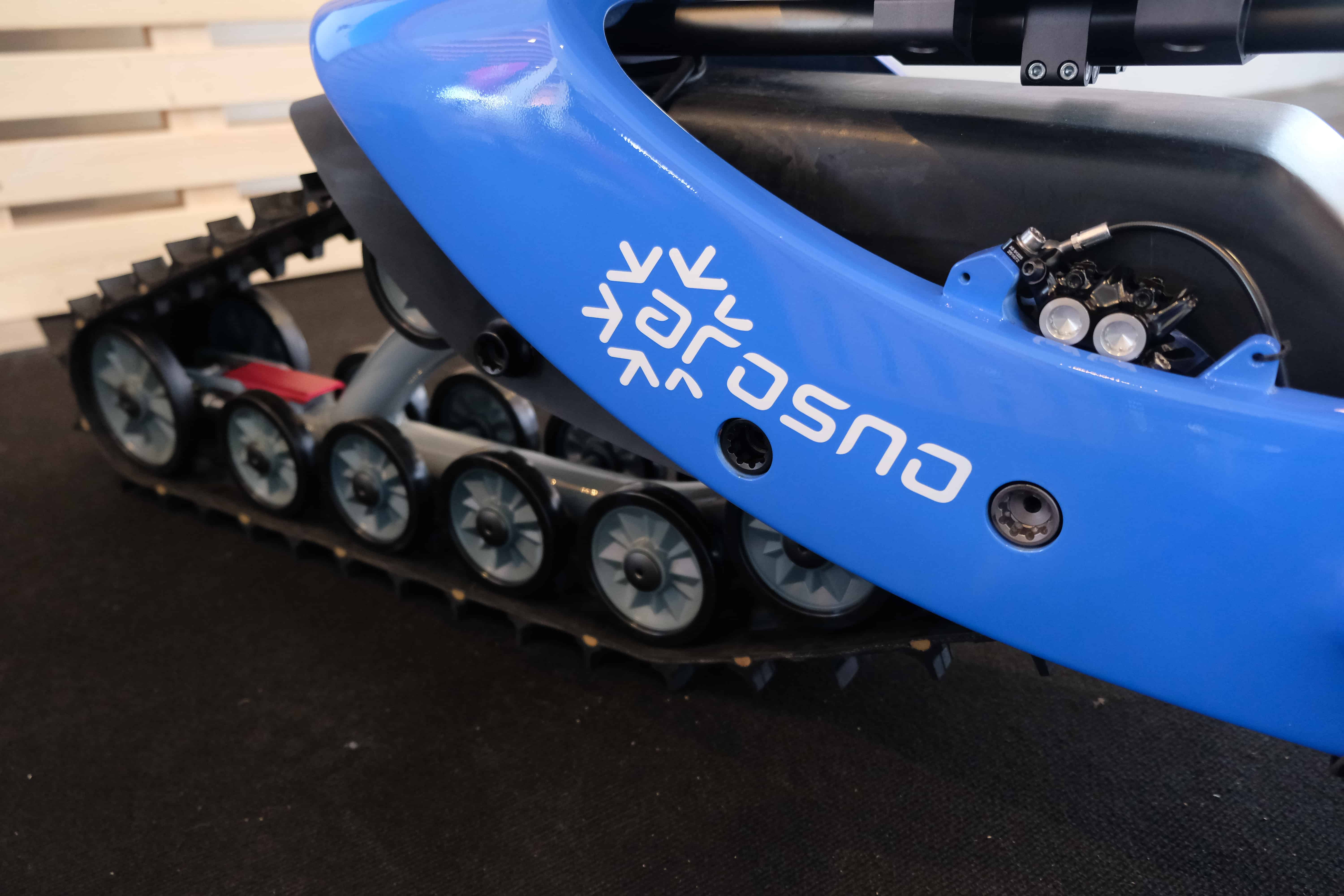 The e-snow bike has a 45mm front suspension, the brakes are Magura MT5 eSTOP with a 180mm rotor and the lights are from Supernova. The skis are made of hard-wearing UHMWPE (Ultra High Molecular Weight Polyethylene) and the high performance rubber track is made by Camso, said to be one of the best snowmobile track manufacturers.