While the major suppliers of mid-motors try to cover as many bases as possible with their products, there is more variety within the group of smaller players. While some aim to offer more compact and lightweight alternatives, others bank on offering plenty of power.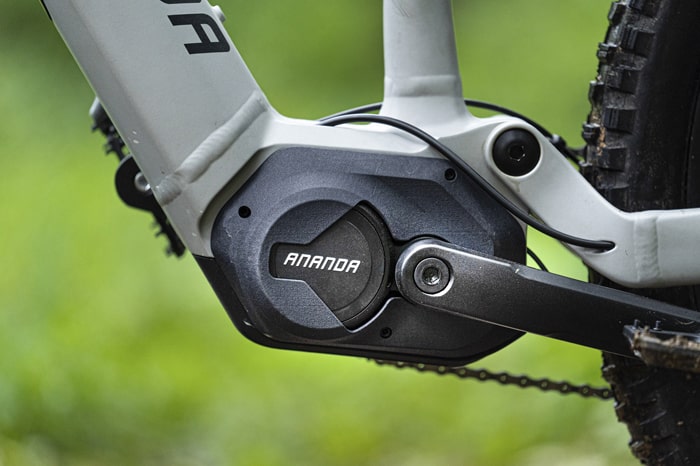 Positioning itself as an alternative to mid-motors from the big suppliers, Chinese brand Ananda [A1-305] has upped its game with its new top-of-the-line C230 offering. Built for use on e-mountainbikes, this mid-motor combines compact dimensions and a low weight of 2.7 kilograms with over 100 Nm of torque. As for the voltage and the maximum watts, OE customers can choose from options for either the EU or the United States. Thanks to the ISIS axle standard the choice of cranks that fit Ananda's mid-motor is abundant, and the tiny TFT display and controller to switch between the five support modes is tailored for off-road use, offering strong contrast for easy readability. As a sup- plier of complete drive systems, Ananda also has battery solutions that fit into the downtube of e-mountainbikes and offer up to 520 Wh of capacity, weighing in at approximately 3.5 kilograms.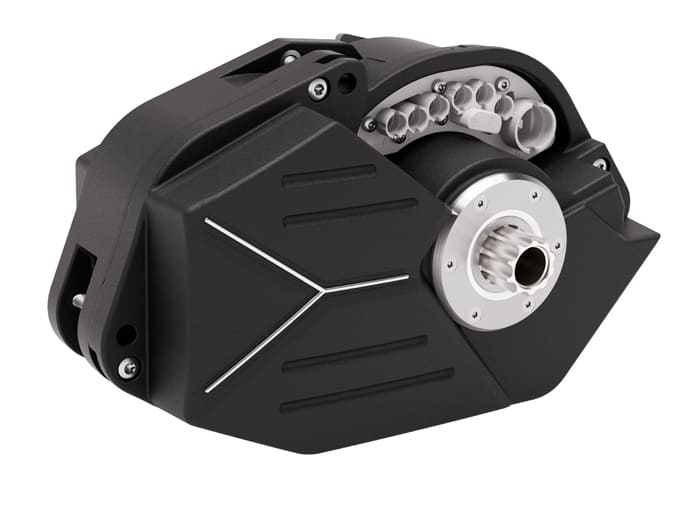 Sachs Micro Mobility [A1-405] was launched as a supplier of e-bike drive systems at Eurobike 2017. At first a joint venture of automotive supply heavyweight ZF with Magura, the BMZ Group and Brakeforce One, ZF took full ownership in October 2020. As the first drive system of Sachs Micro Mobility, the RS mid-motor may not be either the most compact and at 3.5 kilograms the most lightweight motor unit on the market, but with a maximum torque of 110 Nm, it is hard to beat in terms of sheer power. Due to this the RS motor is an interesting option for e-mountainbikes, speed pedelecs and cargo bikes. For battery power, Sachs Micro Mobility relies on the BMZ Group as a partner, offering a 48 Volt version with a capacity of 650 Wh to fit inside the downtube and a larger battery with a handle and up to 1500 Wh capacity for large cargo bikes. Due to this partner- ship, the entire RS mid-motor system is available through the BMZ Group as well. In terms of display choices, OE customers have a lot of options since they are being offered an open system with available Bluetooth. And despite being a relative newcomer, Sachs Micro Mobility also has an ABS system that works with the RS drive system.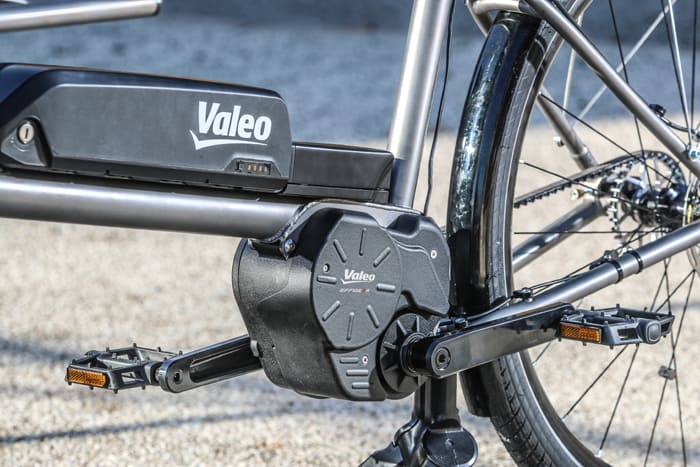 While Continental decided to shut down its e-bike subsidiary in November 2019 to focus on its automotive business, its French competitor Valeo [A1-204] did the exact opposite. Aiming at cargo and utility bikes or sharing fleets, Valeo has opted for a 48 Volt solution for their Smart E-bike System, mainly for efficiency and to cut down charging times. While the mid-motor of this French company may seem bulky at first, its size is due to an integrated adaptive automated shifting system built into the unit and developed with Effigear. This French company is known for its internal transmission gearboxes for bicycles. In terms of sheer power, the Smart E-bike System has been constructed with more in mind than the current legislation allows for, but of course the mid-motor can be limited to meet legal limits. Without any tapering of the performance, this motor can crank out up to 130 Nm of torque and multiply the riders effort by a factor of eight. Due to these numbers Valeo's drive system looks like a logical choice for heavy cargo bikes for commercial use.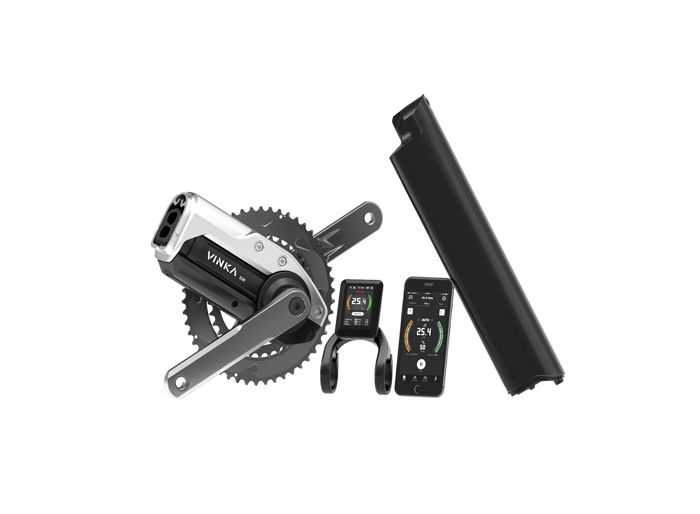 With its Vinka [A1-210] brand, Chinese manufacturer Wanjia Electric Co Inc. takes aim at the market for lightweight and compact mid-motors that can be integrated cleanly into the design. And a look at the relevant data of their S20 drive system indicates that Vinka has checked a lot of boxes with this one: with a claimed system weight of 2.9 kilograms, this may well be one of the lightest mid-motor systems on the market, and still the maximum torque of 60 Nm is more than many other compact and lightweight systems. As for the battery, Vinka has modular options that OE customers can choose from. The same goes for the colour display that has been designed to be mounted centrally and in front of the stem. An app allows for a customization of the support modes, using Bluetooth to connect the S20 system to a smartphone. An interesting twist is that this mid-motor can be set to adjust its support to the rider's heart rate. For bicycle dealers and manufacturers the app also has IoT functions that allow for a detailed look at the use, mileage and battery charging patterns. Known as the Swiss guys who built the electric motors for NASA's Mars rover missions, Maxon [A1-407] is making a big step towards becoming an OE player in the bicycle business with its Bikedrive Air drive system. First samples of this system were displayed at the 2019 Eurobike. Now this compact drive system for sports applications is ready to hit the market for the 2022 model year. With a claimed system weight of just 3.5 kilograms, the Bikedrive Air system should bring the weight of fully-suspended e- mountainbikes below 16 kilograms and that of e-roadbikes below 11 kilograms, as two sample models from early OE partners Transalpes and Cipollini Bikes at the Maxon booth show. The drive unit of the system only weighs 1.9 kilograms, fits into relatively narrow down tubes and has an axle-width of 152 mm to 160 mm. With a performance of 220 Watt and a torque of 30 Nm, the support is less powerful than with heavier systems, and at 250 Wh the battery capacity is also lower. Other interesting options in terms of mid-motor suppliers are the Finnish company Revonte [A1-101] with its highly customizable drive system solutions that combine a gearbox and a mid-motor, or the Italian mid-motor manufacturer Oli eBike Systems whose drive systems can be found on the cargo bikes of their compatriots BCargo [A1-609].