Messe FN pre-show press conference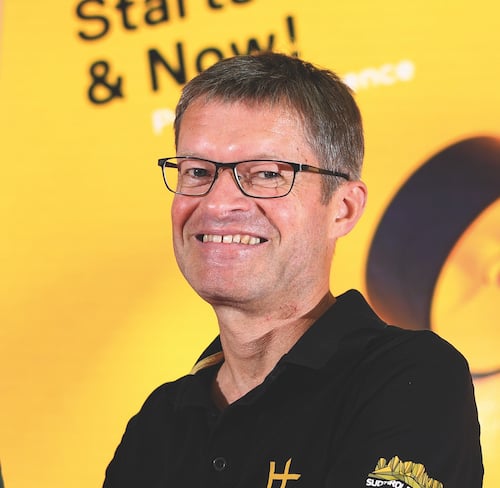 With less than a week to go before the start of the 29th Eurobike, the organisers offered some first glimpses of new products and trends that will be on display at the beginning of September. Even in the midst of a pandemic, the bicycle industry continues to crank out innovative products.
For 30 years, the Eurobike has been held in Friedrichshafen, growing to become the world's leading bicycle trade show. After last year's edition had be cancelled due to the pandemic, the organisers are confident that the last edition at Lake Constance before the move to Frankfurt will be a success. As Messe Friedrichshafen's CEO Klaus Wellmann puts it: "Over the past two years we have gathered plenty of experience of organizing on-site trade shows under the current conditions. Thanks to our safety concept, we are confident that visiting this year's Eurobike will be safe. And as the Eurobico event has shown, there's a big need for in-person exchange within the industry."
Due to ongoing travel restrictions this year's Eurobike will be smaller and have a more regional character than in years past. Still, the 29th edition of the show will have plenty on offer for trade visitors and consumers, as project manager Dirk Heidrich explains: "From next Wednesday through to Saturday, 630 exhibitors from 42 countries will present their products on 80,000 square meters of space spread over eight halls, both lobbies and the East and the West atrium of Messe Friedrichshafen. The Eurobike Awards attracted no less than 250 entries. This shows that the bicycle industry continues to be innovative in the midst of a pandemic. And on Friday and Saturday, the two Festival Days, visitors can test the latest new products and watch shows such as Danny MacAskill's Drop & Roll Tour or BMX freestyle contests."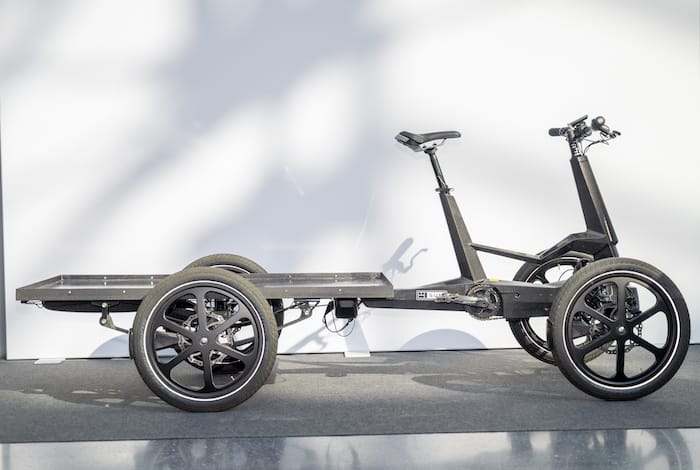 The organisers also highlighted some of the main trends within the industry that will be on display at the 29th Eurobike. In the utility segment, electric support opens up new possibilities as speed pedelecs extend the range of bicycle commuters drastically, and cargo bikes such as One Less Van's [A1-617] spectacular four-wheeled Sum X model, with a maximum load of 250 kilograms, challenge conventional thinking on urban logistics. For families, smaller cargo bikes like Kettler Alu-Rad's [A6-302] Cargoline models are the better choice while still offering plenty of versatility. Another example for advanced integration is Promovec's [FG-O/210] Smart Grip D500+. Apart from convincing ergonomics, this grip comes with integrated control buttons and a display that can be paired with electric assist drives using the Bluetooth protocol.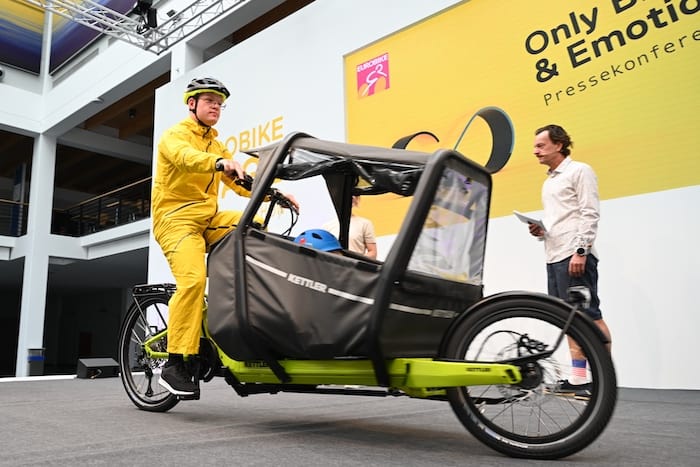 In accessories such as helmets and backpacks, sustainability is a strong trend, and recycled materials are being used more often. An example is the Idol urban helmet from Alpina Sports [B3-203] that combines a shell made of plant-based oils with straps made of recycled plastic and a lining from recycled yarns. As many other helmets for urban commuters, the Idol comes with a LED rear light built into the back of the shell. For its Hud-Y Ace model, Abus [A5-400] even designed this rear light to attach to the helmet with a magnet – so you can easily take it off whenever you need to charge it. Other innovations in terms of visibility and safety include a unique gimbal-like Leval Curve Light Assistant that Busch&Müller [A6-400] will premiere at the Eurobike show. The Rheo Light concept of Ink Invent BValso aims at increasing visibility in urban traffic by mixing pigments to the paint that glow whenever they are hit by light.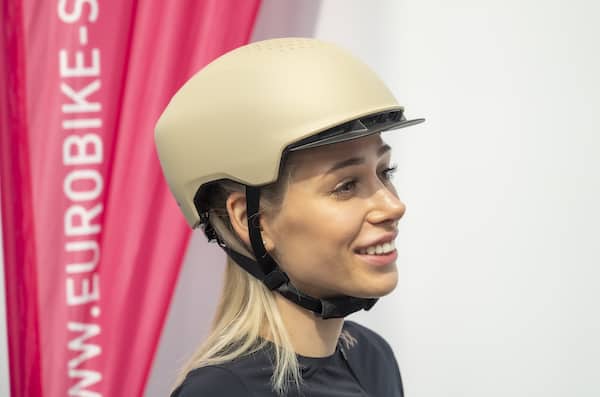 In the sports segment, e-mountain bikes and gravel bikes have seen strong sales over the last two seasons and are very likely to continue on that track. Fine examples for state-of-the-art e-mountain bikes with appealing looks, advanced integration of components and plenty of travel to tackle gnarly terrain are the One-Sixty series of Merida Bikes [A3-100] or the Uproc 6 from Swiss e-bike pioneer Flyer [A6-303]. Thanks to its matte golden paint job the latter bike is a real eye-catcher, and with plenty of travel up front and in the back its built to excel on enduro-style descents. Putting an emphasis on low maintenance rather than effortless riding are two mountain bikes that rely on a combination of Pinion's [FG-O/502] internal transmission gearboxes and the Carbon Drive belt drives of Gates [A3-300]. While the carbon frame of Nuseti [B1-410] pushes the integration of various components to another level, Zerode's full-suspension bike uses a novel tensioner to make belt drives a viable alternative on mountain bikes with rear suspension as well.
Last but not least, there are plenty of innovations regarding bikewear as well: with its Performance Protection Print concept, start-up GRDXKN [ÜO-207] integrates some very subtle cushioning into exposed areas such as the shoulders or the hips. Shimano [B3-300] builds its Revo shorts out of recycled airbags and Texlock [A4-501] has commuters literally covered with its innovative Raijn overall: Thanks to cleverly positioned long zippers this overall made of a breathable, waterproof three-layer material can be donned quickly and without the need to take off your shoes. When not in use, the Raijn overall can be packed to fit into a small hip pocket.