What's stopping bicycle ABS systems?
E-bikes have proven crucial in getting new segments of consumers on bicycles. However, the combination of increased power and weight and less skilled riders may well lead to more accidents. One answer is the use of anti-lock braking systems (ABS), and some innovations in this regard can be found at this year's Eurobike.
Thanks to electric assistance people can ride utility e-bikes without breaking a sweat – or tackle even steeper climbs. The higher weight and the increased dynamics provided by the electric motor also means a greater need for capable brakes. One consequence of this is that most mid- to high-end e-bikes come with powerful disc brakes and often with oversized rotors. While these brake systems are easily capable of handling the higher loads typically occurring on e-bikes, they tend to overwhelm less skilled riders with their sheer stopping power. There are plenty of reports of accidents caused by a loss of control after hard braking, sending riders over the handlebars or making the front wheel lose traction and wash away.
While anti-lock braking systems (ABS) have taken the automotive world by storm, having become a standard feature on new models, the situation is less clear when it comes to motorbikes. The systems are popular with upper-end models made for paved roads, but they are irrelevant in the offroad market, as Trickstuff's general manager Klaus Liedler points out: "Experienced riders want to be in full charge in terrain, pushing their bike into a drift or doing a stoppy. I feel it's the same in the e-bike market: while ABS systems make a lot of sense for e-bikes intended for urban use, I do not see an advantage for sporty off-road applications. Since this is the core market of Trickstuff, we have not been looking into ABS technology yet – and are unlikely to do so anytime soon."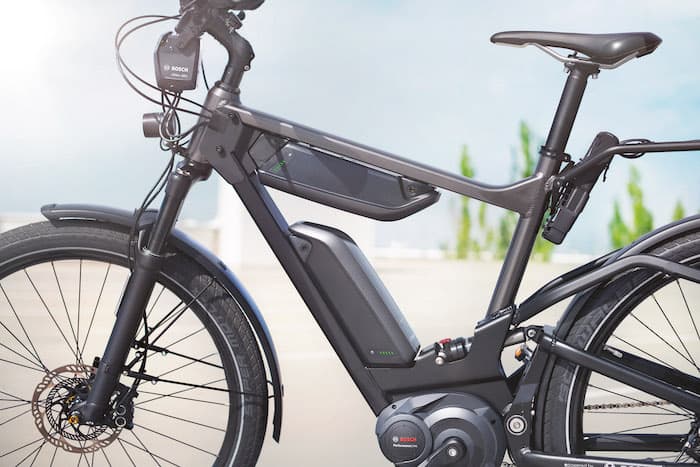 In general, e-bike ABS systems are still in their infancy, despite an estimate by Bosch eBike Systems' CEO Claus Fleischer that the number of accidents with e-bikes could be reduced by 29 percent if the technology was used. Fittingly, Bosch eBike Systems [A6-300] has been an early mover in terms of ABS for e-bikes, teaming up with fellow Germans Magura [A3-301] to develop an optional ABS system for e-bikes and launching it for the 2018 model year. So far, only a few manufacturers have gone for this option for some select models, keeping the number of ABS systems in use and the acceptance on the market on a decidedly low level. One of the reasons for this is the size and bulky shape of the ABS module developed by Bosch eBike Systems and Magura. Sitting in front of the head tube, the existing unit does not fit the current trend of hiding an e-bike's technology within the frame whenever possible. Asked by the Eurobike Show Daily, neither Bosch eBike Systems nor Magura would say if they were working on an updated version of this system that has been on the market for four years.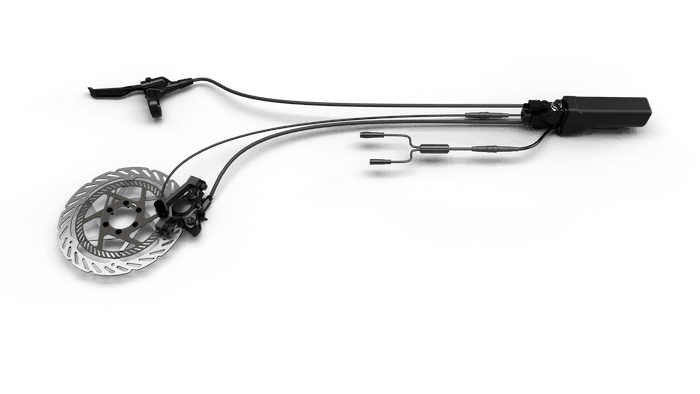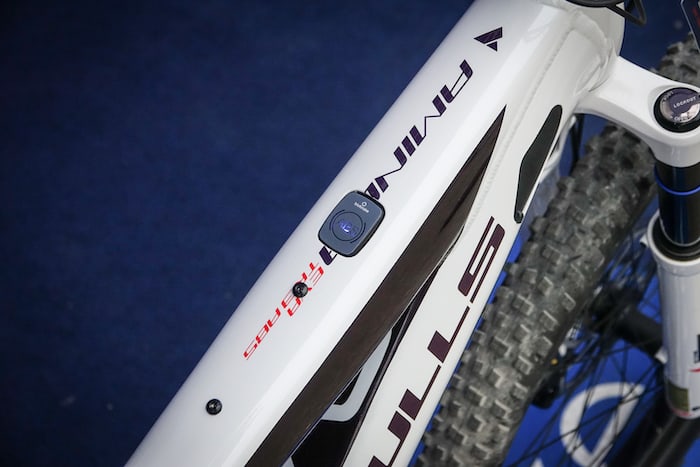 Italian manufacturer Blubrake [A6-308] aimed to integrate its ABS system developed in close cooperation with Taiwanese brake manufacturer Tektro into the frame from the very start. Just like the system developed by Bosch eBike Systems and Magura, Blubrake uses an additional perforated ring attached to the rotor and a photosensor mounted to the fork leg to measure how fast the front wheel spins. Apart from this visible part of the ABS system, there are sensors for acceleration and rotation as well. Blubrake's ABS system can be combined with various brands of hydraulic brakes and has been specced by the likes of Bulls, Stromer and Bianchi already. The G2 version as the second generation will be presented at Eurobike, with the main improvement being that the electronic board and the hydraulic unit now have been packed into one unit, facilitating the assembly of e-bikes with the G2 ABS system. Like the system developed by Magura and Bosch eBike Systems, the Blubrake system is linked to the front brake only.
Another pioneer in terms of ABS systems for e-bikes has been Brakeforce One. This small German brake manufacturer presented their market-ready ABS system back in 2017 at the Eurobike booth of Sachs Micro Mobility[A1-405] who have since brought it to the market. Thanks to its relatively compact size, this system can be fitted in the head tube, down tube, seat tube or it can be mounted to the left-hand chainstay of a frame. This compact actuator unit houses electronics, hydraulics and a bunch of sensors and connects to the brake line and to the battery of an e-bike using the proven CANBUS standard. According to Sachs Micro Mobility the actuator is so fast that it can preempt the risk of a blocking wheel before a complete standstill occurs, thus shortening effective braking distances and eliminating the risk of going over the handlebar.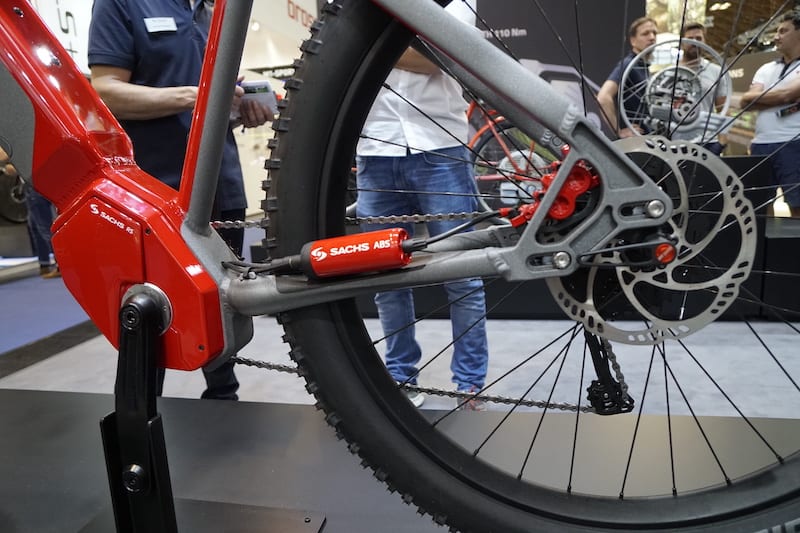 As for Shimano, the Japanese component giant would seem to be a logical player to come up with a solution, being a supplier of both electric assist drive systems and hydraulic disc brakes and having made plenty of experience with electronics. Indeed, Shimano has patented some technologies already in this regard, but that does not necessarily mean that a product is in the pipeline. Asked by the Eurobike Show Daily, Shimano preferred to keep its cards close to its chest, resorting to the standard answer that there will be no comments on ongoing developments not ready for the market yet.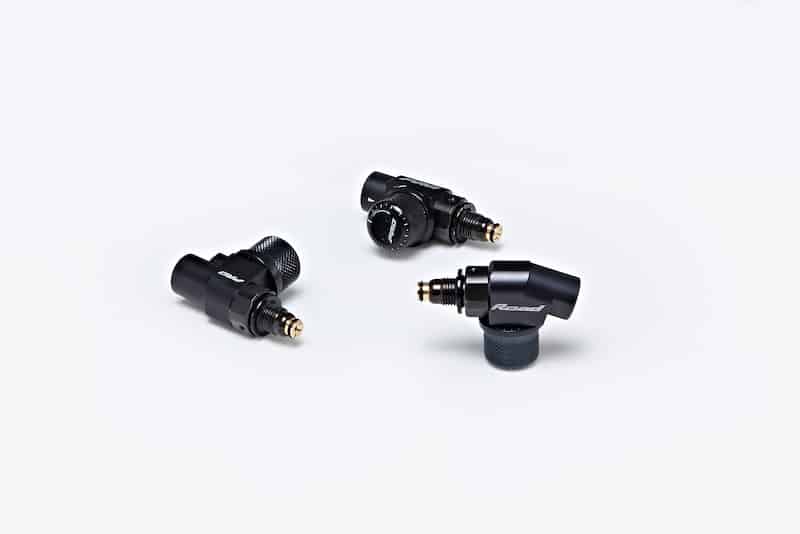 Following an entirely different philosophy is Outbraker: with its Brake Power Adjuster, this Korean manufacturer offers small modulators with a dial that are mounted between the brake line and either the caliper or the lever of most relevant 3rd party brake manufacturers. The idea behind this is to allow riders new to disc brakes to manually fine-tune the flow of brake fluid and thus the brake force generated at first and to increase the flow step by step while getting used to the powerful brakes and the reduced hand forces needed to operate them. With this approach, it's not electronics and an algorithm changing the characteristics and the performance of the disc brakes, but the rider and his growing experience with and confidence in the system.