Practical, stylish transport for busy urbanites
The addition of electric assistance is making cycling a more convenient mode of transport and inspiring some new bicycle designs too…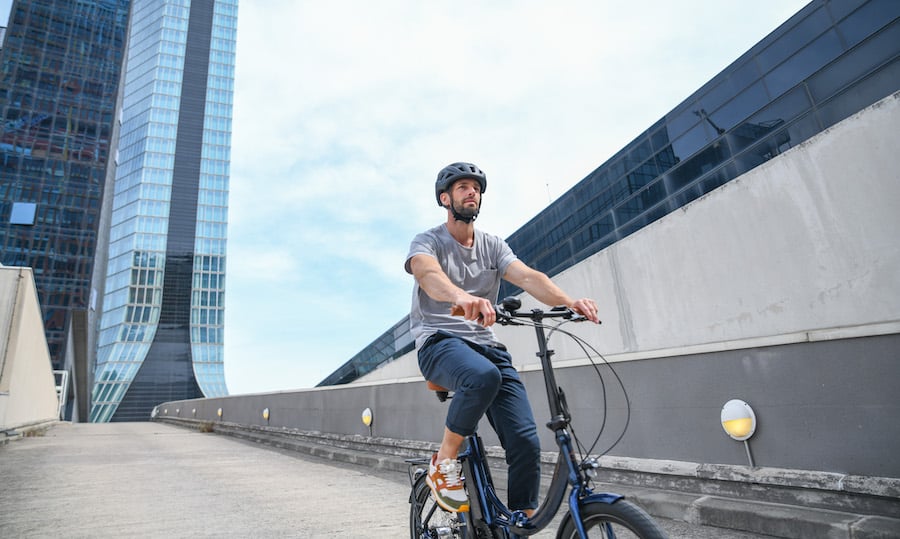 Utility e-bikes are often used to replace a car or public transport as a practical way to navigate the city or just a hectic schedule. A pre-existing genre of bicycle, the addition of electrical assistance has helped grow interest in the segment as the extra support provided by a motor makes carrying luggage or children an easier task. One notable trend sparked by the use of electric assistance has been the return of manoeuvrable small-wheeled machines explicitly designed to fit into busy lives.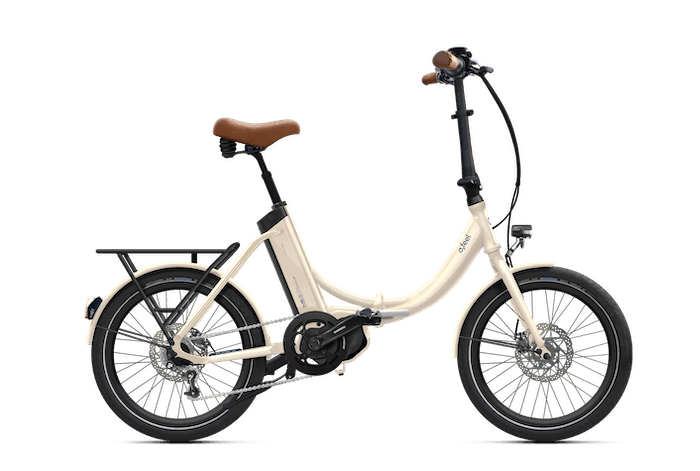 Founded by two French designers, O2feel [B1-201] makes a range of slickly engineered city bikes. The iPeps Fold Up 5.1 is its most compact model. The folder's integrated iPowerFit 400 battery can be boosted via the firm's iPowerFit Duo option to deliver a maximum range of 280 km. Driven by a combination of Shimano's E5000 motor and a durable 7-speed Shimano Nexus hub gear system, disc brakes complete the bike's low maintenance build kit. Despite its foldable function and overall small size, the iPeps includes a robust rear rack as standard. Designed with an easy to hop aboard step-through frame, riders will find it straightforward to get both feet onto the ground. Making for a confident and stable ride, this is especially noticeable when carrying luggage.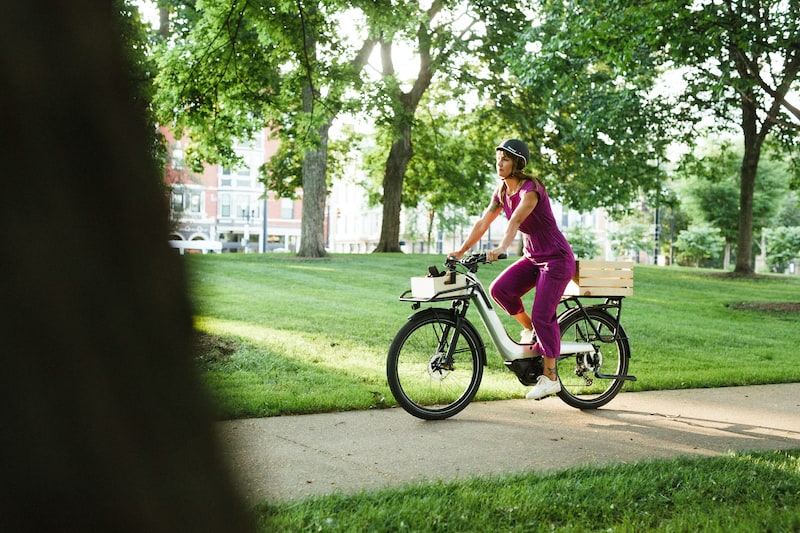 This year VAAST [B1-300] is jumping into the electric market with its must-see E/1 bike. Taking the adventurous spirit of its existing range and transferring it to the city, it's designed to carry its rider and all their daily needs with a minimum of effort. A versatile take on what the modern commuter wants, a step-through frame, sizable inbuilt front and rear cargo racks, and integrated lighting make it incredibly self-contained. Featuring tool-free ride height adjustment, each bike in the range relies on Bosch's well-established Gen 4 Performance CX motor, Kiox control unit, and Powertube battery for its electrical assistance. Available from October, with three different drivetrain spec options provided by Rohloff, Enviolo, or Shimano, each bike comes with custom heavy-duty cargo holds and Super Nova front and rear lighting. Ensuring both its rider and payload travel in comfort, the entire bike is cushioned by the NAIL'D R3ACT 4-point suspension system, the newest innovation in urban mobility.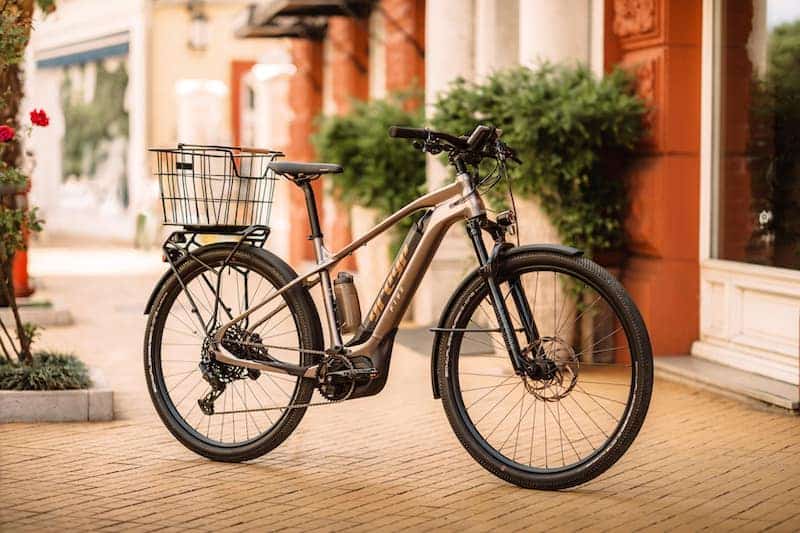 Again new for the show, Greyp's [B1-301] T5 is an intelligent e-SUV designed to cover the trekking
e-bike segment. Perfect for travelling mixed terrain with confidence, it's equally happy commuting at home or exploring new locations on holiday. With front suspension, mudguards, and a QL3.1 or MiK compatible rack, it promises to be both a smooth and practical companion. Assisted by a powerful MPF 6.0c motor with 250W of power and impressive 90 Nm of torque, its 700 Wh battery allows for an extended range or multiple days between charging. Of course, a Greyp bike wouldn't be a Greyp bike without integrated eSIM connectivity. Letting your smartphone help you navigate and control the bike, its dashboard mode gives easy access to turn-by-turn navigation, terrain-based range, and video recording functions.
The electrical assistance provided on Ampler's [FG-O/308] range of bikes is so subtly integrated, you might miss it at first glance. Lightweight and composed of slender tubes, they nevertheless each accommodate a 336 Wh battery and 250 W rear hub motor. Adding support without excessive weight, this leaves them both easy to use and easy to carry. Recharging in a speedy two and a half hours also makes them ideal for commuters wanting to plug in at work. Coming equipped with frame coloured mudguards, plus a rack and kickstand, their finishing kit comprises the sort of components you'd expect to find on a high-end city commuter. This includes continental tyres and Shimano disc brakes. Rounded off with a Busch+Müller IQ2 Eyc integrated headlamp and custom rear LEDs in the seatpost, these smart city bikes can also pair with the brand's equally slick companion app.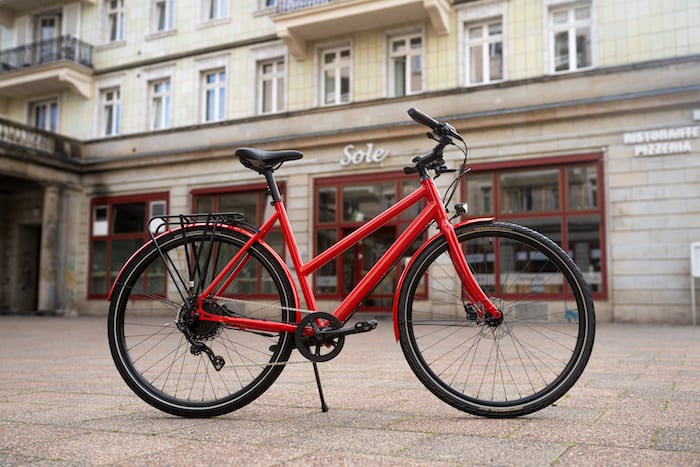 Germany's Hartje has launched QiO, a new brand focusing on compact utility e-bikes. The first model from
the brand is called the Eins, a very modern electric utility bicycle featuring a compact step-through frame, space-saving foldable handlebars, and hydroformed aluminium chassis. Available in five different versions, each is driven by a Bosch motor from the Active, Active Plus or Performance lines. Twinned via a Gates belt drive to an internal hub gear system from Rohloff, Enviolo, or Shimano, disc brakes and a coil-sprung seatpost ensure comfort and control. With their radical design complemented by a range of bright, simple colour schemes, each bike is distinctive enough to stand out in the city crowd. Capable of taking both a front rack and child seat, they promise to be a high-spec solution to the commuting needs of many families.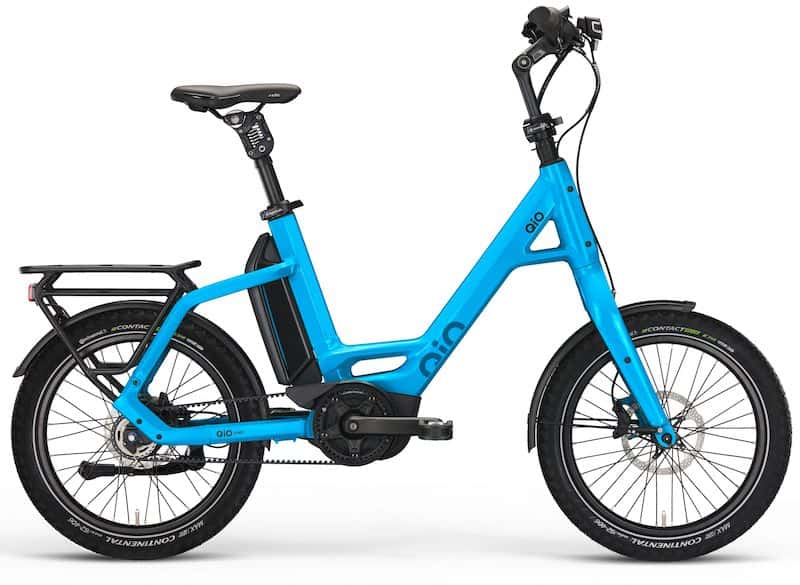 Timyo Cycles' [A6-205] Muon Performer e-bike is a sporty bike with a slimline silhouette courtesy of its integrated battery. Using a belt drive for silent and low-maintenance operation, its in-built lights produce
80 lux illumination, while the automatic brake alert function adds additional safety when riding in traffic. With nippy handling and aggressive looks, a comfortable saddle and broad tyres ensure rider support. Equipped with mudguards, a kickstand, and a rear-wheel lock, a simple single-speed drivetrain provides an efficient way to add your own pedal power to the bike's rear hub motor.