Crisis? What crisis? For the bicycle business, the Covid-19 pandemic has been a boost. After all, the bicycle offers a low-risk alternative to public transport, a kind of fitness training that can be done outdoors while respecting distancing rules and a fun activity for the entire family. This was very clear in the numbers for the German bicycle market that were presented on Wednesday March 10th in an online video conference, presented by Ernst Brust, managing director of the Zweirad Industrie Verband (ZIV) and Thomas Kunz, head of the retail organization Verband des Deutschen Zweiradhandels (VDZ).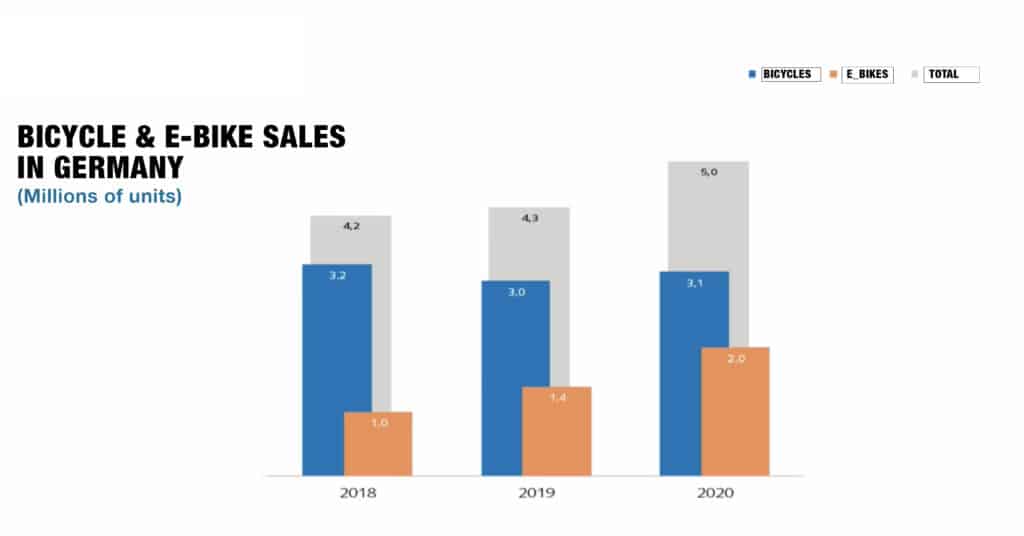 Spectacular growth in units and turnover
In 2020, the overall bicycle market in Germany grew by 16.9 percent to over five million units. Of this, 1.95 million were e-bikes, whose volume jumped by over 43 percent and market share grew from 31.5 to 38.7 percent. The average price per unit sold grew by an impressive 38 percent to € 1279, and that's the number when looking at all distribution channels. If you look only at IBDs, who still hold a market share of almost 70 percent in Germany, the average prices were higher: conventional bicycles averaged a sales price of € 630 while e-bikes rose to an average of € 2975. Due to the combined effect of the growth in both volume and average prices, the turnover of the entire bicycle business in Germany grew by an eye-watering 60 percent in 2020.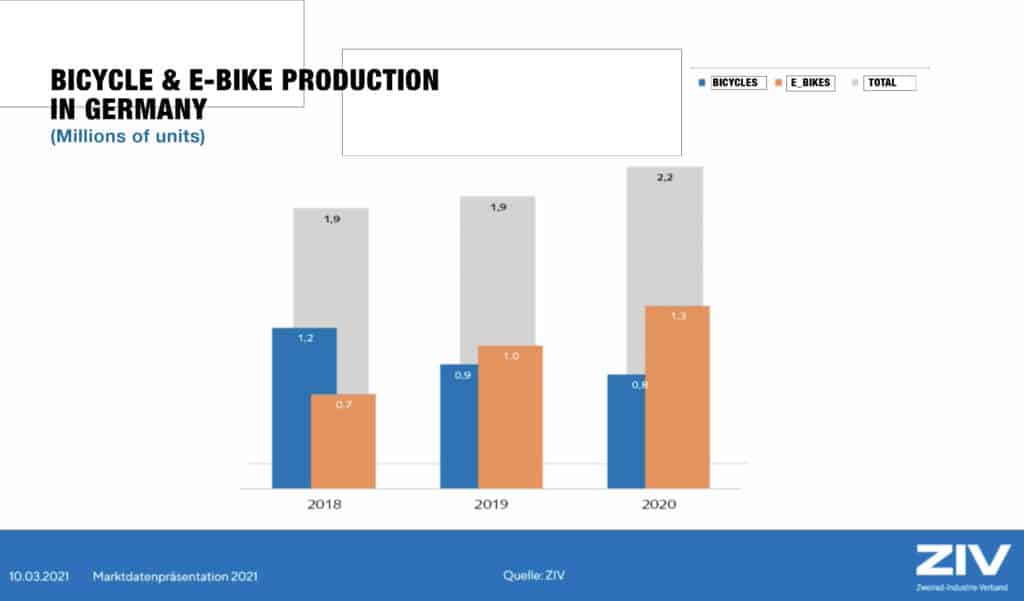 Europe grows in importance for production
As for the places of origin of all these e-bikes, production both in Germany and in Europe grew significantly to 73 percent. Here the reshoring efforts of the industry and the effect of the EU's anti-dumping tariffs against e-bikes made in China clearly show some effect. Despite a rise in deliveries from Taiwan, the import of Asian-made e-bikes to Germany declined overall to 24 percent. As for conventional bikes, Asia plays a far more prominent role as a source of imports into Germany with a share of 47 percent. At the same time the exports from Germany rose by 7.9 percent overall. Again the bulk of this growth stemmed from e-bikes whose exports grew by 15 percent as opposed to 3.8 percent for conventional bicycles.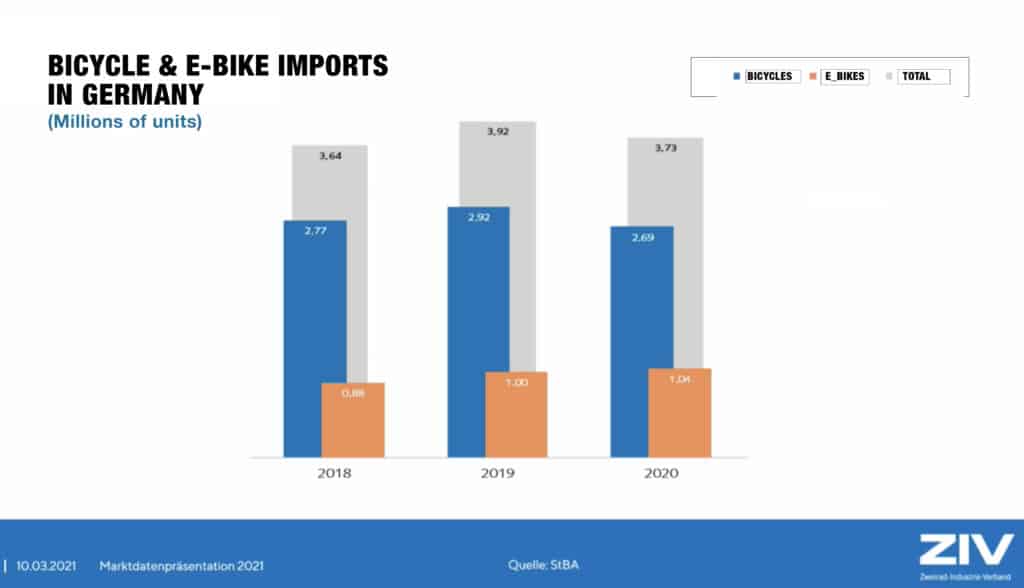 As for all of Europe including Switzerland, the volume of the e-bike market grew by 42 percent in 2020 – another staggering number. As a consequence of this dynamic growth, the biggest concerns along the entire value chain at this moment are the scarcity of commercial goods, long delivery times for both complete bicycles and parts and components and a lack of skilled mechanics to keep the growing fleet of bicycles and e-bikes running smoothly. After all, the number of e-bikes rolling on German streets has grown from 5.4 to 7.1 million units in 2020 alone, and there is no end in sight for this growth.