As urban bikes proliferate, so carrying options are becoming more diverse, from practical shopping baskets to handlebar bags and even briefcases with bicycle attachments.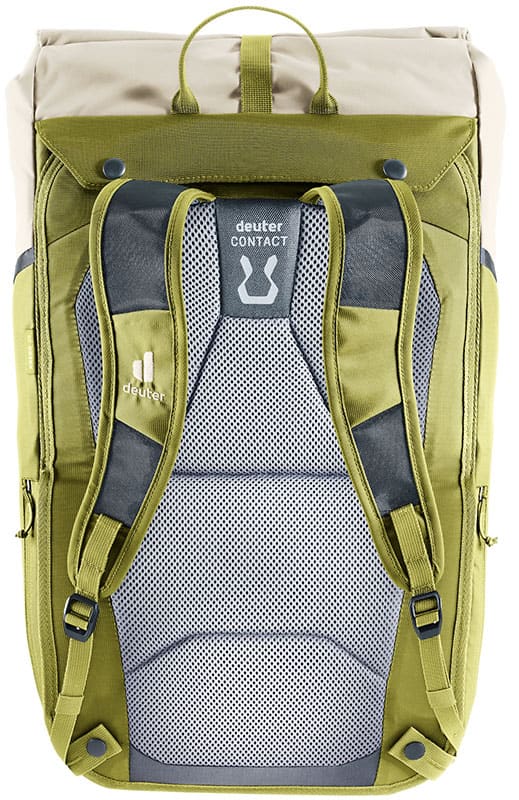 Deuter [Hall 11.1/B15] has set out to solve the cycling shopper's dilemma. Should you opt for a bike bag that makes the ride breezier, but that may be bulky and uncomfortable to carry around? Or take a backpack, which may not have the same capacity and may be heavy on the shoulders?
Deuter's answer is the Xberg. It works with a clever mechanism that enables the rider to easily fold the back panel up or down. The first setting uncovers the bag-fix bracket to attach the bag to the luggage rack. The second reveals the ergonomic and well-ventilated shoulder straps.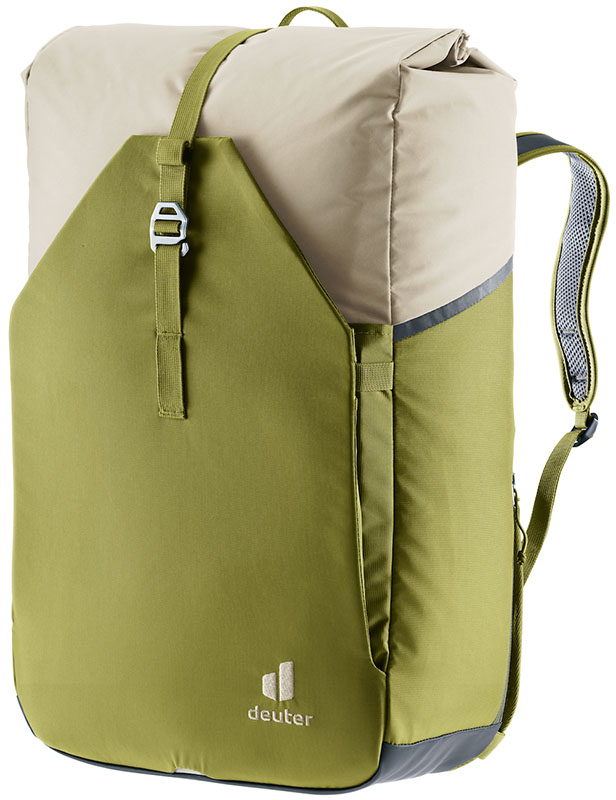 The Xberg uses a rolltop closure, so the volume of the 25-liter bag is adjusted to the contents. If you're heading back with bulky purchases, you can easily add five liters of capacity.
This closure makes the contents of the Xberg's main compartment easily accessible, and the backpack has plenty more clever space to park your stuff. There's a removable compartment for tablets and laptops, as well as folders and notebooks. The front pocket is where you'll easily stash and retrieve your keys, cards and portable knick-knacks. Even a helmet could fit in there. The hybrid bag is equipped with a detachable rain cover.
With its recycled materials and sustainable components, the Xberg complies with Bluesign and Grüner Knopf requirements. Deuter adds that it's climate-neutral and free of PFAS.
Urban Rider's [Hall 9.2/F14] answer to the same dilemma is the Cargo. It's a single bike bag that easily transforms into a backpack, with a capacity of 20 litres.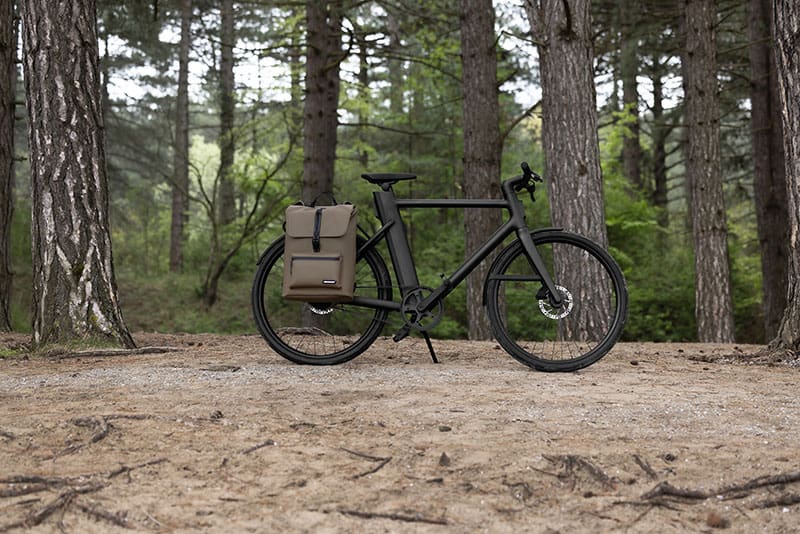 The brand has a resolutely urban style, and it prioritises the use of durable and recycled materials. The Cargo commuter bag is made with recycled PET, at 100% for the main fabric and 75% in all.
Compatible with e-bikes, the Cargo comes with Vario Fix bike hooks. It has a padded laptop compartment and a large front pocket with easy access. There's a hidden pocket at the back with a zipper. Another version of this backpack is the self-explanatory Rolltop.
Urban Rider was launched by René van Leeuwen, a former buyer at Hema, together with a partner, with the aim of making more sustainable products. It's encapsulated in the company's slogan: 'sustainability in motion'.
U+ Creative Concept is the company behind the design of Urban Rider products, while Dutch Perfect takes care of the sales. Operating from a container office in Haarlem, U+ Creative Concepts is a certified B Corporation. It donates 5% of the profits from its Urban Proof Recycled range to Love not Waste, a beach clean-up group in the Netherlands.
"At our core, we're all about making sustainable products available to everyone," said Van Leeuwen. "Not only do we reduce our own impact on the environment, but we also empower our customers and consumers to do the same. That is why we have brands to inspire others, but also provide private label to make sustainability for everyone. Not as a choice but as a standard."
For any stuff that needs to be quickly accessible on an urban ride, there's the Toptube Bag by Ortlieb [Hall 11.1/C12]. It's easy to open the bag and access the contents with one hand while riding. The lid will shut again under its own weight, with two magnets to close it securely.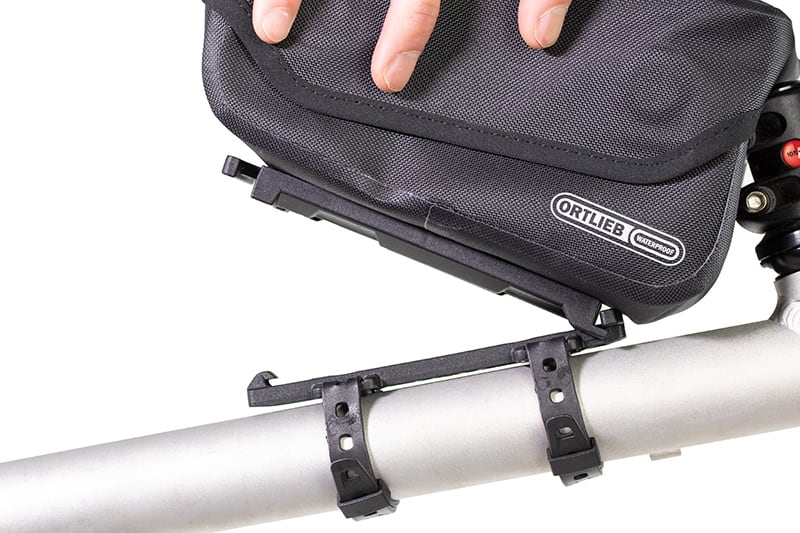 The bag, with a capacity of 1.5 liters, can be attached with perforated rubberized straps. Any holes drilled in the top tube can also be used to fasten the bag. With the Tube-Lock adapter system, it takes just seconds to detach the bag, when you have reached your destination or just want to pop into a store.
The Toptube Bag has a silicone holder on the lid, which makes it easier for riders to use their smart phone for navigation. Combined with the bag's sturdy nylon fabric, the stiffened material inside ensures that it retains its shape at all times.
With its Urban Collection, Weathergoods [Hall 11.1/D10] targets riders who are after a smart yet functional bicycle bag for office commuting. It comes in two versions, a backpack and a briefcase, which are both made with recycled polyurethane and recycled ripstop lining. The two products have padded laptop sleeves.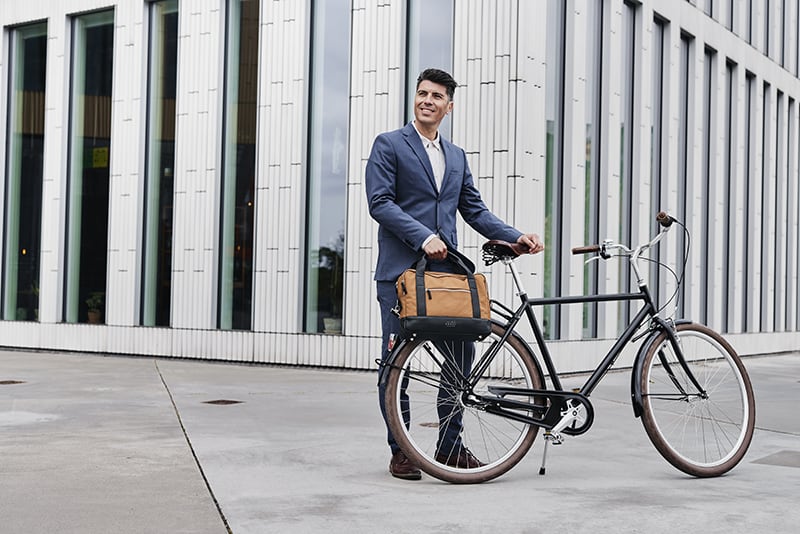 Due to the discreet incorporation of the hooks into the design, the Weathergoods bag could easily work for a business meeting. "The fabrics have been chosen for their durable and sustainable properties and give the collection a more refined look making it suitable for a more formal office environment," the Swedish company says.
Clarijs Covers [Hall 8.0/B18], a Dutch specialist in high-end tents for cargo bikes and accessories, has come up with a bag for longtail bikes, launching at Eurobike. Frank Koppenol, the owner at Clarijs Covers, explains that the Longtail Universal was built purposely to be functional for this type of bicycles, as well as durable and stylish.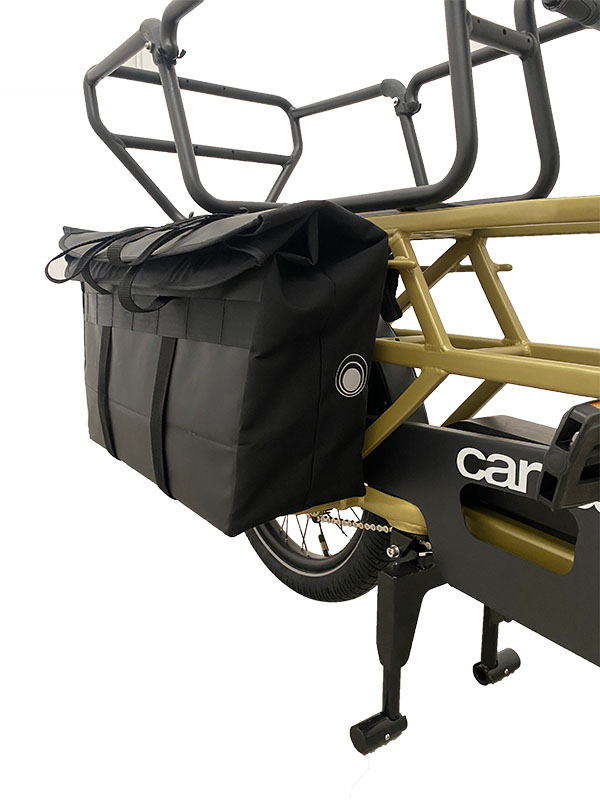 The bag comes with an adjustable attachment system, intended to fit with any longtail bike. The inner bag provides plenty of space for any stuff that could come handy, from shopping to a computer. The features include a Fidlock closure system, making it easy to open and close the bag, even on the go. At the same time, it's safely and firmly attached to the bike, in such a way that the contents won't spill out.
"Another smart feature is the foldable bottom, which makes it easy to fold the bag when you're not using it," adds Koppenol. That's most useful for riders who use their longtail bike for multiple purposes, and don't always need a bag.
The bicycle basket from New Looxs [Hall 9.0/D08] is an efficient and more durable alternative to the shopping bag. It's made from recycled plastic and produced in the Netherlands.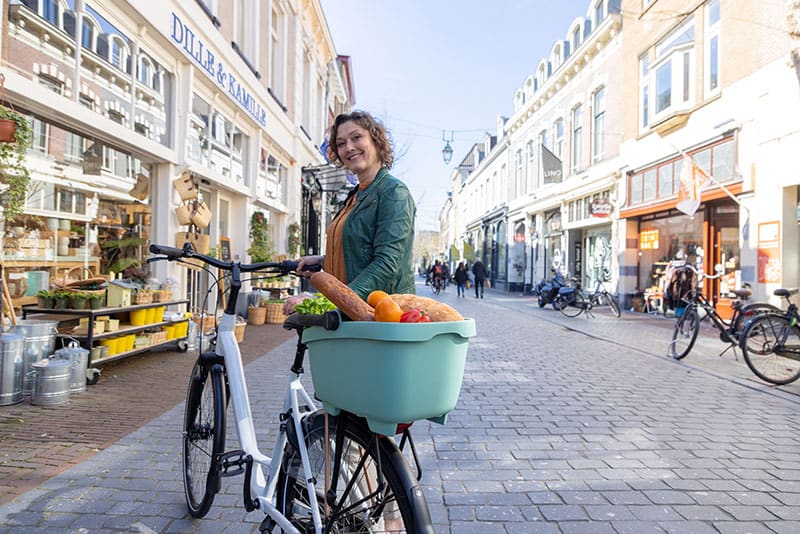 Among the most practical aspects of the basket is the patented handle with one-handed operation, meaning you always have a hand free to hold your bike. New Looxs adds that the handle does not rattle while cycling.
The basket fits almost all carriers, and it can be fixed in two ways, lengthwise and widthwise. "Fix it with a click, take it from the carrier with one touch," as New Looxs puts it. The brand's shopping package comes with a bottom plate and waterproof cover.
The City Shopper from Basil [Hall 12.1/B09] wouldn't be out of place for a walk around town or lunch at the café. With a capacity of 14 litres, it's large enough for groceries but small enough to be carried around with a detachable shoulder strap when it's less full.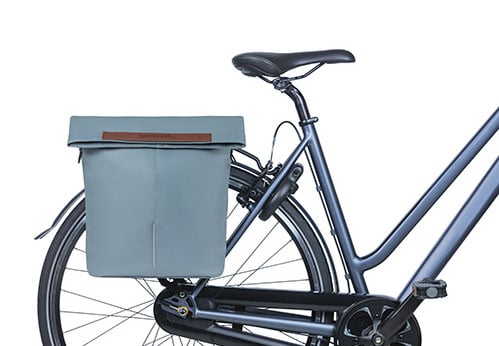 This vegan lightweight bag has folding closure with a magnet. The City Shopper is easy to attach to luggage carriers with the Hook-On system. The neatly hidden hooks are another feature that makes this bag elegant for a city stroll. Moss green has been added to the colour options.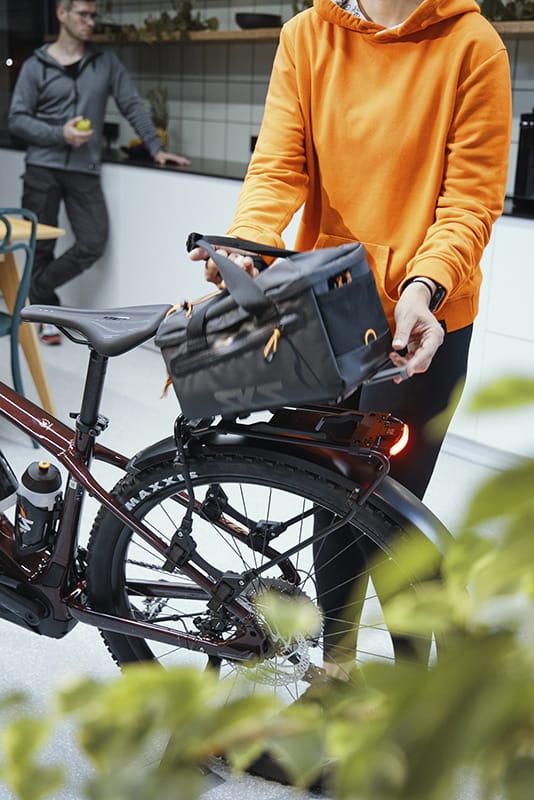 A more functional option is the top bag from SKS [Hall 12.1/A26], which uses a robust tarpaulin fabric with taped seams. It has a capacity of about seven liters, and several features to organize the contents, such as a large internal pouch with roll-top closure, several padded compartments and a net at the top.
Suitable for shopping, commuting or other outings, the Infinity Top Bag is built to be attached to the Infinity Universal luggage carrier, and to all luggage carriers with MIK adapter plates. With a removable shoulder strap, it can be easily carried around.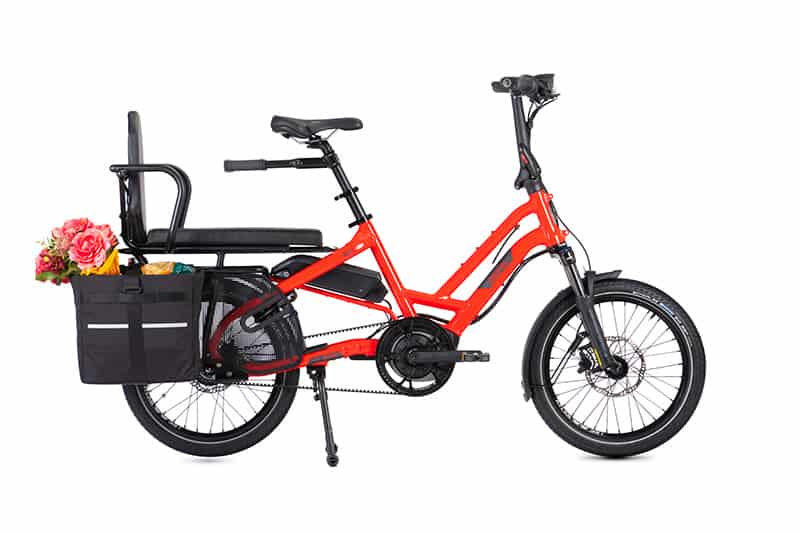 The Cargo Hold 28 pannier has been created for popular Tern [Hall 12.0/A04] e-bikes such as the NBD and HSD. It can be used to carry anything from groceries to a work bag. The pannier has a waterproof liner and weather-resistant outer material, which reliably shield the contents from rain. The rolltop construction makes it easy to switch from bucket to pannier mode, or to just flatten the bag when it's empty.