Bicycle drivetrains are starting to look less and less like what we we're used to. The gears and chains that have propelled riders for generations are being challenged by cutting-edge technologies and design breakthroughs. From a total reimagining of the drivetrain concept to radically revised electronic shifting systems, bicycle drivetrains are rapidly evolving. It's all about smooth, intuitive shifting, little or no maintenance, and rider customization. Not everyone wants 21st century technology however — some riders just want reliable parts to keep them rolling toward the finish line or across town. Here at Eurobike you can find the latest developments in drivetrains, both tried-and-true and cutting-edge.
How do you get new users to embrace e-biking as a form of transportation? Call it "individual motorized transport" or an "active vehicle." Same goes for bicycle drive systems — call them "pedaling environments," of which there's currently only one. The CIXI [8.0 / E02] Pedalling Environment (CPE) refers to the entire system that propels an active vehicle, from user configuration to pedaling, shifting, navigating, and braking. Central to the CPE is the PERS (Pedaling Energy Recovery System) electronic crankset.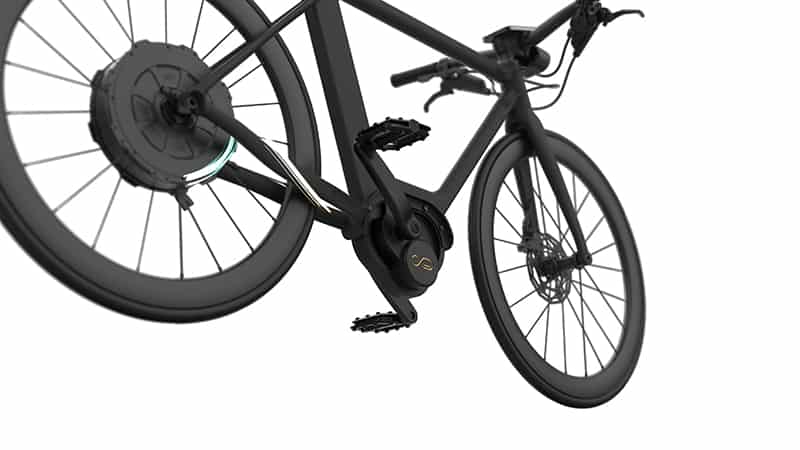 Conceived as an OEM product for e-bike and active vehicle manufacturers, the PERS is a chainless, pinion-less, maintenance-free crankset engineered to adapt pedal resistance according to the rider's style and to optimize battery consumption through regenerative braking (which also reduces mechanical braking). The system is modular and works with rear hub motors, Tritek [8.0 / O21] batteries, and lights from Supernova [12.1 / B15] and Busch+Müller [12.1 / A30]. The CPE/PERS concept is an effort to transform regular transport into active mobility in a highly accessible and adaptive way for both bike manufacturers and users. The resulting system is easier to assemble and integrate into frames than conventional transmission systems, is simple to use without manual gear shifting, and allows manufacturers to keep in touch with their customers through the companion Active Pilot app.
Swiss startup ratioX [F12.0 / E14], is tackling the daily commute with its own fully stepless, automatic gear system for commuter e-bikes. The patented system uses a Continuously Variable Transmission (CVT) to allow for a constant pedal speed with smooth and continuous automatic shifting under load.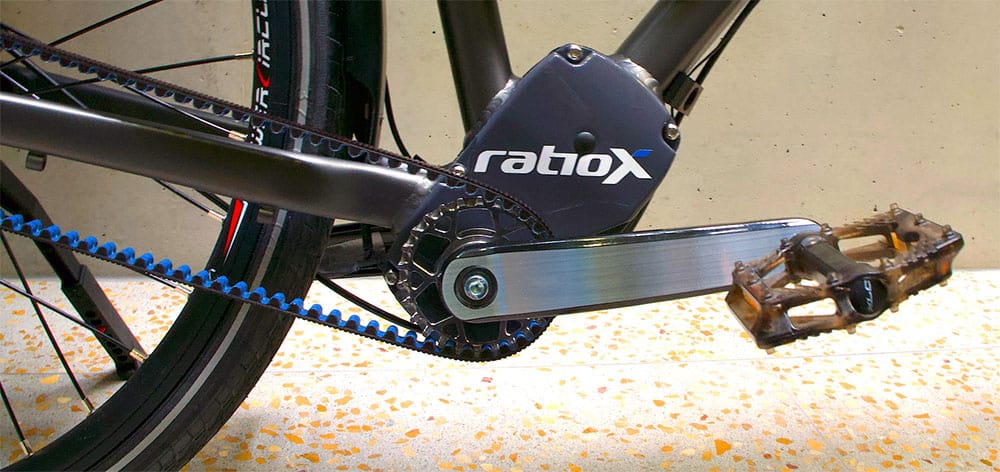 The mechanism is fully enclosed to protect it from the elements and to eliminate the need for regular maintenance. Compared to existing transmissions with similar gear ranges, ratioX boasts the lightest enclosed bicycle gear system available – even encroaching upon the weight range of exposed derailleur systems. ratioX has been designed to be integrated into the frame of hub motor e-bikes and works seamlessly with a belt, chain, or driveshaft. This gear system is ideally suited to speed pedelecs and cargo bikes.
Until now, an e-bike drive has consisted of two separate systems: a shifting system and a battery-powered motor, which are often made by different manufacturers. Despite these symbiotic partnerships, shifting performance, wear, and maintenance can become issues resulting from even the slightest bit of incompatibility between the two systems. Of course the solution is to bring the entire drive system under one roof to ensure flawless functioning, which is exactly what Pinion [12.0 / B18] has done.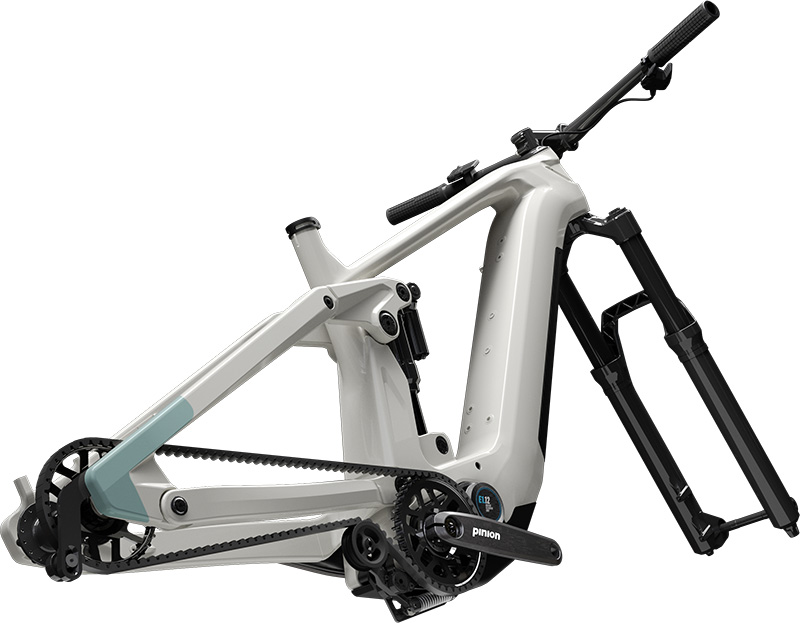 Pinion's Mission ON.E brings together its proven gearbox technology and a full-power electric motor in a complete, fully-integrated drive system that combines the shifting system and motor in a single unit. Central to the system is the Motor Gearbox Unit, which connects the motor, drivetrain, sensors, and control systems. Five years of dedicated research and development went into the MGU to devise a way for uniting a brushless full-power electric motor with Pinion's gearbox in a compact package on par with mid-drive motor e-bikes. To make it all work precisely and efficiently, Pinion has patented a whole host of internal sensors to continuously gauge input torque, motor speed, the position of the shifting shaft, and the rider's cadence and speed. This multi-sensor design has been engineered to detect and respond to the smallest inputs to achieve one of the system's chief goals: a natural riding sensation.
While Pinion has toiled tirelessly at perfecting the internals of its e-drive system, there's still the rider to consider and, to that end, Pinion has taken a modular approach to the system's design. Several distinct configurations and versions of the MGU are available, depending on individual preferences, and each version has either nine or 12 gears with a gear range of up to 600 percent. The system's software has been programmed to offer Comfort and Performance settings for efficient commuting, long-distance touring, or off-road riding. There's a dedicated version for speed pedelecs. Each version has a different motor and gearbox configuration that can be tuned to the rider with settings tailored to the intended use.
3X3 [8.0 / J20], which made its world debut at Eurobike last year with its own 9-speed internal gear hub, called the Nine, has returned this year with two new shifting systems.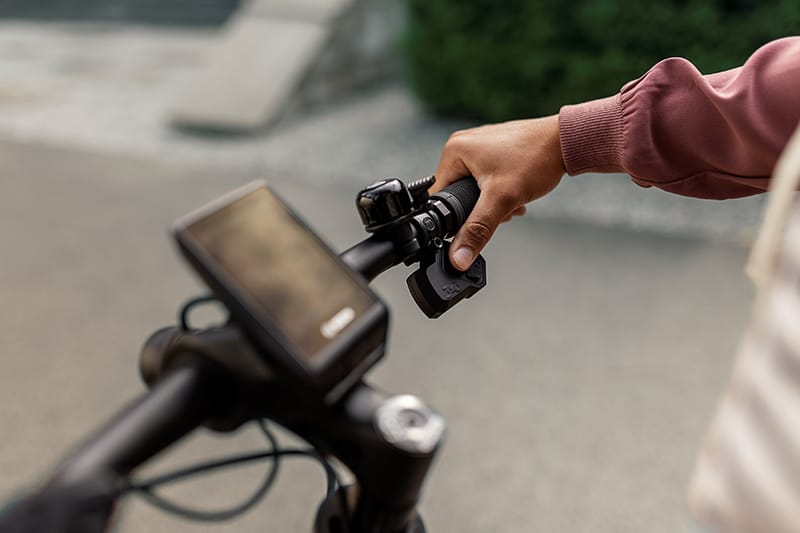 The E9 is an electric 9-speed gear set that uses wireless communication and CAN bus to shift in response to rider input. A radio signal transmits the command to shift to the actuator, which sends the command to the motor so that shifting can happen. 3X3 claims that the shifting speed is comparable to that of SRAM's AXS system.
A nifty feature of the E9 is its automatic downshifting while standing, which makes it easier to get rolling again without having to stomp on the pedals to start riding. The E9's low-fi kin is the R9, a rotating 9-speed gear set that shifts using two Bowden cables and a gear shifter. The R9 is a low-maintenance solution "geared" toward conventional bikes but equally ideal for e-bikes. Both shifting systems are compatible with the Nine.
3X3 is a brand under the umbrella of the highly specialized manufacturing company, H+B Hightech, which focuses on future-proof engineering. Parts are manufactured and assembled in Adelmannsfelden, Germany, according to Industry 4.0 standards to ensure that excellent quality can be combined with high volume production. The company is committed to sustainable manufacturing and its European location shortens delivery routes to most of its customers.
One of the companies most committed to sustainability isn't some small startup that can nimbly pivot to sustainable practices, it's Europe's largest drivetrain parts manufacturer. Miranda Bike Parts [9.2 / C22] has literally forged (and machined) its reputation by producing aluminum cranks, chainrings, and chainguards at its massive facility in Águeda, Portugal.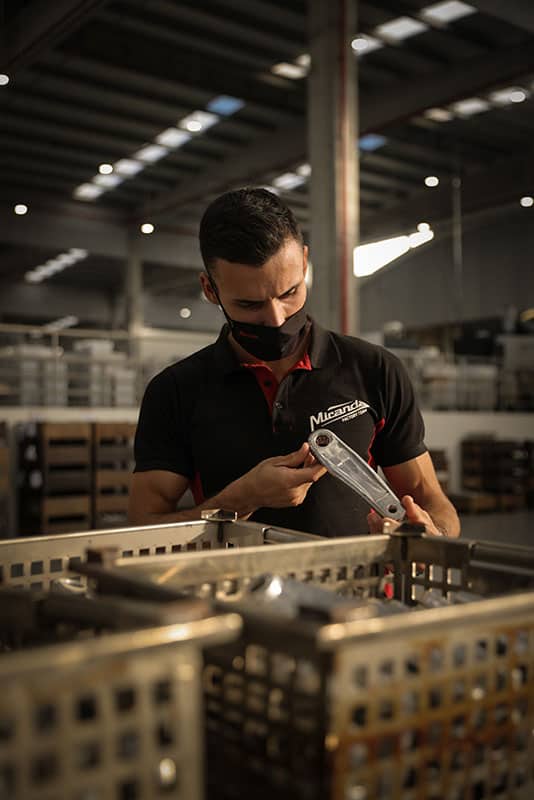 Starting in 2019, Miranda has upended its production processes and now manufactures cranks made from recycled aluminum with 100 percent renewable energy. If that wasn't enough, the company measured the CO2 emissions per crank and discovered that each crank uses 0.0016 kg of CO2 to produce. While others set trends in product design, Miranda has forged something greater that's worth copying again and again.
Power meters have become as much a part of the drivetrain as cranks, chainrings, bottom brackets, cassettes, and chains. Eight years ago, Rotor Bike Components [11.1 / C09] entered the category and has been working on optimizing technologies to improve performance, developing lighter and more compatible meters. Making its debut at Eurobike, the 2INpower SL is an extra-light version of its award-winning dual-sided power meter for road bikes.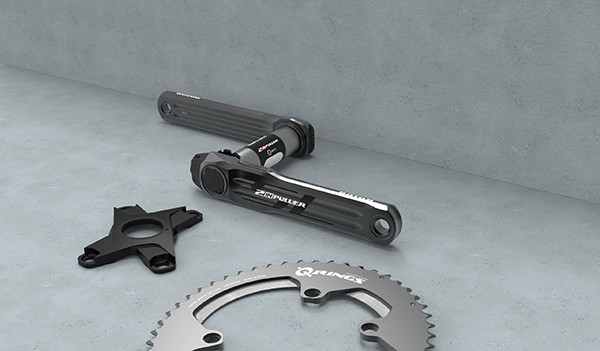 Regarded as the lightest dual power meter on the market, the new model tips the scales at 530 grams (with 170 mm cranks). Rotor has also reduced the weight of its Inspider power meter for mountain bikes by 32 percent compared to its previous version- it now weighs just 105 grams. Both power meters support ANT+ and Bluetooth Smart connectivity.
Even if a traditional drivetrain is a mashup of components, it's nothing without all its parts. Rumba is Thun's [12.1 / C29] new bottom bracket with external bearings that can be paired with cranksets from several manufacturers.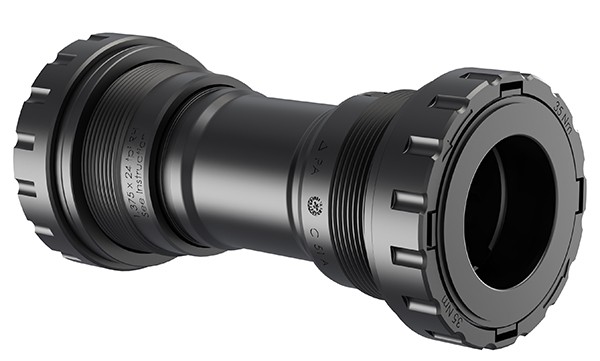 Designed and produced in Germany, the first version of the Rumba is available for cranksets with a spindle diameter of 24 mm and for 68 mm and 73 mm threaded (1.375 x 24 tpi) bb housings.
There are always going to be trendsetters in drivetrain development yet not everyone is an eager trend follower. For users who prefer the reliability of proven parts, S-Ride Bicycle Components [9.1 / D21] offers a range of drivetrain components that rival existing products at prices well below expectations. New for Eurobike is the M500 1×10-speed series for downhill. The trigger shifter is compatible with a 11-28/30/32T cassette; the "zero delay" rear derailleur with trapezoidal design boasts smooth shifting and stronger chain stability.
Road and gravel components are equally as current with dual control levers, responsive derailleurs, and high strength alloy cassettes. The total price for the S-Ride M500 shifter and derailleur comes in at a lean 128€.
As the cogs of change keep on turning in drivetrain development, increasing mobility by bike is driving out old assumptions in favor of new concepts to get more people to ride. It's exciting to see new inventions address the age-old problem of human behavior. With ever more sustainability on the product front, resistance to "going by bike" is becoming more futile all the time.