With the J concept, Moustache Bikes has engineered a remarkable aluminum frame made in France, for e-bikes with an advanced geometry that makes them easy to handle.
Grégory Sand, one of the French company's founders, explains that "J" is not just another e-bike. It uses a two-part aluminum frame with no welding, which integrates motor, battery and suspension. Sand added that the J's suspension system and geometry make it particularly comfortable. "You're almost flying," he gushed.
The model has been three years in the making, as Moustache [12.0 / A08] worked with French manufacturing partners to create a highly technical frame. "The process of making this frame is completely unique," said Sand. Moustache used a gravity die-casting process, for a frame made from a single cast of aluminum. Along with the motor and battery, it integrated internal reinforcements. The construction enabled Moustache to produce "an open and full-suspension frame as stiff as a closed frame." Another integral part of the concept is that J comes with several options, making it suitable for commuting and more athletic pursuits.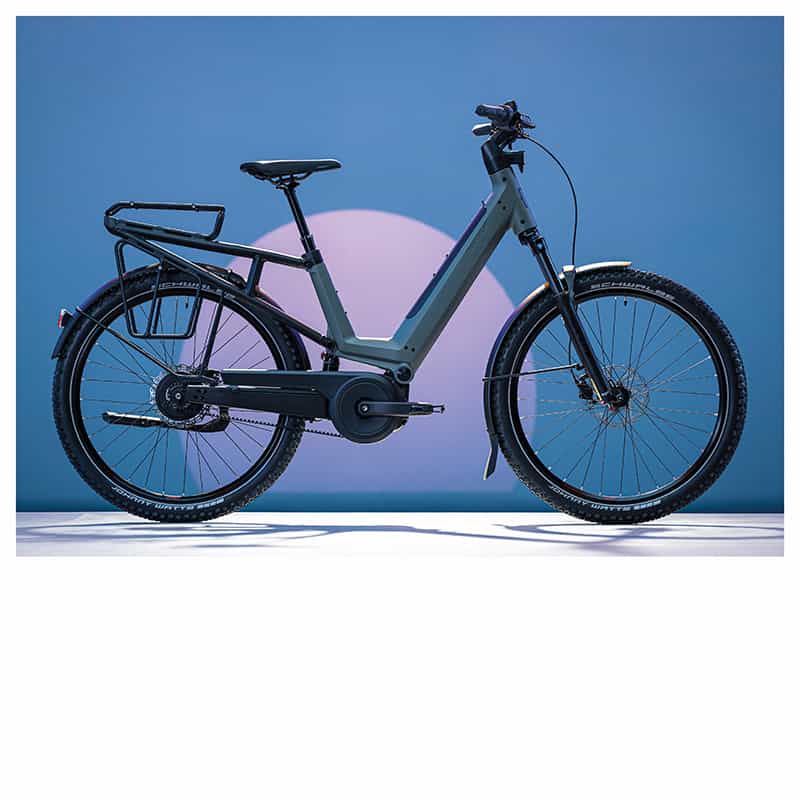 J stands for Jour Nouveau. Meaning "new day," it's a nod to the brand's habit of naming its bikes after the days of the week, as well as the innovation in the bike. The bikes are molded in Vitrolles, near Marseille, then machined in Poligny, in the Jura, and powder coated in Schirmeck, in the Alsace. The bikes are assembled at Moustache's own plant in the Vosges.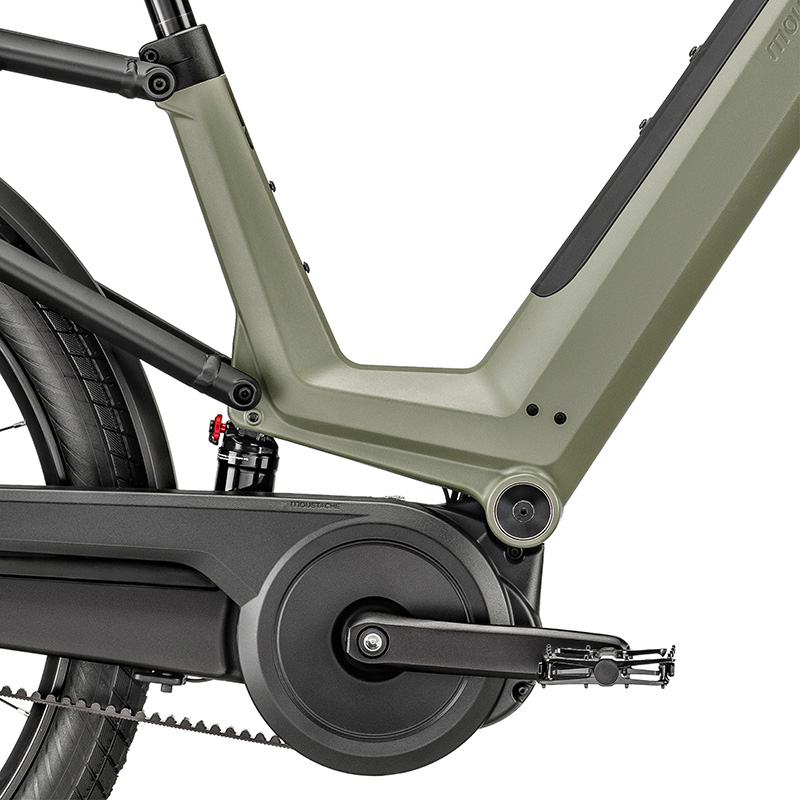 Sand launched Moustache in 2011 with Emmanuel Antonot, formerly at Lapierre. They saw electric assistance as an opportunity to encourage more people to leave their car in the garage. For the same purpose, Moustache's bicycles have gear systems that are particularly easy for beginners to use. The J is central to Moustache's expanded presence at Eurobike this year. It comes as the company is investing in its team and distribution in Germany and Austria. Steffen Krill has recently been appointed market manager for the two countries, after more than 20 years in the industry.
Moustache is investing in its own infrastructure as well. Work is underway at its plant in Thaon-Les-Vosges, for an enlargement of about 30% to 15,000 square meters to be finalised at the end of this month. The factory should be fully powered by solar panels, and it will be equipped with a rainwater recovery system and electric charging stations. Moustache's plant takes care of assembly, and the firm has been gradually taking over more outsourced tasks, such as the production of its own wheels.
The partnership with French suppliers for the J fits with Moustache's goal to try and make its supply chain shorter and more sustainable. The construction uses a primary aluminum alloy from French and Italian suppliers, refined directly from the raw ore. All waste and excess materials are recycled by remelting. Sand said that the company was envisaging a take-back scheme that would make it easier to recycle used bicycles, several years down the line. The powder coating painting process doesn't use any solvents.
Sand said that Moustache turned out more than 60,000 bicycles and chalked up sales of a little more than €130 million last year.