Amidst the urban chaos, e-bikes are emerging as a dynamic solution. They effortlessly manoeuvre through crowded streets, overcoming the challenges of traffic and parking limitations. With their electric assistance, urban e-bikes promote efficient and sustainable commuting, redefining mobility in the city and paving the way towards a cleaner and more accessible urban environment.
E-bike brands are wholeheartedly embracing technologies to enhance the urban biking experience. By integrating cutting-edge technologies, urban bicycles are evolving into high-tech mobility solutions, optimising the way people commute in cities.
With more than a decade of experience in the development and production of e-bikes, and driven by their commitment to innovation, performance and sustainability, Smartmotion [Hall 9.0 – C04] is a prime example.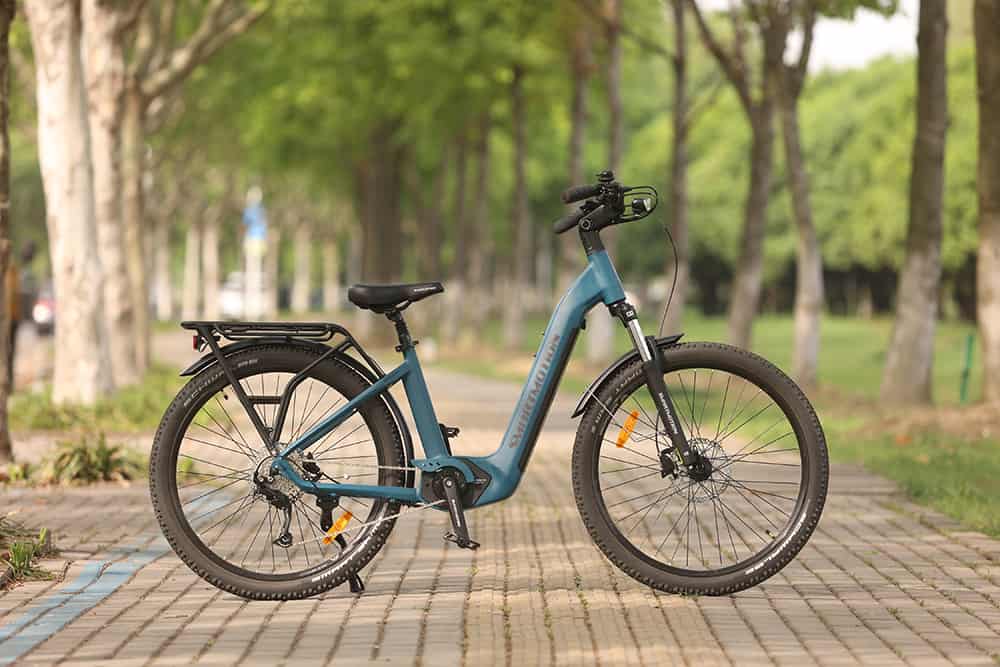 Their latest offering, the Xcity Neo Gen6, builds on more than a decade of e-bike expertise. Boasting a sleek design with a low-step frame, enhanced durability, and advanced features like a weld-free downtube and motor mount technology, the Xcity Neo delivers elegance and robustness. The Motinova mid-drive 250w motor system ensures a smooth and silent ride, while the smart mode, previously introduced on the Hypersonic model, introduces a hands-free electric power assist mode allowing riders to choose between the Sport and the Tour smart mode and experience the sheer joy of their journey.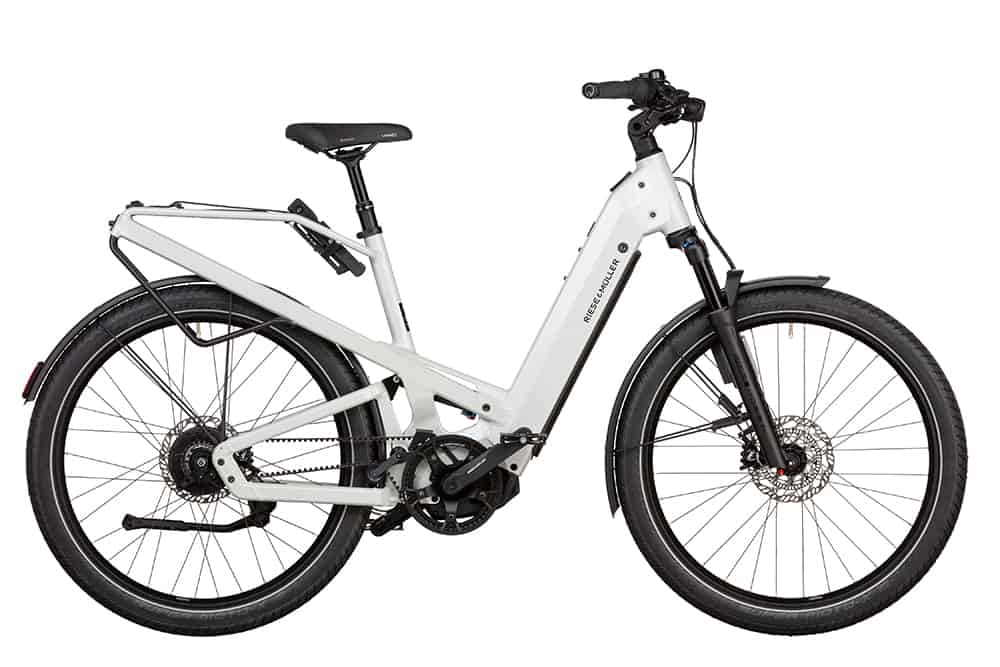 Riese & Müller [Hall 12 – A13] is a leading brand in the industry that's renowned for innovative e-bikes and an unwavering focus on the riding experience. Offering a low step-through frame and equipped with Riese & Müller Control Technology featuring full suspension, the Homage4 delivers a riding experience defined by comfort and safety.
For those seeking to venture farther or conquer challenging terrains, the optional DualBattery with an impressive 1,250 Wh capacity extends the range to 150 kilometres.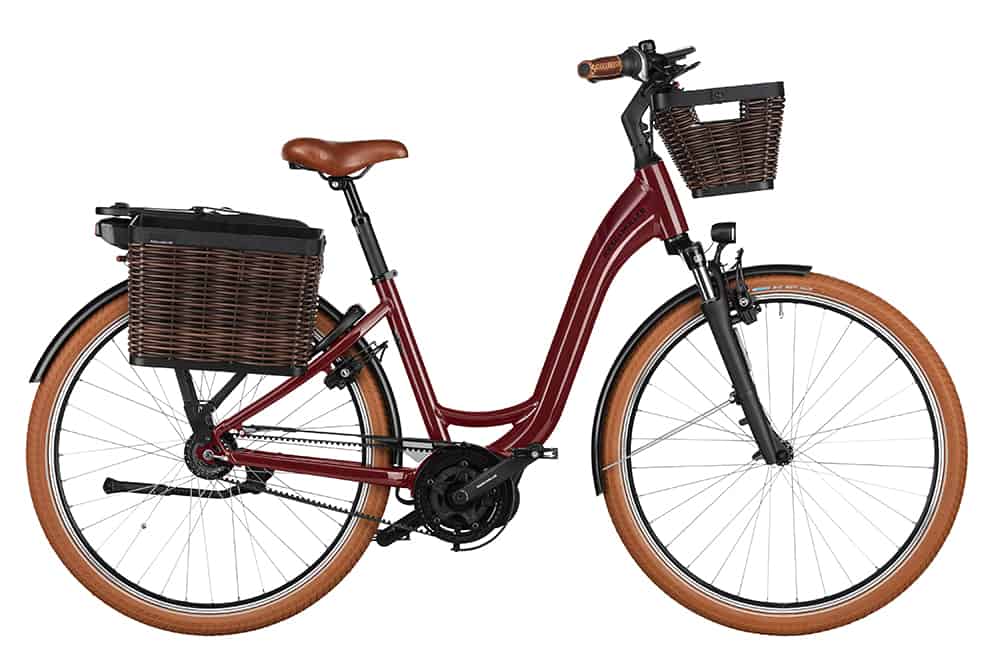 Also featuring a suspension seatpost and a low step-through frame, the Swing4 seamlessly transitions between urban streets and scenic landscapes, propelled by its robust Bosch Performance Line motor and a 500 Wh luggage rack battery.
Launching at this year's Eurobike, the Goroc TR:X is the new crossover e-bike from Flyer [Hall 12 – B14]. With the Pinion e-drive system, it easily navigates bustling city streets while providing the extra power and versatility for memorable multi-day explorations. Crafted from premium carbon, the high-quality main frame of the Goroc TR:X provides a direct riding experience, complemented by a full-suspension frameset with 130 mm travel for optimal comfort, while integrated features such as the headlight, rack, and fenders ensure rider safety and convenience in any weather or time of day. The FIT E-Bike Control app offers a multitude of intelligent features such as navigation, range estimation, tire pressure monitoring, weather forecasts, and incoming call notifications, while the FIT Digital Key provides reliable theft protection.
Another e-bike designed to handle city trips and longer adventures is the new city/trekking Kagu Pinion from Simplon [Hall 12 – H38].
Receiving an update with the new Pinion e-drive system, combining an electronic gear shift with 12 gears and a powerful motor with 90 Nm in one unit, and complemented by a belt drive, the Kagu Pinion offers better handling and minimal wear. The flexible battery system delivers battery power up to 1430 Wh for extended riding while the carbon frame offers a balance between weight, rigidity and durability, enabling it to effortlessly handle up to 160 kg and thus making it perfect for both commutes and longer rides with heavy loads and luggage.
Hitting the market just recently, the 46er from Benno bikes [Hall 12 – A15] sits in the category of utility e-bikes, or Etility as Benno calls it. It's both a regular e-bike and a cargo bike. Made with a strong rear and a sporty front, it's built for people who want the best of both worlds.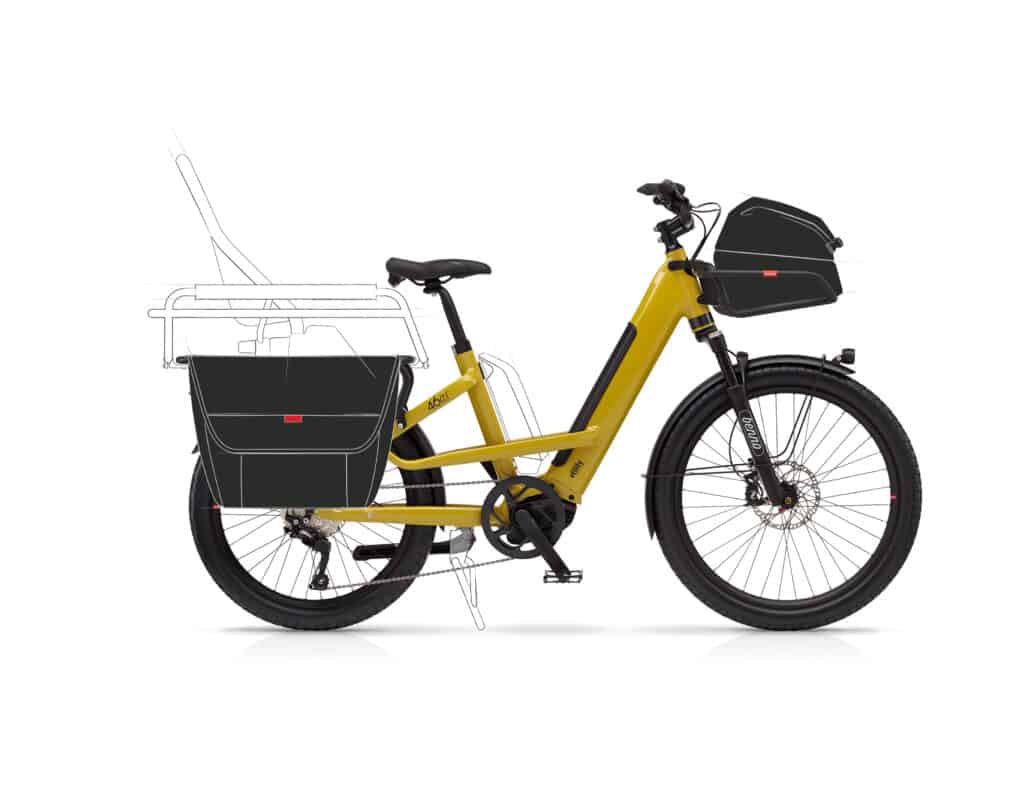 Capable of carrying up to 190 kg (max gross weight) thanks to a wide range of accessories, it combines a 24-inch rear wheel and a 26-inch front wheel with suspension for a sporty yet comfortable ride. In Europe, the Benno 46er comes with the powerful Bosch Performance line CX system and a second 500Wh PowerPack battery can be added.
Based in Bordeaux, France, Jean Fourche [Hall 9 – B11] introduces a highly customizable and versatile e-bike that seamlessly integrates into the urban utility category. With production in Portugal and final assembly in France, their exceptional frame design remains consistent across both the standard and electric variants, accommodating riders with heights ranging from 1.50m to 1.90m. Weighing a mere 23 kg, the electric model boasts an impressive maximum load capacity of 170 kg, positioning it as a nimble and robust workhorse purpose-built for city environments. Equipped with an 80Nm motor meticulously engineered by the renowned French company Virvolt, this e-bike exemplifies longevity, featuring easily serviceable and replaceable components.
Tern [Hall 12 – A04] is a brand that also knows a thing or two about accommodating all kinds of riders. With a mission of getting people out of their cars for relatively short trips, they needed "to make biking more accessible, comfortable and safe for everybody", says Josh Hon, Tern's 'Team Captain'.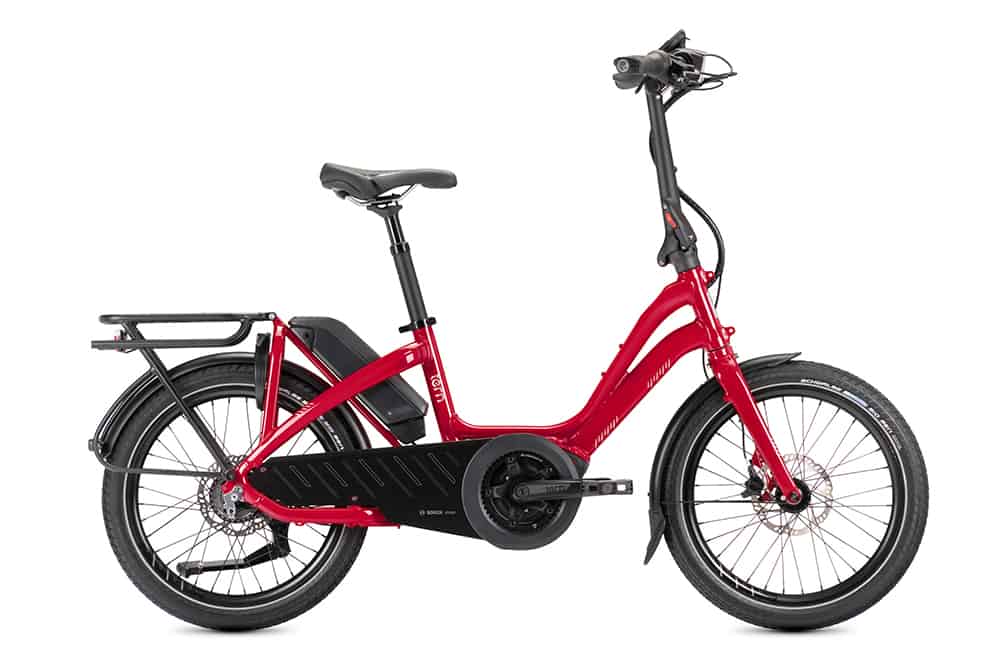 With this goal in mind, the NBD presents itself as a premium Bosch-powered e-bike tailored for urban living, emphasising its ultra-low step-through frame enabling effortless mounting and dismounting, while a low centre of gravity and elongated wheelbase enhance stability. Its frame and fork undergo rigorous EFBE Tri-Testing to accommodate a maximum gross vehicle weight of 140 kg, prioritising rider safety. An adjustable cockpit further enhances manoeuvrability, making the NBD a user-friendly and comfortable e-bike suitable for riders of all levels of experience, and folds down for compact storage.
Another popular choice for city dwellers due to their compact size, easy storage and convenient mobility in urban environments are folding bikes.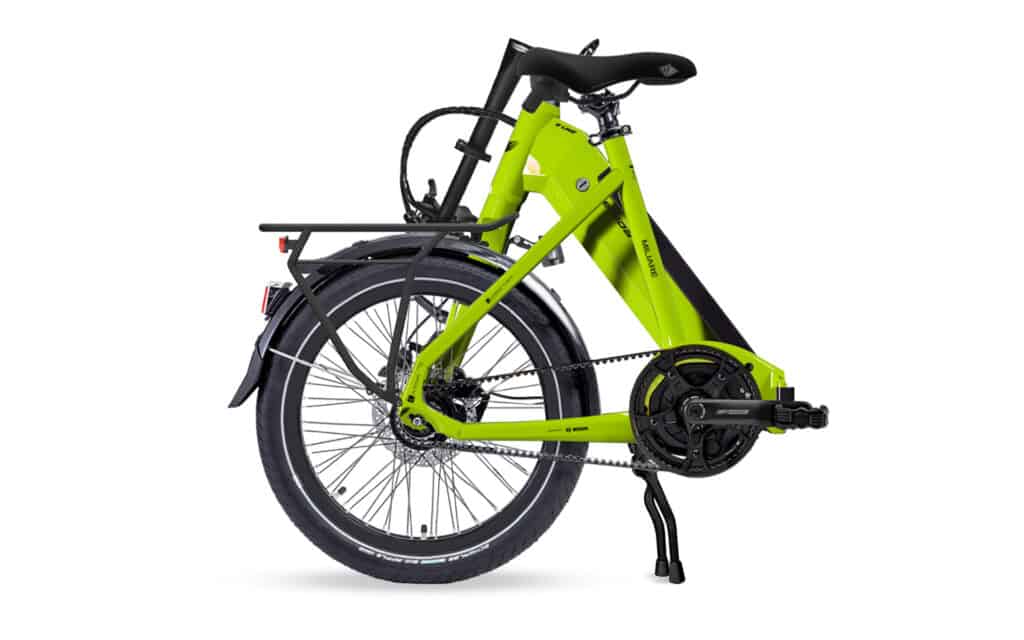 In that category, the Hungarian brand Gepida [Open Air Ground F11 – B1], established 30 years ago this year, offers a range of reliable and efficient Bosch-powered folding e-bikes. The Miliare Nexus 8, features a robust and reliable Powertube 500Wh battery that is seamlessly integrated into the hydroformed frame, providing an impressive range to keep you going throughout your daily adventures.
The latest integration to the Ahooga [Hall 12 – C26] range, the Ahooga Max, is all about integration. It features an integrated removable battery, integrated lights and Shimano Nexus internal shifting hub.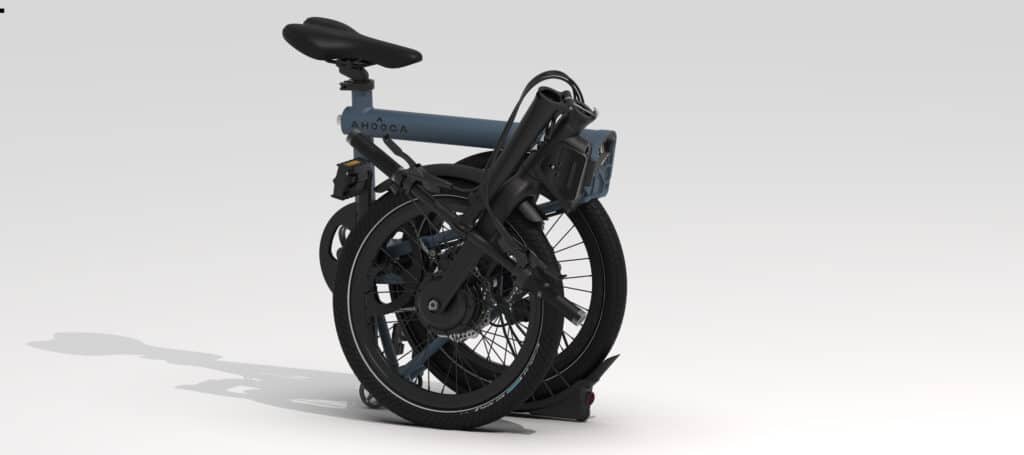 Unlike previous electric Ahooga folding bikes, the Ahooga Max features a front wheel motor. Also, in addition to the rear wheel folding within the twin tube, the front wheel folds parallel to the frame, eliminating the need to disassemble the front wheel.
Another player in the folding category, Vello [Hall 12 – C12] introduced the Bike+ GEARS.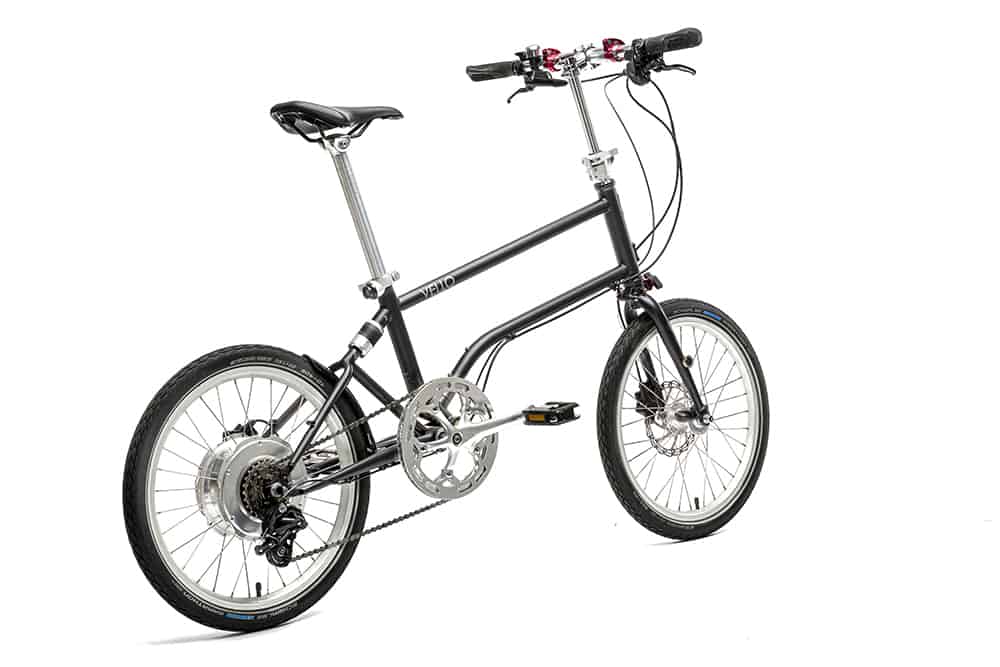 It starts from €3,090 and weighs 14.4 kg or 13.4 kg in the titanium version. The Vello Bike+ range is built around the Zehus platform, a self-contained motor and battery integrated into a hub-based system. The Zeus system offers 250w of power, up to 40 Nm of torque and a regenerative braking, increasing the already impressive 75 km range. The 3-speed derailleur can be paired with a Schlumpf Speed or Mountain Drive, doubling (2×3 speed) the effective gear range of the bike.
Founded in Madrid, Ossby [hall 11 – D07] set itself the mission to design and manufacture sustainable innovative electric vehicles to move around the city using recycled materials.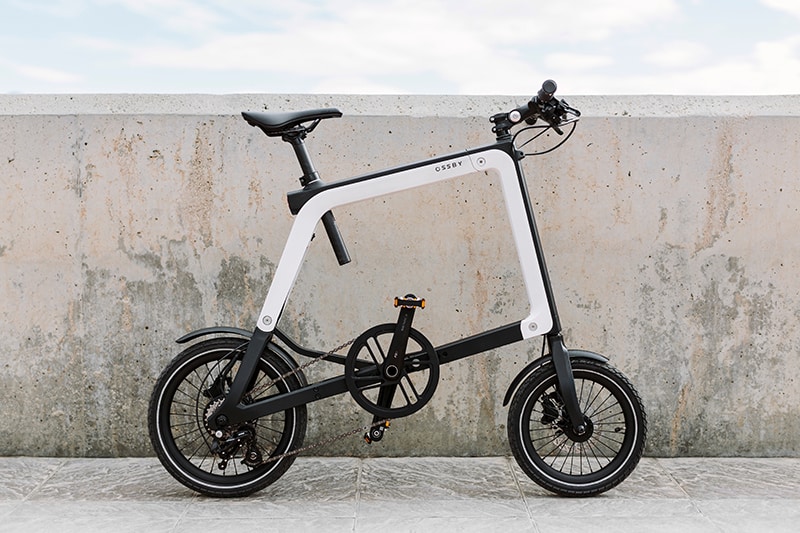 Ossby GEO's frame is no exception and is made of vegetable resins and recycled fibres. This new e-bike model is designed and manufactured in Spain. Among other features, the Ossby GEO boasts a one-second folding mechanism, a carbon fibre fork, integrated rear LED light, a 250W Bluetooth motor paired to an exclusive App, an integrated 7ah battery, offering a range of over 50km.
Many e-bike brands have been placing a great emphasis on style, blending sleek designs, trendy aesthetics, and fashionable elements to cater to consumers seeking not only efficient transportation but also a stylish and eye-catching ride.
French brand Voltaway [Hall 9 – C24] has introduced its Cupcake folding e-bike range, combining the convenience of folding, with a gooseneck frame and fat 20-inch tires. Designed to provide a comfortable and upright riding position, the Cupcake e-bike features a height-adjustable stem and offers the choice between a 13Ah or 17Ah battery for extended range. Voltaway is currently in the process of establishing its own assembly factory in France, with plans for it to be operational by spring 2024. This move signifies the brand's commitment to local production and highlights its dedication to meeting the growing demand for e-bikes.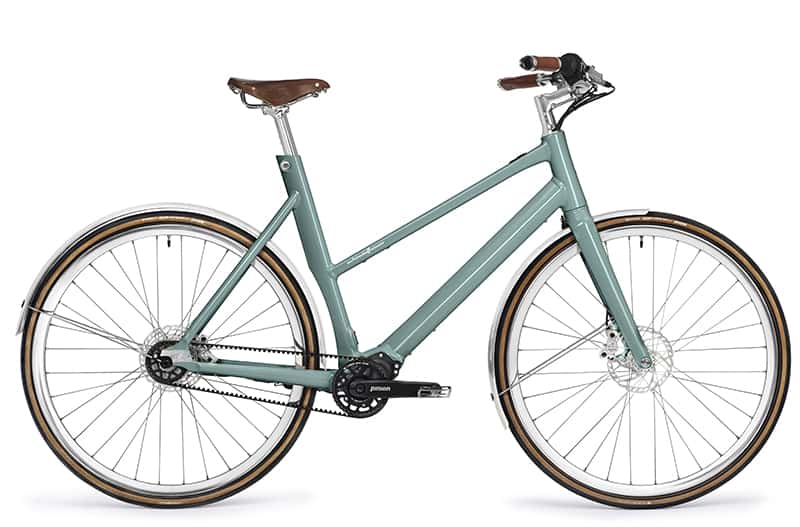 To cater to e-bike commuters, Schindelhauer [Hall 12 – C28] offers a range of stylish and functional bikes. The Arthur Singlespeed and Antonia are motorised versions of their classic bikes that seamlessly blend with their non-electric counterparts.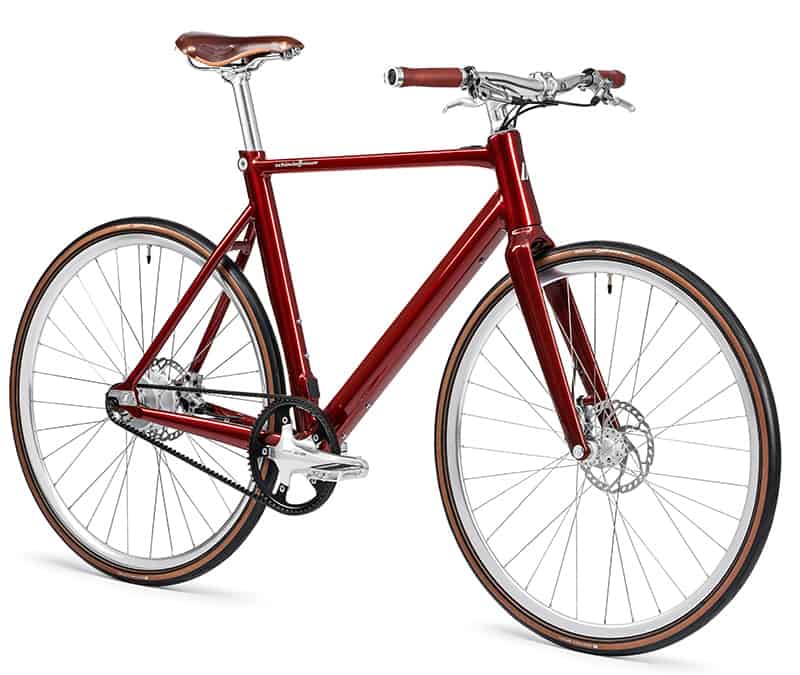 With a 250-Watt rear motor and a concealed battery in the downtube, the Arthur delivers a powerful performance while maintaining Schindelhauer's sleek design aesthetic. Weighing just 13.4 kg, the bike offers a sporty yet comfortable geometry, making city cycling effortless. It features a LightSKIN lighting system integrated into the seat post and handlebar. The level of assistance can be adjusted via the iWoc ONE button on the top tube, which also displays battery level. With the MAHLE Ebikemotion app, riders can access additional features like speed, weather data, and GPS navigation.
For the last seven years, Ruff Cycles [Hall 12 – B12] has been dedicated to the production of e-bikes. Their philosophy revolves around creating bikes that are not just means of transportation but true expressions of individuality and personal style. Their latest Lil'Missy model is no exception and stems from a belief that the traditional women's bike with a low step-through frame is out of fashion.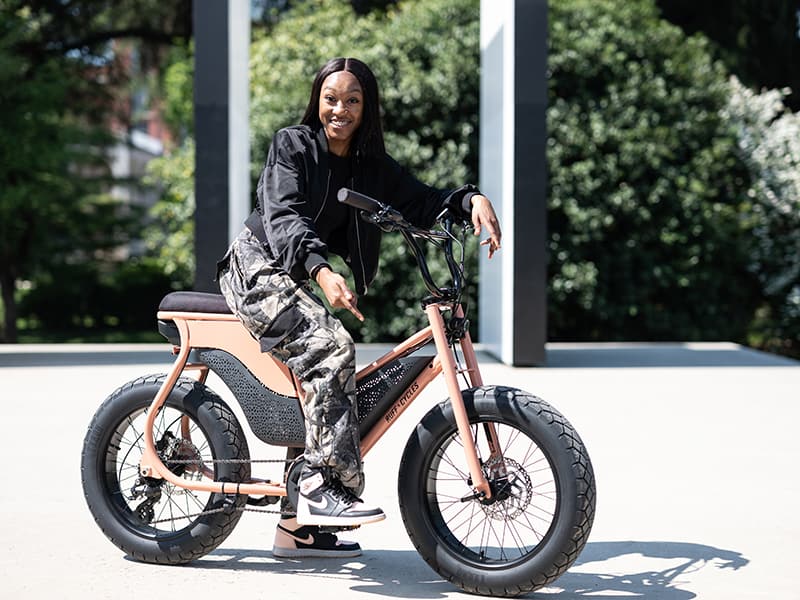 Featuring a stylish frame available in 6 six colours, the Lil'Missy empowers women to express their individual style while offering the convenience of a comfortable ride and also includes a basket for carrying items.Dutch moped manufacturer Brekr [Hall 8 – E09] unveiled its Model F this year, designed to appeal to individual style. Its aluminium covers come in ten different colours and can be easily interchanged. The bike also integrates an adjustable saddle height into the frame. The combination of interchangeable colour and saddle height adjustment is a huge advantage for the dealers who do not need to carry multiple bikes of different colours or sizes. The Model F also boasts a belt-drive system, a hub motor with two built-in gears, and the option to select from two battery capacities of 540 Wh or 720 Wh.