Yesterday the fifth annual Bike Biz Revolution brought together eight speakers from diverse sectors to explore the changes and challenges facing the bicycle industry. Changes included how we perceive our communities and how those changes influence the user experience with respect to a variety of factors, such as mobility. Among the challenges, market disruption and a deep divide between desirable and realistic outcomes for the bike industry in the future were cited by speakers. This year's edition attracted 90 registered participants.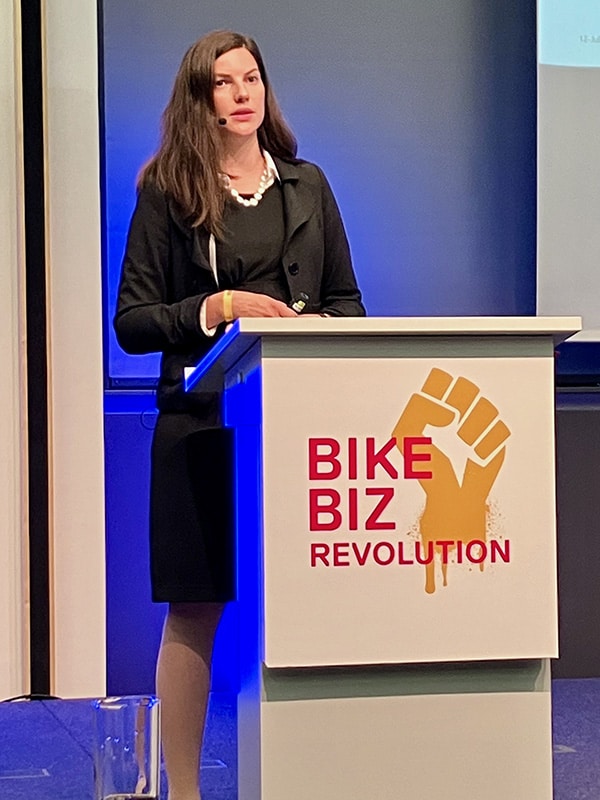 Moderator Frank Puscher opened the half-day conference with an overview of various business models and how digital tools can be leveraged for the benefit of business, for example how to produce online events in a way that's both exciting and entertaining. To set the conference tone, he also pointed out how customers and their behavior are changing and how those key characteristics are driving commerce.
How we live in the future will be shaped by the steps we take now, according to Christiane Vargara, a trend and futurologist, who deals with the different facets of this question. New, overlapping forms of working, living, commuting, and existing in shared spaces with more emphasis on "togetherness" are the innovation drivers. Digital platforms, such as reimagined bike sharing, which support this feeling of "neighborhood" will lead to totally different kinds of exchanges and commerce (both digital and analog) among consumers.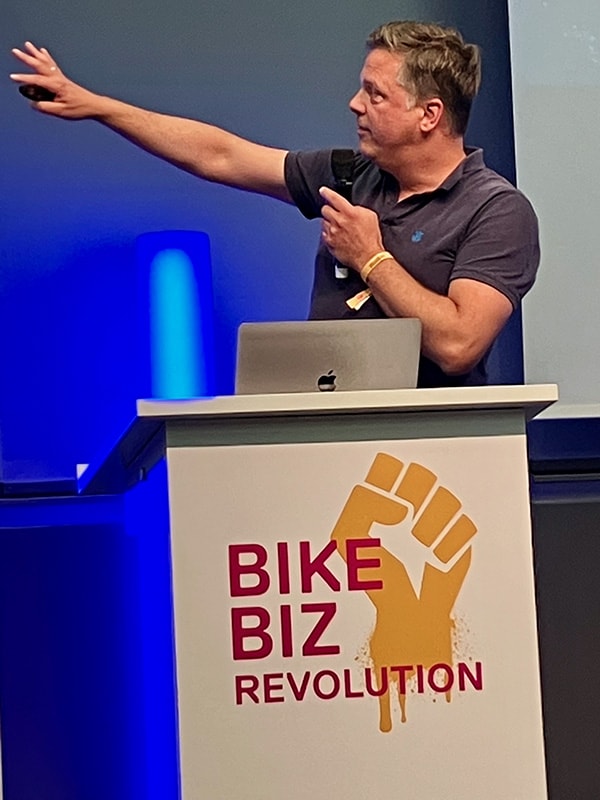 The future, however, has two incompatible outlooks, based on a survey conducted by White Octopus, a Berlin-based transportation-focused design and strategy firm. 21 experts with industry know-how were asked a range of questions for both a desirable outcome or a realistic one for the bike industry by 2042. Desirable scenarios included state funds used for infrastructure, improved bike infrastructure both in cities and rural areas, and competition for young talent to work in the bike industry on par with other major industries. There was no dominating perception of what a realistic scenario would look like. The one point that the contrasting scenarios did agree upon was the bicycle's social acceptance by 2042, when the bicycle would be number one in terms of mobility.
What customers want is largely influenced by social changes and how a product or service can best serve the human need for connection. The transactional business model has largely been replaced by the relationship business model, in which brands offer customers ongoing access and value in exchange for growth over the customer's lifetime, and revenue tied to customer usage. Today's consumers are shaping the mutually beneficial models for the future that were presented yesterday.