Before the show, Bosch eBike Systems (12.0/A13) had announced a new anti-theft function and a much more compact second-generation ABS system. Both only work with the Smart System that thus far has been the top offering of the brand. On Tuesday, the company revealed the technology will trickle down to lower price points for 2023.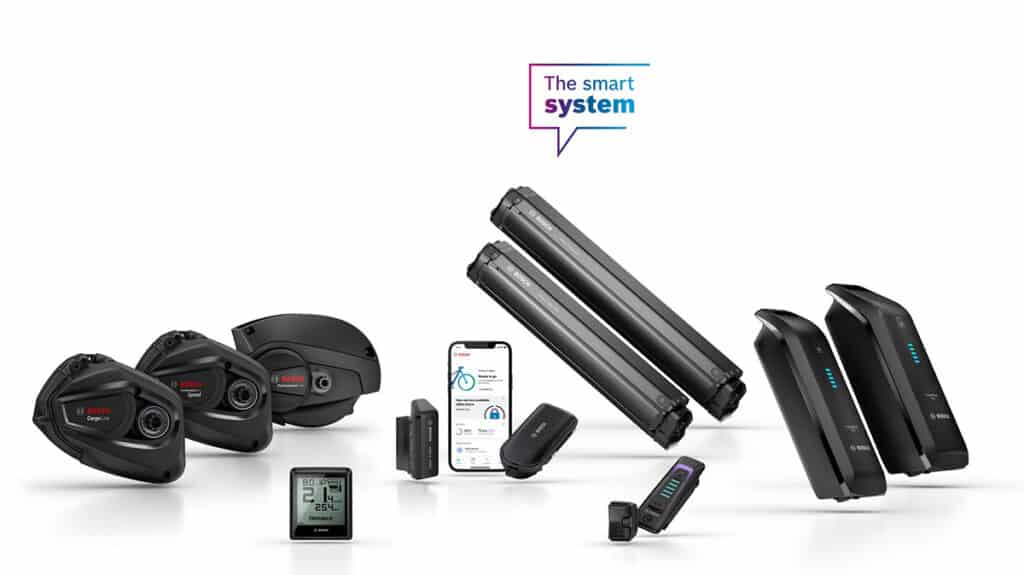 When Bosch eBike Systems launched the next generation Smart System of its drive systems at last year's Eurobike, it was offered only as an ecosystem of its own in one configuration, with the Performance Line CX mid-motor, a Powertube battery with 750 Wh capacity and a Kiox 300 display. This positioned the Smart System at the very top of the range from Bosch eBike Systems. Thus the additional possibilities in terms of connectivity and added functions to Bosch's Flow App were only available for those affluent enough to opt for a top-of-the-range e-bike. At the same time, Bosch stressed that its second-generation ABS system only worked with the Smart System.
At a presentation on Tuesday, Bosch announced a major expansion for 2023, giving bicycle manufacturers options to bring this novel technology to lower price points and to all kind of bicycles with electric assistance. Given the constraint in supplies of electronic components, rolling out the new firmware in small numbers as the very top of the range turned out to be a smart decision by Bosch. But this will change for 2023 as the novel technology that is not compatible with older systems is trickling down to more offerings of the market leader in mid-motors, covering various uses and needs.
In addition to the Performance Line CX, the Smart System will now also be available for the more affordable Performance Line unit, the Performance Line Speed unit for speed pedelecs and the Cargo Line mid-motors. With the Intuvia 100, there will be a simpler and more affordable choice for the display as well. For all e-mountainbikers who felt the Smart System remote control was too exposed on the handlebar, Bosch adds a System Controller that can be built into the top tube and offers just two functions – on/off and support mode, with a Mini Remote on the handlebar for navigating through the screens on the display.
The choice of battery offerings for the Smart System also gets much wider: as for the integrated Powertube battery, Bosch eBike Systems adds two smaller options with 500 Wh and 625 Wh respectively. This is a welcome addition for manufacturers prioritizing weight over maximum range. And since cargo bikes, recumbents and trikes often rely on the external Powerpack batteries, these will also become available for the Smart System with either 545 Wh or 725 Wh capacity.