New tools matched to new technology and improvements to workshop staples
Every dedicated mechanic will have perennial tools that would be recognisable to anyone working on bikes twenty or thirty years ago. Yet, as technology moves on, so do the tools needed to service and repair bikes. Driven by the increasing uptake of new features like tubeless tyres or lightweight proprietary parts, dedicated solutions for problems such as mending tyres without inner tubes or achieving reliable torque settings are just two ways the tool market is evolving.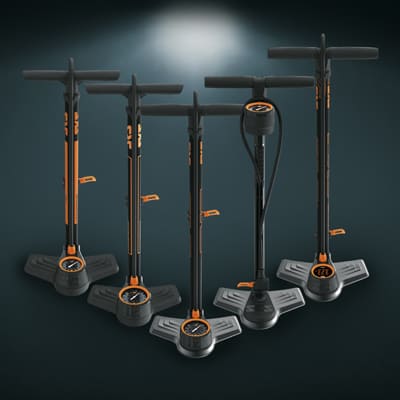 Of course, one thing that's been a constant almost since the bicycle's invention is the need to keep your tyres pumped up. Along with its range of compact multi-tools, a trip to the SKS [M0514] stand offers an excellent opportunity to see the German firm's recently overhauled range of floor pumps. Famous for launching the indestructible Renkompressor in 1966, SKS has now released a slew of five new models, each featuring its revised MV Easy multi-valve head. The cheapest of the quintet is the Airkompressor Compact pump. Made of light yet robust plastic, above it sits the full-size Airkompressor 10.0, which is equipped with a large precision gauge for optimum readability. Sitting a level above this, the Air-X-Plorer has an exceptionally sturdy metal base, steel main tube, and a high-pressure rating for higher usage applications. Taking inflation up to an even more sizable 12-bar, the even more premium Airmotion offers an extra-long hose and soft-touch handle to ensure getting there is a comfortable experience. Finally, bringing its pumps right up-to-date, SKS' Air-X-Plorer Digi incorporates a smart digital pressure gauge for instantly readable values and exact inflation.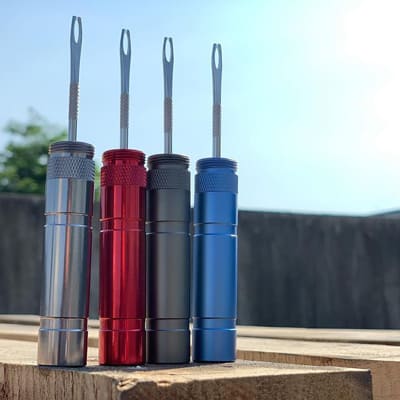 Besides pumps, the advent of tubeless tyres has left many riders needing a new host of tools to keep their tyres in top condition. With this in mind, Shianglong Cycletool [K1133] has recently expanded its range to offer a spectrum of compact and brightly coloured tools for tubeless tyre repair. These include carry-along plug kits, which nicely match its equally bright CO2 inflators. Likely to become increasingly standard items in rider's saddle packs or jersey pockets, their low weight and small size are sure to win them fans.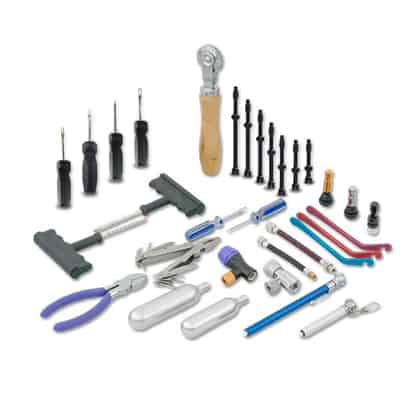 Also offering a neat solution for tubeless riders, Kronyo's [K0401] beautifully compact tubeless tyre repair kits are housed in a CNC machined aluminium capsule. Perfect for popping into your saddlebag, each contains a needle and five tyre sealing strips. With the capsule's head forming a convenient handle for operating the needle, this can be specified in either a 4mm or 3mm diameter. Ideal for getting yourself back underway if your tubeless tyres suffer a puncture while you're out riding, Kronyo also offers a vast range of workshop tools. These include its tyre repair bag, which covers various instruments, adaptors, inflators, and patches for working on all sorts of tyres and tubes.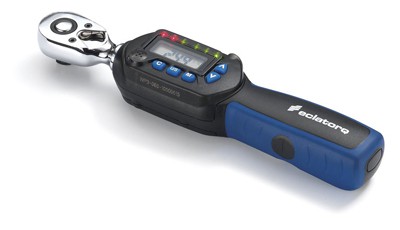 With bike frames and components increasingly switching to carbon fibre, plus the rise of complex proprietary parts, mechanics need to be mindful of working to the correct torque ratings. Helping them do just this is Eclatorq Technology [DigitalGo Only]. Producing a broad spectrum of digital display torque wrenches, these are suitable for both professional and home mechanics. Creating standard full-size tools for maximum leverage, the firm also offers multiple compact wrenches. Usable with a selection of interchangeable bits, each features both a digital display and buzzer function. Once pre-set to the desired torque, both combine to alert their user when this is reached.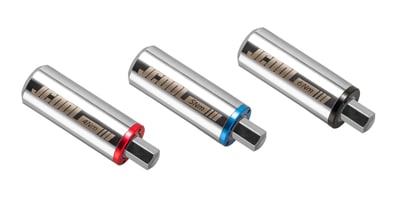 Similarly helping riders and mechanics set up their components to the correct torque is Jcool [K1206]. Minimalist in style, its pre-set torque sleeves slot onto the end of an Allen key or driver to provide one of three colour-coded torque settings. Preventing further tightening once either 4, 5, or 6Nm settings are reached, each promises an accuracy of +/- 5%. Also launching at the show is the firm's Speedy Torque tool. An adjustable torque wrench covering between 3-10Nm, its foldable handle results in an incredibly compact package. This includes ten of the most common bits accommodated around the tool's base for easy storage.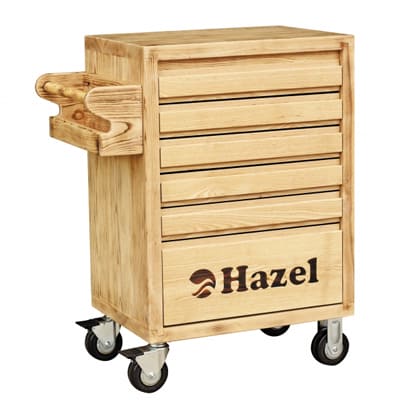 Of course, once you've rounded up a workshops' worth of quality tools, you'll need somewhere to store them all. Taiwan-based Hazel [DigitalGo Only], part of Best Friend Enterprise, creates a range of beautiful yet robust cases from FSC certified wood. From specialist individual tool cases to larger roller-style systems, its wooden trolley uses traditional mortise and tenon construction backed by CNC engineering. Attractive and functional, it can support up to 400kg of tools across its six separate drawers. Fully lockable, it combines perfectly with Hazel's extensive range of foam-cut tool storage options and is available to custom order.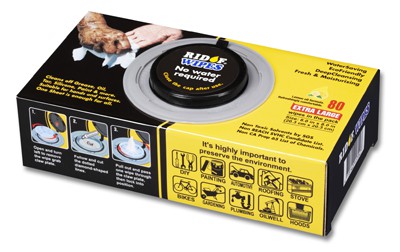 Finally, helping mechanics clean up once the job is complete, Donzee's [K1034] RIDOF wipes easily remove oil, grease, silicone, paint, grime, and adhesives from your hands. Available in various pack sizes, these range from continuous rolls of 336 sheets for busy commercial workshops down to individually wrapped sachets ideal for cleaning up following a roadside repair. Safe and non-toxic, they've been tested and certified by Swiss safety experts SGS.