Taipei Cycle Category Overview: Chains and Cassettes
As the cog-count on your drivetrain grows ever higher, unseen technology is helping the latest chains and cassettes keep pace. Two big factors are motivating chain makers. One is the quest to accommodate more sprockets. With the release of its new Dura-Ace and Ultegra products, Shimano has joined its rivals in offering 12-speed road groupsets. Providing roadies with the same huge range of sprockets previously enjoyed exclusively by mountain bikers, the number of gears an individual chain is likely to have to accommodate is only going to increase. A second motivator for innovation in the sector is the rise of electric bicycles, whose increased torque places even more demands on their chains. From practical city-going machines to mountain bikes and racers using the latest groupsets, chains are being asked to do more than ever.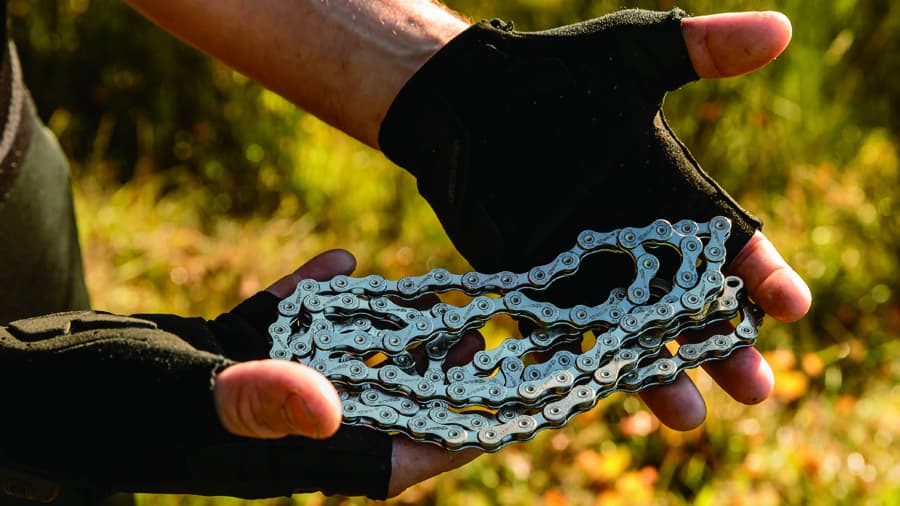 Tackling the mechanical challenges thrown up by the addition of extra sprockets and electrification, dedicated chain maker Taya [K0610] is also taking time to consider the environmental impact of its products. Its latest e-bike chains feature an exclusive Green Surface Treatment coating that's free from hexavalent chromium and complies with both RoHS and REACH standards. Proven to resist 1,000 hours of salt spray testing, Taya believes treated chains could sustain corrosion resistance for as long as 25 years. Also increasing chain durability is Taya's Super DHT (Diamond Hard Treatment) technology, which is now found on its e-bike chains. Increasing the chains' surface hardness by up to 125%, this helps them withstand the forces exerted by the 160Nm torque mid-drive systems for which they're approved.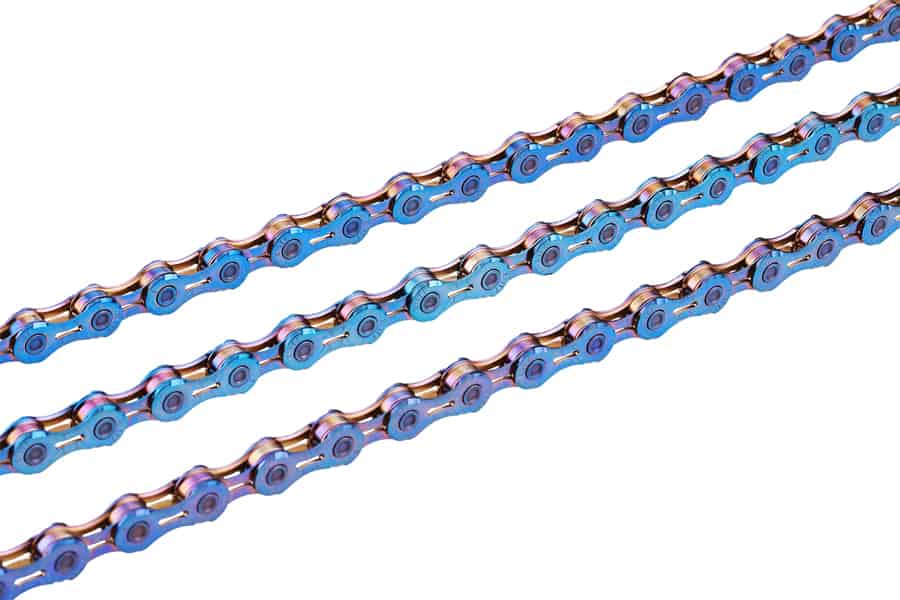 KMC [J0118] is offering a range of functional and attractive chains at the Taipei Show. Responding to the needs of hard-working cargo bikes, its range of e-bike chains has recently been joined by the dedicated e-Cargo Chain. Offering unparalleled tensile strength, it achieves a market-leading 1,350kgf rating, 30% higher than other KMC e-Bike chains and 50% higher than industry standards. Ideal for the hardest working delivery bicycles, it also offers additional security via enhanced anti-drop protection. At the other end of the spectrum, the firm's TT Racing Chain promises to ensure no watt is wasted. Designed for racing bikes that rely exclusively on their rider for propulsion, it utilises an embossed double X-Bridge and optimal chamfering to provide smoother integration with the chainring while improving shifting performance. Finished with a distinctive rainbow coating, it's an ideal match for the latest low-friction racing bike drivetrains.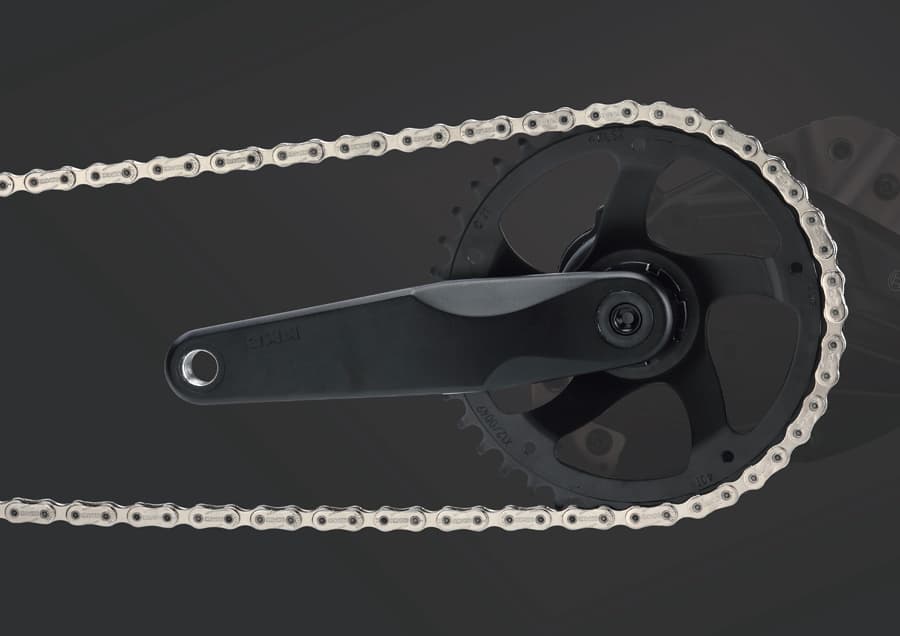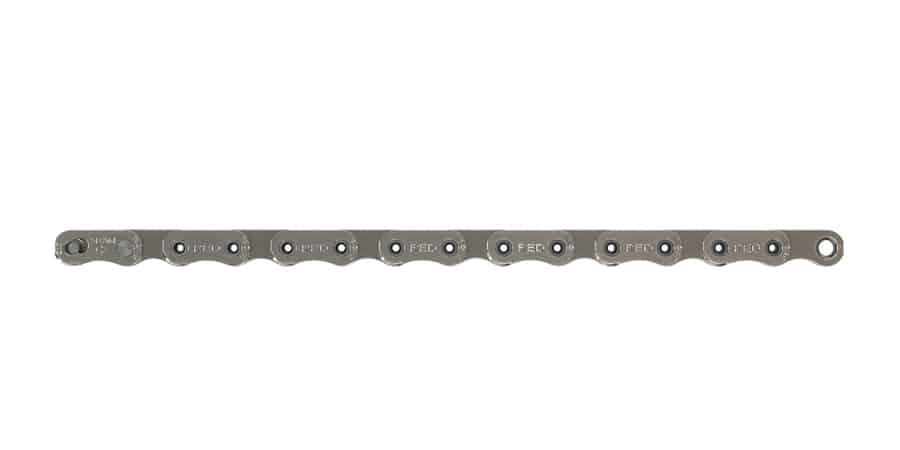 When it released its wireless and electronic groupsets Sram [M0612] also updated its chains. Besides providing incremental improvement to offer lighter, quieter, and stronger chains, their unique Flat-top design created a strong visual identity for an often-overlooked component. As their name would suggest, the links on these superlight chains combine to create an uninterrupted surface between chainring and cassette. One of the first firms to bring out a 12-speed groupset, Sram also offers more conventional-looking chains that provide an excellent after-market replacement for a range of different systems. Covering everything from the simplest single speeds, up to options for the latest super-wide ratio mountain bikes, most requirements are catered to at multiple price points.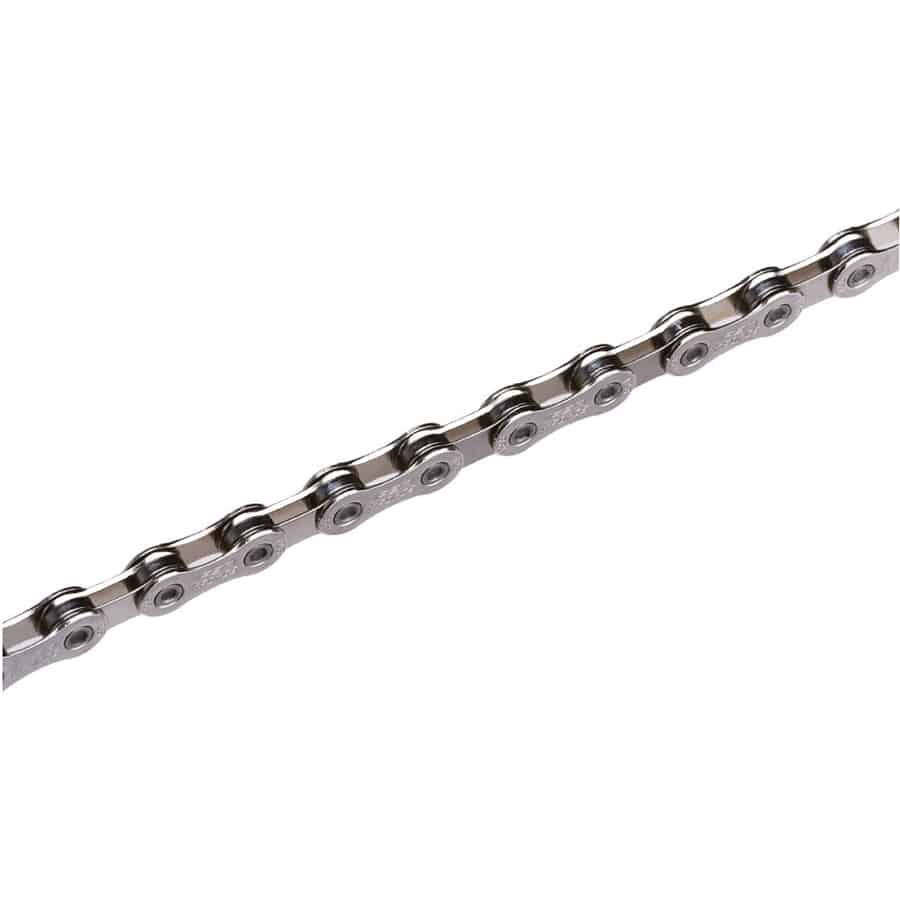 Sometimes overlooked compared to the big three makers, Full Speed Ahead's [M1012] K-Force WE groupset is a wireless system that offers many high-end features. Supporting it is a matching range of chains and cassettes that are also cross-compatible with groupsets from other suppliers. Sitting at the top of the firm's chain hierarchy are the 11-speed K-Force and K-Force Light models. These feature hollow pins to reduce weight, along with optimised outer plate shapes to limit shift noise. With plate chamfers designed to decrease sprocket wear and increase shifting precision, the K-Force range also includes a 12-speed mountain bike option. Besides these, Full Speed Ahead now also offers a complete range of chains covering 9, 10 and 11-speed drivetrains. Spanning Team Issue and K-Force ranges, these are ideal for workshop use on premium and workaday bicycles respectively.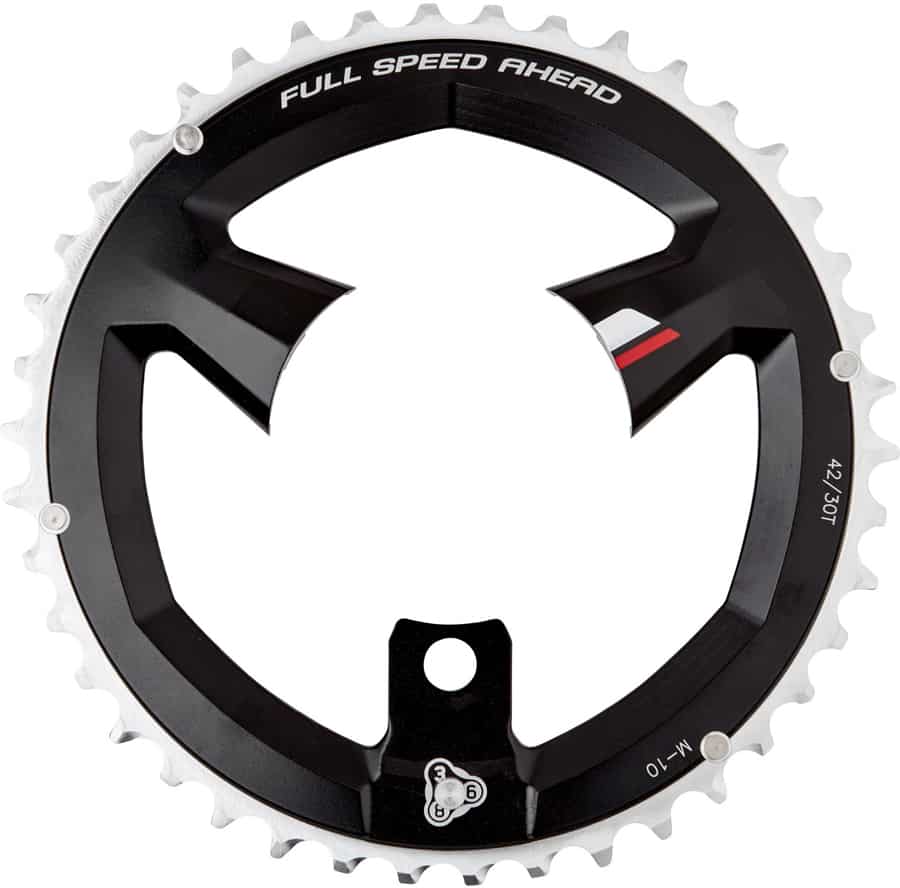 Falcon Tech [I1302] is another company making an extensive range of gearing components. It recently launched the GYR single chainring groupset for mountain and gravel bicycles. To match the other components in the range, it's created a selection of tough 8, 9, and 10-speed cassettes. Available individually, they're ideal for bike builders looking for a cost-efficient way to get on board with the trend for broad single-chainring drivetrains. The range includes an 11-46t 10-speed cassette, with 8 and 9-speed levels being supported by only marginally narrower 11-42t options. The firm has also created a cost-conscious 14-40t screw-on freewheel. All backed up by matching chains; these ensure Falcon can take care of the entirety of your gearing needs.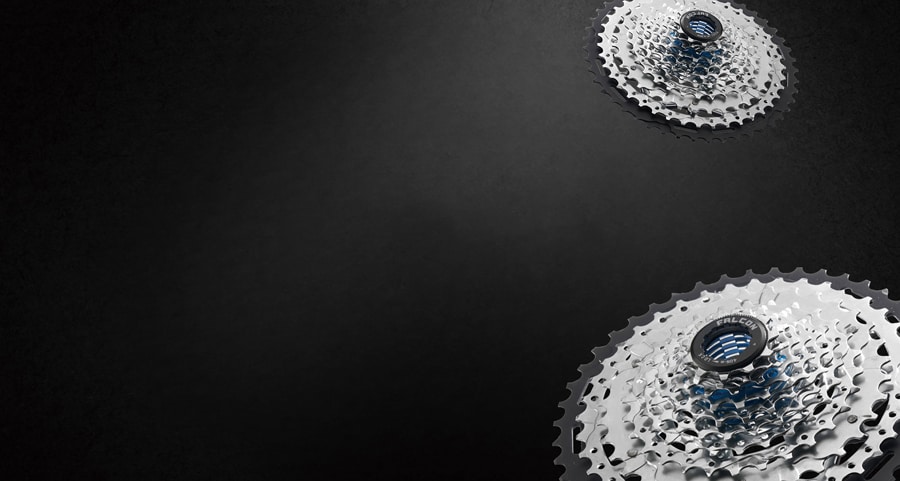 Another firm capable of supplying quality OEM drivetrain parts is LLL [I1328]. Established in Taiwan over a decade ago, it produces a range of parts, including cassettes. Now covering 10, 11, and 12-speed models, these are well matched to the latest trends, featuring wide ratios and maximum sprockets as big as 52t. At this year's show, it's particularly keen to promote its wide range of redesigned 10-speed cassettes. Each promises to be a perfect choice for producers of mid-range adventure and mountain bikes.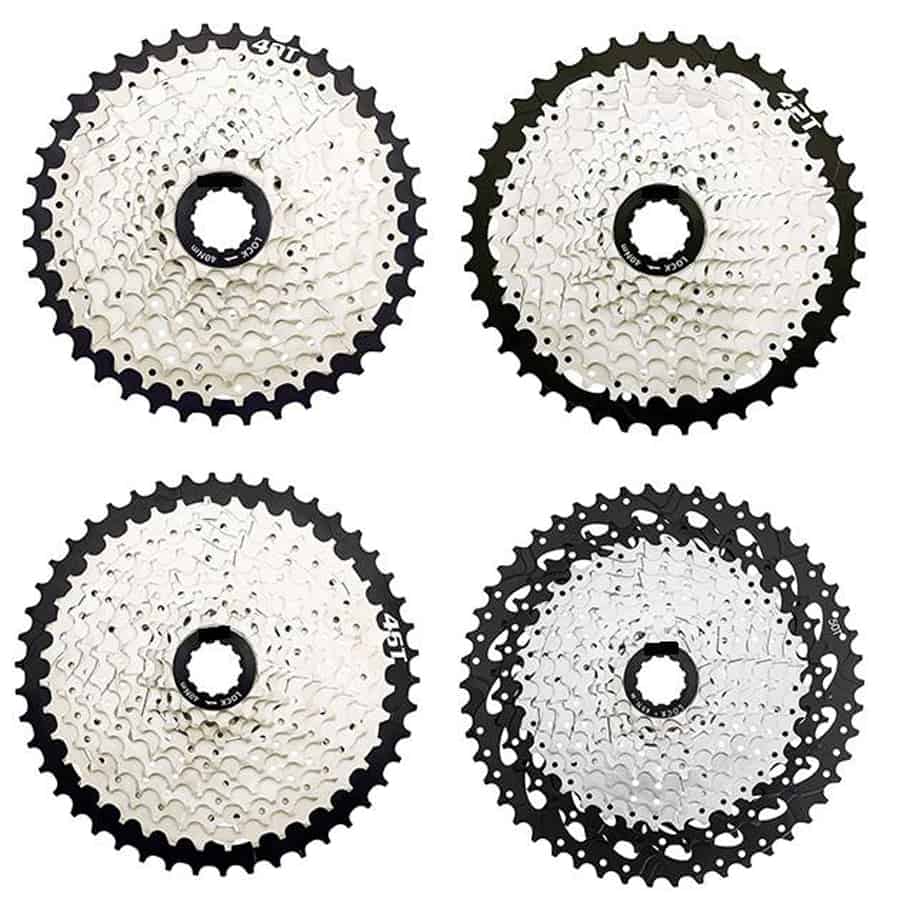 Finally, taking a very different approach is ATS Speed Drive [M0530]. This Taiwanese firm won't sell you a chain, but it will sell you an almost infinitely durable shaft drive system. Compatible with three, seven, and eight-speed Shimano hub gears along with Sram's three, five, and seven-speed systems, it's also capable of propelling single-speed drives. With no dirt and little maintenance, the firm is always ready to advise bikemakers keen to explore developing chainless designs.