From crates to e-bike frames (one every 90 seconds)
Thermo-injection specialist V-Frames [B2-103] says it can make a frame in 90 seconds, using hardly any human labor and resulting in a fully recyclable product. The first frames made with this German company's innovative technology are already hitting the markets in Germany and Norway.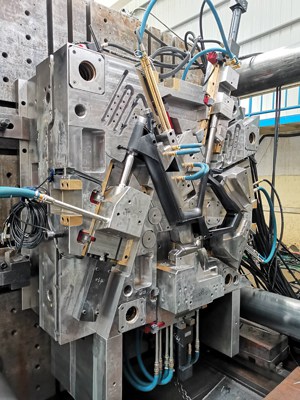 Ongoing issues with containers and sea freight, rising costs induced by high demand and repeated delays in production caused by outbreaks of the Covid-19 pandemic in Asia throughout the first half of 2021 have further amplified and accelerated the reshoring push. But bringing the industrial production of bicycles closer to the market comes with some serious challenges – most notably, the cost of labor in Europe is a lot higher than in Asia. One way to get around this challenge is to turn to automation, and German thermo-injection specialist Isoco is doing just that with its V-Frames subsidiary. Based in Thuringia, this company has become well-known for building plastic crates in many different sizes and colors – fully automated and in large numbers.
Using reinforced carbon-composites and seriously oversized tooling, the machines of this German company are capable of turning out bicycle frames as well – at a remarkable pace. A frame can be produced in 90 seconds. If a frame should not meet the tolerances or end up as a warranty case later on, it can be shredded and its material can get used again – a serious plus in terms of sustainability. One of the initial partners of V-Frames in getting this production method dialed-in has been EBike das Original, whose founder Helge von Fugler points to another big advantage of producing frames in Germany: "Rather than just getting one or two production slots for frames in Asia, we have monthly production slots in Germany. And we don't have to wait for frames to show up in a container, which cuts the carbon footprint of these Made-in-Germany frames in half."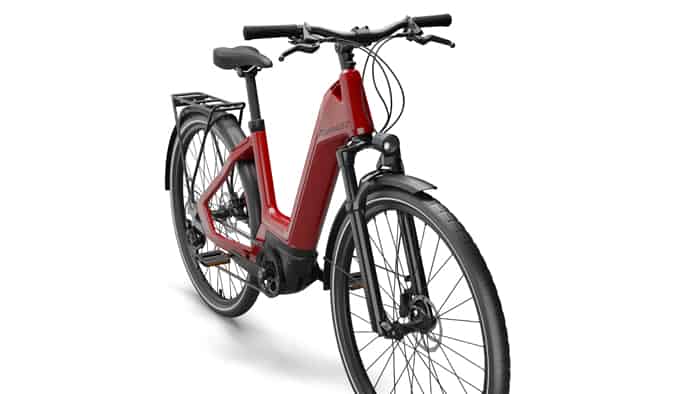 While the advantages of V-Frames's thermo-injection technique are appealing, there are some challenges to overcome as well. The major drawback of this production method is reduced flexibility due to high tooling costs. To keep these as low as possible, OE partners need to come up with smart frame designs that can fit a large range of body sizes. While Norwegian brand and early development partner Buddy Bike has opted for an x-shaped frame for its SX1 platform, EBike das Original relies on deep-instep designs for their Reco One trekking model and the upcoming Reco Two urban model. The difference between frame sizes lies in the seat tube that can be extended with two different lengths of stubs. The detailed fitting is done by using seat posts with various set backs and stems that offer both an adjustable height and reach. As von Fugler points out, the automated production in Thüringen allowed him to build additional e-bikes in the spring and summer of 2021 on short notice to meet the increased demand – something that would not have been possible with the limited production slots and capacities available in factories in Asia. V-Frames's general manager Michael Müller will be at the Eurobike show to find more bicycle brands willing to bet on thermo-injected, fully recyclable frames made in Germany as an alternative to frames built with traditional methods in Asia.