A greater understanding of how our bodies move is combining with innovative materials to produce saddles that keep riders comfortable. Whether it's a racing perch that's now better able to flex with the pedalling movements of the rider or a more upright e-bike saddle providing improved support to the sit bones of a commuter on the way to work, everyone is in line to benefit.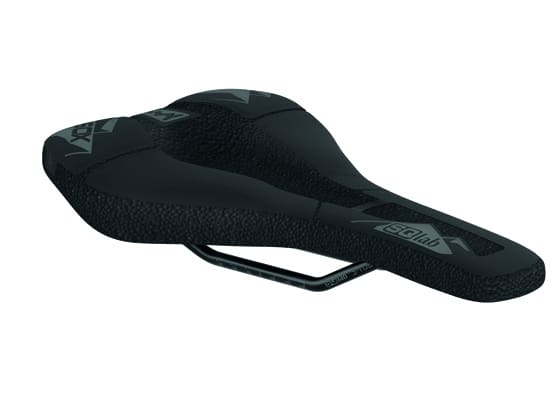 Entirely designed and produced in Germany, the 6OX Ergowave Infinergy saddle is SQ-Lab's [FG-A10/4] latest and most important project. Made to suit conventional and electric mountain bikes, it's a unisex saddle that comes in four different widths, allowing for the perfect fit for any rider. Benefiting from active technology, this allows a degree of lateral movement that increases comfort and reduces strain on the back. Integrated using slimline elastomers, the saddle's carefully considered shape also boosts comfort. Using the brand's Step profile, this has been refined over twenty years. Now medically vindicated, its design ensures pressure is placed to avoid pressing on sensitive structures, while the dip in the middle of the saddle ensures excellent blood supply. Created using BASF's latest Infinergy material, this collaboration ensures that the saddle benefits from the very best German design and technology.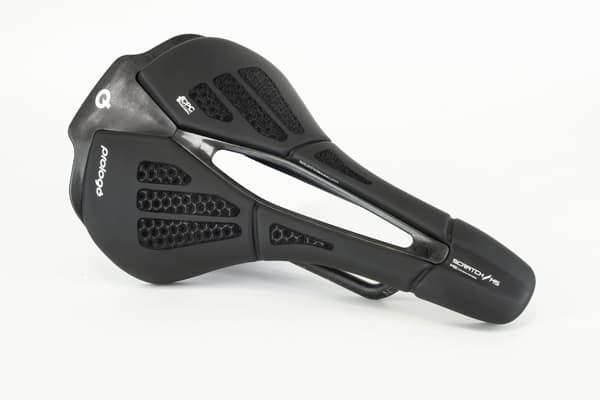 Having your saddle-support the winner at the Tour de France is a pretty big deal. Prologo has now managed it on two consecutive years thanks to its Scratch M5 CPC model. A radical looking design, the textured part of the saddle's surface uses something called CPC technology. Patented by Prologo for use in the cycling industry, these 3D polymer cones maximise the grip between rider and saddle. Crucial when assuming an aggressive position, it also helps riders to change position quickly when needed. Elsewhere, the saddle's new MSS Multi-Sector System has been designed in co-operation with the Polytechnic of Milan. Made up of independently flexible active foam pads, these support the body's natural movement when pedalling while also absorbing any remaining vibrations transferred upwards from the base of the saddle.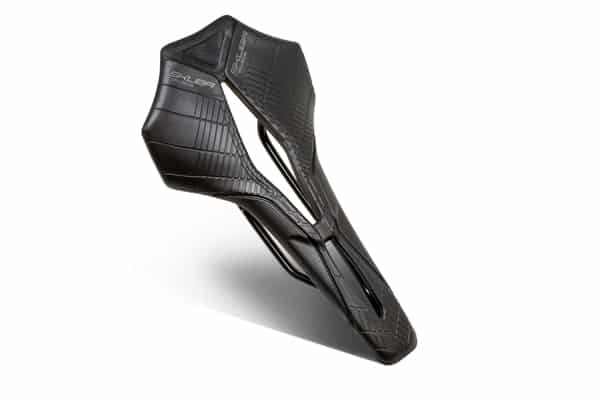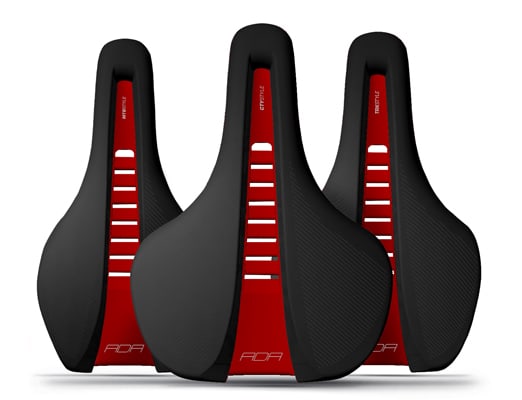 Established for over 100 years, Germany's Buechel Group [A5-102] produces a vast range of practical products. Among these is a wide range of saddles, including those made by the well-known Wittkop and Selle Esse brands. One of the latter's more radical products is the recently released Skuba saddle. Split almost its entire length by a pronounced cut-out, this racing saddle for mountain, road, and gravel segments features active energy distribution to balance the forces created by the rider. Even more radically, it's also made to be completely recyclable at the end of its lifespan. Taking an equally ergonomic approach, the Wittkop brand's Medicus and ADA lines benefit from cutaway sections with distinctive airflow channels. Again with an eye on sustainability, increasingly, these too can later be recycled.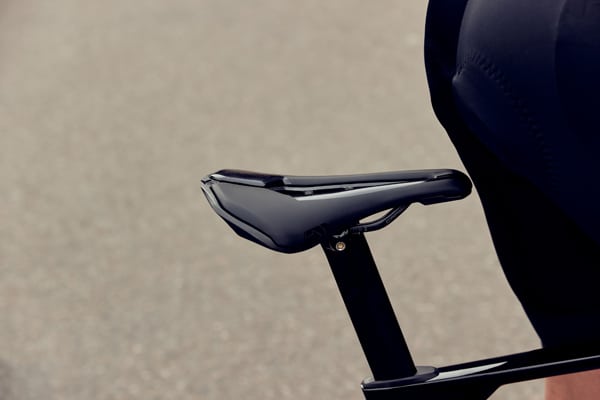 Shimano's [B3-300] component arm Pro has released new variants of two of its most popular saddle range. Both the new Curved and redesigned conventional versions of the Pro Stealth saddle aim to keep you aero for longer. First up, the Curved model is designed for those who shift from left-to-right in the saddle. To match this, the Curved range brings a new shape to the family with a curved profile, extended sides, and a weaved edge to ensure that riders enjoy a fixed position and don't slide back and forth. A new addition that brings the Stealth line up to ten saddles, existing designs have also been revisited. This has seen first-generation Stealth saddles, including the flatter profiled Team and Performance drop weight while getting an aesthetic overhaul to better match the rest of the range.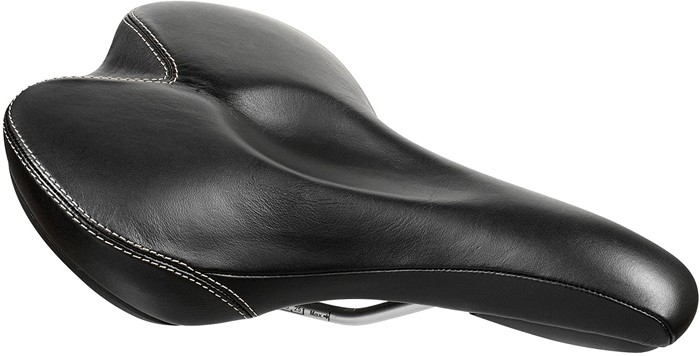 Given its name, Ergotec [A6-100] unsurprisingly specialises in practical products continuously focusing on improving ergonomics. Through its website, downloadable guides, and dedicated bike fitting tools and scanners it also advises riders on how best to set up their bicycles for their own morphology and style of riding. This same expertise is also applied to the brand's range of saddles. Covering Sport, Comfort and Relax models, all are subjected to Ergotec's famously stringent quality control testing.
Not itself a saddlemaker, Italy's Cybro Ind [B1-216] creates loud and attention-grabbing bicycles covering multiple segments, including conventional and electric road and mountain bikes, track bikes, and commuters. Its customised road and track machines now come fitted with custom-made saddles from compatriots Selle Repente. Uniquely finished for the brand in a style that mirrors Cybro's aesthetic and performance philosophy, you can see the results of this collaboration on display across the firm's stand.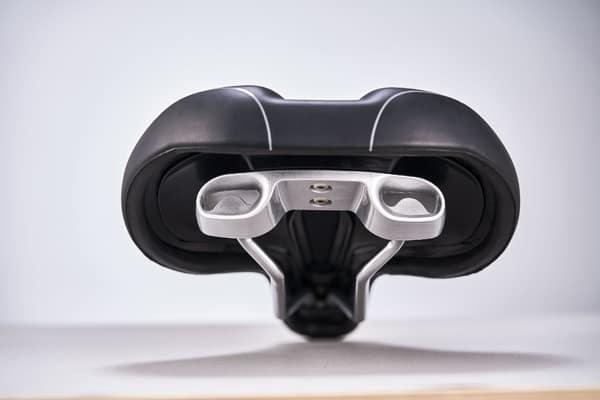 Saddle specialist Velo, one of several leading Taiwanese makers who were unable to exhibit this year, has recently launched a range of new saddles. Among the most exciting is the VL-3575. It features a base designed with a suspension shock absorbing system that extends from the centre to both sides. Allowing the saddle to follow the rider through a range of motion, such as when quickly turning or transferring their body weight, the result promises to be increased comfort and control. Finished with extra thick Airform padding for excellent support, anti-collision protection on both sides of the saddle prevents damage in the event of an accident. Designed for rider's who prefer a wide and comfortable saddle, Velo's VL-6450 features 'Wing Bow' shock-absorbing technology which isolates the saddle's rails from its base. Looking something like the exhausts from a jet engine, its cast aluminium structure can be seen when viewing the saddle from behind. More conventional to look at from above, its patented vacuum technology seamlessly combines the cover, padding, and shell for a fully waterproof construction. Wandering around the show in search of the latest saddles, visitors might find themselves confronted with a question also faced by consumers; which is likely to be the best fit? Velometrik [FG-A9/5] may have the answer. It offers the first independent referral advisory software for bicycle saddles. Allowing shops and fitters to find the best saddle for their customers regardless of the manufacturer. Available via a monthly subscription of 22€, the software currently collates data from over 1,000 saddles from more than 30 manufacturers. Besides digital services, Velometrik also offers hardware, including its Smart Cube digital sit bone measuring tool, which can be paired directly with its saddle advice app. Also offering a Smart Cover pressure mapping device, this innovative German firm is well placed to provide a more scientific route to your next saddle.