When Shimano [B3-300] found out that its apparel production partner in Romania was making backpacks out of airbags, it figured that the material would come in handy for cycling garments as well.
That was the starting point for the Revo mountain biking shorts. It takes less than two airbags to produce this garment, using upcycled airbag fabric that mostly comes from German scrap yards, and industrial waste from automotive security system producers. "The shorts could be used by any mountain biker, but the sturdy material makes it particularly suitable for the die-hard mountain biker, the real enduro rider," said Evert-Jan Haarhuis, senior product team manager at Shimano.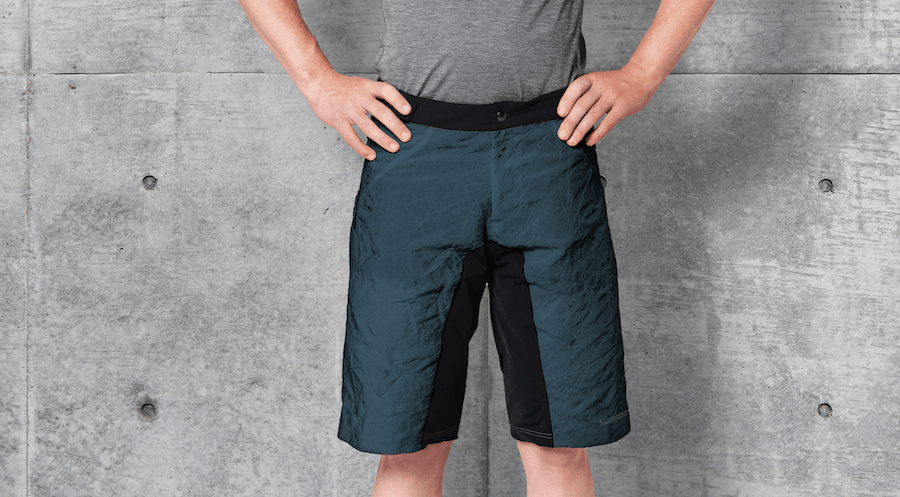 As Haarhuis explains, the production of the Revo shorts is quite a complex process, because the airbags have to be disassembled and cut again in patterns that are adequate for shorts. It's never quite certain how much fabric will be extracted from each airbag, given that it may have been deployed or torn. An advantage is that the structure of the fabric used for airbags has an interesting, somewhat shiny appearance when dyed. Shimano added fabric for the crotch and detachable inner shorts made from entirely recycled stretch material. Even the buttons and the tape of the zippers are recycled.
The project is part of Shimano's moves to make its apparel range more sustainable, using more European production and fabrics from recycled yarn. It helps to reduce waste for the production of durable shorts. As part of the Protect our Playground campaign, buyers will receive a notification that a tree has been planted for them, and regular updates about the plantation. The campaign is a partnership with Treedom, an organisation that is currently planting 5,000 trees in Madagascar and Guatemala.
Shimano is also showing the Evolve Performante, a combination of bib shorts and a moisture-wicking base layer. "We now have connected the Evolve bib shorts together with a seamless upper, which makes it really aerodynamic and very nicely breathable," said Haarhuis. Weighing at 216 grams, the product is 35 grams lighter than the combination of bib shorts and base layer. The piece is targeted at long-distance riders, who tend to sit on the saddle for at least three hours, and for gravel riders.