With a molecule that grips onto metal and attaches grease, a small company from eastern France wants to make chain lubrication cleaner and more durable.
The molecule that performs all this work was developed from research at the Université de Bourgogne Franche-Comté in eastern France. Chemistry professor Fabrice Lallemand helped to launch a startup in Dole, Afuludine [B1-409], to capitalise on some of the research that came out of the university's labs. The business focuses on industrial applications, but Afuludine's chief executive decided to study potential in the bicycle market as well. The company developed Winsleek, a brand of maintenance products that gained plenty of recognition as an official supplier for the Groupama-FDJ team. A few weeks ago it was approved as technical supplier of the French cycling federation.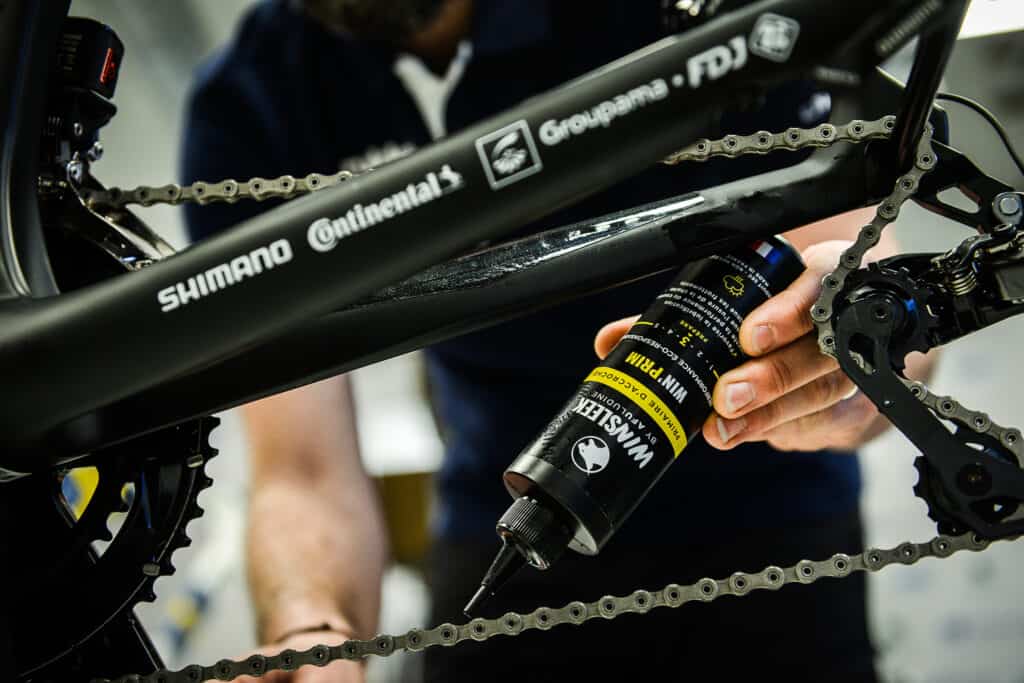 At Eurobike, the stand-out product launching for European distribution and retail partners is Win'prim, a pre-lube layer that makes optimal use of Afuludine's assets in chemistry. Sébastien Bergeret, product manager at Afuludine, explains that Win'prim helps to "attach" lubricant, so that it lasts longer. It's meant to be used on dry and clean chains. "Our tests show that you can ride roughly twice the distance for the same volume of lubricant," he said. "That makes the whole process cheaper and more environmentally-friendly."
The solution was developed at Afuludine's own research and development facility in Dole. The company has its own production plant as well, and some of its raw materials are from nearby sources. Win'prim mostly consists of ethanol, extracted from beetroot in northern France. But the ethanol only serves to apply the operative ingredient, which is Afuludine's molecule. It was slightly tweaked from the product used in industrial settings.
"Working on performance in cycling has become a matter of microns," said Bergeret, himself a former cyclist. "Working on lubrication was all part of the same drive to innovate and optimise performance." Win'prim is meant to be applied before Win'lub, a lubricant made from bio-sourced resources as well. "It's green and is suitable for any weather conditions, so it saves the hassle of wondering what lubricant to apply," said Bergeret.
Afuludine is working together with Groupama-FDJ and creating a test bench to measure the durability of its lubricant combination more precisely.
An extra benefit is that, due to the smaller quantity of lube required with Win'prim, the chain won't get dirty as rapidly, and it will be easier to clean. Afuludine is also offering an environmentally-friendly degreaser. The products come in two ranges, one of them for private users, to be sold through cycling retailers, and the other for professionals. Eurobike marks the full launch of the workshop range. The roll-out was somewhat delayed last year, because Alufudine decided to urgently transform its production facility and to turn out hydroalcoholic gel for protection from viral infection – up to three tons per day.