Modern hub motors offer some advantages that mid-drive motors can't compete with. Lighter weight, easy to adapt to a bike wheel, and almost as powerful as mid-drive motors, complete hub motor kits are also emerging as aftermarket solutions to convert existing bikes into e-bikes.
Key features to look for include wheel compatibility, position (front or back), rated power, weight, and maximum torque. The recent demand for e-bikes has driven motor manufacturers to broaden their solutions in the category of electric drives to satisfy the requirements of more diverse riders.
Last month Bafang [A1-303] added the new H700 rear drive system to its range of hub motors. The H700 is intended for urban commuting and integrates the transmission into the motor to achieve a built-in automatic dual-speed motor. The motor automatically adjusts the gearbox ratio by detecting the speed of the vehicle during cycling, so that the rider can reach a better cadence without manually shifting. The H700 weighs in at 3.2 kg, features a maximum outer diameter of 136 mm and standard Over Lock nut Dimension of 135 mm, and can be adapted to standard e-bike sizes with either belt or chain transmissions. Its 250W rated power meets legal requirements and, with 32 Nm torque, the H700 boasts a strong performance for daily commuting and leisure use.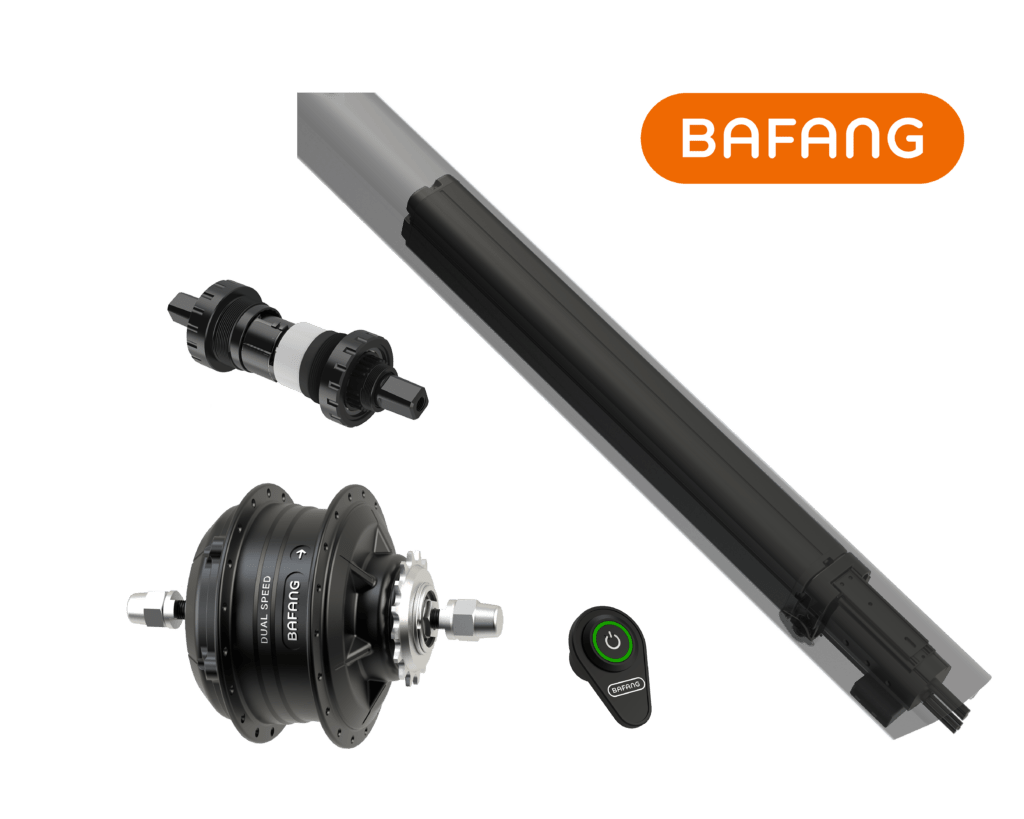 Zehus [B3-215], the e-mobility division of Eldor Corporation, has adapted a smart Kinetic Energy Recuperation System (KERS), commonly used in motorsports, to its BIKE All-In-One hub motor to allow it to store energy and convert it back to motor power when needed. While this isn't a new technology, Zehus claims that it is the first e-bike system that doesn't need to be recharged. It's called "all-in-one" because it includes the integrated motor, electronics, battery pack, multiple sensors, and Bluetooth connection. What may make the hub motor even more attractive to OEM's however, is its Bitride app, which allows users to customize two of the motor's six power modes, and features a remote control system to lock the bike and access customer care services to — for example, check the drive's performance. Zehus's Eurobike stand will be self-serve while brand reps meet with customers at a private location inside the Messe.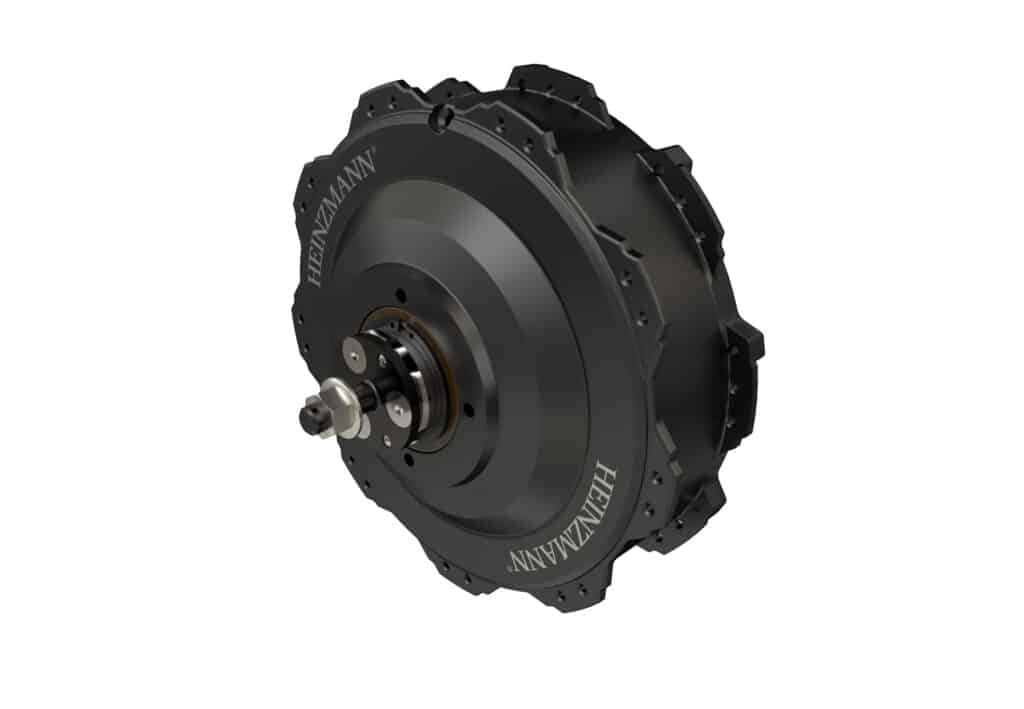 As one of the first electric bicycle drive manufacturers, Heinzmann [A6-208 and FG-0 101] has been around long enough to call one of its hub motors the Classic. This modest front hub motor has been successful in the electric mobility sector for decades and has other applications besides e-bikes. More recently Heinzmann developed the CargoPower RN 111 system specifically – and in response to demand – for cargo bikes. The heavy-duty motor has been optimized for heat management so that the system can cope with high loads. The motor's design culminates in increased power and torque density, which also serve to support heavy loads. Similar to Zehus, the CargoPower RN 111 also has a built-in regenerative system that recharges when traveling downhill and when braking, which can increase range.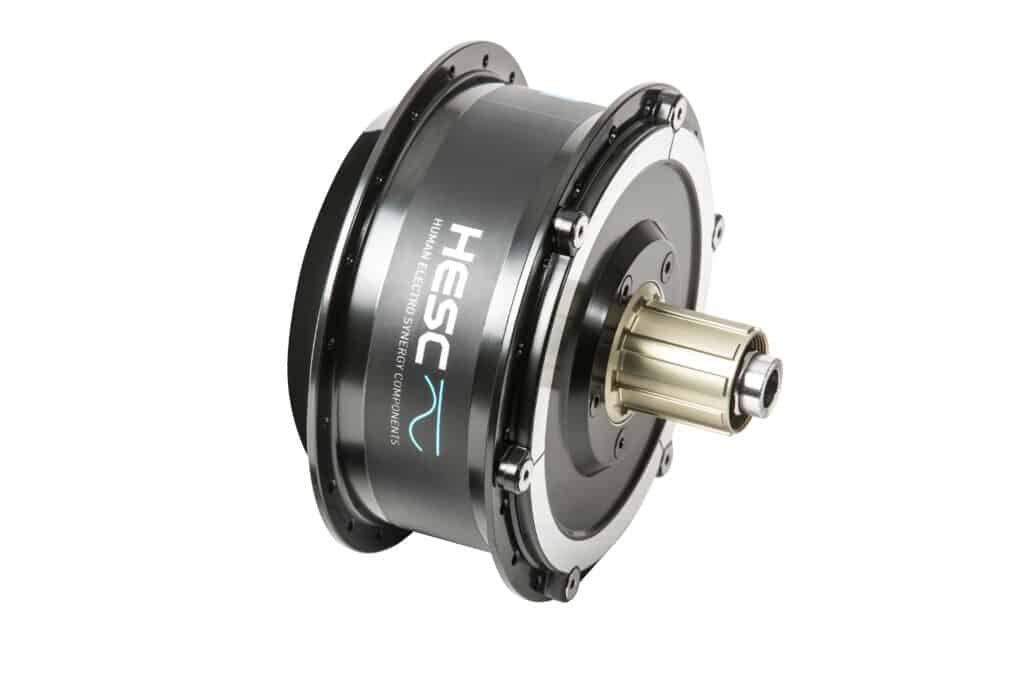 SR Suntour [A6-401] first entered the e-bike drive category more than 10 years ago with its Human Electro Synergy Components (HESC), which has since evolved into three current models, the R250 HP, the F 250 HP, and the R250 TA HP. All three hub motors would be good options for a city rig to get from A to B with a modest power assist. Maximum torque comes in at either 40 Nm (F250) or 60 (R250 and R250 TA) while power maxes out at 400W for the F250 and 450W for both the R250 and the R250 TA.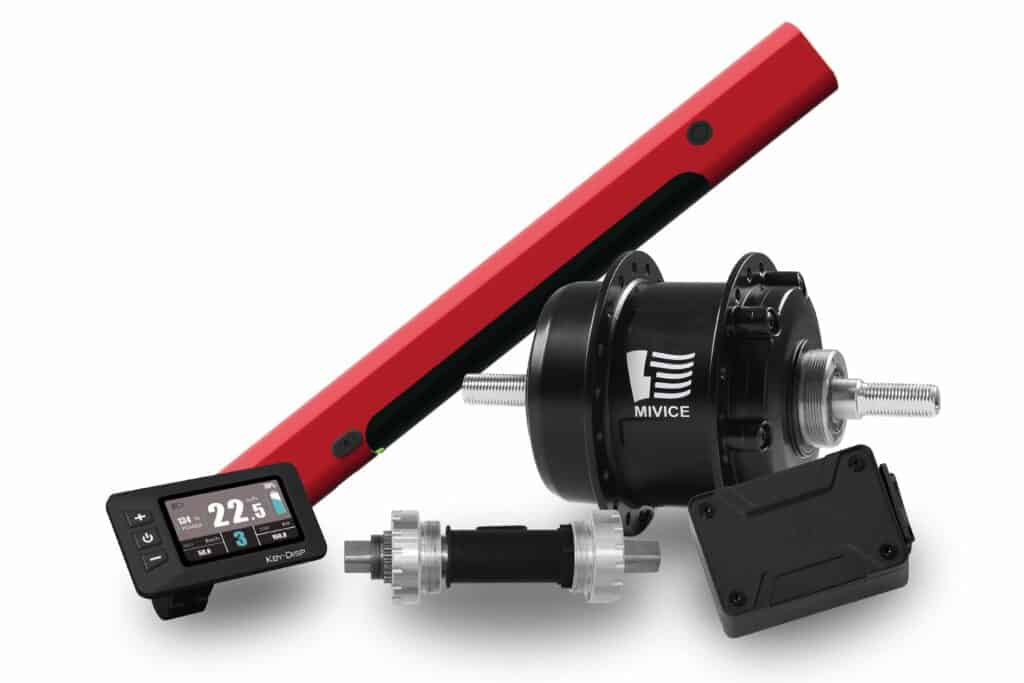 Mivice [A1-314] supplies both front and rear hub motors designed for pedal assisted urban, road, mountain bikes, fat bikes, or cargo bikes. The practically imperceptible M070 motor has the same dimensions as most eight-speed hubs. The main body's exterior diameter is 80 mm and can be adapted to either disc or V brakes. The M070 weighs a lean 1.7 kg and can achieve a maximum power of 250W. The slightly beefier M080 fits wheel diameters from 20 inches to 700c and reaches a maximum power of 700W, which makes it suited for an e-mountain bike or a small cargo e-bike. The M090 raises the power to 1000W and boosts the torque to 80 Nm, which makes it the workhorse of Mivice's hub motors. Given its strength and heft (the M090 weighs 4.5 kg), Mivice strongly recommends it for beach, snow (fat bikes), and cargo bikes.
OEM hub motor suppliers, like Vinka [A1-210] and Cloud Drive Intelligent [A1-302] often bundle their respective hub motors with a controller, torque sensor, and display for a complete e-drive solution.
Vinka will have all its hub motors on display at Eurobike to show which motor is best suited for city, trekking, road, or off-road. For example, the FH30 front hub motor might be best for city or road bikes that could use a light boost while the RH70 would be the go-to motor for hauling cargo or smoothing out steep terrain. Vinka's other hub motors include the RH30, RH40, RH41, and RH60.
Cloud Drive Intelligent has conveniently created two e-bike kits to make the selection process easier, one with its CDHM1 rear-drive motor, and the other with its front hub version. The complete kits include display, motor, controller, PAS (Pedal Assist Sensors), and battery. The CDHM1 is compatible with disc brakes and has a rated power of 350-700W with a maximum torque of 48 Nm. It works with a 7-, 8- or 9-speed cassette, which makes it a good choice for commuter or mountain bikes. The CDHM1 is available in either black or silver. Mid-drive motor leaders Bosch, Brose, and Panasonic have no current plans to enter into hub motor development, which leaves the category open to further innovation by smaller brands and OEM suppliers. If demand for e-bikes keeps up as it has, we can reasonably expect to see even more variety in the future.