New connector design facilitates easy plugging without magnetics
Higo [A1-501] has designed new battery connectors that can move flexibly in different directions to make the connection. These new designs have been developed to meet the growing demand from the market to allow batteries to make difficult mating angles in downtube positioned batteries. And to connect them easily to a cargo bike's cabinet without using magnetics.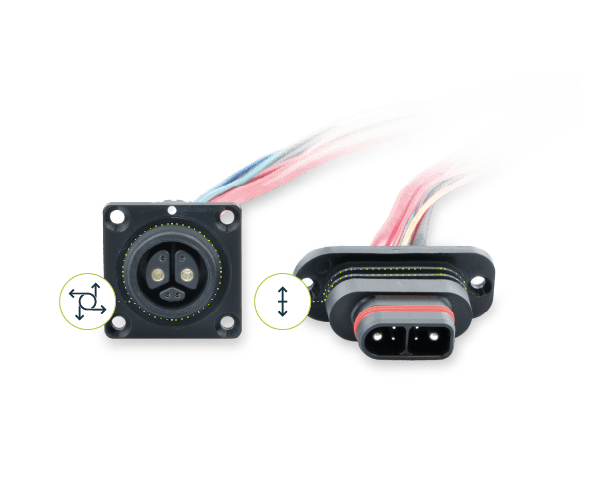 From the bottom to the top
More and more e-bike manufacturers are considering to change the positioning of the battery connector from the bottom to the top of the battery to avoid corrosion and heavy loads on the connector. "The only challenge is the angle", comments Franky Vanlerberghe, CEO of European Higo partner A&C Solutions. "The connector must be able to move flexibly to be able to make the connection with the battery."
No magnetics involved
Higo's new battery connectors, the circular 6-pole F618 connector and the rectangular 6-pole F621 connector are plug and play connectors. Hence, no magnetics are involved. This avoids connection problems that can arise due to dust, dirt etc. and health issues with people carrying pacemakers. Therefore it enhances the reliability of the connection.
Ideal solution for cargo bike cabinets 
Both battery connectors also turn out to be an ideal solution for cargo bike manufacturers. To connect the large and heavy cabinet to the cargo bike, a flexible connector is also a great advantage.
Contact our specialists for more information.
A&C Solutions 
A&C Solutions BVBA is a specialised partner for connector- and power supply solutions based in Turnhout, Belgium. A&C Solutions is mainly active in the E-mobility, LED lighting and industrial electronics industry both on a Benelux and a European level. For each industry, A&C solutions employs a team of specialists that assists customers with their knowledge and advises the right connector and/or power supply for each application.
A&C Solutions distributes a complete range of circular, rectangular and PCB connectors of A-brands like Higo, Hummel, JST, Ilme, Zierick, Techno, Binder, Yamaichi and Shield. AC/DC, DC/DC, UPS power supply solutions from worldwide market leader Delta Electronics and niche brand Nextys further complete the range. Each manufacturer within A&C Solutions' portfolio is a true specialist in his field and complements the others.
Tailor made solutions like, cable assembly, special cables and stock management ensure the right product/service mix tailored to each customer.
For more information, please visit www.ac-solutions.be, www.higoconnector.com and www.battmaster.eu
A1-501