Looking more conventional, but abilities are more radical than ever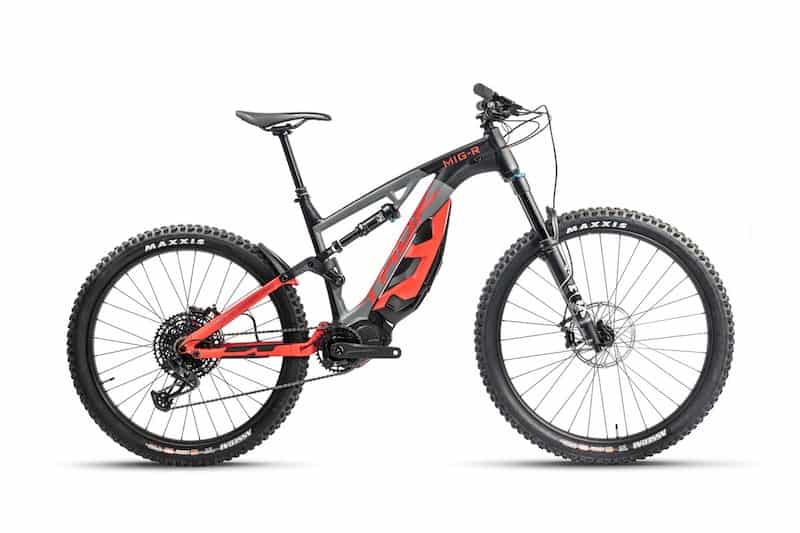 No other kind of bike quite matches the escapism provided by an electric mountain bike. Allowing you to get out into the wild, push further afield, and enjoy yourself while building off-road skills, interest in the segment has boomed in a time where many of us have lusted after a change of scene. Happily, the latest e-mountain bikes are increasingly accomplished, combining all the features of conventionally powered bikes with ever lighter batteries and motors.
A big launch for the first day of Eurobike, Thok E-bikes [B1-303] presents the new MIG R. The latest addition to Thok's all-mountain range, it builds on the success of the MIG 2.0. Driven by Shimano's new EP8 motor and a 630 Wh battery, this has been custom mapped to offer two different assistance profiles; a natural long ride setting and a more powerful fast ride mode. Helping rider's seamlessly add their own power via the pedals, Sram's GX Eagle 12-speed rear derailleur and 10-52t sprocket provide an extensive range of gears.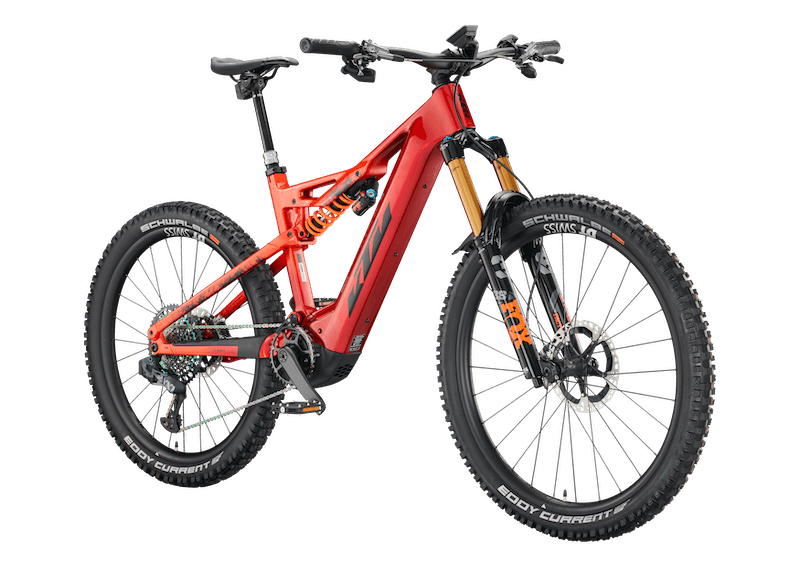 The highlights of the KTM [A6-200] e-bike range for 2022 are newly developed frames, in combination with the proven Straight Line Link (SLL) concept and the new Bosch Smart System. With this self-contained Bosch system, you are ready for the digital future. The system also includes the Kiox 300 display, the Bosch Performance Line CX motor, a 4A charger and the most powerful Bosch Powertube battery ever (750WH) for even more range. Removing and reinserting the battery is easier than ever before. The Power Tube Top Loader (PTTL) is the name of KTM's own innovation for this user-friendly battery handling.
A hallowed name among motorbike enthusiasts, Ducati's [B1-303] electric mountain bikes are no less worthy of admiration. The firms new TK-01RR is a long travel e-enduro machine that adopts the most modern technical solutions. Not only is it very cool looking, but it also includes a 180mm Öhlins RXF 38 fork and matching rear damper that will catch the attention of any existing enduro riders not yet converted to the joys of electrical assistance. Powered by Shimano's high-spec EP8 drive unit, its weight of 2.6 kg makes it one of the lightest and most compact yet available.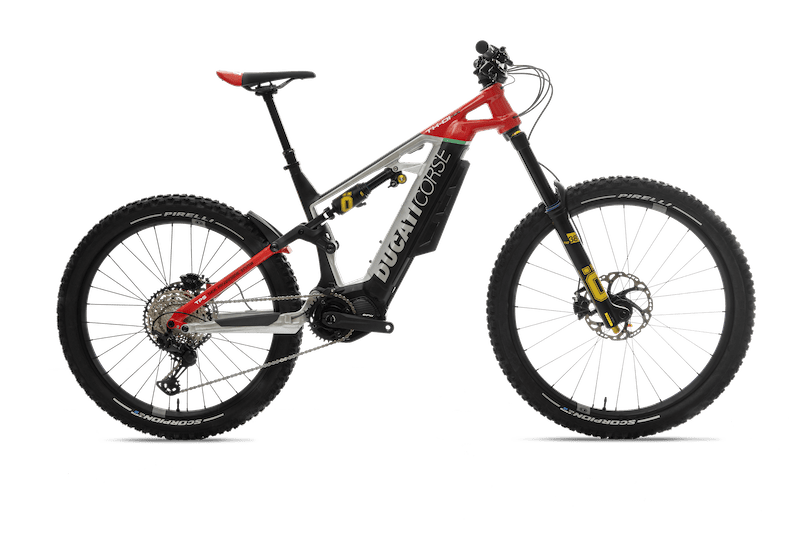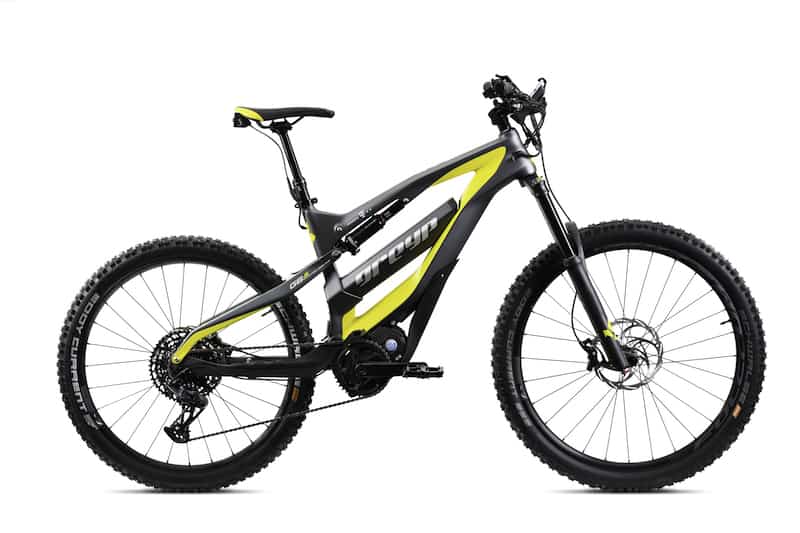 Greyp [B1-301] returns with an upgraded generation of its Eurobike Gold Award-winning G6 models. Unique in offering a constant connection to the internet via eSIM technology, the bikes' mechanical elements have recently been updated. Backed by the Greyp App, this can be used in either Dashboard or Remote mode. The first of these transforms the user's smartphone into a comprehensive dashboard, giving access to features like turn-by-turn navigation, terrain-based range, and onboard camera control. Alternatively, the remote mode can be used as a wireless control, allowing users to take a photo, remotely lock the bike, or activate the kill switch to shut it down completely. Based around a carbon fibre chassis with 150mm of front and rear suspension, the bike's compact 700 Wh battery pack and integrated Battery Management System power an equally neat MPF drive unit. Running Greyp's own firmware, this promises excellent control of the motor at the same time as providing powerful torque and a natural feel.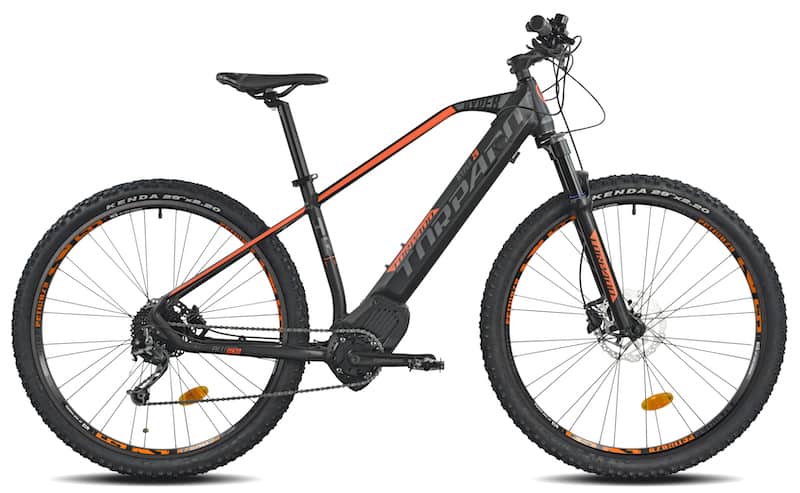 Italian firm Torpado's [B1-404] 29-inch wheeled T970 Hyper mountain bike is light on both the ground and its owner's finances. It is powered by a low weight mid-mount motor made by the firm's compatriots OLI E-Bike Systems. The most powerful in the brand's range and providing a maximum torque of 85 Nm, its addition adds just 3.5 kg to this nippy hardtail. Paired to a 630 Wh capacity battery, the bike's five levels of assistance suit it to all kinds of riding. Backed by 100mm of front suspension, its hydroformed aluminium frame can also accept a dropper suspension post for riders who wish to upgrade later. Decorated with Shimano 11-speed gearing and a simple single chainring, everything is kept under control by quality hydraulic disc brakes.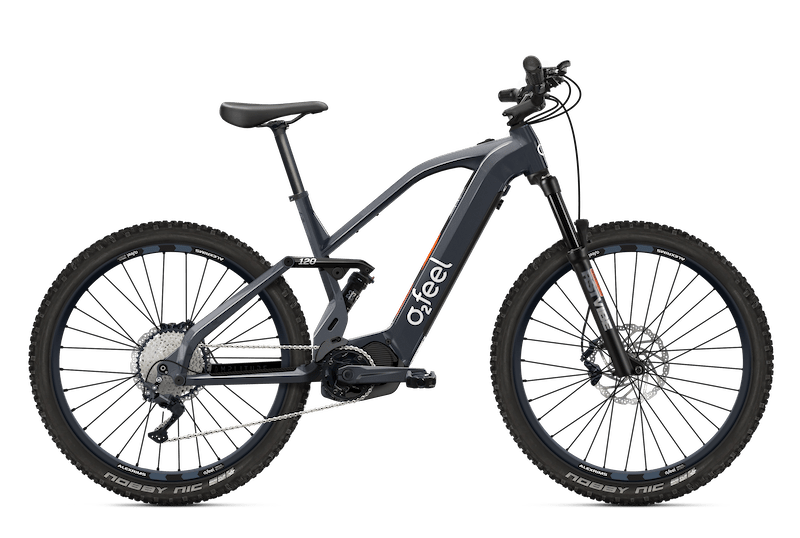 Founded in 2009 by two engineers in a garage, O2feel [B1-201] has come to specialise in high-quality bikes displaying a utilitarian approach to design. Aiming to bring a breath of fresh air into the lives of their users, the full-suspension Amplitude AM Boost 4.1 sits at the wilder end of the spectrum of bikes created by the brand. Built around a powerful, lightweight Shimano E7000 mid-mounted motor centred within a fully suspended chassis, it comes with either an iPowerPack Advanced 432 or 720 battery for high performance and a maximum range of up to 210km. Sitting below o2feel's Soar series but targeting more demanding terrain than the firm's city-focused bikes, a capable RST Vibe Coil Boost 140mm fork and 120mm of rear travel keep things on the straight and narrow. Finished with a Shimano Deore 10-speed groupset and suitably chunky tyres, it's an unusually sophisticated take on a rugged off-road bike.
As the e-mountain bike segment develops, so do technologies specific to the sector. Exhibiting at this year's show is Blubrake [A6-308], the producers of an ABS (Anti-lock Braking System) that's finding fans among well-known e-mountain bikemakers, including Bulls Bikes and Bianchi. Its frame-integrated solutions comprise a speed sensor, electronic control unit, and actuator that prevent unwanted locking of the front wheel to maximise braking efficiency and reduce accidents. The last of these continuously controls the hydraulic pressure of the front brake to guarantee smoother braking and increased stability. Now included as an option across Bianchi's e-mountain bike range, the Italian firm is looking to collaborate with more manufacturers eager to add value and fresh braking tech to their next designs.Escaping into the outdoors is a great way to stay fit and clear your head. So it's excellent to find HP Velotechnik [B1-100] helping more people do just that. Its latest release shown at Eurobike for the first time is the Hands-On-Cycle, the world's first hand-drive with a fully encapsulated chain guide as well as integrated cables. Retrofittable to trikes, including the firm's off-road capable Scorpion FS 20 model, it promises to allow more riders access to off-road trails. Concealing the chainrings for increased safety and durability, the combined drive system and steering functionality are neat and intuitive. Able to work in conjunction with a rear-wheel hub motor from Neodrives, this provides support up to 25kmph, just as it would on a regular e-mountain bike.