A white plastic lamp, the lid of a dumpster or discarded kindergarten toys could all be part of the cargo bikes sold by Black Iron Horse [A1-601], which combine original frames with boxes from fully recycled plastic.
The bikes come from a workshop in Copenhagen run by Lars Leikier, a blacksmith with a particular interest in bikes and sustainability. He started more than two decades ago with the Sorte Jernhest, meaning "black iron horse" in Danish. This cargo bike has become a familiar feature in the Danish capital, with distinctive design and engineering.
"It's the rear wheel that steers the bike, the front wheel and the box are fixed. That creates more stability and it makes the bike more agile," explains Jesper Lindahl-Berg, one of the company's three owners.
Two years ago, Black Iron Horse came up with a greener version of the cargo bike, with boxes made of entirely recycled plastics. The material for the Pony's box came from the largest plastic recycling firm in Denmark, to make sure it's traceable and doesn't add to the company's carbon footprint.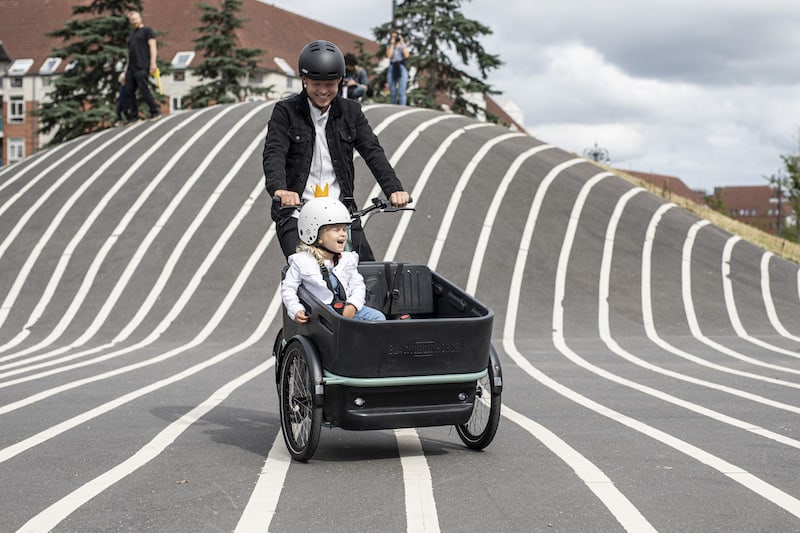 Launching at Eurobike, the latest version is suitable to cart around up to six children in a box from reused plastics. "It's one of the narrowest three-wheel cargo bikes in the market, but with the widest box," said Lindahl-Berg. "That way you can carry a greater load and have a safe ride at the same time, thanks to our rear-wheel steering."
Another product added this year is the Ox Cargo, a business bike with a square box to carry loads of up to 175 kilograms. It was conceived in aluminium, but Lindahl-Berg said Black Iron Horse will provide an option to get it made in reused plastics.
In the last year the company has been working to make the colour of its boxes more predictable and homogenous. Since the production requires a specific type and quality of plastic, it wasn't feasible to use just one colour.
"The boxes tend to be grey, but if the recycling plant just received a big batch of green garden furniture, then you'll get a green box," Lindahl-Berg said.
Along the way, Black Iron Horse started working with a Danish specialist in plastic sorting. They carried out pilots that should enable the company to offer a green plastic box made from reused fishnet.
Black Iron Horse's cargo bikes are assembled in Copenhagen, using frames made in Jutland from Swedish, Norwegian and Finnish steel. They are so sturdy that some of them return to the workshop for service after more than two decades of usage.
The company is owned by Leikier, Lindahl-Berg and Mike Eschen, who has a background in banking. They changed the name last year from Sorte Jernhest to Black Iron Horse, which is helping to spread the sustainable cargo bikes in other markets.